More than 157,000 members have joined Empower Network and the number is counting. They promise to teach you 3 steps how you can make money while still having a life. They mean that you can have a freedom to work from your laptop and do basically whatever you want.
That sounds cool but there are also tons of complaints of Empower Network and many people are saying it's a scam. Is Empower Network a pyramid scheme or will they really help you to make a living online?
You'll get all the information you need in this honest review.
Empower Network Review
---
Name: Empower Network
Owners/ Founders: David Wood & David Sharpe
Field: Multi -Level Marketing
Membership: Paid
Overall Ranking: 15 out of 100
Short Conclusion: The main problem with Empower Network is that they just teach you to promote their own program. You'll probably learn some useful marketing techniques and online business skills along the way but it will cost you tons of time and money.
Only 1% of members are making a significant income with this system and those are the "early-joiners".
I recommend that you don't take part to Empower Network unless you have $5,000 of extra cash and you want to join an unethical company. If you are looking for ways to make money online, have a closer look at Wealthy Affiliate. That program had taught me and thousands of other people how to make a living online.
---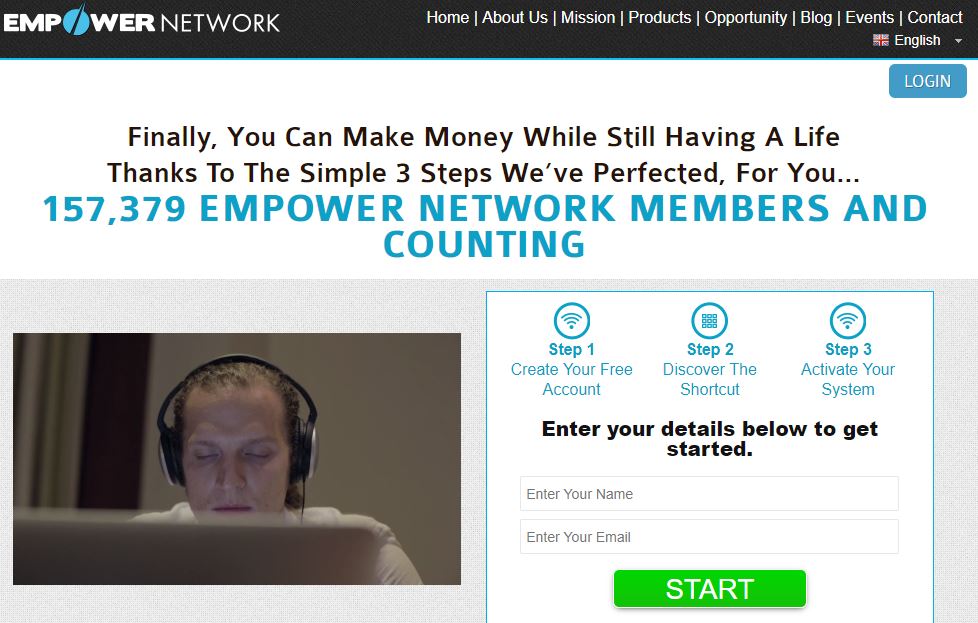 What Is Empower Network? – "Build an Online Business" MLM
Empower Network is a Multi-level marketing that offers people the opportunity to make money online. They host a large community of publishing and blogging platforms online. Also, they offer training products and services to small businesses, start-ups, and online marketers.
Empower Network was founded by David Wood and David Sharpe who specialize in traffic blogging and paid traffic.
There are six business and marketing tools offered by Empower Network. These include video hosting and their blogging platform which they are famous for. The Empower Network gives commissions on the sale of their products.
The main objective of Empower Network is to help their members find it easier to promote the company's products. Their members say that the company does a very good job with rankings and viral keywords to get the most traffic.
However, Empower Network has been called a pyramid scheme by tens of reliable online entrepreneurs. This is based on its features and how they operate. But unlike many pyramid schemes, they have a product line.
You need to get others to join and become your downline by all means necessary, it's the only way you can make money.Like other pyramid schemes, the potential of earning some good money is mainly dependent on your recruiting efforts.

Who Can Join Empower Network?
If you already have a huge following or contacts, it could be easy to make money with Empower Network. You need to refer as many people as you can to Empower Networks, and without a substantial following there's little money to be made. This is a proven way to break even on Empower Network.
Empower Network requires some level of funding before you can start to reap the benefits. You should be prepared to spend about $5,000 on subscriptions and packages. I know that it's a too big amount of money for most people to invest in a program that has so bad reputation among successful online marketers.
Compared to my most recommended online business programs, the price of Empower Network is huge. For example, my #1 recommendation Wealthy Affiliate is completely free to join. In addition, you can get all premium features for less than $1 per day with their yearly membership. It's a way better deal than what Empower Network offers. Just click a picture below to get started.
Do You Want a
FREE
& Easy-to-Follow
7-Day Course
to
Make Money Online
for Beginners?
Easy-to-Follow

Beginner-Friendly

My Personal 1-on-1 Support for You
Get Started for FREE Below Before this offer goes away!

Empower Network Packages and Pricing
Empower charges a monthly fee like many other MLM companies with promises of high commissions. There are different levels/packages offered with different benefits. The more you pay, the more you can possibly earn.
It is free to sign up on the website, but you have to pay the basic level fee to get activated.
-The basic Empower Network membership costs $25 a month. This package comes with a blogging website that is fully operational and easy to use. It's a big money compared that you can get the high-quality and free websites here.
– If you want to focus on promoting Empower Network products in order to earn commissions, you will be charged a monthly fee of $19. Usually, you don't need to pay anything to join affiliate programs. Sometimes the companies pay you or give rewards for signing up if you have a large amount of followers. Empower Network uses a different strategy
– A monthly fee of $100 will be added should you decide to join the inner circle. In addition, there are other additional features and upsells that you need to sign up for. If you want to manage your emails with prospects, you have to buy an autoresponder which costs usually minimum $19 per month.
The Empower Network has been criticized by many who consider it as a drain pipe for funds with little returns. Others have supported the company by suggesting that you join only if you are willing to put in everything to make money. Those who are supporting them, are naturally their partners and earn commissions when you join in.
What Are Empower Network Products?
The Empower Network products are a variety of upsells or packages offered by the company to its member's affiliates. The products will help you market Empower Network products in a far more easier way.
Kalatu Blogging System
Previously 'Blog Beast' is the flagship product of the company. It is fully functional and designed for marketing. It is pretty much "plug and plays", so it is safe to say that when you pay for a Kalatu blogging system, you are paying for a ready-made blog.
Empower Network claims that this blogging system will get your content ranking and. This is because it is fully optimized for marketing. You do not need to pay a whole lot for a web designer as Empower Network charges just $25. However, why would you pay for this when you can get a blogging system for completely free?

The Inner Circle
This is a collection of motivational audios of successful entrepreneurs. They were made to give affiliates the morale boost and positivity that they need to be successful. It can also be regarded as a mindset training of some sorts.
The motivational audios can be listened to at any time, but preferably while jogging, doing house chores, and so on. Membership costs $100 per month.
The Top Producer Formula
This product is targeted towards business owners. This program illustrates all that you need to do to become a top producer. Empower Network states that the Top Producer Formula is great for people looking to learn what the top earners are doing.
Team Building Formula
Team Building Formula helps you understand how to build a formidable team that can increase profit. This program will show you how you can apply the laws of team building to your business. TBF costs $1000 and it's targeted for people who are having a hard time building a profitable team. All the essentials of team building are in this formula.

The Mass Influence Formula is all about getting what you want. In MLM, influence plays a major role in achieving great results. This formula will show you to win people over. This formula will arm you with the necessary methods of persuasion all of which are backed by scientific studies. This formula costs $3500
How Does Empower Network Compensation Plan Work?
For those who find the compensation plan of Empower Network quite complicated or confusing, here is a brief summary.
Compensations are paid only on Empower Network products that you purchase.  If you do not qualify, Compensations are paid to your uplines on products purchased by your downlines.
You are entitled to 100% compensation on all products. You will receive a payment of $3000 for a $3500 sale.
According to the compensations structure, you get 100% at the basic $25 level for the 1st to 7th new members you sign up. Your sponsor will get 100% compensation on the 2nd, 4th, and 6th person you sign up.
There is a $19.99 monthly fee that you will be required to pay in order to sell Empower Network products. This is where the founders make a big profit. In addition, they earn from all members who don't manage to sell their products.
If you want to see how Empower Network is presented by their member, you can have a look at this video below. Notice that the guy is promoting EN so his opinions are biased.
Empower Network Complaints and Reviews
The Internet is full of Empower Network review because the system became quite popular for some reason a few years ago. Probably people who had invested thousands of dollars wanted to win their money back so they started selling the system for other people. However, the big buzz of Empower Network is over because people have realized it's a scam.
7-Day Make Money Online Email Course
Learn SIMPLE steps to make a LIFE-CHANGING INCOME online. I will help you hand-by-hand!
The most common complaints say that there isn't a real product inside of this "system". The main product is to learn to promote their own system. What kind of system is that? A pyramid scheme.
Another thing what people don't like in this system is that they don't reveal you all costs right off the bat. You will be hooked little by little into their program. Let me make it straight: If you really want to earn money with Empower Network, you need to have at least $5,000 to get started.
The interesting thing about joining Empower Network is definitely that you will have a possibility to earn passive income online unlike in a normal 9 to 5 job. However, 99% of members will never make good passive income with their system. If you are really interested in making +$10,000/month passive income online, have a look how these guys are making it. If you do what other successful people do, you will eventually get the same results that they do.
Conclusion – Is Empower Network a Pyramid Scheme?
What else could we call it than a pyramid scheme?
Yes, EN has paid their members commissions honestly but the system itself is something ridiculous. It's just better to save your money and use it for building a real online business.
You don't need to invest a single dollar to get started with my #1 recommended program. Actually, I recommend you to join for free rather than paying anything at first so you can look around and get to know basics of earning money online.
When I joined Wealthy Affiliate some years ago I didn't have any experience of online marketing. I decided to sign up for a free account. It only took 10 seconds and I didn't need to give any of my personal information. Just my first name and an email address.
Then I went through a big part of their free training during the next two months and I was convinced that the system works. I bought the premium membership which is very cheap compared to other similar programs. I am still today a premium member in Wealthy Affiliate because their tools like domain hosting, community, support, keyword tool and other things help me to run my online business.
The best advice I can give is if I can do it, you can do it. When you join WA I'll also personally welcome you inside and give you my 1-on-1 help when you are building your own online business.
Has someone recruited you to Empower Network?
Would you like to learn how to make a full-time income from home using honest programs and methods?
Leave comments and questions below and I'll be more than happy to follow up with you.