ChampCash gives you huge promises like, "You can earn $1,000,000 by using our app!" You are probably thinking is ChampCash a scam or legit. In this honest review, you will get all the information you need in order to decide whether you should use their services or not.
Just give me 1-2 minutes to explain to you how their program works. I have experience of around 270 different make money online opportunities and I can say that ChampCash is not one of the best.
ChampCash Review
---
Name: ChampCash
Cost: Free to join
Field: Multi-level Marketing (MLM)
Overall Ranking: 15 Out of 100
Short Review: ChampCash is using an MLM-system in their mobile app which is a very creative idea. You will earn money by completing tasks like downloading apps or recruiting new people. However, the earning potential is so small despite their huge promises that I don't recommend using their app.
I bet you would also prefer Wealthy Affiliate because it gives you a step-by-step training how you can make a living online. I joined there around 2 years ago and at the moment I am a full-time online marketer.
---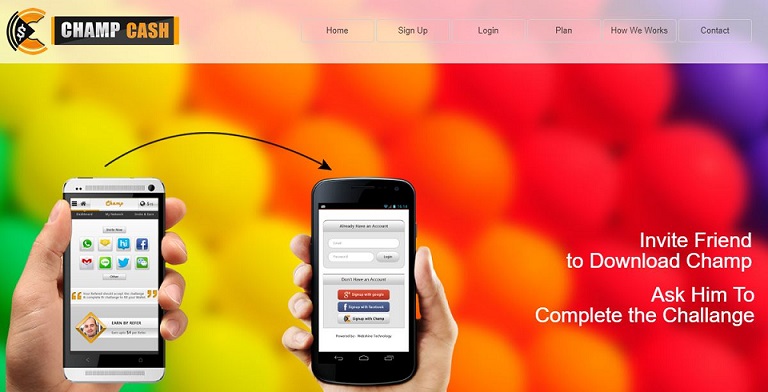 What Is ChampCash About? – A Mobile MLM
ChampCash is a registered as Champion Networks Ltd in India. They have been running the ChampCash for about two years now.
ChamPCash is a free to join mobile app and a Multi-Level Marketing (MLM) program that allows you to earn some money by participating in various tasks. These tasks include installing mobile apps and referring people to the program using your referral code or account ID.
ChampCash operates through the network marketing model, thus a large chunk of what you earn is tied to the number of people you get into the program. The ChampCash network is divided into 7 tiers with each tier entitled to commissions. Your commission is based on what tier on the network you are.
ChampCash is a mobile app that operates on the Android mobile operating system.  Joining the program requires that you download and install the application. The app can be downloaded from Google app store.

How Does ChampCash Work?
Every business has a model by which they get things done and generate revenue. ChampCash is definitely in business to make some profit, but one might wonder how?
According to ChampCash, they make their profits from advertisers. These are advertisers are the clients whose apps you download. So for every app you download and install, ChampCash gets paid, then you get paid. That is how the chain works.
The apps you download have ads that run on them. So I guess it does make some sense. That's how most similar apps also make their profits.
How to Get Started with Champ Cash?
The process of joining ChampCash is rather straight forward, but maybe not as simple as other platforms. If you are not a bit familiar with apps or do not own a smartphone that is compatible with Android, then ChampCash may not be for you.
The first step – download and install the app, the next step is open the app on your smart phone.
Second step – You can sign up using your Google or Facebook account, which takes only a few seconds and is the fastest method. Unlike some other platforms where you have to fill a form, this makes things rather quickly.
The third step – In the third and final step, you will be required to enter the referral ID of your sponsor, when you do click the "Submit" button. I could give you my referral ID to earn some money but I don't do it because I think using Champ Cash is worth your time.
Once you are through with the sign-up stage, you will be given a series of challenges which you must accept in order to start making money. The challenge is a simple one, you will be asked to install some apps. The idea is similar to other apps like Feature Points, AppNana or Cash For Apps.
Do You Want a
FREE
& Easy-to-Follow
7-Day Course
to
Make Money Online
for Beginners?
Easy-to-Follow

Beginner-Friendly

My Personal 1-on-1 Support for You
Get Started for FREE Below Before this offer goes away!
The ChampCash app is 100% free to download from Google play store.
How to Earn Money on ChampCash?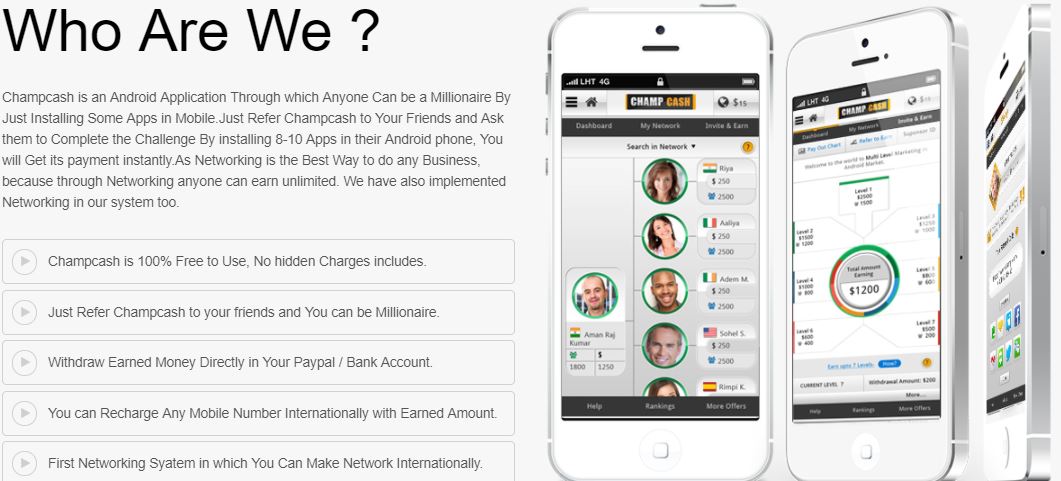 How Does ChampCash Program Work & How to Earn Money? There are several ways of earning money in their program.
Paying Bills and Shopping through ChampCash
One of the easiest ways to make money on ChampCash is by paying your utility bills or recharging your phone. If you intend to shop online on Amazon, eBay, Flipkart, and so on, you can do so through ChampCash app and get a commission.
Accepting ChampCash challenges
You start accepting challenges right after you sign up, they are tasks you must complete to get paid. The task is basically downloading and installing at least 10 different apps.
After installing the apps, you are required to launch and keep them open for at least 10 to 30 seconds. You are not under obligation to register on the downloaded apps in order for the challenge to be successful.
You earn $1 after each challenge. You must also note that the apps must remain on your phone for 10 days. You can then proceed to delete them. Notice that you won't earn $1 for downloading an app. Read a bit further and I'll reveal the truth.
Completing other tasks
Another way of earning money on ChampCash is by completing tasks like the one previously mentioned.  The goal is to download and install as many apps as possible to earn points and make money. You can navigate the ChampCash app and see if you have new daily challenges by checking the "Earn Money" icon.
If you have limited space on your smartphone, it is suggested that you delete apps that you do not use often so you can accommodate new apps. Needless to say that this whole process will naturally take lots of time. Download, wait, play, delete and repeat with 100 apps. It's not very lucrative and over the time course, it can become pretty boring.
Refer new members using your referral ID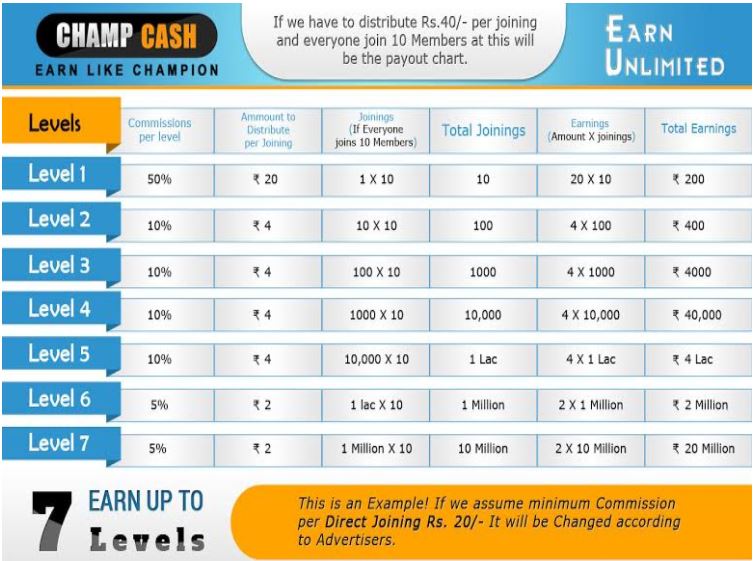 Due to the nature of the program, this is the surest way of earning some cool money on ChampCash. According to ChampCash, you can make up to $1 million in the networking program by referring people using your referral ID. However, that's completely exaggeration. Nobody out of 7,5 billion in the world has ever earned even close to $1 million using ChampCash. Giving false promises is one of the most important scam signs in my opinion.
There are no restrictions on the number of people you can refer; you can refer your friends and family. All you need to do is share the URL or simply send your referral ID to anybody you wish to refer.
This is where the multiplier effect kicks in. You earn money from those you refer and also from their referrals, and this goes way up seven levels/tiers.
The only way that you can maximize this program is by motivating your referrals to bring more members under them. This way, your earnings will keep growing exponentially. However, I don't like the idea. If the main point is recruiting that providing value with the product, then it resembles a typical pyramid scheme rather than MLM.
ChampCash Reviews – Lots of Complaints Because of Low Rewards
Let's have a look at a few reviews that ChampCash members have published on the Internet. I noticed that most of them are negative and people haven't been satisfied after using ChampCash services.



Notice that all of these Champ Cash reviews were written only a few days ago in July of 2017. They were all written by Indian people.
Imagine if people in India (where the living costs are small) say that ChampCash is not worth it, how much worse it would be in more expensive countries like the U.S. or in Europe.
Conclusion – Is ChampCash a Scam Or Legit?
Can you make $1 Million on Champ Cash?
The answer is "most likely not". Reason being that there are realities that will make it impossible. So, we recommend that you do not place your hopes on ChampCash, as you will not make as much money as advertised.
Most "make money online" make very bold claims of much an individual can make but in the real sense are very unrealistic. It is quite a very long and tedious road if you intend to make up to $1 million dollars by downloading apps. Every 10 apps you download and install makes you about $1 to $3. It means that you earn only $0,10-0,30 for downloading and using each app.
It's a creative idea that Champ Cash is using the MLM-system in their app. If you study the ChampCash distribution table, you will discover that the figures are based on 100% compliance down the 7 tiers. It will take a miracle to achieve that level of success in the referral program.
Champ Cash is a borderline scam. Their huge claims are giving false promises even though your earning potential is close to 0. I am not keeping their app on my phone and I don't recommend that you use it either. That's why I didn't even share my referral code even though I know I could earn some money by sharing it.
If you are interested in making more money online, I recommend taking a closer look at Wealthy Affiliate. That program has taught me and thousands of people how to make a living online and I am 100% sure that you'll learn it as well.
7-Day Make Money Online Email Course
Learn SIMPLE steps to make a LIFE-CHANGING INCOME online. I will help you hand-by-hand!
I provide my 1-on-1 support and mentoring for all people who join Wealthy Affiliate for free through my website. Yesterday 6 new people registered and I'll provide my personal support for them. Will you be the next one to try it?
What do you think about Champ Cash? Have you tried similar apps?
Have you already joined Wealthy Affiliate to learn to earn to make a living online?
Let's discuss in the comments below! I'll be more than happy to hear your thoughts and questions. As usual, I reply to all of your comments personally.