In this innoPoll review I will reveal you the truth on how much money you can make there. Some people were also asking if innoPoll is a scam or not. I'll give you an answer to that and many other questions in the coming 1-2 minutes when you keep on reading. I promise also show you a way to a way how I am making money online.
I have experience of more than 7o survey sites so I am the right person to share a thought or two about innoPoll.
InnoPoll Review
---

Name: innoPoll
Based: In New York, USA.
Field: Online Surveys
Earning Potential: Not very high. You can earn a few dollars here and there but that's all.
Overall Rank: 35 Out of 100
Check Out My #1 Recommendation to make money online.  Overall Rank 98 Out of 100. I use this myself and it's bringing me more and more income every month.
---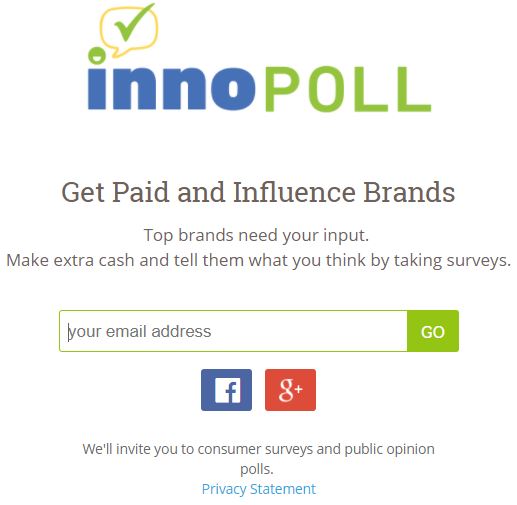 What Is InnoPoll? – A Survey Panel That Pays You Money
A marketing research company that is New York-based, Bovitz Inc., operates a survey panel called innoPoll. With this survey panel, you receive a survey invitation as a member through email. You are paid to share your opinions regarding on various topics. You also help big brands understand the consumer behavior by taking online surveys. By this, companies can improve their services or products, as well as their marketing research campaigns. However, this survey panel is quite different from other survey sites and it is very minimalist.
After joining the innoPoll survey site, you will get an e-mail invitation asking you to participate in online research and surveys. Each invitation email will clearly state the survey's dollar value in order to let you know the amount you can earn before proceeding to answer the survey's questions. After completing each online research study or survey, you will get your reward via e-mail. This makes things simpler, since it does not need users to log into their account in order to request for their rewards.
Another good thing is that with innoPoll, there is no minimum account balance required. Once the study is closed, the survey panel will simply issue your reward. After completing each survey, the rewards will be instantly received by the site's validated members. You can also have the possibility to choose from several popular reward options such as the following:
Bitcoins paid to your Bitcoin wallet
Cash paid to your PayPal account
E-gift cards from Amazon
Tango cards that can be exchanged for dozens of major retailers' gift cards
Donations to Habitat for Humanity and other charitable organizations
innoPoll allows its users to earn fair compensation for their participation in surveys. The surveys are worth in the range between $1 and $5. You also can earn for every three surveys completed with a $2 loyalty bonus. Even if you are disqualified from a survey, the respective survey will still count towards getting the $2 bonus.
innoPoll also offers you the possibility to perform occasional product tests. All the surveys on innoPoll panel are also mobile friendly. There is no need for maintaining a member account with innoPoll. All you have to do is to simply sign up by using your e-mail address.

How to Make Money with InnoPoll?
When you sign up with innoPoll, it is very quick and free. If you are interested, then you just have to provide your email or you can sign up via your Google or Facebook account. Next, you only have to click the link given sent to your email inbox in order to confirm. Another option is to confirm through your phone number. After the confirmation process is done, you can instantly receive rewards after you take online surveys.
When it comes to the Privacy Policy of the innoPoll surveys website, it is explained that they will never advertise other services or products to users. In fact, there have never been any complaints with regards to spam messages and unsolicited phone calls or text messages. The next step you will take is to fill up a demographic questionnaire that contains questions about your gender, age, income, education, employment and many others. By filling up this questionnaire, you assist innoPoll in selecting a good candidate for its future survey opportunities.
You can expect to get a few survey invitations every month to your email inbox after you provide your email address and you have completed your profile. A number of people say that they only receive three to six surveys every month. This low number of surveys is quite disappointing.
You are asked to answer a few more pre-qualification questions before you can complete the paid survey. There are times that you will not qualify for its every opportunity offered. Nonetheless, the good thing about the innoPoll platform is that it rewards you with a loyalty credit even though you have not completed the online survey.
You will be paid $2 when you have three loyalty credits. This means that you will earn a minimum of $0.67 for every survey even though you don't quality at times. But if you qualify and you take the online survey, you can make $2 or even more, and it is higher than what this industry usually pays. Generally, people are content with the kind of surveys and cash rewards they receive – a reason that they would love to get more online survey invitations.
You will be paid right after you take a survey or you can also save three loyalty credits, depending on the survey panel. There is no minimum cashout requirement or point system, which is truly great. You can choose to get paid through Bitcoins, Paypal, Tango vouchers or Amazon gift cards.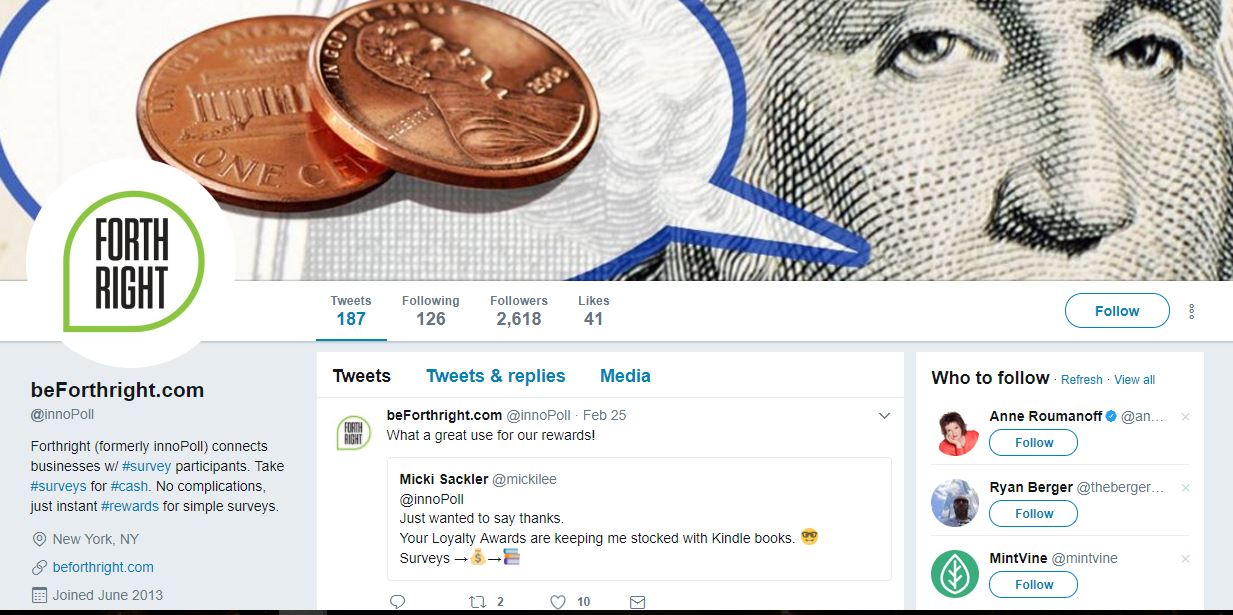 How Much Money Can You Earn with InnoPoll?
Since most of the people using innoPoll for online surveys said that they receive only three to six surveys every month, that means you can only make between $1 and $5 for every completed survey, which means you would earn only between a minimum of $3 and a maximum of $30 per month.
With this amount, you will add a loyalty bonus of $0.67 for every completed survey. That means you would earn another $2 to $4 per month as a loyalty bonus. Adding the amounts, you would make between $5 and $34 per month with innoPoll. This seems to be quite a disappointing amount of monthly earnings for most of the innoPoll users.
Do You Want a
FREE
& Easy-to-Follow
7-Day Course
to
Make Money Online
for Beginners?
Easy-to-Follow

Beginner-Friendly

My Personal 1-on-1 Support for You
Get Started for FREE Below Before this offer goes away!
We have reviewed more than 60 survey sites on YourOnlineRevenue.com and we have noticed that online surveys are not worth it. The payout is so small even in the "most profitable survey sites". Even though innoPoll is paying more than most survey websites, your earning potential is still quite low.
Sponsored Reviews Complaints / Reviews 
While some users seem to like this survey panel because of its easy point systems to get rewards and their quick payout via PayPal, others are really disappointed on the fact that the probable amount of money to earn with innoPoll is very low. You only get $2 for completing surveys in one hour. Also, some customers complain about sponsored reviews about innoPoll that tend to create some fake expectations about the site.

If you have experience of other online survey sites, you have probably heard the same story also before. You start a survey and after a while they say you, "Unfortunately you weren't qualified for this survey, better luck next time!" Or then you keep on filling out the survey for +30 minutes and earn only a dollar. A better choice would be to work even in McDonald's. (I have nothing against McDonald's workers. I just point out that working at McDonald's is 100 times more profitable than answering online surveys.)
If you are interested making money online, I recommend starting a free step-by-step training in Wealthy Affiliate. Numerous people are making a full-time income after going through their training and putting the knowledge into action. Some of my friends are making even +$10,000/month.
My own experience shows that the training really works. I joined Wealthy Affiliate around 2 years ago and I haven't turned back. Recently I quit my 9 to 5 job so I have more time to build an online business with skills that I learned in WA.
Conclusion – Is InnoPoll Legit?
innoPoll is a legitimate survey site. They are paying for their members but the rewards are very small. That's why I don't recommend it for you. Most likely you would just waste your precious time. It's better to use your time by doing more profitable activities. What do you think?
My website is dedicated teaching people how to make money online. I have reviewed more than 200 make money online programs. Some of them were scams. Some of them pay only very little money. But the best ones help you to make a full-time income online.
My #1 recommendation to earn money online is Wealthy Affiliate. They offer you a wonderful step-by-step training how you can build your own online business. They offer also numerous tools that will help you succeed. The community (including myself) will help you with every step you take.
Anyone can create a free account on Wealthy Affiliate and have it for a lifetime. Premium membership costs less than $1 and it's definitely worth it. However, I started with a free membership and later on upgraded to premium. With a free account, you'll get 20 helpful video lessons with tasks, 2 websites, my 1-on-1 support and much more.
Have you ever tried innoPoll or other online survey sites? What kind of experience did you have?
Do you also prefer doing more profitable things online like I do?
Let's discuss in the comments below!