Are you into taking online surveys for money? If yes, you must have come across Point Club Surveys. Well, I guess you might be thinking of earning points with this site. Please, don't just get into it without reading our Point Club review.
What you should know is, points don't pay bills — so you have to check if this company can really make you some real money.
The good news is, I'm going to cover just about everything that has to do with Point Club Survey so you can decide if those points are for you or not. Let's get to it!
---
Point Club Surveys Review – Video Version
I know many of you prefer watching a video review instead of reading a text. Therefore, I decided to record you a PointClub video review where I explain whether this opportunity is worth it or not.
In the end of the video, I also show a $1,472 income proof from one more profitable website and I explain how you can get started as well.
---
Point Club Review
Name: Point Club

Type: Online surveys
Founded: Unknown. At the moment operated by Innovate Market Research in the U.S.
Overall Rank: 30 Out of 100
Check Out My #1 Recommendation to make money online, Ranking: 98 Out of 100.
---
 What is Point Club? – Same Owners as iPoll!
Point Club is a website that gives you the chance to make money completing online surveys. The site is actually owned and operated by Innovative Market Research which is also in charge of iPoll. For the most part, the site is free to join, and the sign-up process is simple.
You probably remember the story of iPoll? It didn't end up very well and I am not sure if they pay anything for their users anymore. Anyway, let's have a look is Point Club tells us a different story.
Once you become part of the club, you'll be required to fill out your profile — the information you provided will be used to serve you surveys. You can join Point Club via Facebook or the website's sign up page. Fast and easy so far.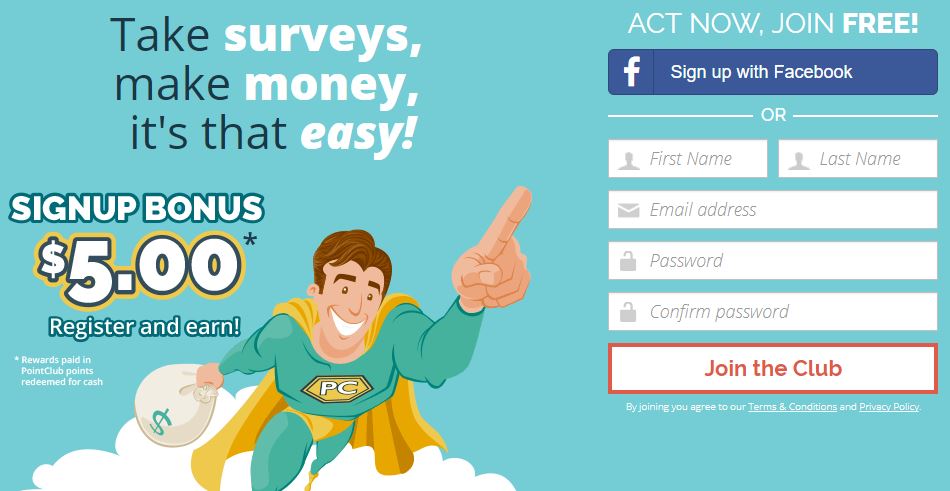 How Does Point Club Work?
Well, Point Club gives you points for each survey you complete. In essence, the use points as their currency instead of cash. For the most part, 1000 points equal $1.
Using points is a trick by several survey sites. They do it because it gives you a feeling that you are earning well even though in reality you are earning only cents. Imagine getting a bonus of 100 points! Then compare that to getting a measly 10-cent bonus.
Let's get more into detail how earning money and points work in this club.
How to Earn With Point Club?
Members of this site make money by completing online surveys. Each survey is usually last for 5 to 30 minutes. The thing is, each survey will let you know how much you're likely to earn as well as the amount of time required to complete them. Registered members can also earn from PointClub's 10,000 points daily giveaway which is more like making $10 a day.
What's more? Well, there's also a good chance of earning rewards when you take part in activities such as promotions, offers, games, videos weekly polls, and contests. Notice that your earnings with these mini-tasks will be ultimately small. Practically, you are just collecting cents.
I would metaphorically say that if you are completing tasks on Point Club or in any other similar website, you are like picking up cents on the street.
One cent, second cent, third cent and so on. After spending an hour or two you realized that you have only earned a less than $2-3 per hour.
Do You Want a
FREE
& Easy-to-Follow
7-Day Course
to
Make Money Online
for Beginners?
Easy-to-Follow

Beginner-Friendly

My Personal 1-on-1 Support for You
Get Started for FREE Below Before this offer goes away!
What About a Big $5 Sign-Up Bonus?
You can also earn free points up that 5,000 points ($5) by completing profile surveys, confirming your email address and connecting to Facebook and Google.
It sounds pretty nice to earn $5 for just signing up. But I know after reviewing 60 similar websites that there is a catch. What is it?
PointClub has many cash and gift cards options — you can freely choose the one tickles your fancy. The points you earn can be redeemed for gift cards from Amazon, Target, iTunes,  Home Depot and Visa prepaid cards. Their minimum cashout is $25, so you'll have to earn 25,000 points to get paid cash via PayPal. Another option is to take gift cards and they will send you them via email within 72 hours.

It means that you will not get your $5 sign up bonus right away. On the contrary, you need to spend endless hours answering surveys and accomplishing little tasks to make it to $25. It brings us to the next question:
How Much Money Can You Make with PointClub?
As I mentioned earlier, you can earn money by completing surveys and tasks but you should know that surveys vary in value. You can earn between 500 to 5,000 from an average survey. 1,000 points equals $1 and 5,000 points equal $5.
It sounds better than good. You are probably thinking, "$5 per survey! I go to fill them out immediately." Please, wait a second.
$5 is a maximum that you can earn from one survey. Most likely you will earn something closer to $0,50. In addition, there are not so many surveys available. Let's have a look what their members are saying about Point Club.
Point Club Reviews and Complaints



You can easily see in these reviews how hard it is to become qualified into surveys. Point Club wants you to fit exactly before they are going to qualify you. Most of the time you just get a message like, "Sorry, unfortunately, you were disqualified of this survey. Better luck next time!"
You are starting to understand why they are able to give $5 sign up bonus.
Point Club Support – Are They Responsive?
Point Club support is like a double-edged sword. On the other hand, they are answering all reviews about their service on Surveypolice. However, some people are reporting that they have a bad support and that they don't care about their customers.
In my opinion, Point Club support level is not a reason to refuse their service because they will respond and try to solve your issues. But you shouldn't join their service just because of support. You want to get some other benefits as well, right?
Conclusion – Is PointClub Legit a Scam?
Despite some complaints, Point Club is not a scam. They are paying members who have diligently collected enough points for cash out.
But as you found out in our Point Club review, it takes lots of time to reach that cashout limit. If you start calculating your hourly salary from registering to your first cash out, it would probably be like $2-3 per hour maximum if you have a fast Internet connection.
If you are living in the U.S. or Europe, maximum $2 per hour will not probably satisfy you. If you are living in a third world country, your Internet connection may hinder your chances to earn so, in reality, you'll earn less than $1 per hour.
Notice that you can't just run through questions because sometimes they test you by placing questions like, "Is the sky red?" Then they give you options "Yes" and "No". If you choose the wrong answer, you are most likely disqualified.
Let me tell you good news. There are much better ways to make money online!
A Great Alternative for Point Club
I have made a review of more than 60 survey sites. Guess how many of them I am using anymore regularly? 0.
I have found a more profitable way to make money online which is called affiliate marketing.
It means that I am just helping people by promoting other people's products. I have, for example, a language learning website where I link programs and courses that will help my visitors to learn languages more easily.
There are many benefits with affiliate marketing:
Anyone can learn it with a proper training.
Risks are small because you can get started for completely free.
Earning potential is huge. You can earn $10,000/month and much, much more.
I would like to point out that affiliate marketing is not a get rich quick scheme. You can't expect to become successful if you are not willing to put in any efforts. However, with a proper training and hard work, you can achieve anything you want.
I offer you 20 interactive video lessons, 2 websites and my full support for completely free.
What do you think about Point Club? Do you think it would be worth your time or do you prefer more profitable ways to make money online?
7-Day Make Money Online Email Course
Learn SIMPLE steps to make a LIFE-CHANGING INCOME online. I will help you hand-by-hand!
Let me know in the comments below! 🙂
I promise to reply to all of your questions and comments personally. I love to hear thoughts from you.