Ipoll Review – Is Ipoll a Scam?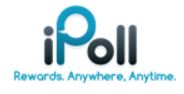 Name: Ipoll
Website: www.Ipoll.com
Price: Free to join
Type of Business: Paid Surveys
Overall Rank: 0 out of 100
What is Ipoll All About?
Ipoll (also known as Survey Head) is a website where you can make little money by answering surveys. You can answer their surveys in front of the computer or you can download their app to your smartphone.
Make easy money with your smartphone. Anywhere you want, anytime you want. Doesn't it sound cool? Yes, maybe.
But Ipoll service is far from cool!
They are not paying the rewards for the clients.
Even if they would pay their rewards well, I don't recommend making money with the online surveys. Most of the time it takes so much time and you are still earning only some dollars. One of best online survey sites is Clixsense but if I am honest I can't recommend it either.
Who is Ipoll For?
The product is designed for the people who want to make money by answering online surveys.
You can't expect to earn significant amounts of money with the surveys.
It was originally made easy to use anywhere because there is an app for the smartphone but nowadays because they are not paying the rewards it's not wise to spend any time with Ipoll.
Ipoll Complaints
Here I have taken three complaints that show you the reality of Ipoll-company. They are not paying the rewards.

Margaret had been using Ipoll a lot because she had two $50 paypal payments pending. But she never received the payments. Ipoll didn't even respond her emails.

Another similar complaint. Ipoll didn't pay their reward. Notice that their minimum payout was $50 so it's quite high. You had to use lots of time to earn $50 and then you realize that your work was totally useless because they are not going to pay you a single penny.

G says the conclusion, "THIS GROUP IS NO LONGER PAYING."
Ipoll were paying the rewards before but nowadays they are not going to pay you anything. If you see some websites on the Internet that still are recommending Ipoll, don't trust them.
Mr. G. mentions that many other survey websites are reliable. He mentions:
rpsurveys
Onlycashsurveys
Watchandtell.tv
gratispoints
bigspot
I haven't checked them one by one because I am not very interested in spending my time on the online surveys.
5 Reasons Why I Don't Waste My Time Answering Online Surveys
1.Lots of scammers in the business. As mentioned above, we know that many of the services on this field of business are not reliable. They are cheating time and money from their clients. I don't want to be fooled by them.
Do You Want a
FREE
& Easy-to-Follow
7-Day Course
to
Make Money Online
for Beginners?
Easy-to-Follow

Beginner-Friendly

My Personal 1-on-1 Support for You
Get Started for FREE Below Before this offer goes away!
2.Low earning potential. Toluna and ClixSense are two most reliable online survey sites. Still, the earning potential even in those services is ultimately low. You would be lucky if you would earn even $5/hours answering online surveys.
As an affiliate marketer there is no income limit and you can end up earning even $1,400 with one sale. See the difference between surveys and affiliate marketing?
3."You are not qualified to this survey". Many times when I am starting a survey and filling my information they say, "you are not qualified to this survey". I wasted my time to fill all the information and now they say that I can't even start it. What a waste of time!
4.Surveys don't offer any challenges. Having anything worthwhile in life requires real efforts. Surveys don't offer me any challenges because they are so easy, "Click, click, click." I want to learn something new and surveys don't provide any feeling of learning.
5.I want to help individuals. If I am answering surveys I am providing information usually for the huge companies. I prefer to work with the individual people and provide help. For example, in this website I help individuals to make money online.
These are my personal reasons and you can have different ones, of course.
My Final Opinion of Ipoll
Ipoll is another scam survey site. First, I thought that probably I could earn some dollars with Ipoll but after taking my time to research their program I am not interested at all anymore.
I am happy to warn you about Ipoll so you don't need to waste your time with their website.
Ipoll at a Glance…
Name: Ipoll
Website: www.Ipoll.com
Price: Free to join
Type of Business: Paid Surveys
Overall Rank: 0 out of 100
VERDICT: Scam. Not Recommended.
Have you used Ipoll or some other online survey website?
Leave a comment below and I will be more than happy to respond you within 24 hours.