Phoenix Power Rising Review – What Is Phoenix Power Rising? Scam or Not?

Name: Phoenix Power Rising
Website: www.phoenixpowerrising.net
Price: Free to join but expensive to upgrade
Owners: Terri Petty
Overall Rank: 0 out of 100
Introduction
"We got tired of the rest so we created the BEST."
That's the way they describe Phoenix Power Rising in their powerful and dramatic marketing video.
Then they promise to pay you $120 when you join. Yes, you heard right!
You are not going to pay you $120 and you are not going anything pay.
Well, in my ears that sounds scammy. Is it a scam or legit online opportunity? Let's take a closer look at this new program called Phoenix Power Rising (We will call it PPR in this review).
How PPR Works?
In a nutshell, it works in the following way:
1.You join to their program
2.You invite other people to join
3.You make money when your referral buys something.
Can you see the reason why some people are so eager to invite other people to join this program? They make money when someone joins!
This is a typical pyramid (or MLM) system and there is no a real business model. Other similar products are, for example, Pure Leverage System and My Lead System Pro. This kind of business models don't make the members rich but the founders may become rich.
Do They Have Any Products to Sell?
Well, the reality is that their only real product is Phoenix Power Rising.
They don't describe what you should be selling but they just promise to give you the best program in the world (typical for scam products).
After making my research, I found the list of the products that you could be selling as a member:
Discount Dining
Hotels/Airlines
Groceries
Discount Moving
Pharmacy Card
Legal Counsel
Online Fitness
Buyers Club
Flowers & Gifts
And the list continues…
They had an endless list of the products that you might be selling after joining.
The truth is that after joining you will not concentrate on selling flowers & gifts but their "magical money making" -program.
Who is PPR For?
Their product is designed for the people who are tired of searching the ways to make money online and now they are providing a powerful solution.
In my opinion, the program is made for people who are not aware of the scams and risk their money with this kind of products.
Their promises of easy money are just too good to be true.
Do You Want a
FREE
& Easy-to-Follow
7-Day Course
to
Make Money Online
for Beginners?
Easy-to-Follow

Beginner-Friendly

My Personal 1-on-1 Support for You
Get Started for FREE Below Before this offer goes away!
What About PPR Testimonials?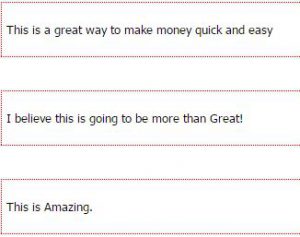 In PPR website, they have a long list of positive testimonials about the program. "This is Amazing." "Great way to make money quick and easy." and so on.
Then you can see similar testimonials on Facebook, Youtube, Twitter and probably in the other social medias. Maybe some of your friends are also recommending the product for you…
"If so many people are praising the system, how could it be a scam?"
As we talked before, they are paid to say these things! If someone joins after their referrals they will get paid. Could there be a possibility that they are really enjoying Phoenix Power Rising?
Yes, there is a possibility for that but it doesn't make this PPR legit. Their business model is a scam and it doesn't concentrate on providing value for the people. The main focus is just to make as much money as possible regardless if it's legal or not.
Why Didn't I Sign Up to Their Program?
There are a few reasons why I didn't even want to sign up to their program even though it's free.
1.I don't want to support scam programs. By signing up to their program I give a sign that I am interested in their products and want to use it. If I know that the program is scam why should I support them?
In the future they could show statistics, "10,000 joined members in our Phoenix Power Rising." I don't want to be one of them. I prefer to support legit programs like Wealthy Affiliate, Chris Farrell Membership, Niche Blitzkrieg or Affilorama.
2.I don't want to leave my personal information to them. Would you like to give your address and other information about you for the scammers?
3.I don't want to waste my time with the scammers. I believe that my time and your time are valuable so it's not wise to waste our time on the scam programs.
I think it's much wiser to stay far away from the scammers than to engage with them, give them your bank accounts, credit card numbers and other personal information.
Phoenix Power Rising
Here you can see the video made by the reliable internet marketer Lynne Huysamen. She explains why Phoenix Power Rising is not worth it.
Pros & Cons
Pros:
You can become rich. FAST! Or not… 😉
Cons:
Unreliable program
No real products
Lots of hype
Bad business model (based on cheating people to join)
Doesn't provide any value for the people
My Final Opinion of Phoenix Power Rising
PPR is another dirty scam that tries to cheat innocent people. This system is based on asking other people to join to make money from them.
I would never like to make money from the people in an untruthful way because it fights against my conscience. Sometimes I don't understand how these scam artists can do what they are doing.
If you are really interested in making money online there is no an "easy button" to make you rich.
The good news is that there is a step-by-step training that teaches you everything you need to know to start a successful online business.
You will get 10 free lessons and my 1-on-1 mentoring as you join.
Phoenix Power Rising at a Glance…
Name: Phoenix Power Rising
Website: www.phoenixpowerrising.net
Price: Free to join but expensive to upgrade
Owners: Terri Petty
Overall Rank: 0 out of 100
VERDICT: Scam. Not Recommended.
I hope you enjoyed this honest review about Phoenix Power Rising. Share it on social media if you want to warn other people about this scam.
If you have any questions or comments, leave them below and I will be more than happy to respond you within 24 hours.