Looking for an honest opinion of Market America? You have come to the right place. I have reviewed more than 50 similar multi-level marketing programs and I have a large knowledge about the subject. Therefore, I want to help you to decide whether you should join this program or not.
I am not affiliated in any way with Market America so my main purpose is just to inform you how their system works. Is Market America a pyramid scheme? Do people really make money with the system and will it beat our #1 recommendation to make money online?
You'll get answers to these and to all your other questions in the next minutes by reading this article or watching my video review.
Let's go.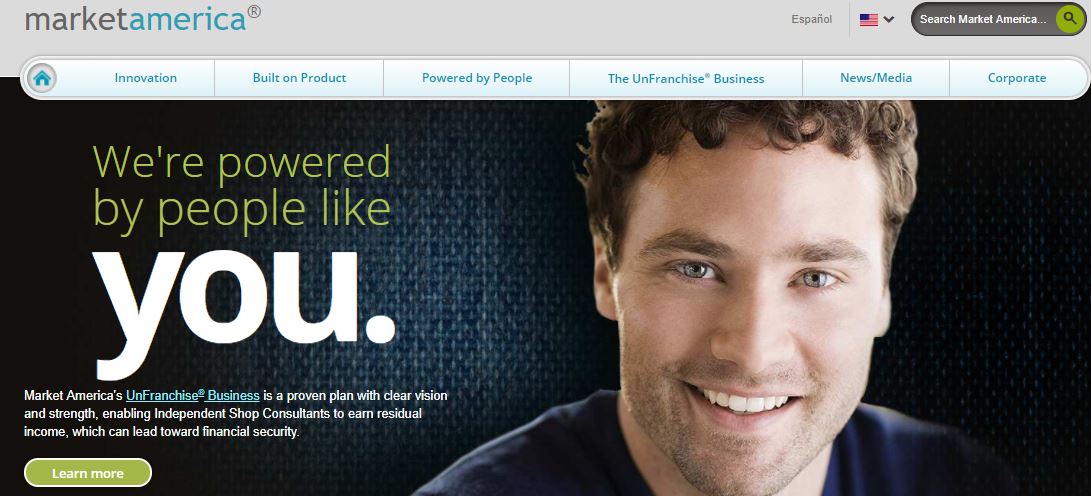 Market America Review
---
Name: Market America
Founded: 1992 by JR Ridinger
Type: Multi-Level Marketing – Online Shopping
Short Review: Even though Market America tries to avoid the MLM-label, making money on their system highly concentrates on recruiting more people. It's possible to make big money with their system but their ads are pretty exaggerating.
If you are interested in making money online, I advise you to take a look My #1 work from home recommendation. That program has helped me and thousands of other people to make a living online and it doesn't require any recruiting.
---
Is Market America a Pyramid Scheme? – 2019 Video Review
Before you dive into my comprehensive Market America text review below, I want to provide you an opportunity to take a look at my interesting Market America video review below.
In the end of the video, I'll also reveal you what is the best way to make money from home.
If you have any questions regarding the video or the article, don't hesitate to ask me and I'll be more than happy to help you out!
What Is Market America?
Market America is a multi-level marketing (MLM) program which was founded 25 years ago back in 1992 by JR Ridinger. He was before a top distributor of another MLM called Amway but he decided to create his own system which turned out to be successful. Nowadays JR's estimated net worth is more than $300 million. Quite a lot of money, right?
I think that JR's unique personality has been a big part of Market America's success. When he gives a presentation he doesn't save energy but he gives it all, 100% of him. You can see him sweating, running, shouting, whispering and do lots of fancy stuff on the stage. It's entertaining and he really knows how to convince people.
Like many other MLMs, also Market America has many cult-like characteristics. They promise to turn your whole life upside down. They'll change your health, wealth, future and many other things. Let me show a quick clip from some of their conferences. (Psst! Don't tell this to other but somehow I like that JR puts all in when he's giving a presentation.)
Market America's main business is having an online shop called Shop.com where people can buy literally everything. They advertise that joining the program is completely free. It's partially true. Yes, you can buy stuff from their online store without paying big fees but joining their MLM-business isn't free at all.
Let me quickly show you some of their products and then we'll evaluate the system itself more carefully. Products are, of course, very important because the big part of your success will depend on the quality of the products you are selling.
Market America Products
Market America has a huge list of different products. Basically, they sell everything you use in your everyday life. Let me give you a few categories:
Do You Want a
FREE
& Easy-to-Follow
7-Day Course
to
Make Money Online
for Beginners?
Easy-to-Follow

Beginner-Friendly

My Personal 1-on-1 Support for You
Get Started for FREE Below Before this offer goes away!
Nutritional products
Health, wellness & beauty
Financial services
Clothing
Electronics
Travel
Etc.
In addition, they are constantly bringing more products in order to expand to new areas. You can take a closer look at shop.com or by having a look at the pictures below:


As you can see, most of their products are receiving very positive reviews despite the expensive pricing. But I want to remind you about one very important thing. Most of the purchases are most likely made by Market America distributors themselves who believe in the system with their whole heart. They want to make products look good for other one as well.
But what about the MLM-system? How does it work? Let's have a look.
Should I Join Market America?
First, you may want to be aware that it's going to take hundreds and probably thousands of dollars of investment to be part of this system.
Subscription fee is $129.95 and annual renewal fee $99.95.
Fast Start Kit (to get some of their products) costs $399 + taxes
Unfranchise Management System: $20 Monthly
Business support materials cost $200
Then meetings and events cost a few hundreds dollars per year
Did they mention the word "Free" in their  presentation? Where did it suddenly disappear?
Anyway, I don't blame Market America for taking money. The business must make money if they want to stay in the game. In addition, starting any business costs money (unless you start here for free.)
Starting as an employee doesn't usually cost anything but the earning potential is also much lower. Then you might be asking, "Well, how much can I earn with Market America?" Let me show you their compensation plan.
Market America Compensation Plan
In this video Market America member Jim Winkler explains their compensation plan in a great detail:
Of course, he wants to point out the potential of huge earnings. Yes, it's true that some top earners make big money. JR Ridinger himself has made hundreds of millions of dollars by sitting highest on top of the pyramid. But the reality for most members is quite different.
Market America Income Disclosure Statement
I was looking for their newest Income Disclosure Statement but it seems it isn't public. I found one from 2010 which shows earnings of their Canadian distributors: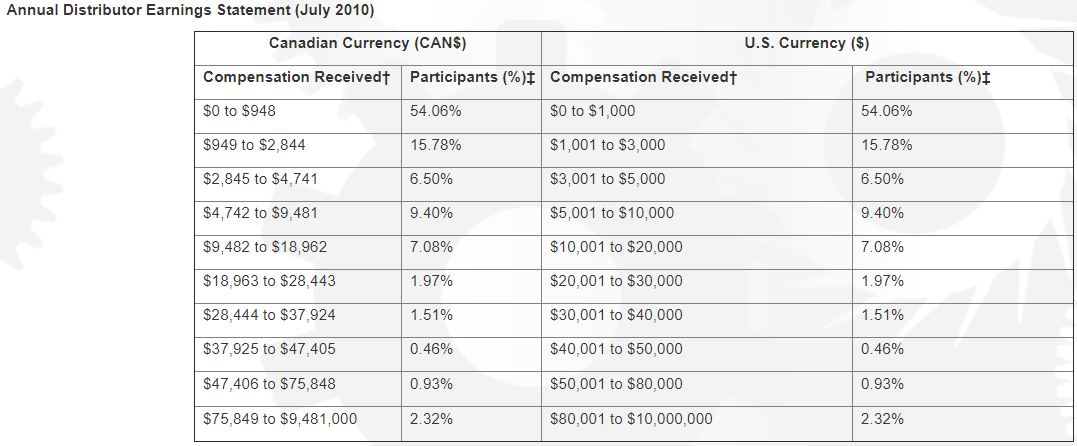 It shows a typical story from this kind of MLM-program. Most people are doing nothing while 3% on the top are taking almost the whole pot. 54,06% are making less than $1,000/per year (minus their business costs). If you have seen other income statistics of systems like Amway, Melaleuca, Herbalife or other MLM-programs, you know that this is how it usually works.
Have you ever imagined the situation in their business conventions? There are tens of thousands of people sitting there. Only a handful of those people are making big money and they are on the stage. Other ones don't make almost anything. Interesting.
Market America Reviews & Complaints
The Internet is full of Market America from current and former members. Many of them left disappointed. Some people were offended by their aggressive members. Let me share a few most common complaints.
1."How to Get Out of Market America?I Don't Earn Anything!"
Probably the most common complaint is that making money wasn't so easy that other distributors made them believe.
2."They Don't Leave Me Alone!"
Some people share stories that Market America distributors were hunting them like Jehovah Witnesses. Asking to meetings and insisting. In my opinion, it's okay to ask politely once or twice and offer an opportunity. But if somebody isn't interested it would be better to leave him and move on.
Of course, this can happen with any program but it's quite typical with MLM-programs. Each individual should carry their own responsibility and treat other people respectfully. Sometimes it feels that network marketers use Terminator look to watch around and find more targets.
I know a wonderful way to make money online and I use it myself. However, I don't push it constantly for my friends and family members. I offer the opportunity if they want to hear but I understand if somebody doesn't want to make money online.
3.Market America Pyramid Scheme Lawsuit
There has been several lawsuits during Market America's history. Sometimes they have been sued for being an illegal pyramid scheme and sometimes the case has been something else.
Once they were sued for targeting lots of Chinese immigrants and promising them something more than was the reality. You can read about the details of that lawsuit here.
Conclusion – Is Market America Worth It?
To be honest, I find several positive things in Market America. You can do the work online (anywhere, anytime you want), they have enthusiastic leaders who believe in constant growth and you can get support to grow your business.
However, I still don't join the system for a few reasons. I am not a big fan of network marketing and overpriced products. The fact is that you need to commit for a long time and put months and years of hard work to succeed. I have found another wonderful opportunity so I don't need to try another one.
Market America has also costs that my opportunity doesn't have and I'm not fully convinced of their products. I know that you are interested in making money online because you are reading this.
That's why I want to offer you the same opportunity that helped me to make money online. I also offer you my 1-on-1 support to help you all the way. This isn't an MLM-system so you don't need to worry about recruiting new people if you don't like it.
7-Day Make Money Online Email Course
Learn SIMPLE steps to make a LIFE-CHANGING INCOME online. I will help you hand-by-hand!
---
What is your experience with Market America or similar MLM-programs?
Let me know in the comments below! 🙂