Tron has gained so much popularity recently in the social media and cryptocurrency circles. It has even won some Gallups of the most potential cryptocurrencies in the world. The price became 10 times higher in a few weeks during December 2017 and probably new millionaires were born.
What is Tron? Is Tron a good investment? Who are behind this project? Does Tron have a future? If you are looking for answers to any of these questions, you have come to the right place. I hope you'll find my article informative and it will help you to understand more this project. If you have any questions, feel free to ask them below and I'll be more than happy to answer all your questions personally.
---
Is Tron Worth Buying? – Video Review
Before you run into the article, I want to give you an opportunity to take a look at my Tron video review. I underline and highlight a few important things about Tron coin. Enjoy! 🙂
UPDATE: I have bought Tron on Binance because I think there's a great potential for the future.
---
Tron Review
Name: Tron (TRX)
Launched: 2017
Type: Cryptocurrency
Short Review: Tron seems to be a very potential coin. People are talking about it so much on social media that the value will most likely go up in the near future. Tron has also a great potential for the future but it depends on how well their development team will manage to build this project.
If you are looking for sure and proven ways to make money online, take a look at My #1 Recommendation.
---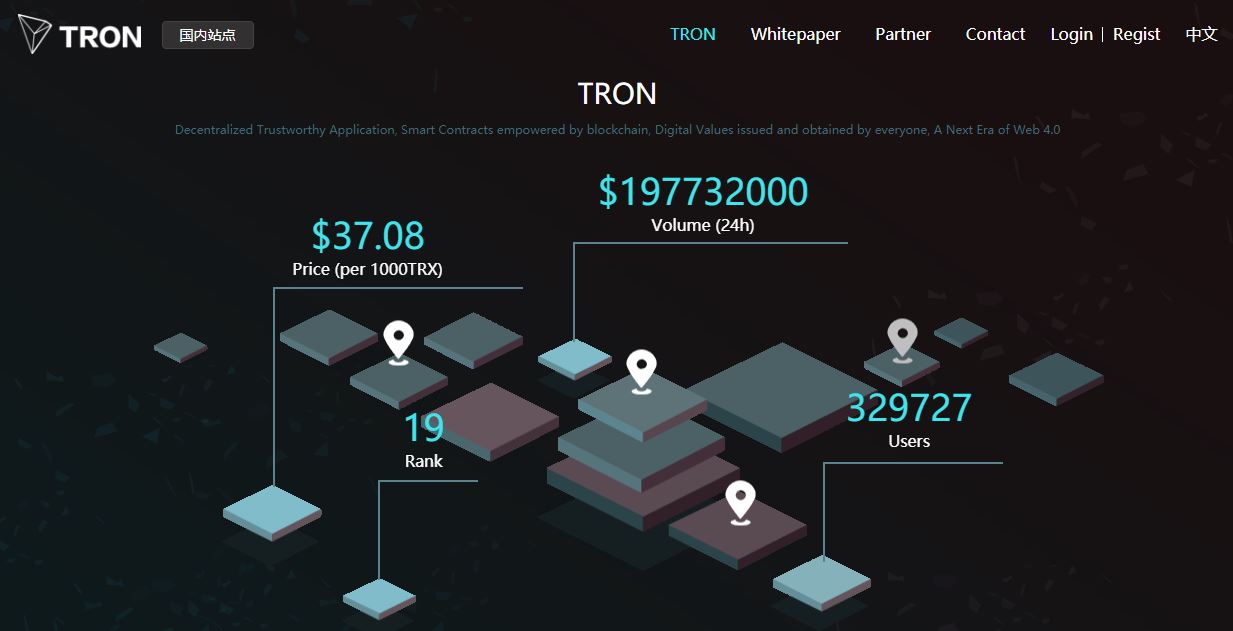 What Is Tron?
Tron is a cryptocurrency created by a famous Chinese entrepreneur called Justin Sun. You can take a look at the whitepaper of Tron to find all the details about their project. It's very thorough and explains their philosophy in a great detail.
The ICO (initial coin offering) of Tron was so popular that Binance crashed. Binance is one of the most popular cryptocurrency exchanges in the world. I'll publish a review of it soon to tell you more about their services.
1.The Value of Tron Coin Became 33 Times Higher in 15 Days
The value of Tron really jumped to the sky in December 2017. 6th of December people were trading it for 0,2 cents (=$0,002). The value started rapidly rising and Tron hit its peak back then in 21st of December. The value of one Tron coin has become more than $0,67. That's a pretty big jump, huh? I wish I would have been part of that lol!
Let's imagine that somebody invested $33,000 in Tron in the beginning of December. Now he would be a millionaire. That's crazy. If you think that $33,000 is a huge amount, let me tell you that I gained +$50,000 with cryptocurrencies in less than two months and one of my best friends made +$1,000,000 in two days. So yes,  people are really putting in lots of money and gaining as well.
I have mostly invested in the biggest coins that are already more stable than the smaller ones but if you want to make the biggest gains, then you would need to search for the best altcoin that has the greatest potential to grow in the future.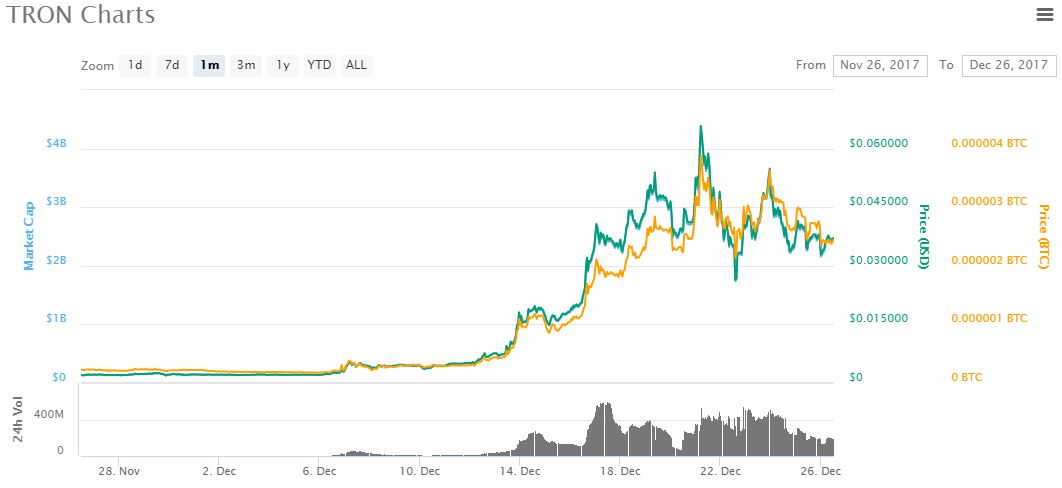 2.Tron Is a "Real" Cryptocurrency
There are some so-called cryptocurrencies that are just scams, Ponzi schemes or something like that. Then there are real cryptocurrencies and projects that provide real value and try to improve the world. Some of the most famous crypto scams are BitConnnect and CoinSpace. Gladly, Tron isn't one of them because it's a real project by a strong team of developers.
There are two kinds of cryptocurrencies: Decentralized and centralized ones. The idea of decentralized cryptocurrencies is that nobody is running the show. Compare it, for example, to the current financial system. Big banks and governments are running the show are deciding what happens, how much money there is, etc. One of the first ideas of cryptocurrencies was that it wants to take the power away from the banking system that has too much power.
There are also cryptocurrencies that aren't decentralized like Ripple for example. I think that Ripple project is great as it's trying the improve the current system. It's completely different than other centralized projects that were scams in the crypto world. Anyhow, Tron wants to be a completely decentralized cryptocurrency so a single institution isn't running the show. Even though the goal is to be decentralized, somebody has to start the project and develop it.
Transactions that are made with Tron coin are recorded to the blockchain ledger. Actually, based on my research Tron supports numerous blockchain networks including Ethereum, Bitcoin, EOS, and Qtum which are all some of the leaders in the cryptocurrency world.
This enhances Tron's utility and liquidity. Also, Tron's ability to cross-platform transactions gives it a good edge against many other coins.
Do You Want a
FREE
& Easy-to-Follow
7-Day Course
to
Make Money Online
for Beginners?
Easy-to-Follow

Beginner-Friendly

My Personal 1-on-1 Support for You
Get Started for FREE Below Before this offer goes away!
You are probably familiar with the word "Smart Contract" if you have read about Ethereum or NEO, for example. It easily enables users to access the features of the cryptocurrency. While Bitcoin provides an opportunity for a transaction of value, smart contract technology provides a possibility for transfer of value with specific requirements. I have read more about this in my other articles so I don't go into details on this one.
3.Tron Gives Credits for Creators
I am a full-time Internet marketer and I have used Google and YouTube ads for making money. Then I know people who have uploaded their games to Apple or Android Play Store. One thing when working with these platforms is that the creator of the platform takes a large sum of the money. Exact percentages may wary but the conclusion is that a large number of earnings goes to someone else's than to creators' pocket.
The goal of Tron is trying to build a platform/technology that gives rewards and credit directly to creators. Actually, Tron is trying to build something else than just a platform. It tries to build a whole "Internet" where creators can get rewards for their work.
4.Justin Sun (the CEO) of Is One of the Most Influential Asians
Justin Sun has been twice noted as 30 most influential Asians under 30. In order to achieve such an honor, you need to do something significant. If somebody has succeeded in his life before, he has good chances to succeed again. I believe that a person's track record has often a big impact on his future. Not always but often.
I was working in a company where under my boss pretty much the whole team had quit the job. Then she became my leader. Guess how long I remained in a position? 1,5 months. She was a nice person but there was something wrong with her leading style. It felt that she didn't believe in the employees enough.
That was just one example of my life where I have seen that the history and the track record shows the future results. Of course, history is never a guarantee for the future but it can give some good probabilities and signs how the future will most likely turn out to be. That's why I think it's a good thing for Tron that it has a strong leader who has received good results in the past.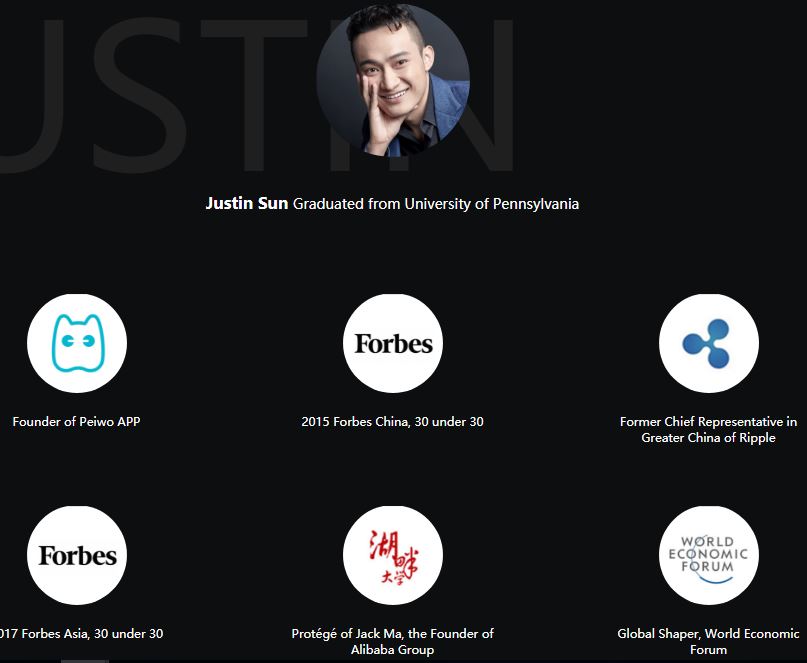 5.Tron Has an Active Community of Users
When I follow discussions in Facebook cryptocurrency groups I see that Tron is the favorite coin of many people. They are sure that the price will go up in the future. This hype has for sure a big impact on the short- and mid-term price of Tron.
When people talk about it, more people get interested and they buy it also. Actually, I heard about Tron for the first time in Facebook groups and I got interested because so many people were talking about it.
I talked once with one of my friends who is a great expert on Bitcoin. He has studied Bitcoin and other cryptocurrencies for thousands of hours. He underlined the importance of the community and the people that are using the coin. The best technology doesn't help if nobody is using it.
He gave an example of Facebook. Everybody is using it because also so many other people use it. It may not have the best technology of all social media in the world but it doesn't matter because everybody else is already using it. You can try to use some small social media but it doesn't give you much happiness if none of your friends or family members aren't there. The same applies to cryptocurrencies. There may be a small coin with a great technology but it doesn't have a great value in the real life until many real people are using it and it has real-life applications.
On the other hand, we are still in the infancy of most cryptocurrencies and most of them don't have very much real-life applications at the moment. That's why investors are mostly 'betting' when they see the potential of one coin in the future. In 3, 5 or 10 years we'll probably see more which coins will affect people's everyday lives the most.
Where to Buy Tron? – I Bought It on Binance
My friend recently bought around 15,000 Tron on Binance. I have used also Binance for Tron and I have invested more than him. Even though Tron isn't the biggest cryptocurrency in my portfolio, I have still invested a significant amount on it because I believe in its long-term potential.
In my opinion, the easiest way to buy Tron is to get it on Binance. They have low transaction fees, easy-to-use platform and it was easy to get started.
Conclusion – Is Tron a Good Investment?
Based on the factors that I explained in the article, I believe that Tron has a good potential. I can't guarantee the growth but I'm pretty convinced that the price will grow at least in the short- and mid-term compared to fiat currencies.
At the moment I am personally investing mostly on the biggest cryptocurrencies but I may put a small amount of my portfolio to smaller coins like Tron. If you find the most potential coins, you'll make a fortune. I have researched tons of different cryptocurrencies and many of their prices have gone up 10, 50 or even 100 times in a year. If you invest $1,000 in a coin that goes up 100 times in a year, you'll have $100,000 when the year ends. Not bad, huh?
That being said, there's risk with any kind of investing and you should also take that into account. I usually like to mention about proven ways to make money online as well. You probably know that you can make some money with cryptocurrency faucets and by mining but the rewards are so small that it's not worth it.
Here's a better way to make money online that I use myself. In my opinion, it's good to build several income streams so all of your eggs aren't in the same basket. Even if you lose in one, you can win with others and make a good profit. Click the picture below to get started.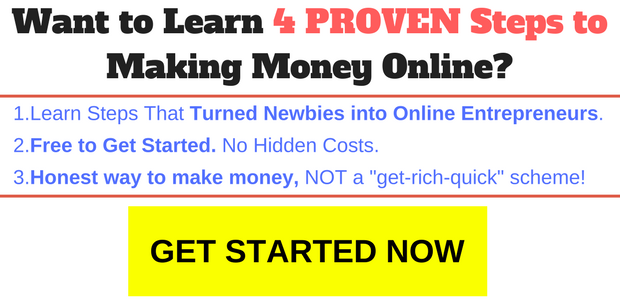 ---
What do you think about Tron?
Is it worth buying or not?
How Much will the value be in the future?
Let's discuss in the comments below! 🙂
(Disclaimer: This article is not an official investment advice. It only represents my personal opinions but shouldn't be taken as an investment advice.)