Today we are going to take a closer look at one of the best and most interesting freelance marketplaces in the world. This company was founded in the famous Silicon Valley by Taso Du Val and Breanden Beneschott and they promise to offer you top 3% freelancers in the world. Their service is not the cheapest one but offers you a great value. Is Toptal worth it?
Let's find out!
Toptal Review
---

Name: Toptal
Website: www.Toptal.com
Founded: 2010 in Silicon Valley, California, U.S. by Taso Du Val and Breanden Beneschott
Field: Marketplace for the Top 3% Freelancers
Overall Rank: 95 Out of 100 (Check Out My #1 Recommendation to Make a Living Online, 98 Out of 100)
---
What Is Toptal?
Toptal is a marketplace for top freelance designers, software developers and finance experts in the world. Their application process for freelancers is tough and only 3% of applicants get approved.
Now we are talking about a totally different freelancing service than for example Fiverr or Freelancer. You can find millions of freelancers in those services doing the work for you for $5-20 but you may have a hard time to find high-quality workers.
Toptal is dedicated to connect the best freelancers in the world with their clients. This brings benefit for both sides and in my opinion Toptal is an awesome invention. It wasn't a huge surprise when I saw that it was founded in Silicon Valley, California.
How Does Toptal Work for a Client?
It is said that the picture explains more than a thousand words, so take a look at an image below: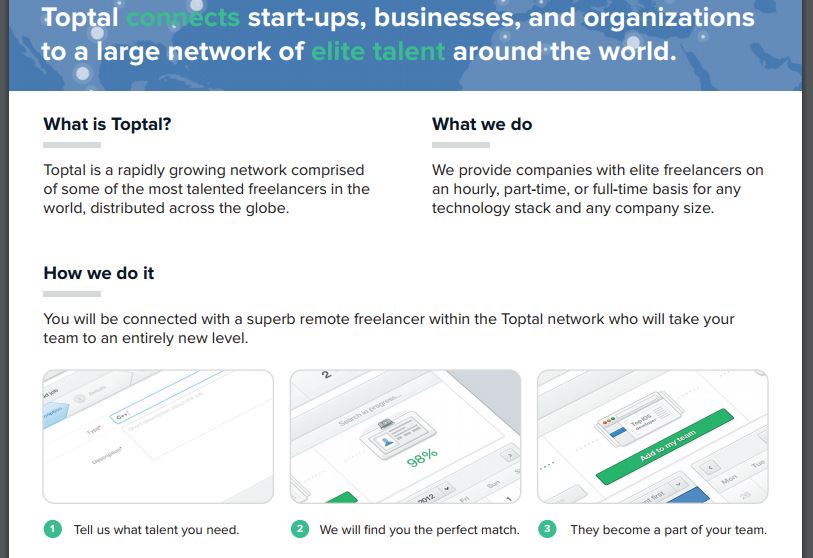 If you are a client, Toptal helps you to find a perfect match for your job. You tell them exactly what you need and they will search for a great employee for you.
Toptal guarantees that you are satisfied with the freelancer. You can have a Skype call with a potential freelancer to have a talk with him in advance. If he seems great, you can start working together. But if you are not satisfied with the quality of his work, you can end the cooperation and most of the time you are not charged anything.
Have a look at this picture where Toptal compares their service to other companies. As you can see, there are several benefits of using Toptal.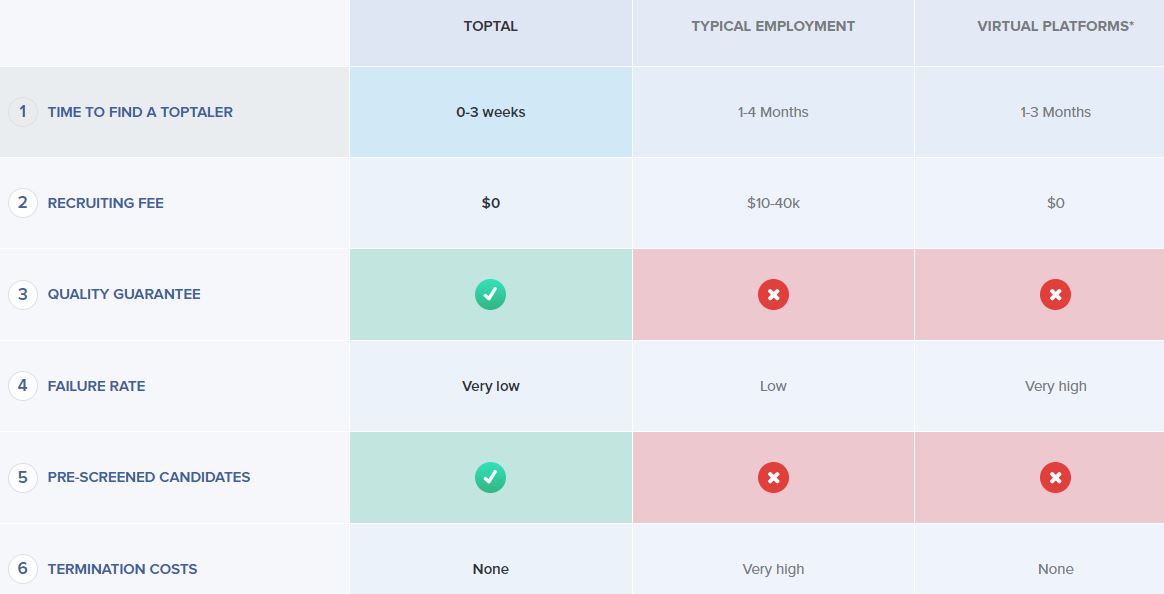 How to Become a Freelancer in Toptal?
In order to become a freelancer in Toptal, you need to go through a tough screening process that only 3% of applicants get through.
The first part is a Skype call with an interviewer. The main reason for this part is to check your English skills and personality. You must be able to write, and speak English extremely well. You also need to be passionate and driven individual who cares about his work. Only 26.4% of applicants pass this first phase.
In the second part, they will test your job-specific skills like programming or whatever is your area of expertise. You need to know how to do something very well in order to pass. If you are a programmer writing code, they can give you a task, for example to code an application for some specific problem.
You need to accomplish your in a given time with high quality. They will check most likely check your algorithms and evaluate the whole output. Only 7,4% of applicants pass the second part.
In the third part, you will have a telephone call through Skype again with an interviewer. He will give you some tasks to accomplish during the interview and you need to share your screen while accomplishing them. You explain your thought process for him while doing the task.
In this phase, they test your communication, problem-solving skills and creativity. Now only 3,6% of all applicants get through this phase.
Then you will have some test projects in the beginning of your Toptal career or you need to give a presentation of your skills. Once they say, "Welcome to Toptal." you are in.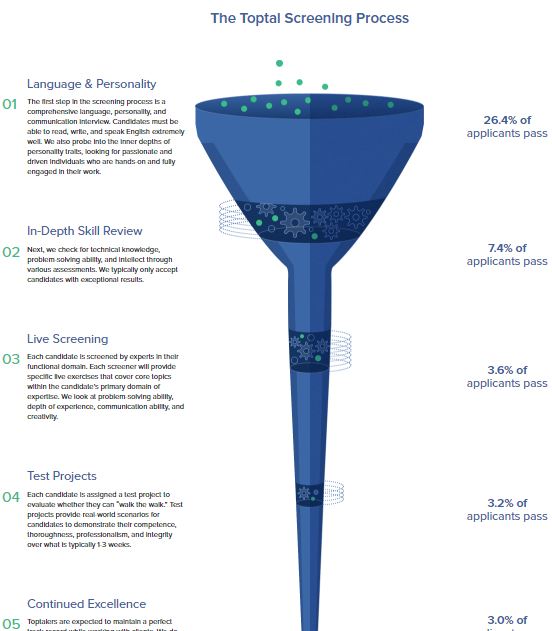 Toptal Pricing (and Earning Potential for Freelancers)
This is probably one of the most exciting part at least for the freelancers. In most freelance marketplace you can't make very high income because there are people from 3rd world doing the same tasks for 2-5 times cheaper. But in Toptal you have a chance to earn a great income.
Do You Want a
FREE
& Easy-to-Follow
7-Day Course
to
Make Money Online
for Beginners?
Easy-to-Follow

Beginner-Friendly

My Personal 1-on-1 Support for You
Get Started for FREE Below Before this offer goes away!
Your salary will, of course, depend on your skills and your negotiation skills but here are some guidelines what costs in Toptal projects.
For designers and developers
Hourly Rate: $60-$95+/hour
Full-time workers $2000-$3200+/week
For finance, the salary may be even bigger.
Hourly Rate: $100-$200+/hour
Full-time workers: $3200-$6400+/week
These are the sums that Toptal announces on their F.A.Q. page.
We can quickly see that you have a great earning potential as a freelancer through Toptal. If you are a business owner and need to find freelancers, you need to be ready to pay enough for their skills. This is not Fiverr.
Toptal Benefits
Toptal offers several benefits for companies and freelancers and it's not a coincidence that huge companies like J.P.Morgan, Airbnb, Udemy, and Pfizer are using their services.
If you have a business, Toptal can save lots of time, money and energy in your recruiting process. It can be a challenge to find highly motivated and suitable employees for new projects. Toptal does the work for you and gives you the satisfaction guarantee.
As a freelancer you don't need to worry about invoicing or other stuff. If you are a programmer, I guess that you would like to program and not make invoices and all other documents. Toptal can also significantly help you to find a great work and get paid well.
You can expect to find great employees for your projects through Toptal because if they don't meet your expectations, they will be fired. Most of the Toptal clients are start-ups or small companies in my experience.
For a freelancer, Toptal gives a good opportunity to get paid based on your skills. Nowadays it happens many times that it doesn't matter what you know but who you know. And if you don't have the right contacts, it can be challening to find a job. In Toptal you will get rewarded based on your skills, not based on your network (even though it can help you of course).
Toptal Complaints
There are of course some complaints of Toptal as they are from all other services in the world as well. However, they have over and over again achieved high ratings from several reviews. Here are some examples:
Toptal achieved an average rating 9,5 out of 10 in Trustpilot.com based on 379 reviews.
Average rating 4,3 out of 5 in Glassdoor.com based on 75 reviews.
However, there are also some people who were not satisfied with their services. I found a few freelancers who didn't get applied and they were frustrated because of this tough screening process. They said that Toptal can't guarantee to provide you the top 3%, they just give you arbitrary 3% of the applicants and that's it.
Well, I can't agree on that because of course it's Toptal's goal to look for the best ones. But I believe it sometimes happens that you get disqualified. That's life.
I also found a few complaints from customers that they spent lots of money and didn't get what they wanted because of the bad communication. I think it's natural that can happen when Toptal has been in the business already for 7 years and served thousands of customers. However, these complaints seem to be only individual cases.
343 people gave Toptal 5 stars (out of 5) and only 6 people gave 1 star in Trustpilot.com. In my opinion, that's quite impressive! What do you think?
Pros & Cons
Pros:
You can find the best freelancers in the world to for you
You can earn great income as a freelancer
Toptal filters applicants and offers you only the top 3% of all designers, developers and financing experts
They have been already 7 years in the industry (founded in Silicon Valley)
People are loving their service and giving 5 out of 5 stars in reviews
You can find a full-time job in Toptal
Cons:
Their service is not as cheap as some other freelance marketplaces
It can be challenging to become a freelancer in Toptal
Conclusion – Is Toptal Worth It?
Toptal seems to give top-notch service and connects the best freelancers in the world. Even though their service is not as big as Fiverr, Upwork or Freelancer, their focus is laser-targeted.
If you have a great project in mind and you would be willing to invest some money on executing it, Toptal can be the right place to find an employee for you. You can hire freelancers for shorter or longer projects as well.
If you have great developer, designing or financing skills and you are looking for a job, Toptal can be a great opportunity to earn money for you. Don't be terrified of their tough screening process. You do your best and that's it. If you fail for the first time, you can always learn more and try again later.
Even though freelance work for a good income is exciting and interesting, at the moment I prefer building my own online business. If you are interested how you could learn to build a successful online business as well have a look at this step-by-step training.
In my opinion, it's the best one in the world. Many people who didn't have any prior knowledge of making money online, are now full-time online entrepreneurs. Some of them are making even +$10,000/month.
7-Day Make Money Online Email Course
Learn SIMPLE steps to make a LIFE-CHANGING INCOME online. I will help you hand-by-hand!
Toptal at a Glance…
Name: Toptal
Website: www.Toptal.com
Founded: 2010 in Silicon Valley, California, U.S. by Taso Du Val and Breanden Beneschott
Field: Marketplace for the Top 3% Freelancers
Overall Rank: 95 Out of 100
Have you or some of your friends ever tried Toptal? What kind of experiences did you have?
What are your favorite ways to earn money online?
Let me know in the comments below! 🙂
I love to hear comments and questions from our visitors and followers. That's why I promise to reply to every single comment personally. I am looking forward to hearing from you soon.