Is TaskRabbit a Scam? How does it work and is? What is TaskRabbit after all? Is it a great way to earn money and quit 9 to 5 job?
I've seen many questions of TaskRabbit all around the Internet and decided to write this article to answer all your questions. Whether you've been thinking about becoming a "rabbit" or hiring someone through their website, you have come to the right place.
TaskRabbit Review
---
Name: TaskRabbit
Founded: 2008 by Leah Busque
Type: Independent Work. Can be literally anything from shopping to car repairing.
Short Review: I love the idea of TaskRabbit. It helps clients to outsource their work and taskers can earn good money independently. If you like moving around and helping people, TaskRabbit could be an interesting way for you to make a living.
I personally prefer earning passive income online. That's why my #1 recommendation is still Wealthy Affiliate because it has taught thousands of people worldwide how to make it.
---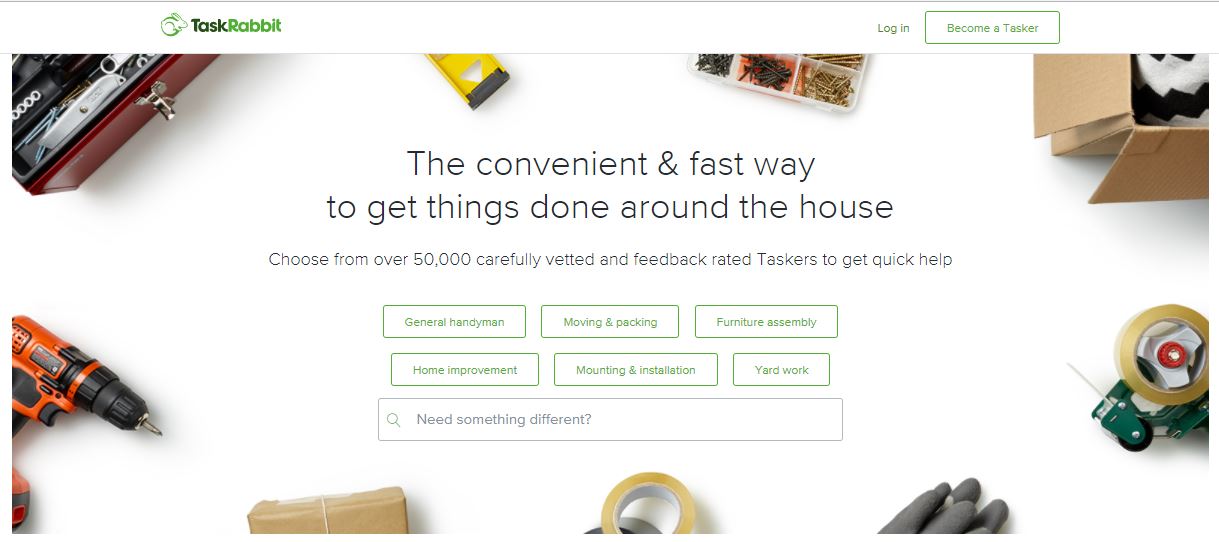 What Is TaskRabbit?
Ever had a situation where you would have needed a helping hand? Your removal is coming but doesn't know anyone who would help. Or you would need to install some home equipment. Somebody should clean the house but you don't have time at the moment. That's where TaskRabbit comes in the picture.
TaskRabbit is a service that connects regular people who need to get some job done with "Rabbits" who are ready to help them. TaskRabbit has a mobile app where you can request taskers to do something for you. Or as a tasker, you can pick up the best jobs what you could do and start earning money.
In the picture below you can see some popular jobs on TaskRabbit:

How Much Money Can You Earn on TaskRabbit?
When I saw TaskRabbit for the first time I thought it would be probably earn something like $10 per hour or $2,000 per month maximum. I was completely wrong.
Some Rabbits are earning $6,000-7,000 per month or even $2,000 per week. That's much over the average salary in the U.S. In Finland (my expensive home country) the doctors earn such money. Of course, you can earn +$10,000 per month online but $6,000-7,000 per month is still a great salary.
At the moment TaskRabbit is available in major cities of the US and UK. They are expanding and scaling the business all the time so most likely it will be available in other countries as well in the future.
Even though top earners make $2,000 per week on TaskRabbit we need to remember that everybody isn't making such income. It may be challenging to find tasks in your area and the competition can also be tough. Anyhow, there's clearly an interesting earning potential. Your minimum earnings will be $11,5 per hour through this app as a tasker.
You can decide yourself what kind of salary you're going to accept on TaskRabbit. I recommend that you do your calculations and take into account that it some jobs you need to move around and use the money on gas.
TaskRabbit Payments + Interesting Story
You can withdraw the money immediately when the client has marked the job completed and you have reached the minimum payout limit $25. You will get paid within 24 hours through PayPal or in 3-7 days by a check.
TaskRabbit takes a little fee of your salary but as I mentioned your minimum salary is still $11,5 per hour after TaskRabbit fee. Some taskers earn even $50-70 per hour. One man reported that he was earning $70 for folding t-shirts because a start up company needed to have their t-shirts folded before a very important event. Sometimes people are willing to pay crazy money if you need to get things done fast.
How to Become a Tasker?
You can easily sign up on TaskRabbit website. Then they'll arrange you a video interview through the Internet where you'll be asked several important questions. The criteria for getting accepted as a tasker isn't very high but TaskRabbit still wants to make sure to provide the best value for their customers.
Once you are accepted as a tasker, you can start using their mobile app to look for new jobs. Have a look at the picture below:
Do You Want a
FREE
& Easy-to-Follow
7-Day Course
to
Make Money Online
for Beginners?
Easy-to-Follow

Beginner-Friendly

My Personal 1-on-1 Support for You
Get Started for FREE Below Before this offer goes away!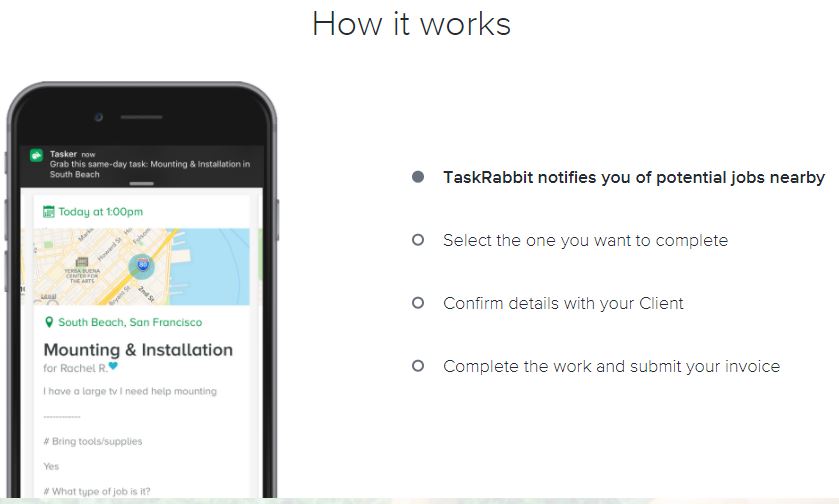 When you see suitable jobs, you just accept the details with the client and get the work done. Then you get paid and that's it.
Is TaskRabbit Safe?
If you are thinking about buying services through TaskRabbit, it's important to ask yourself, is TaskRabbit safe? Or if you work as a tasker, can you be sure that you are safe when going to meet strangers?
TaskRabbit makes their best to provide safe work and good value for their clients. All taskers go through the screening process. Of course, you can use common sense if there is something strange with tasker's messages. Anyway, 99% of taskers should be completely fine. You can read tasker's feedback and choose the best ones for you.
TaskRabbit clients should give their personal information and details to the app. TaskRabbit is a reliable company and they won't give your information further.
Despite all great aspects of their app, there are some TaskRabbit complaints on the Internet. We're gonna have a look at positive and negative reviews in the next chapter.
TaskRabbit Reviews & Complaints
Most people are satisfied with TaskRabbit. Their average rating is 7,4 out of 10 on Trustpilot website based on 146 reviews. Many said that it's so easy and practical to use TaskRabbit to get things done. You can find lots of reviews like this:

Notice that this review is pretty new because it was written in August 2017. You can find tons of other positive reviews written this summers saying, "Great service, reliable taskers, would use again, etc."
However, as there are thousands of taskers in the service, some of them may be a little bit "unprofessional". Have a look at this example: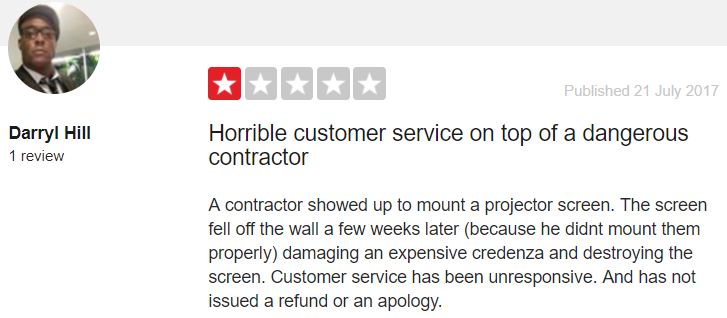 Mounting a projector screen shouldn't be a very difficult task. That's why I'm sorry to see a negative review like this. It seems that this happened because of the unqualified tasker. This kind of mistakes can happen because the screening process isn't very tough.
However, Darryl probably left a negative review on his tasker so other people won't hire him again.
Conclusion – Is TaskRabbit Worth It?
TaskRabbit is not a work at home job like most services we review on YourOnlineRevenue.com. You can accomplish some of their tasks from home on the computer but if you want to earn a full-time income with TaskRabbit, you need to leave your home and "get your hands dirty".
This is definitely an interesting opportunity for many people who want to work independently rather than having a regular 9 to 5 job. However, for a person like me who rather works on his brains rather than using hands, I prefer earning money online. If you are interested in earning money like I do, I offer you my full support on Wealthy Affiliate. It's completely free to get started.
I could use TaskRabbit for outsourcing little tasks like cleaning or installing some home equipment. However, I think that their rates are a little bit higher than on some other similar services. But sometimes it doesn't matter so much when you just want to get the work done fast.
Do you have experiences of TaskRabbit?
Would you like to work as a tasker or hire people through their service?
Let me know in the comments below! 🙂