Is Survey Junkie Legit Or a Scam? - August 2018 Update
Survey Junkie is not a scam but the earning potential on their website is very small.
The company contacted me and offered me money for writing a sponsored review on their services but I refused because I don't promote websites that don't pay well for you and other people in my audience.
I only want to recommend you opportunities that are profitable to you and will make you lots of money in the process. See my video below to learn more about my thoughts on making money with Survey Junkie:
Survey Junkie company is reliable and they pay as promised but the main problem with survey sites is that the earnings are so small. Anyone who claims differently usually benefits financially for promoting their services.
If you want to learn the steps that make me and thousands of other people worldwide $1,000's every month, just click here or learn more or follow the button below.
---
Survey Junkie promises to pay for your opinion. "Just answer a few questions to earn money." Sounds like an easy money, right?
I have experience of more than 70 survey sites and my experience says that easy money = very little money. However, I decided to look Survey Junkie with open eyes if it would be a better opportunity. Is Survey Junkie Legit Or a Scam? Do they pay you enough?
Give me 1-2 minutes and I'll answer to all of your questions in my unbiased Survey Junkie Review. I am not affiliated with their service so I'm not earning anything from Survey Junkie by writing this review. I just want to inform you whether their system is good or not.
Survey Junkie Review
---
Name: Survey Junkie
Founded: 2005
Type: Online Survey Sites
Short Review: Survey Junkie is a legitimate survey site. However, their rewards are so small that it's not worth the time to fill out their surveys. In my opinion, it's just a typical site where you can earn maximum $1-3 per hour.
If you are looking for much better ways to earn money online, I recommend taking a closer look at My #1 Recommendation. Their training taught me to make money online and nowadays I'm a full-time online marketer. If I can do it, you can do it as well.
---

What Is Survey Junkie and How Does It Work?
Survey Junkie is one of the hundreds of other survey sites that pay you for answering questions regarding different kind of brands. Companies need information from customers because they use that feedback for improving their products. Let's say for example that Coca-Cola pays Survey Junkie for getting information and Survey Junkie pays you. (I don't know if Survey Junkie is affiliated with Coca-Cola but that was just an example of a company.)
Survey Junkie also connects you with other survey sites. They have links to other providers where you can earn some money by answering questions and polls. However, the reward of this kind of sites is so small that I don't recommend them. I have experience of more than 70 different survey sites but I'm not using any of them anymore. I found a much better opportunity to make money online. Click the following picture to read more:

How to Make Money with Survey Junkie?
Making money from Survey Junkie is pretty simple even though the reward isn't so big.. Let's go through the process step by step.
1) Sign up
Fill out your personal information like address, age, etc. You can also sign up using your Facebook or Google+ account which can make the process easier. You get 25 points for filling out your personal information.
2) Fill out surveys
That's simple and anyone can do it. They will ask you questions regarding different brands and companies. Question – answer, question – answer, question – answer. It's not a rocket science.
Do You Want a
FREE
& Easy-to-Follow
7-Day Course
to
Make Money Online
for Beginners?
Easy-to-Follow

Beginner-Friendly

My Personal 1-on-1 Support for You
Get Started for FREE Below Before this offer goes away!
Most surveys take 5-30 minutes depending on how fast Internet connection you have, how long is the survey and how fast you can answer. Subjects vary a lot.
3) Cash out
When you have collected enough points, you are ready to cash out. 1,000 Survey Junkie points equal to $10 (which is their cash out minimum limit). They are using this classical trick of giving points instead of cash or gift cards right away. It feels much more exciting to earn thousands of points than a few dollars. It feels that you would be earning a lot even though in reality you earn only a little money.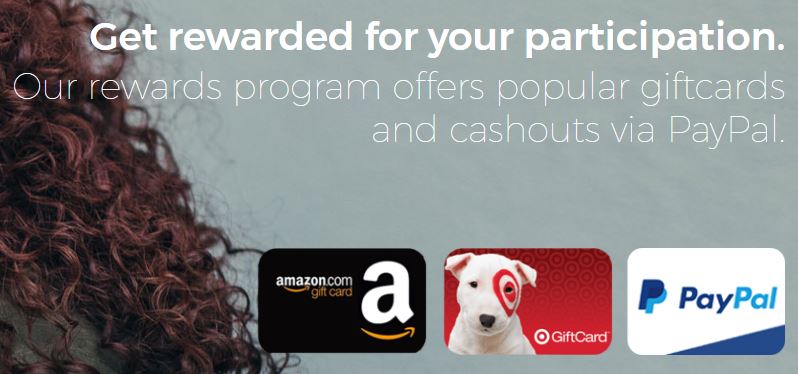 How Much Money Can You Earn?
You'll earn 25-200 points per survey. However, 200p surveys are very rare and most of them award you only less than $1. Here are some examples of your earning potential on their surveys:
100 points (=$1), 25 minutes
28 points, 9 minutes
35 points, 14 minutes
50 points, 10 minutes
A great thing with Survey Junkie is that they say you in advance how long the survey will approximately take and how much you will earn. All survey sites don't tell it.
Anyhow, we can see that your earning potential is even much lower than a minimum salary. The best-paying survey of this four option is 50 points using 10 minutes of your time. It would make your salary $3 per hour but in reality, it's too optimistic estimation.
You will get disqualified from many surveys which mean that you don't earn points even though you are answering their questions. Another reason is that $3 per hour is only a maximum what you could earn. Average earnings will probably be something like $1 per hour or even less. If you would like to earn a better money online, just follow this step-by-step training.
Survey Junkie Reviews – "Too Little Rewards" and "No Privacy"
Survey Junkie has received thousands of reviews during the years. Some of them are positive and some of them are negative. It seems that those people who are giving positive reviews for Survey Junkie don't know about better ways to make money online. They are satisfied with $1 per hour (or less) salary.
However, I don't want to work for $1 per hour and many other people don't want either. That's why they are giving negative reviews of Survey Junkie. Let me show one example from a member who filled out their surveys for two weeks and earned less than $4.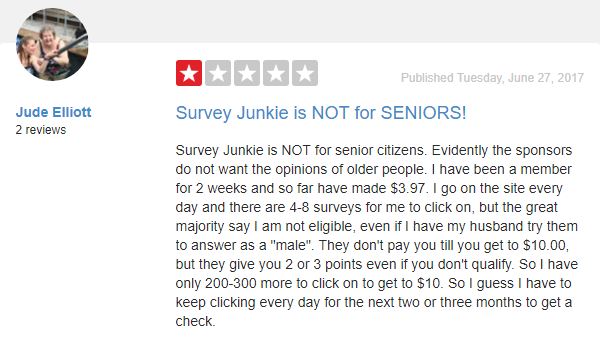 Jude's story is very typical. I have talked probably with hundreds of other people about online surveys and I keep on hearing that story over and over again. People tried them for a while. Earned some money and cashed out but didn't continue because rewards were too small.
It seems that there are only two kinds of people who recommend survey sites:
Those who don't know about better ways to earn money online.
Those who want to earn money from their referrals. (=They recommend the service for their audience. When somebody joins, the one who recommended earns the commission.)
I have made a principle that I recommend only services that I could use myself. I want to make a positive impact on my readers and improve their quality of life. That's why I don't recommend surveys for you.
Conclusion – Is Survey Junkie Legit Or a Scam?
Survey Junkie is a legitimate company and they pay their members. However, the rewards are so small that I don't recommend wasting your precious time filling out their surveys. I can show you a million ways to earn money online more easily.
Here are three great options that are much better than Survey Junkie:
1.Wealthy Affiliate. The training that taught me to make money online. I earn money while I'm sleeping, talking with friends, having a coffee or laying on the beach. I just visited my friend before writing this article. During that visit, I had earned money on the Internet.
2.Chris Farrell. This Englishman has lots of useful tips and I've learned many good ideas from his teachings. I know many people who have earned a life-changing income with his teachings.
3.Fiverr. One of the biggest freelancer marketplaces on the Internet. In my opinion, Fiverr is underrated. Many people make a living using Fiverr and I have used it for outsourcing lots of different things regarding my online business. I have also used Fiverr for earning some extra money sometimes. Nowadays I don't use it anymore because I prefer earning passive income online.
What do you think about online survey sites?
Do you also prefer better ways to earn money online? Which one are you going to try out for my 3 recommendations?
Let's discuss in the comments below! 🙂
I would love to hear your opinions and thoughts. I'll come back to all of your comments personally.