Again thousands of people are asking on Google, "Is Stella And Dot a Pyramid Scheme?" In this review, you'll get an answer to that and many other questions regarding this business opportunity.
Maybe some of your friends have invited you to join their program or offer you their products. Maybe you have found their system on social media like in Facebook, for example. Whatever is your case, you will get answers to your questions by spending the next 2 minutes with me.
I am not affiliated with Stell & Dot so I don't promote their products for you. However, there's no doubt that their products wouldn't be beautiful.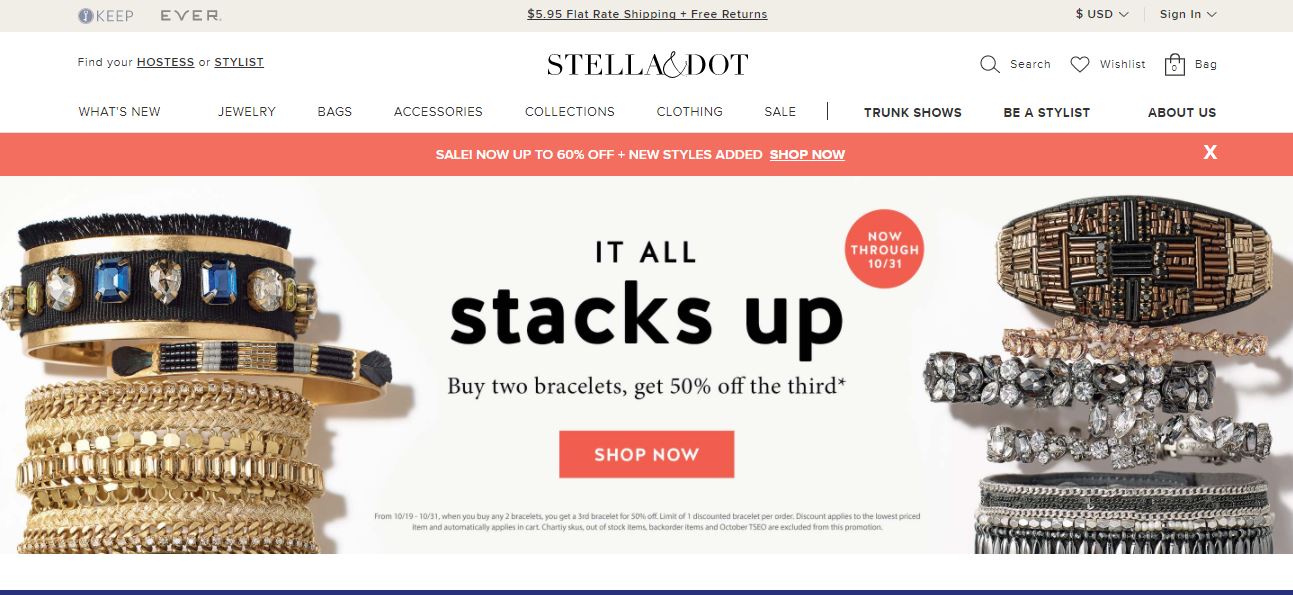 Stella And Dot Review
---
Name: Stella & Dot
Founded: In 2003 by Jessica Herrin
Type: Multi-Level Marketing. Jewelry & Accessories.
Short Review: Stella & Dot is quite typical MLM-business. They are targeting women who are interested in beauty & fashion which is a highly common niche for network marketing. There are also other typical characteristics like relatively expensive products, high failure rate, big promises and so on.
Still, there are people who are making a killing with their system. Their founder's Jessica Herrin's net worth was estimated to be $135 million in 2016. If you are interested in making big money online, I recommend taking a look at this free step-by-step training. It will help you whether you want to make money with or without MLM-systems.
---
What Is Stella And Dot?
Stella & Dot is a multi-level marketing program that is selling ladies' stuff like Jewelry, accessories, bags, and clothes. The company was founded back in 2003 by a successful businesswoman Jessica Herrin. The business started slowly growing and it literally boomed between years 2009 and 2012. However, since then it has steadily been going down. Some guess that Jessica has become comfortable because she has a huge fortune already.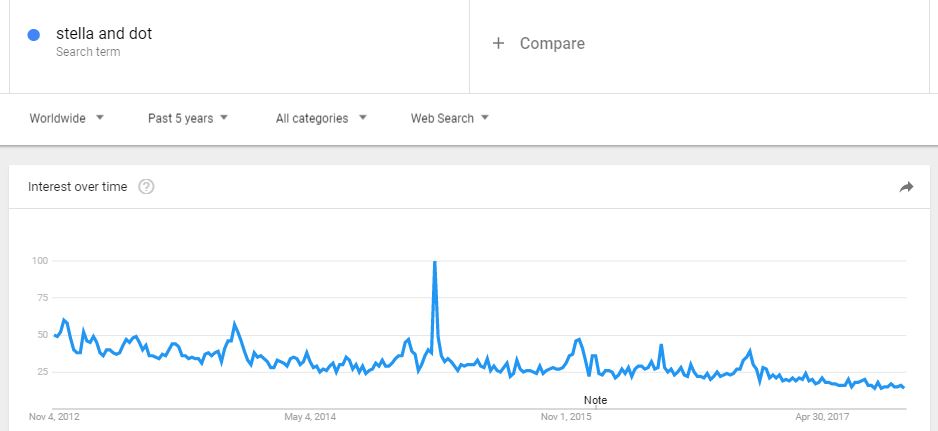 Stella & Dot is still a huge company and their yearly revenue is measured in hundreds of millions of dollars. You have probably heard of similar network marketing companies like Stelle & Dot. Some of them are:
All of them are similar systems targeting the same target audience in the same industry. You can see their advertisements are full of smiling and beautiful ladies who are happy with their business. Websites are filled with pink and other girly colors. Those things seem to appeal to women.
Stella And Dot Products
Stella & Dot product categories are:
Jewelry
Bags
Accessories
Clothes
Collections
Let me show some examples of their products and pricing.



You can see that their products are on the upper scale. Sunglasses cost $119, bags $138 and necklaces $59-149. There are for sure 2-10 times cheaper alternatives in the supermarket.
Selling expensive products just seems to be a typical way of acting for MLM-systems. It secures them higher profits. Instead of lowering the price they concentrate on adding value.
Getting Started with Stella And Dot
There are three options to get started with Stella & Dot:

Basically, all of those packages are similar. The only difference is that the more you pay, the more products you can choose. The cheapest package to get started is $199. Starting any business cost some money so $199 is, in my opinion, a reasonable price to start.
Stella & Dot has also a yearly renewal fee of $59. Many people don't understand what is the purpose of this fee. My guess is that it helps the company to cover their operational costs.
In order to earn commissions from the system and earn commissions, you need to make some sales. At least before they had a minimum requirement of $500 worth of sales per month but that policy seems to be changed.
Stella And Dot Compensation Plan
As a representative, you can make up to 35% commission for your own product sales and up to 18% commission on your team sales. You can take a closer look at their compensation plan here.
Do You Want a
FREE
& Easy-to-Follow
7-Day Course
to
Make Money Online
for Beginners?
Easy-to-Follow

Beginner-Friendly

My Personal 1-on-1 Support for You
Get Started for FREE Below Before this offer goes away!
Stella & Dot has also an affiliate program which is completely free to join. Affiliates earn 12% of all qualifying purchases from new customers and 5% of all qualifying purchases from returning customers. Average sale according to their website is +$100 and the cookie lasts 30 days. So, if somebody clicks your affiliate link, visits their website and buys after 29 days, you'll still make a commission.
In my opinion, the best way to make money with Stella & Dot is on the Internet through your website or social media channels. If you have a website related to this niche, you can make quite nice commissions by promoting their products. Follow the steps of this training to learn how you can build such website from scratch.
Stella And Dot Income Disclosure Statement
In the picture below you can see how much Stella & Dot stylists are earning in the U.S.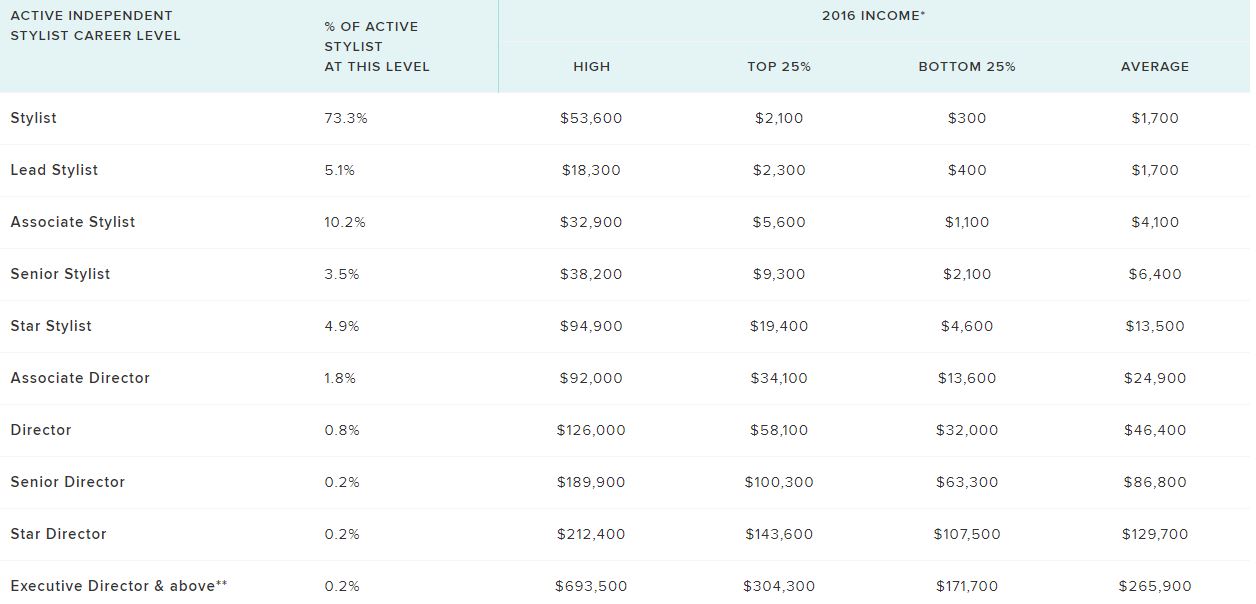 It shows typical statistics of this kind of MLM-business. Less than 3% of all members are making a full-time income with Stella & Dot. In the other words, if you want to succeed with this business, you need to be exceptionally good. Being average gives you less than $500 yearly income.
You also need to consider the starting fee and a yearly renewal fee. Therefore, a big part of stylists actually loses money with the program. That's completely typical with MLM-systems. Many people just try it out and quit after a few months when they realize it wasn't as easy as they expected.
That's why I always want to point out that making money with network marketing doesn't happen overnight. You need to work your butt off. If you don't know that, you may jump from one system to another without ever establishing a sustainable business.
Stella & Dot says that the average earnings for a representative in 2016 were $11,777. That may sound nice but you need to be careful. We may have 99 ladies who make around $3.600 per year and 1 lady who makes $700,000 per year.
That makes the average earn more than $10,000 per year but you can see that 99 people are only making around $300 per month while one lady is taking everything. Therefore, average yearly income isn't a good way to measure the profitability of this or any other MLM-business.
Stella And Dot Bad Reviews & Complaints
Let me share a few common complaints that I have confronted.
1."My Product Broke Quickly"
Even though mostly Stella & Dot products should be high quality there are some complaints of broken products. Here's an example: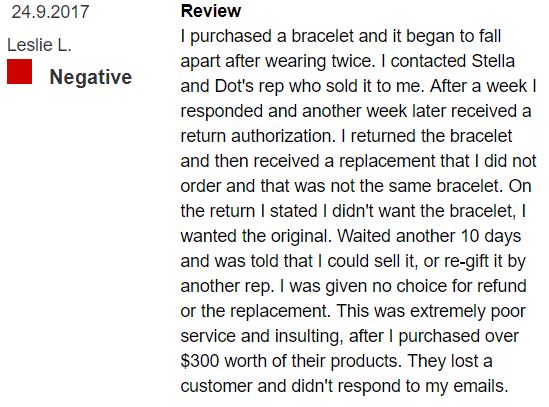 2."I Didn't Make Any Money. It's a Pyramid Scheme!"
You can find this kind of complaints from any MLM-company: Many people are surprised that it isn't so easy to make money as they expected. They realize that the top earners are those who have recruited tons of people and gathered a huge downline. Then those people who failed to start calling the system scam or a pyramid scheme.
Stella & Dot is not a pyramid scheme (even though they use the pyramid form). They provide real products and the money doesn't only move from bottom to the top.
In order to avoid this kind of experiences do know that making money with network marketing requires real work and persistence.
3."Why Do They Charge Me to Join Them?"
Some people complain about the startup cost and renewal fees. I understand that joining normal 9-5 jobs don't cost you anything but starting a business is a different thing. With the business, you do the investments and the work first and get paid afterward. Having a business makes it possible for you to earn passive income.
Of course, we could argue about costs of Stella & Dot but in my opinion, they are pretty reasonable. Nobody will go to bankruptcy by investing a few hundred bucks to this system.
Conclusion – Is Stella & Dot Legit?
Yes, Stella & Dot is a legitimate business which is selling nice products for ladies. As you may know personally, I am not a big fan of MLM-systems and overpriced products. Still, there are some people who don't care so much about paying something extra. For those people, this may be a good choice.
Do know that success with Stella & Dot requires hard work and patience (=months and years of work). Have I repeated myself enough to make it clear? 😉
We are living the 21st century and there are better opportunities for earning money than ever before in the human history. That's because of the Internet. Some years ago I found a wonderful opportunity that changed my life and nowadays I have a freedom to move around while earning money online.
The same principles work also for promoting Stella & Dot. If you would like to learn more, I recommend taking a closer look at it by clicking the link below.
=> Learn to Make Money Online Today!
---
What is your experience with Stella & Dot and other similar MLM-programs?
Let me know in the comments below! 🙂