Pure Romance Scam Review 2019
I have just published an updated Pure Romance review on my YouTube channel that you can watch below.
In the video, I'll answer all your most important questions regarding Pure Romance.
You should watch video until the very end if you also want to learn the BEST 4-step formula for making money online or you can just click here to learn more how YOU can earn a life-changing income with/without Pure Romance.
If you have any questions regarding Pure Romance and making money online, don't hesitate to ask me in the comments below the video or this article and I'll be more than happy to help you out.
Keep in mind also that I'm not affiliated with Pure Romance in any way so I am not going to push their system to you unlike their consultants.
More...
Today we are going to take a closer look at the program that sells sex toys and tells that you could also succeed by doing that. What is this system all about? Are they just scamming innocent women? Is Pure Romance a Pyramid Scheme? To these and all other questions you will get an answer during the next 2 minutes by reading our honest review.
Pure Romance Review
---
Name: Pure Romance
Website: www.PureRomance.com
Price to Get Started: Minimum $219
Field: MLM -Programs
Overall Rank: 30 Out of 100 (Check Out My #1 Recommendation, 98 Out of 100)
---
What Is Pure Romance?
Pure Romance is a multi-level marketing (MLM) system that sells sex-related products. Their system is clearly targeted for women like many other MLMs: Mary Kay, Thirty-One Gifts and so on. You can see that their website is lots of pink colors and other things that appeal to women.
They say that you could also start your own Pure Romance business very easily. "Be your own boss and define your own hours." That's a typical mantra what MLM-programs are repeating.

In order to get started, you need to buy their sex products and spend some money. Let's take a closer look at their products.
Pure Romance Products
As I mentioned above, Pure Romance products are closely related to sex. You can see in this picture what kind of products they provide.

In the most MLM-programs, the problem is that you need to pay $20 for the same product that you would pay only $5 in the local supermarket. That's the case with Pure Romance as well. You would need to pay $24 for even a simple candle.
Do you remember Party Lite? I remember that long time ago my mother got those products somewhere and she was explaining how much they pay. When I think about it now, those prices were ridiculous. A very simple candleholder cost $69 that you could find in any local store for $10 or even less.
I need to admit that all products in Pure Romance are not so expensive but still there is some extra.
As a committed Christian, I think that some of these Pure Romance products are not very good for us. There's nothing wrong with buying a massage oil if you like giving a massage for your husband. But selling vibrators for single women sounds like a bad idea. The Word of God teaches that sex in any forms belongs to the marriage and I believe when we follow that, it gives the most happiness for our lives.

Getting Started with Pure Romance?
If you are still interested in becoming a Pure Romance distributor, think twice. 😉
In order to get started, you need to spend minimum $219 on Pure Romance products. Did you know that MLM-programs make a big amount of their profit by the purchases of their own distributors?
You need to buy many products so you could show them to potential buyers and sell them forward. If you are going to arrange Pure Romance parties, it's better that you would have a lot of products. I have heard the funny but truthful saying about Pure Romance members:
Do You Want a
FREE
& Easy-to-Follow
7-Day Course
to
Make Money Online
for Beginners?
Easy-to-Follow

Beginner-Friendly

My Personal 1-on-1 Support for You
Get Started for FREE Below Before this offer goes away!
99% of people who join Pure Romance end up with lots of sex toys and little money.
As you may already know, 99% of the people fail in this kind of business and they spend much more money than they earn. 1% of the people (those who joined early) make some profit and 0,1% make a big profit.
If you go to an MLM-conference and there are 3,000 people. You can quickly calculate that probably a few of them are making very good money. A little amount of them is earning something. And then almost all people are there, are just wasting their money. That's how it goes.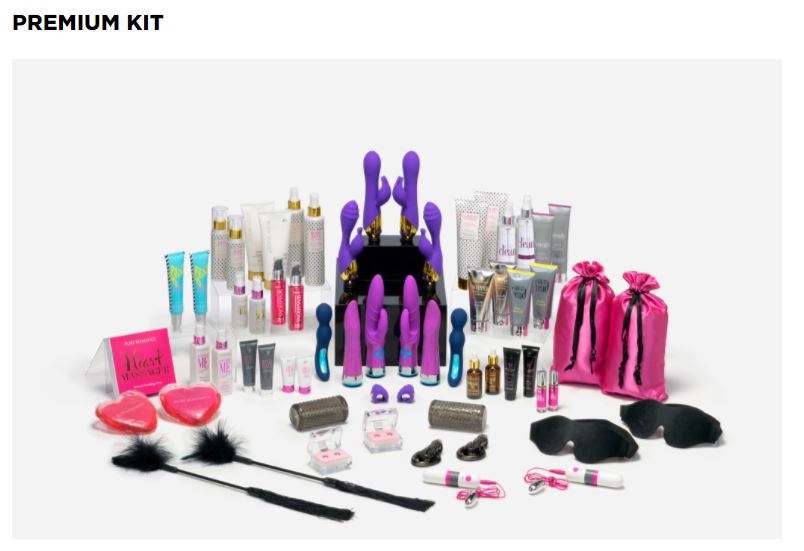 You can see Pure Romance Premium Kit in the picture above. It costs $899 in total which is a huge price for these products. They say that you save $1,400 of their real value but that's only a marketing trick. Let's go to a supermarket (or to Amazon.com) together and I will find the same products for the half of that price.
Pure Romance Earning Potential?
What do you think about the following advertising picture of Pure Romance?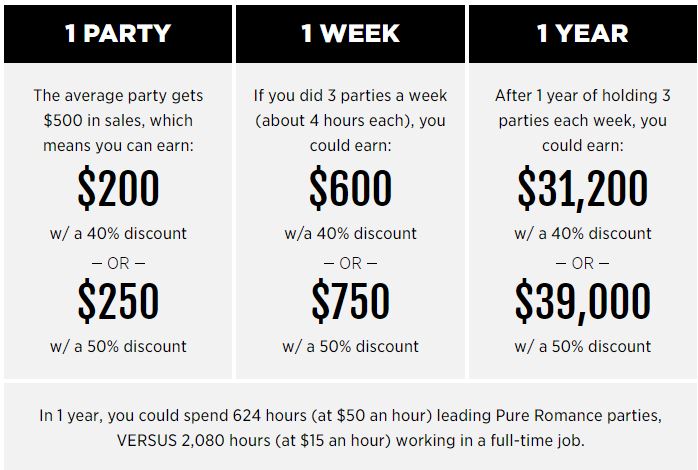 Sounds like easy money, huh? I would like to meet a person in Pure Romance who is making $39,000/year. As we know, most of the people just waste their money on this system. The guy or woman who really makes money is the one who has created Pure Romance.
If you could sell Pure Romance products for $500 for every party that you make, I think you would quickly become a millionaire by selling something else. Many people have shared their experiences also on my websites how uneasy atmosphere there are in MLM-parties. Your friend is eagerly waiting that you buy her products and if you don't she is disappointed.
Being an MLM-distributor doesn't usually have a good impact on friendships.
Pure Romance Complaints
With a few Google searches, you can find that there are tons of Pure Romance complaints on the Internet. Have a look at this example. It's written by a former Pure Romance employee.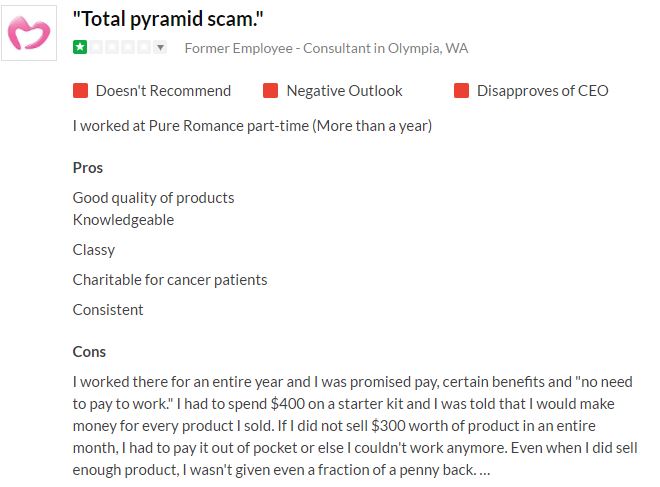 Did you notice that you need to sell minimum $300/month based on former employee's information? This kind of limits force distributors buys, even more, products if they haven't made enough sales during the month. This employee among many others admits that Pure Romance is a total pyramid scheme instead of a legitimate way to make money online.

Is Pure Romance an MLM?
To my great surprise, hundreds of people were searching on Google whether or not Pure Romance is a MLM-company (Multi-Level Marketing).
And the answer is obviously yes. Pure Romance operates under the multi-level marketing business model where distributors earn their income by recruiting more people to their downline and commissions for each sale.
Pros & Cons of Pure Romance
Pros:
Easy to get started (and spend lots of money on their products)
Cons:
Overpriced and controversial products
Many former employees claim that it's a pyramid scheme
Most of the people end up wasting money rather than earning money
Hard to make money on this system

Conclusion – Is Pure Romance a Pyramid Scheme?
Yes, it seems to be a pyramid scheme. The people who joined early on are making the profit while most other people are just wasting their time and money.
I know that this kind of systems appeals to certain kind of people. A woman who wants to belong to something bigger and wants to feel encouraged by other women. In order to have that feeling you don't need to join Pure Romance.
If you are looking for a helpful community that can empower you and help to create your own business, take a closer look at Wealthy Affiliate. It's a community of regular people who are making money online (or some of them are still learning).
I have seen many women in Wealthy Affiliate who learned how they can make good money online even without any prior knowledge or experience. There were, for example, 2 mothers from South Africa. Most of them learned many new skills on WA and nowadays they are earning very good money.
It doesn't cost anything to get started. As a gift for creating a free account, you will get 20 interactive video lessons and 2 high-quality websites. Sounds good, huh? 😉
Pure Romance at a Glance…
Name: Pure Romance
Website: www.PureRomance.com
Price to Get Started: Minimum $219
Field: MLM -Programs
Overall Rank: 30 Out of 100
Do you have personal experience of MLM-programs? Have some of your friends been a distributor? Have you also joined yourself?
Let me know in the comments below! 🙂
I love to hear when people share their experiences. It always makes my day when a new visitors has left a comment on our website. I promise to reply to every single comment within 24 hours.