Is Power Life Pro a Scam? You have probably asked this question from yourself after seeing their website and huge promises. The owner says that it's one of the best core marketing systems he has ever seen. He promises to help you to grow your business with done-for-you tools. Is this a great opportunity to earn money or something else? Let's find out!
Power Life Pro Review
---

Name: Power Life Pro (PLP)
Website: www.powerlifeproteam.com
Founded: 2016 by Adam Whiting
Price: You Need Minimum $2,380 to Get Started
Field: Make Money Online -Programs
Overall Rank: 30 Out of 100 (Check Out My #1 Recommendation, 98 Out of 100)
---
What Is Power Life Pro?
Power Life Pro is a company created in 2016 by Adam Whiting. His purpose is to help you to make money by selling Enagic water ionizers.
Enagic is a +40-year-old Japanese multi-level-marketing company that has become quite famous over the years. They advertise that even some of the most famous people in the world are using their water ionizers including Bill Gates, Oprah Winfrey, Tiger Woods and so on. I haven't found any proofs that these famous people would really be using them so you can believe it or not.
Power Life Pro itself doesn't sell these products but they are just promoting Enagic. Then they are earning big commissions for each sale. Once you join their system, you will also become a part of their pyramid MLM-system.
Power Life Pro Training
There are  5 modules in their training.
Module 1: Welcome to the team.
Module 2: Launch Your Business
Module 3: Learn About The Products
Module 4: Learn About The Business
Module 5: Learn About The System
In the other words, their training is an introduction to their MLM-system. You are becoming a downline of Adam Whiting and a part of his team. He will earn commissions on your sales and for all sales that you invite to become part of the system. That's how pyramid MLM-systems works.
Power Life Pro reminds me of another product called Wifi Millionaire. There the owner sold you a cheap $3 eBook but is was not the real product that he was selling. His intention was to get you inside MOBE MLM-system where products cost up to $20,000.
Now Power Life Pro is offering you their membership for free so you can join Enagic where products cost at least $2,380. It's typical for MLMs that they offer you a cheap front-end product. It's free or costs a few dollars. Then there are upsells, upsells, upsells and eventually members realize that they have spent thousands of dollars even though they didn't initially plan to do so. In my opinion, it's a crooked sales strategy.
Power Life Pro Products
It's quite relevant to know what kind of products they want you to sell when you join Power Life Pro. This section could be called also Enagic products because you are selling actually their products.
As I mentioned above, their products are water machines. They change the pH of the water and are supposed to make it better. Have you probably heard before about water ionizers?
In the picture below, you can see an example of their product. This one is called LeveLuk K8 or Kangen® 8. The machine can produce 5 different kinds of Kangen waters with pH ranging from 2,5 until 11.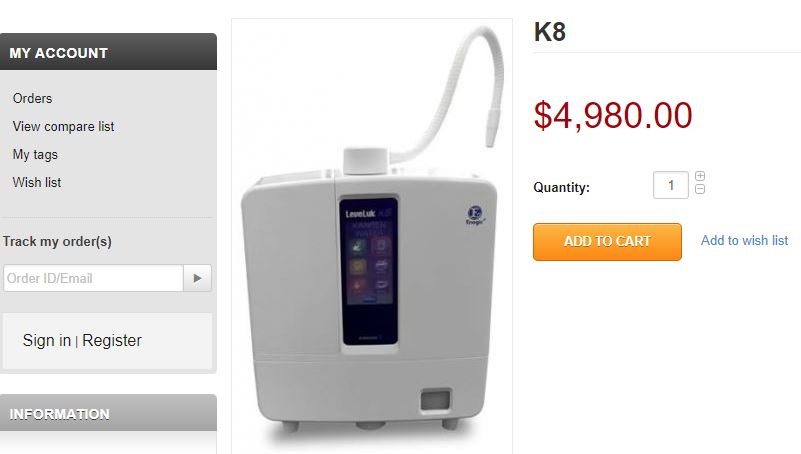 What Is Kangen Water?
Kangen water is a product that you can produce with Enagic Ionizers. The company has huge promises what the water will do for you. "Change your water, change your life", is their motto. To be honest, I am a bit suspicious.
There are tons of similar MLM-water who have so-called special products that are supposed to change your health and your life in a moment. Think about Herbalife, for example. It's an old MLM and they are selling all kind of nutrition products. I have tried them and I don't notice any difference compared to normal protein powders.
Ah, there is one difference between these high ticket MLM-products and supermarket products. MLM products cost like 2-10 times more so you will spend much more money for the same value.
Another example is Party Lite. They are selling those candles with a very strong smell. My mother got those candles sometimes as a gift. I didn't notice any difference between them and normal candles. You just need to pay 5 times more in MLMs just for the feeling to be inside of the system. I am quite sure that Kangen water falls into the same category.
You have probably seen testimonials from MLM-members telling how the products changed their life. If you believe enough, there is a strong placebo effect. The truth is that 90-99% of MLM-marketers spend much more money than they earn and the only difference in their life is a thinner wallet.
Pros & Cons
Pros:
Do You Want a
FREE
& Easy-to-Follow
7-Day Course
to
Make Money Online
for Beginners?
Easy-to-Follow

Beginner-Friendly

My Personal 1-on-1 Support for You
Get Started for FREE Below Before this offer goes away!
They offer you pre-made templates to promote Enagic products
Kangen water sounds interesting (Still I don't think that it differs very much from the water by other water ionizers)
Cons:
In order to get started, you need to buy expensive products yourself
If you are not interested in water ionizers, this program is not for you
Products that you would need to sell are extremely expensive
Their promises sound exaggerating
Conclusion – Is Power Life Pro a Scam?
Power Life Pro is not a scam. They are willing to help you to succeed because then they earn money as well. However, I think that their program is suitable only for a few people who are interested in these Enagic water products.
In addition, I am not a big fan of complicated MLM-programs with tens of different rules and downlines. You may disagree but I like the simplicity of affiliate marketing. You don't need to invite anyone, you can sell any products you want and the income potential is not limited.
My #1 recommended program to learn how to become a successful affiliate marketer is Wealthy Affiliate.
Their training teaches literally everything you need to know in order to succeed and create a full-time online business. I have quit my day job because I see much more potential in building a business through Wealthy Affiliate rather than working from 9 to 5. Sometimes I wake with a notification that I earned $50 during the night in commissions.
I have friends who are making +$10,000/month with affiliate marketing and even much more. It requires hard work and persistence but the potential is much bigger than in a regular day job.
What do you think?
Power Life Pro at a Glance…
Name: Power Life Pro (PLP)
Website: www.powerlifeproteam.com
Founded: 2016 by Adam Whiting
Price: You Need Minimum $2,380 to Get Started
Field: Make Money Online -Programs
Overall Rank: 30 Out of 100
What do you think about Power Life Pro and Eganic water machines?
Let me know in the comments below! 🙂