"The #1 Mobile Rewards Program in the world!". That's how they are advertising this application called Perk TV App. They say that you can make money by watching videos which sound quite nice. Is Perk TV a Scam or an interesting way to make money with your smartphone?
I have reviewed around 200 "make money online" opportunities so I guess I am skilled enough to find out if this opportunity is really worth it. I recommend you to spend the next 1-2 minutes with me so I'll teach how you can earn much better money online than with this application.
Perk TV Review
---

Name: Perk TV
Website: http://perk.tv/home
Field: Mobile Rewards-Program
Want to Get My 7-Day Email Course to Make Money Online?
Enter Your Email Below to Steal My PROVEN Formula to Create Your Own "Money-Making Machine" In a Week...
We respect your privacy. No Spam.
Overall Rank: 20 Out of 100 (Check Out My #1 Recommendation, 98 Out of 100)
---
What Is Perk TV?
Perk TV is a mobile app and a website that helps you to make money online by watching short videos or completing mini offers. Doesn't it sound like easy money? It is easy money! But the problem is that the reward is very small.
Everything you need to get started is to download this app or to go to their website. Then you create a free account and making money can start. But I will show you first how little money you would be earning.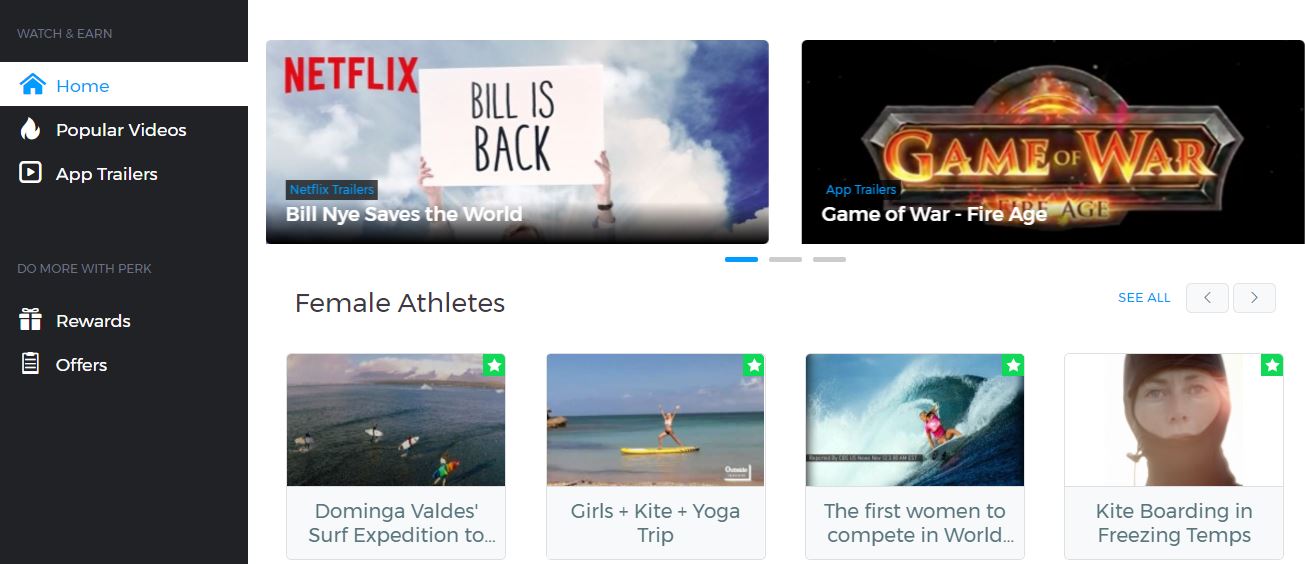 How to Make Money with Perk TV?
There are around 5 different ways to make money with Perk TV App. Let me explain them one by one.
1.Watch Videos. There are, for example, movie trailers and some other popular videos that you can watch. One video lasts approximately 1-3 minutes and you will earn a few (2-4) points for each video. Before the video starts, you also need to watch an ad that lasts for 30 seconds.
2.Complete Mini Offers. Have you ever heard of websites like PrizeRebel, Swagbucks or Cashcrate? They work in a similar way. You answer surveys or accomplish little tasks so you can earn some points.
3.Referral Program. This can be the most profitable way to earn money with this kind of programs like Perk TV. You refer other people into their system and then you earn money when they finish offers and cash out. But why would you recommend their service to somebody because nobody will earn almost anything with Perk? (I am not referring people to Perk TV even though I could earn money by doing that.)
4.Shopping. Well, I'm not sure if I can say that you earn money by shopping. Perk TV can give you some points and discounts for the things that you buy but if we are honest, here you are spending instead of earning money.
5.Perk TV Live. It's pretty similar to number one. But in this option, you are watching a normal TV. Sometimes they will display your ads and then you earn some points again?
How Much Money Can I Make with Perk TV?
Not very much. You need to watch hundreds of videos to cash out your first $5. Let's take two guys. James and John.
James goes to his normal work. He earns the minimum salary in U.S. for his job. Then after his work, he goes to calculate his money. Then there is this John who has been earning with Perk TV for the whole day.
Guess who is earning more?
James is earning much, much more even though he is in the lowest paying job. Even a machine couldn't earn good money with Perk TV. Sorry, for my honesty but I need to say the truth. 😉
Is Perk TV Worth It?
No, it's not. Even the most profitable survey sites are not worth it. And neither is Perk TV App.
Let's say that you have used hours to earn lots of points with Perk TV. What can you do next?
Do You Want a
FREE
& Easy-to-Follow
7-Day Course
to
Make Money Online
for Beginners?
Easy-to-Follow

Beginner-Friendly

My Personal 1-on-1 Support for You
Get Started for FREE Below Before this offer goes away!
You can exchange it for Amazon gift card or you can participate Perk TV lottery. Of course, you may have some potential to make some money in the lottery. But anyway, I think that lotteries are for those people who don't know how to earn good money.
Pros & Cons
Pros:
Easy to join
Easy to make money
Cons:
The earning potential is very small
Perk TV will most probably be just a waste of your time
There are thousands of similar (and even better) sites on the Internet
Sitting in front of the phone and watching useless movie trailers doesn't sound very exciting
Bad reputation = Lots of negative reviews on the Internet about Perk TV App
Conclusion – Is Perk TV a Scam?
Even though there are some negative reviews on the Internet about Perk TV, I wouldn't say it's a scam. Most of those complaints are similar to what I am saying here: Perk TV is a waste of time. Many people tried it but realized that they will hardly earn anything with this app.
If you are interested in making good money online, I recommend taking a step-by-step training in Wealthy Affiliate. Even though you wouldn't have lots of experience of making money online, I think it's a great opportunity for you.
There are hundreds of thousands of people who joined WA without any prior experience. Now many of those are making a full-time income online and have quit their 9 to 5 job. Of course, it requires work to reach that level. But once you have achieved it, you can run your online with an "autopilot".
These guys are making +$10,000/month and all of them learned their skills in Wealthy Affiliate.
What do you think about this opportunity?
It's 100% free to get started and you will get 20 interactive video lessons for free. Have a look at those high-quality videos and they will walk you through the process of making big money online.
Perk TV at a Glance…
Name: Perk TV
Website: http://perk.tv/home
Field: Mobile Rewards-Program
Overall Rank: 20 Out of 100
Have you made money online or with your smartphone applications?
Would you like to learn how to make a full-time income online?
Let me know in the comments below! 🙂
I love to answer people's questions and comments. If you have any questions related to making money online, I will be more than happy to help you out.