Are you looking to get paid for just voicing out your opinion through surveys? I'm pretty sure you've heard about a site that claims to pay its members between $5 to $75 for their opinions. In fact, the company says you can get paid hundreds to thousands of dollars a month for completing surveys! Is Paid Surveys at Home a Scam?
The site literally leads people to believe they can make a living taking surveys. So, how true are these claims? Can you truly make hundreds to thousands a month for completing surveys on this site?
Well, I don't know about you, but these claims sound shady to me — I mean, making hundreds to thousands of dollars for online surveys? That's not even reasonable! The good news is, this Paid Surveys at Home review will go deep into the program so we can see if their many claims are true or not.
Ready? Let's dive in!
Paid-Surveys-at-Home Review
---
Website: Paid Surveys at Home (PSaH)
Type: Online Surveys
Founded: 2007
Overall Ranking: 5 Out of 100
Check out my #1 recommended program to earn money online, ranking 98 out of 100. I use their service myself and have been greatly satisfied.
---

What is Paid Surveys at Home?
This site has been operating for quite some time now, and it's owned by Patricia Johnson. Paid Surveys at Home is yet another site on the long list of online survey companies that claim to pay members for completing online surveys, taking part in focus groups and testing new products.
Well, what you should know is, Paid Surveys at Home is not an online work company. It's more like an agent that leads you to other survey companies for a fee. This means you'll have to pay to access the list of "paid to take surveys" websites. In other words, Paid Surveys at Home is the middleman in the picture, and they also want to get paid!
How Does Paid Surveys At Home Work?
Paid Surveys At Home features a database of market research companies, and you have to register with many of these companies before you can start taking surveys. As a matter of fact, the website recommends you register with about 15 to 20 sites to get started. This is sure to be time-consuming as most surveys are likely to take 15 minutes and you might not even qualify for them at the end of the day.
Furthermore, Paid Surveys At Home claims that members can make up make between $5 to $75 taking surveys. I don't know about you, but these earnings are pretty hard to believe. In fact, I know that they don't exist in the world of online surveys.
I have experience of more than 60 survey sites and the best income you can expect is around $2-3 per hour. And most of the time it will be even less. That's why I think that online surveys are not worth it.
How Much Does It Cost?
One thing you should know is that Paid Surveys At Home is a pay to join the site and that's ridiculous. Paid Surveys at Home wants your money because they compiled a list of sites you can find with a simple Google search. The price to join is $68, and it comes with three downsells that eventually brings it down to $7!
Paid Surveys at Home promise to grant you access to 300 survey companies as well as over 300 work at home opportunities for a fee. The bottom line is, you're paying for FREE information.
Paid Surveys At Home are making money by charging fees from their members but also from referrals. When you click some of their links and registers to another survey site, they will earn commissions for letting you there.
The commission depends but usually it's around 5-25% of your earnings. It doesn't decrease your earnings but companies just pay bonuses for people who acquire new customers. This is actually called affiliate marketing and that's how I make money online.
It means that I recommend some useful services for my audience and when they click and join, I earn a commission. However, I don't recommend any online survey sites even though I would earn good money by doing that. My principle is that I only promote services that I would use myself.
How To Make Money With Paid Surveys At Home?
Paid Surveys At Home claims that their members are likely to earn between $5 to $75 for completing surveys, but that's not all. They also say members can make up to $150 an hour when they participate in focus groups and the site also allows their members to do phone surveys with a pay of $120 per hour.
Do You Want a
FREE
& Easy-to-Follow
7-Day Course
to
Make Money Online
for Beginners?
Easy-to-Follow

Beginner-Friendly

My Personal 1-on-1 Support for You
Get Started for FREE Below Before this offer goes away!
Those promises are totally false and you will never earn $120-150 per hour for answering surveys. If that would be possible, I think that most people would just stay at home filling out surveys instead of going to their normal 9 to 5 job.
Paid Surveys At Home has just collected you a list of survey sites that pay money for your opinion. You could find that list in 10 seconds on my website for completely free. But as I always say, online surveys are not worth it because they payout is so small.
Have a look at this video where one experienced person explains about Paid Surveys At Home and 2 similar scam websites.
Paid Surveys At Home Testimonials – Fake!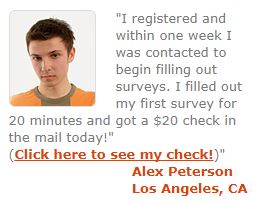 You may be wondering if the testimonials on their website are truthful or just fake. Have a look at one example below by "Alex Peterson":
I don't know how does it look in your eyes but to me, it's pretty obvious that it's just a fake testimonial. I Googled his picture and also other pictures on their website and I was immediately able to find these pictures on other pages as well. I think that they have taken the picture from some picture bank like Shutterstock.
You may have also seen positive reviews of Paid Surveys At Home on some not-so-famous blogs. They are recommending this service and explaining how they bade big bucks. That's a lie.
They are recommending Paid Surveys At Home only to earn commissions for each sale that they make. When somebody clicks their link, goes and pays the membership, they earn good money.
All reliable online entrepreneurs have started that Paid Surveys At Home is not worth it. You pay for something that you should get for completely free. In addition, they are just lying in front of your face.
Conclusion – Is Paid Surveys At Home a Scam?
Yes, it's a scam. There are also other similar survey sites out there that promise you +$10 per each survey. Let's be honest here, all of that kind of websites are just trying to fool you. After researching +60 survey sites, I have found some that actually pay you +$10.
What's the catch?
The catch is that you first need to buy a product that costs $8-9 and then you can fill out the survey/review of that product afterward. So, in reality, you earn only $1-2 for the whole process which takes lots of your time.
If you are interested in making a living from home, have a look at Wealthy Affiliate Step-By-Step training. It has helped so many people to make a full-time income and much more from the comfort of their own homes. People from all walks of life have achieved a financial freedom through their training:
Stay-at-home moms
College students
People who were bored of their 9 to 5 job
Veterans
Travelers
Etc.
It means that literally, ANYONE can learn how to make a living online. Everything you need is a proper training, Internet connection, and persistence.
Wealthy Affiliate is not a get rich scheme. You won't get rich overnight but for sure it's possible to earn +$10,000/month over the time course. In addition, you will learn much more interesting ways to earn money than filling out some surveys.
I would love to hear from you. What is your opinion about online survey sites? Have you tried more interesting ways to make money online? Do you have friends who make a living on the Internet?
Let me know in the comments below and I will be more than happy to reply all your comments personally.