I would like to ask you one short question. Which one looks more professional?
1.www.YourOnlineRevenue.com OR
2.www.YourOnlineRevenue.Wordpress.com
The answer is obvious. With Namecheap, you can get the first version starting for less than $1/year.
I am very happy to share today my experiences with Namecheap and answer all your questions. When you are buying something online is always worthwhile to ask yourself, "Is Namecheap reliable?" or even a more serious question, "Is Namecheap a scam?" Is it the best place to get your own domain name?
You will find an answer to these and other questions in the next 2 minutes by having a quick look on my honest Namecheap Review.
NOTICE: This review is based on my personal experience. If you have different kind of experiences about Namecheap, I would love to hear in the comments below! 🙂
Namecheap Review
---

Name: Namecheap
Website: www.Namecheap.com
Founded: In 2000 by Richard Kirkendall
Field: Domain Names and Domain Hosting
Overall Rank: 95 Out of 100 (Check Out My #1 Recommendation, 98 Out of 100)
---
What Is Namecheap?
Namecheap is a website and a company that provides domain names for a cheap price and with high quality  (Domain name = a name of the website, for example, YourOnlineRevenue.com). Many times if you are willing to buy cheap and good, you need to get two different products. One good and one cheap. But if we are talking about Namecheap, you get those two in the same package.
I have used their service already for a relatively long time so I am talking from experience.
You don't want your website to look like, www.YourWebsite.Blogspot.com. It's much better to have it like this: www.YourWebsite.com. I guess you agree?
1 year and 4 months ago I already wrote step-by-step instructions on how you can get your own domain name in Namecheap. It's very easy and takes something like 5 minutes or a bit more if you don't have prior experience.
Here is a video where I also give simple instructions on getting a domain name on Namecheap. I also discuss how satisfied I have been with their service.
If you want to know how you can build a high-quality website (in LESS THAN 30 SECONDS), then I recommend having a look at these simple steps.
How Does Namecheap Work?
1.You go their website and write what kind of domain name you would like to have. (see the image below)

2.Register the domain name for you. Get a domain hosting. And that's it.
Not very complicated, huh?
When you make a search, you will see what kind of domain names are available. I searched if I could have a website called "VeryGoodDomainName.com". Let's see if it's available.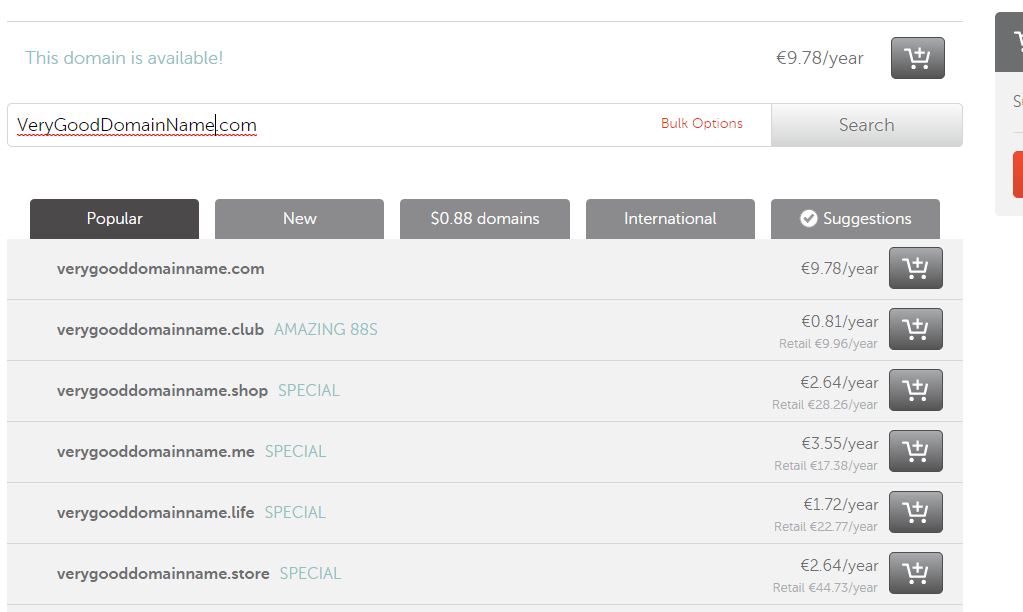 As you can see in the picture above, VeryGoodDomainName.com is available for us. We could have it for €9,78/year. If someone else is faster, then we can't have and it's already gone. If you want to be very frugal, you can have a website name VeryGoodDomainName.club for €0,81/year.
Do You Want a
FREE
& Easy-to-Follow
7-Day Course
to
Make Money Online
for Beginners?
Easy-to-Follow

Beginner-Friendly

My Personal 1-on-1 Support for You
Get Started for FREE Below Before this offer goes away!
However, I recommend that you always have .com ending. The only exception is if you are using it in a specific country, for example, Amazon.de or Amazon.co.uk. You know that these Amazon websites are country-specific so they have a different ending than .com.
.com is the most common one and it gives you the most authority. It's also the best in the eyes of Google so it will help you to get ranked higher. Other reasonable options are .org and .net but they are not as good as .com.
How Do the Payments Work in Namecheap?
When you buy a new domain name in Namecheap, you will be billed once in a year if you agree so. Of course, it will remind you when the new payment comes closer. If you don't, for example, need your domain name anymore you can just let it go and you will not be billed anymore.
Prices are extremely low. As you saw above, you can get a domain name for €0,81/year. That's cool! I have paid for my high-quality domain names only around $10/year. It's only a price of a pizza or kebab in many countries. Think about it for a moment. You can get an own name for your website only for a price of one pizza.
You can pay with Visa, MasterCard, and American Express or with PayPal in Namecheap. I have always used a credit card and it has worked very well.
Did I Have Any Problems with Namecheap?
I have already used Namecheap a lot and it has always worked without a single problem. I haven't needed to contact the support even once because everything has run so smoothly.
Is Namecheap the Best Domain Name Provider?
Even though Namecheap is very easy and I have nothing to complain, I bought the latest domain name from Wealthy Affiliate. Why? Because in my opinion, WA is the best online business service on the Internet. It's like an all-in-one tool for building your online business.
I have my domain hosting, new domain names, training, community, keyword tool and literally everything I need to run a successful online business. Why wouldn't you try it as well?
The best thing in WA is the price quality/ratio. It's 100% free to get started and less than $1 per day for a yearly membership. And everything is included in that price.
Pros & Cons
Pros:
You can buy a domain name for a very cheap price (Starting from $1,88/year)
It's easy-to-use (even I learned to use it first time when I didn't have any experience of domain names or websites)
It's reliable
Namecheap is already 17 years old
Many successful and reliable Internet marketers have used and recommended it
Cons:
I have personally nothing to complain. However, I found a few negative reviews on the Internet about Namecheap.
Conclusion – Is Namecheap Reliable?
Yes, it is. I personally haven't had any kind of problems. They have always delivered everything that I have needed for domain names. It's also very easy to use their search tool to see if some domain name is available or not.
The only reason why I don't rank it #1 is because Wealthy Affiliate is even better. Before I have always bought all of my domain names in Namecheap but nowadays I use WA for that.
If you are also interested in making money with your websites, I recommend having a look at Wealthy Affiliate step-by-step training for free. I know many people who have started their training without any prior experience but now they are making a full-time income online and never going back to 9-5.
Isn't it an exciting idea?
Namecheap at a Glance…
Name: Namecheap
Website: www.Namecheap.com
Founded: In 2000 by Richard Kirkendall
Field: Domain Names and Domain Hosting
Overall Rank: 95 Out of 100
Are you thinking about trying Namecheap?
Have you already bought own domain names? Where did you buy them?
Let me know in the comments below! 🙂
It makes my day to read new comments from our visitors. That's why I promise to reply to all of your comments personally within 24 hours.
Feel free to ask also any question that you have. I will be more than happy to help you out.