You may have landed on this article because you were searching on Google, "Is Media.net a Scam?" like many other people did. I can say right away that Media.net is not a scam and it's a huge company reaching millions of people all around.
I decided to use Media.Net for a while but my experience clearly showed it wasn't worth it. In this article I will show screenshots of earnings and explain my experiences. This will help you to decide whether you should invest your time (and money) on Media.Net.
Let's have a look!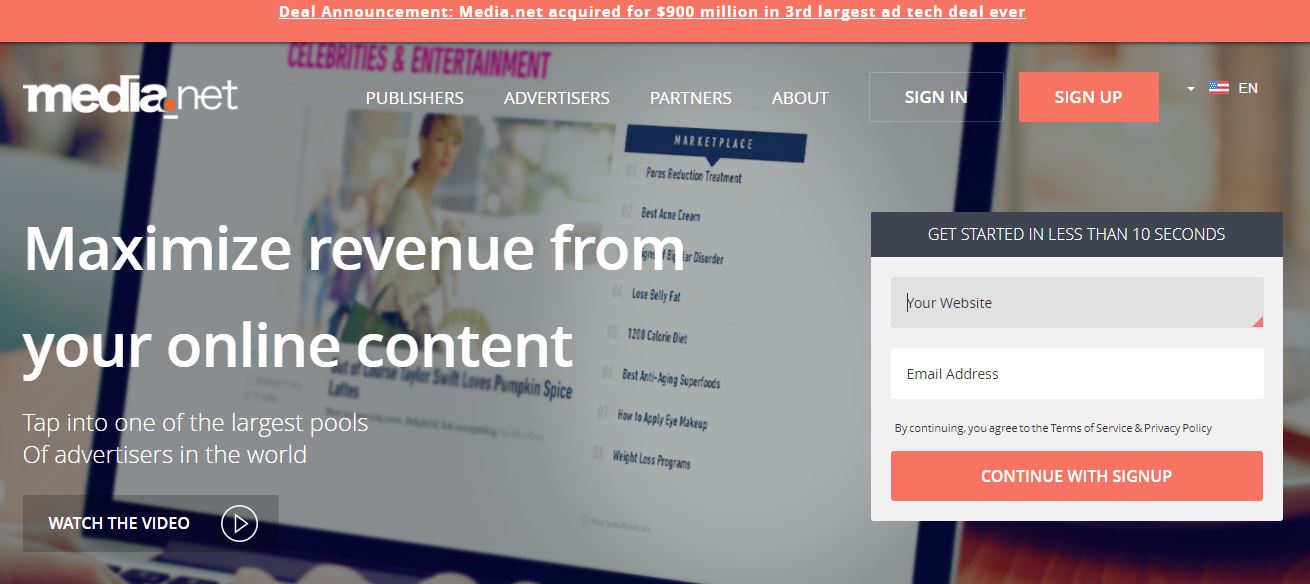 Media.net Review
---
Name: Media.net
Type: Ad Network
Short Review: If you have hundreds of thousands or millions of visitors on your site each month, using Media.net may be worth it. Making money with Media.net requires lots of testing, optimization and tons of traffic.
Most of the time it's more profitable to promote your own or affiliate (other people's) products on your website to make more money. Follow this step-by-step training to learn how to make good money with affiliate marketing.
---
What Is Media.net?
Media.Net is a Yahoo/Bing contextual ad network. It's originally founded by an Indian businessman and billionaire Divyank Turakhia and it has grown to become a huge company.
In 2015 their reported revenue was $232 million and they managed ads worth more than $450 million. This already proves you they are not a scam and many people are satisfied with their services. The company has been sold in 2016 for $900 million to a Chinese-led consortium.
When you start using Media.Net they will give an account manager to work with you. He will answer all your questions and helps you to optimize the ads by giving tips and advice.
If you are wondering how Media.Net makes money, they just take a commission of earnings.  So, you don't get the whole dollar that the ad pays because you pay them a commission. But you don't need to pay them anything if you don't earn anything. So in that sense Media.net is free. Another positive thing with Media.net is that it enables you to make passive income.
How to Make Money with Media.net?
Media.Net is an alternative to Google AdSense and it works in quite a similar way with some slight differences. The basic process of making money with Media.Net goes like this:
You copy their code to your website to start using their ads.
Your website visitor clicks the ad and ends up to a landing page.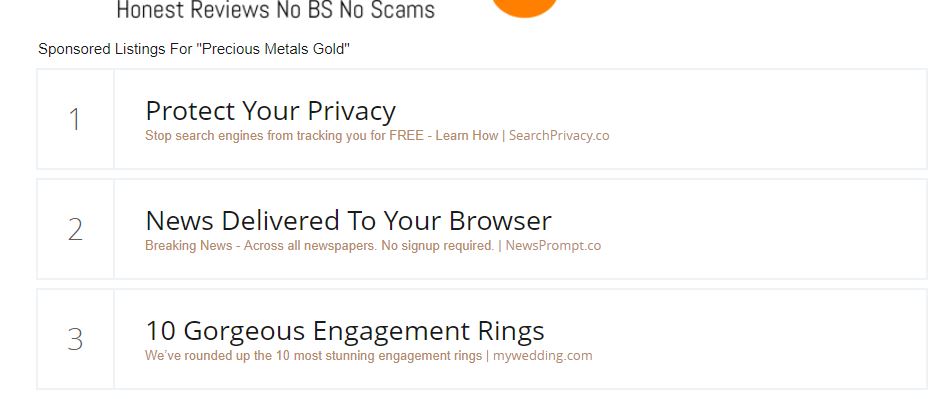 He clicks another ad on the landing page.
You earn commission for that click.
Once you have reached $100 in revenue, you are able to cash out.
Before you can start with Media.Net you need to submit your website and they'll take a look. When you get approved you can start the process.
If you don't have any experience of inserting ads to your website, don't worry. You just copy & paste the code and that's it. You don't need any technical knowledge to do that.
However, after setting up the ads the work only starts. Media.Net tests different kinds of ads on your site but you also need to do your part. You need to try different kind of ads, placements, sizes, etc. Testing can dramatically help to increase your earnings over the time course.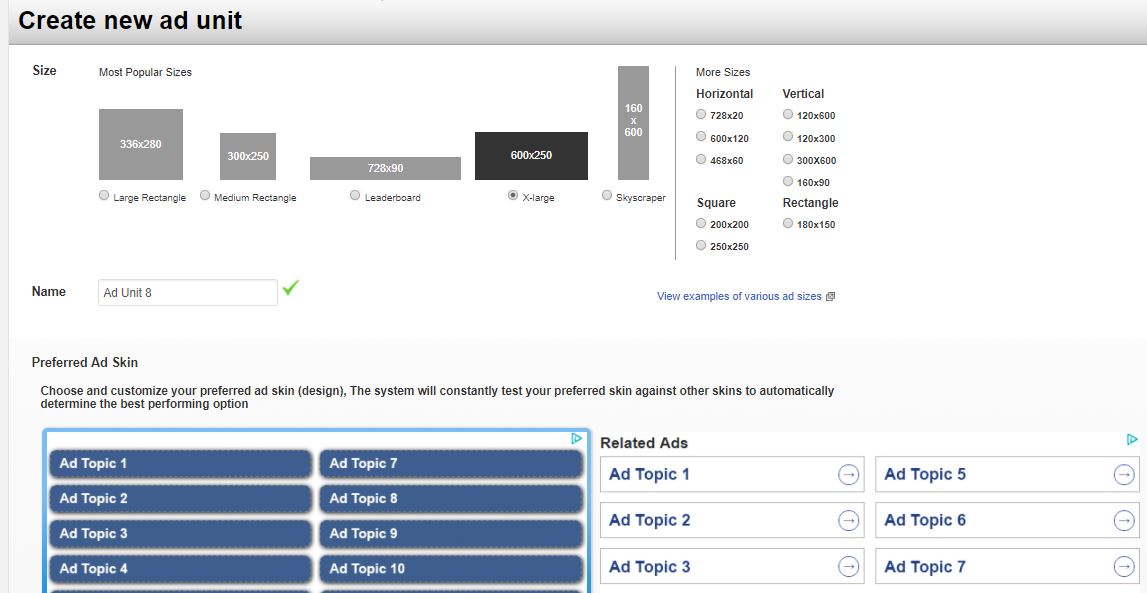 Let me tell you how little I earned with Media.net and tell you something about its possibilities.
How Much Money Can You Make from Media.net?
At the time that I tried Media.Net, I had around 500-600 unique visitors per day on my website. I know that's not a huge amount but still something that should generate a consistent income with an ad network.
However, the screenshot below shows you that the earnings with Media.Net were close to $0. I was pretty surprised because I had seen posts on the Internet claiming, "I earned $90,000 by using Media.Net." Also, one member of Wealthy Affiliate said he was earning an extra $300 per month with media.Net by having a similar website like mine. Additional $300 per month just by inserting a few ads which takes less than 5 minutes would be a nice extra but it wasn't a reality for me.

Based on my experience, you would need at least 100,000 unique visitors per month to make anything significant with Media.Net. My friend and mentor said that he has earned an extra $600 per month with only 30,000 visitors per month by using other ad network called MediaVine. The difference is huge.
Of course, we need to take into account that I didn't use Media.Net for a very long time. The ad optimization would for sure increased my earnings significantly. However, it probably wouldn't have been worth it. You can see in the screenshot that the average RPM (Revenue Per Mille = Income for 1,000 impressions) was only $0,18.
Do You Want a
FREE
& Easy-to-Follow
7-Day Course
to
Make Money Online
for Beginners?
Easy-to-Follow

Beginner-Friendly

My Personal 1-on-1 Support for You
Get Started for FREE Below Before this offer goes away!
I know that people who are making $30 RPM with better ad networks which means they are 160-170 better earnings than on Media.net.
I know that there are people who have made even $400 per day or more with Media.net but I think that they would have earned more with other techniques. One thing you need to consider is that Media.net can be an extra income for you. So, you have your main income sources on your website and Media.net ads just bring you something extra on top of that.
Media.net Reviews & Complaints
As I mentioned above, tons of people are using Media.net all around the world so it's easy to find people sharing their experiences. I took a few important notes that I am going to share with you:
1.You Can Make Good Money with Media.net If Everything Is Well Optimized
There is really potential with this network. Some people are making big money. But you need to notice that those people have 100,000's or millions of visitors each month on their website. If you have "only" tens of thousands of visitors, using Media.net is probably not worth the hassle.
If you want to get more traffic to your website, follow these 8 tips or read what 17 online marketing experts answered on how to get ranked #1 on Google.
Notice also that making big money with Media.net just doesn't happen like this:
You set up the ads.
Media.net does the magic and optimization.
Your income goes dramatically up.
That's not the reality. You need to work with your account manager to optimize ads, try different things, analyze the results and so on. All this takes time so if you don't have a huge traffic, the earned money is not worth the invested time.

2.Media.net Can Ban Your Account If They Want for Many Reasons
Media.net has a right to freeze your account for many reasons. I am not going to list all reasons here but you can get to know them more on their website. Some people have been quite frustrated with this because they had earned some nice money but they weren't able to cash it out because the account was frozen.
In the other words, if you want to use Media.net, you may need to adjust your website to follow all their rules and policies. For most websites this is fine but there may be some strange exceptions.
3.They Require "High-Quality" -Traffic
In order to make good money with Media.net your traffic must be mostly from US, Canada or UK. I don't know the exact reason but I guess it's because those are so-called buyer countries. Most of my website traffic comes from the U.S. but it didn't seem to help so much.
This can be bad news for those who get most of their traffic from other countries. The second largest country of visitors for me is the Philippines. It may be a partial reason why my earnings with Media.net were so little.
Conclusion – Is Media.net Worth It?
If you have traffic on your website, you will make money with Media.net. But the bigger question is whether it's worth it. You need to pay for that extra income in 3 way:
You need to use time for optimization.
Using other ads or promotions could me more profitable.
Ads may lower the user experience => decrease your overall revenue.
While I was using Media.net my overall traffic and visitor's time on the website went slightly down. All in all, it wasn't worth it for me at all. I believe my article has helped you to decide whether their service is good for you or not.
Internet marketers use to say that ads are "on the bottom of the food chain" meaning that they are not the first choice for monetizing your website. Usually, much more profitable way is to sell your products or promote niche-related affiliate products.
If you are interested in learning how you can make good money with affiliate marketing, I recommend taking a look at this step-by-step training. It has helped me to go from zero to hero and quit my 9-5 job because I learned how to make money online.
---
Do you have experiences of using Media.net or other similar ad network?
What kind of earnings were you able to receive? Would you recommend it for other people as well?
Let me know in the comments below! 🙂