Is High Traffic Academy a Scam? Can you generate +$10,000/month income with this system? Is it worth the hype? Should I try it? To all these and to many other questions you will get the answer in the next minute.
High Traffic Academy Review
---

Name: High Traffic Academy (HTA)
Website: www.HighTrafficAcademy.com
Founded: In 2011 by Vick Strizheus
Price: $177/month + Advertising Money
Field: Make Money Online -Programs
Overall Rank: 50 Out of 100 (Check Out My #1 Recommendation, 98 Out of 100)
---
What Is High Traffic Academy?
High Traffic Academy is a digital marketing course created by Vitaliy "Vick" Strizheus. I guess that you have heard about this guy already before on other courses like 4 Percent Group or Big Idea Mastermind. He is a very successful Internet marketer and I believe he is already a millionaire.
That gives a good ground for his courses because he has made money online himself. But as we know, if somebody is rich, it doesn't guarantee that a course would be valuable. I have seen also many scams by successful online entrepreneurs.
High Traffic Academy has founded already in 2011 Vick has had a lot of time to develop this course already. There are different modules/sections on HTA. Here are some examples:
Affiliate Marketing 101
Email Marketing 101
Content Marketing 101
Facebook Champion
Funnel Mastery
Landing Page Secrets
PPC Mastery
SEO Traffic 101
And so on
As you can see, Vick covers lots of different strategies how you can make money online. But there are some methods that Vick highlights more than the other ones.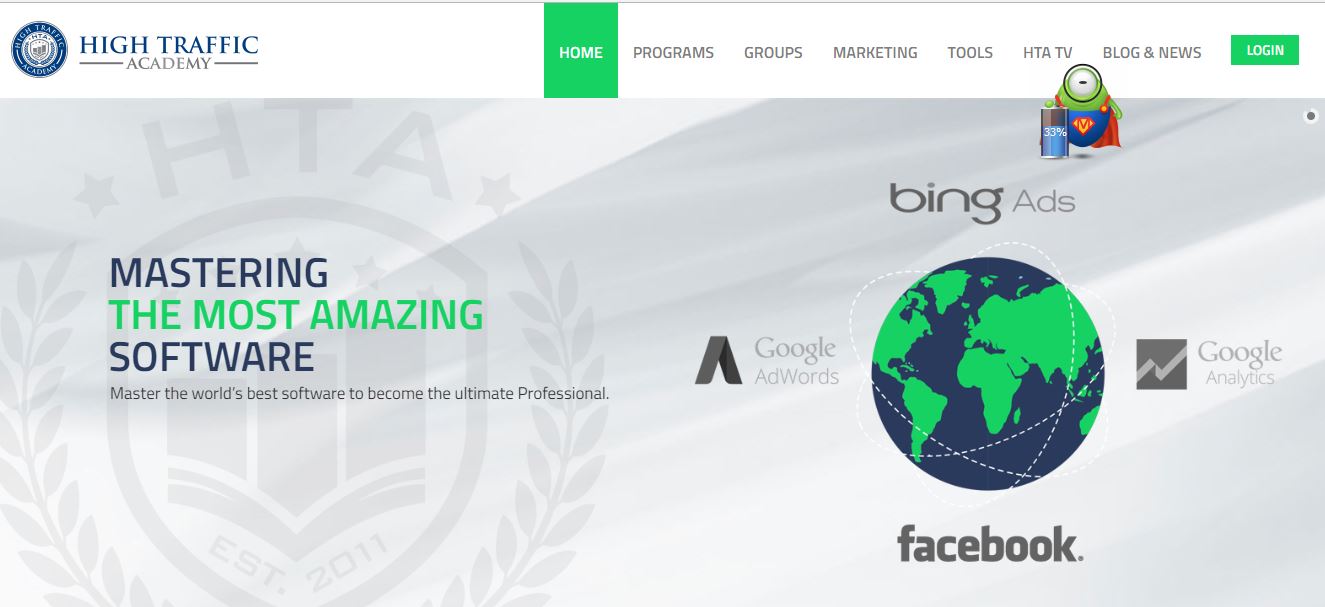 High Traffic Academy Training
Vick likes the following 3-step strategy:
1.Create a Landing Page.
Create a simple but enticing web page where you have an interesting offer for visitors. You can, for example, offer a free eBook for people who give their email on the page.
2.Generate Traffic. 
Having a page doesn't help anything if you don't have any traffic on that. Imagine having a winter cloth store in the middle of the Sahara desert. Not many people would visit your store. But land your iPhone business on the Madison Square and I am sure that you will have lots of traffic every day.
In the online business, you need traffic in the same way like in the offline business. I will discuss further how Vick recommends you to attract traffic to your landing pages.
3.Market to Your Email List
Once you have collected emails from your landing page, you can offer them products that might be interesting for your list. Vick follows the old saying, "The money is on the list." Many successful Internet marketers have also reported
High Traffic Academy Price
I think this is the most important reason why I can't recommend HTA. It provides valuable tips but the price is ridiculous. Do you remember Five Figure Freedom or Zero Hour Work Days by Brendan Mace? Both of those courses taught somehow similar money-making strategy as HTA. But the big difference is that those courses cost only around $8 while this course by Vick costs $177/month.
$177/month is an elite membership which gives you the most resources. You can also get courses individually but they are expensive as well. For example, Facebook Marketing 101 costs $397/year. Compare to Wealthy Affiliate where you get all these things for $359/year.
Domain hosting
The best make money online training on the Internet
The helpful community of more than 850,000 people. (Many of those are full-time online entrepreneurs and give you very practical tips.)
Comments for your website and blog posts
Keyword tool
Access to founders Kyle and Carson
Https and SiteSpeed bonus for your website
And much more
I don't understand why somebody would prefer High Traffic Academy over Wealthy Affiliate. We can clearly see which one is better.
And That's Not All
Vick's products cost a lot but that's only a beginning. He recommends PPC and other paid methods to buy traffic. So, you need to have also money for that.
I would say that if you spend $1,000 on High Traffic Academy, you would need at least $1,000-2,000 more on paid traffic also. So, in total $3,000 and there are not any guarantees that you would make any money. Of course, building a business requires investments but I think that's a bit too much.
Do You Want a
FREE
& Easy-to-Follow
7-Day Course
to
Make Money Online
for Beginners?
Easy-to-Follow

Beginner-Friendly

My Personal 1-on-1 Support for You
Get Started for FREE Below Before this offer goes away!
This reminds me of another make money online product called Dot Com Secrets X. It also teaches paid advertising to get traffic but definitely doesn't suit for beginners.
Vick's course suits also much better Internet marketers who already have more money and experience. If you are a total beginner with making money online, have a look here.
You can get a huge amount of traffic to your websites if you just follow the same strategy that I am using.
How Do I Drive Traffic to My Websites for Free?
I have learned how to grow traffic to my website each and every month through search engines for free. Let me give a few ideas how you can do it as well.

1.Provide helpful and high-quality content. I publish constantly new content on my website and my goal is always to give honest and helpful answers for our readers on how to make money online. Minimum 1,000 words per article is a good guideline.
2.Use keywords. Even though keywords are not as important as they were in the past, they still play a significant role in SEO (search engine optimization). You can use Jaaxy or Wealthy Affiliate keyword tool to find low-competition keywords for your articles.
3.Get engagement. Comments and social shares are plus and boost your Google rankings
4.Embed a video. I have also a Youtube channel and I make a new video when I think it will add value to my article.
5.Rinse and repeat. Once you see what kind of keywords and articles get ranked high, you can repeat the process. Then your traffic grows like a snowball. Remember that Google will give your site more and more authority when you publish new content regularly.
What do you think about my strategy? At least it seems to work very well on my websites. (I interviewed 17 online entrepreneurs how they get ranked #1 on Google.)
High Traffic Academy Complaints
Like with any other Internet marketing course, there are also complaints about HTA. One thing that a successful online entrepreneur pointed out was that Vick is focusing too much on maximizing and optimizing conversions rather than producing high-quality content.
I understand that point. Of course, it's necessary to think how you could make more conversions with your online business. Because if you are not making any sales you don't have any business. But the big focus should always be on providing high-quality content like in Wealthy Affiliate.
I also read that some people complained that they had a hard time getting their money back from HTA even though it promises at least 30-day money back guarantee on their products. I don't know what was the exact situation there but of course, I recommend to be careful.
Pros & Cons
Pros:
Lots of content
Vick is a successful Internet marketer himself (but there's a lot of controversy around his products)
Tackles many different subjects like Facebook marketing, PPC, landing pages, email marketing and so on.
Elite membership contains an autoresponder
High Traffic Academy platform is nice and simple
Cons:
Too expensive
I found some complaints that it was difficult to get the money back
Not for beginners
You need spends lots of money on paid advertising
Conclusion – Is High Traffic Academy a Scam?
No, it's not a scam. But on the other hand, it's not something that I could recommend. The price of High Traffic Academy is so huge that it seems the main purpose is just to make the founder rich. You can find similar training for almost 100 times cheaper. Remember that high price doesn't always guarantee high quality.
If you are interested in making big money online, I recommend taking a closer look at Wealthy Affiliate. They provide a free account for a lifetime if you are not willing to invest any money. You will immediately get 20 interactive video lessons for free as a gift for joining.
The premium membership is also much more affordable in WA. During the Black Friday deal, it costs only $299/year and normally $359/year or $49/month. The first month of a premium membership is only $19. It's way cheaper than High Traffic Academy and provides much more tools.
Wealthy Affiliate teaches you every single step you need to take in order to create a successful online business and quit your 9 to 5 job. What are you waiting for? Get a free account in 10 seconds!
High Traffic Academy at a Glance…
Name: High Traffic Academy (HTA)
Website: www.HighTrafficAcademy.com
Founded: In 2011 by Vick Strizheus
Price: $177/month or $997 + Advertising Money
Field: Make Money Online -Programs
Overall Rank: 50 Out of 100
Have you ever tried Vick's products? Have you already learned how to make money online?
Let me know in the comments below! 🙂