Is Bittrex safe? Is Bittrex a scam? How to get started on Bittrex? Is Bittrex a good cryptocurrency exchange? If you have been looking for answers to any of these questions, you have come to the right place!
In this Bittrex review, I am going to answer all your questions about Bittrex crypto exchange. I have personally tried around 10 different exchanges so I believe I can help you here. Let's have a look!
---
Bittrex Review: Is Bittrex Safe? – Video Version
I also created a video review of Bittrex to answer your questions even in a more thorough manner. You can take a look at the video by clicking below. I am sure you will find it helpful and valuable.
If you want to see more cryptocurrency videos, don't forget to subscribe to my YouTube channel and smash up the likes 😉
---
Bittrex Exchange Review
Name: Bittrex
Founded: 2014
Type: Cryptocurrency Exchange Platform
Short Review: Bittrex is a trustworthy cryptocurrency exchange. They are 8th biggest crypto exchange by the trading volume and have operated since 2014.
Even though Bittrex has many benefits, I don't currently use it myself because Binance and Coinbase are better options, in my opinion.
Of course, cryptocurrency trading or investing always involves risks. If you prefer more guaranteed ways to earn money online, I recommend taking a look at this step-by-step training.
---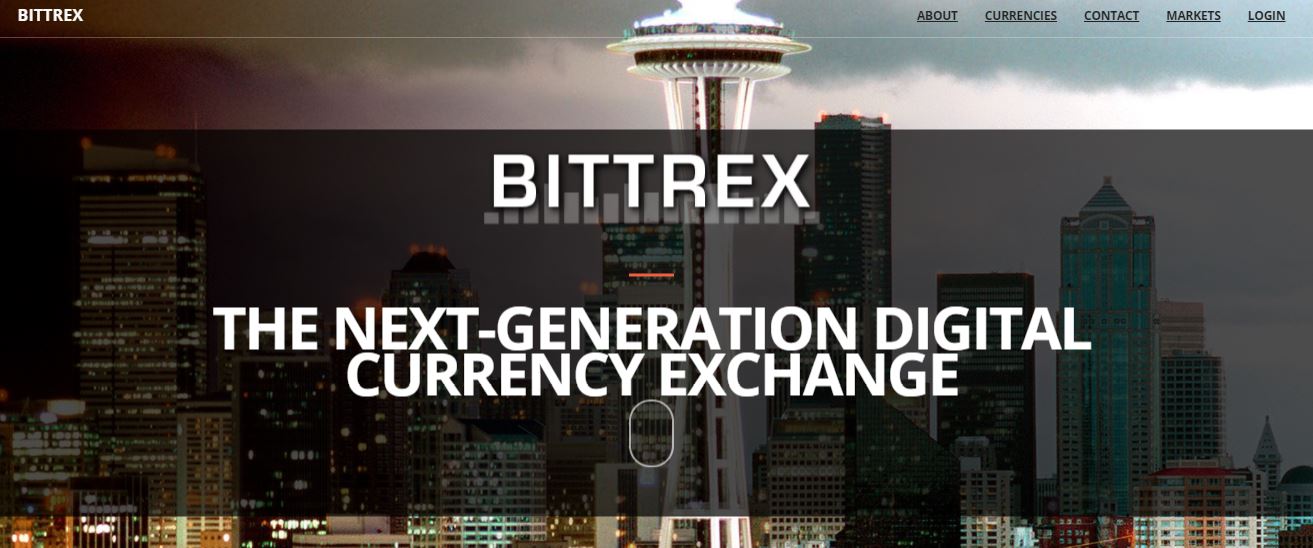 What Is Bittrex?
Bittrex is a cryptocurrency exchange from the U.S. Seattle that has been operating since 2014. During its 4 years of operation, it has become one of the trusted and most used exchanges in the industry.
They provide cryptocurrency trading for around 200 different cryptocurrency pairs.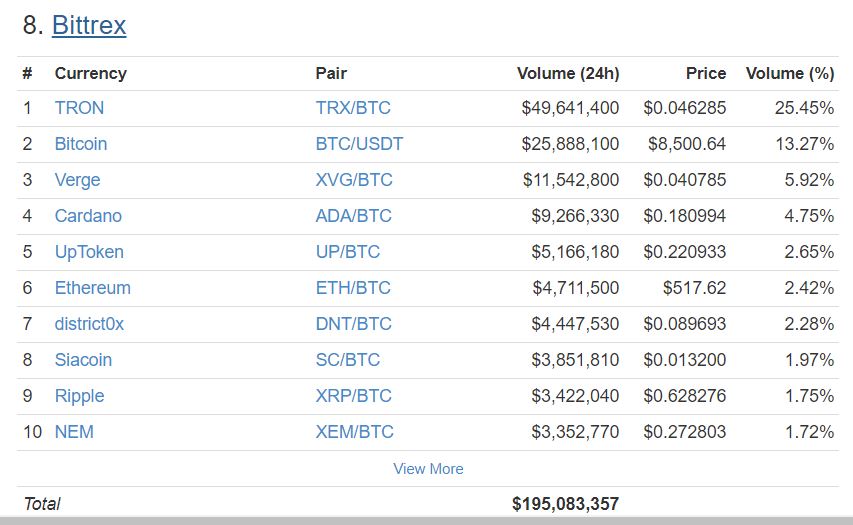 5 Benefits of Bittrex
Even though Bittrex exchange is not my #1 recommendation it has still many benefits that I point out for you here.
1.Large Availability of Currency Pairs – ~200 Cryptocurrencies
Bittrex enables trading for around 200 different cryptocurrency pairs. When I was looking at their list, there were many coins that I have never even heard of. Have you heard of cryptocurrencies like Gambit, Gridcoin or Blackcoin?
A large availability of cryptocurrencies is certainly a positive thing. With some exchanges, you can trade only a handful coins which brings you challenges if you want to trade something else. Soon you need to create an account to 10 different exchanges in order to get your desired coins.
You will find all major coins and many rare coins on Bittrex. You will even find cryptocurrencies that you have never heard of on Bittrex.
2.Bittrex Has Never Been Hacked – It Is (Relatively) Safe
You probably know that another major exchange from the U.S. called Bitfinex has been hacked twice during their history. Even though they managed those situations well and they are still running strong, they left a little scar to Bitfinex' reputation.
Bittrex has never been hacked and many people keep it as a trustworthy and a reliable crypto exchange.
3."Easier to Use Than Other Exchanges."
I have heard people praising Bittrex because of its ease of use. Their website is intuitive and you will easily find the things that you need to find: Wallets, Markets, Withdrawal, Deposit, etc.
This, of course, depends on the person's preferences. I feel that almost all exchanges are easy to use once you have used them for a while. Only challenging ones are really like Etherdelta or Forkdelta.
Do You Want a
FREE
& Easy-to-Follow
7-Day Course
to
Make Money Online
for Beginners?
Easy-to-Follow

Beginner-Friendly

My Personal 1-on-1 Support for You
Get Started for FREE Below Before this offer goes away!
A famous cryptocurrency influencer was comparing Bittrex and Poloniex. He preferred Bittrex for several reasons. It was easier and faster to use. Provided more options for trading and was better in other ways. I don't recommend Poloniex in any way.
For complete beginners I recommend cryptocurrency exchanges called Coinbase or Changelly.
4.Transparent 0,25% Fee
Every exchange needs to charge fees from their customers for trading. That's how exchange can run themselves and make money. Some exchanges charge a higher fee (and probably provide more services) while other exchanges charge very low fees.
I would say that Bittrex is "in the middle" when it comes to their fees. They are not the cheapest option but not the most expensive choice either. They charge 0,25% trading fee.
The cheapest option out there is Binance where you can trade with as low as 0,05% fees. That's also my #1 recommendation for trading altcoins. On the other hand, if you are a "buy and hold" man like I am, 0,2% trading fee doesn't make a big difference.
There are also many exchanges that have higher exchange fees than Bittrex. One of them is Changelly which is also a great exchange but they charge a 0,50% fee. On the other hand, they are probably the most beginner friendly and easiest to use so it makes sense that a fee is a bit higher.
5.High Liquidity Because of the Big Trading Volume
On the smallest exchanges, you may have a challenge when trading cryptocurrencies. There are not so many people trading that if you want to make the transaction fast, you need to accept a worse price. In the other words, you lose money because there are not enough people trading with you.
On Bittrex you don't have such problem because it's one of the biggest crypto exchanges in the world. You can always find tons of buy and sell orders waiting in the order book. That guarantees the high liquidity and ease of exchange.
How to Get Started on Bittrex?
Getting started on Bittrex can be nowadays quite challenging. Sometimes so many new members have been flowing to their exchange that Bittrex has decided to close their exchange with new members.
Recently, my friend got started on Bittrex and the verification took a few weeks. That's still quite okay because I have heard "horror stories" that some people were waiting for months to get verified and their funds were stuck on Bittrex exchange.
Anyway, in order to start trading on Bittrex, first, you need to create an account. After creating the account you need to get it verified and that may be a frustrating process overall.

Basic, Phone and Enhanced Verifications on Bittrex
There are a few levels of verification on Bittrex. The more you pass them, the higher trading limit you have.
The first phase is called basic verification. In order to get that done, you need to give your personal details like full name, date of birth, address, passport number, etc.
Phone verification means that you give them your mobile phone number, receive a message and verify that you received the message.
You can complete enhanced verification only after the first 2 verifications are done. In this stage, you need to upload a picture of your passport and a selfie that it's really you. The purpose of the whole verification process is to secure your identity and let them know that you are really you.
However, once you have submitted all your verification documents, you may need to wait for a long time. Sometimes you mightn't get verified at all. That's mainly because so many new users have been flowing into Bittrex and they haven't been able to successfully manage everything.
If you want to get started faster, I recommend going to Changelly, Coinbase or Binance.
Bittrex Support
Now that millions of people worldwide started buying cryptocurrencies in 2017 and 2018, exchanges had big challenges to answer all support request.
One of my best friends was working in one huge cryptocurrency exchange company and he said, "Support requests just don't end. They are endless and when you answer to one question, a client immediately asks another question."
Naturally, people have different kinds of examples of Bittrex support. Some people have really enjoyed it while other people say they don't respond.
Anyway, if you want to get specific answers to your questions, you can first take a look at their FAQ (Frequently Asked Questions) page. If you don't find an answer, you can contact them by sending an email to support@bittrex.com.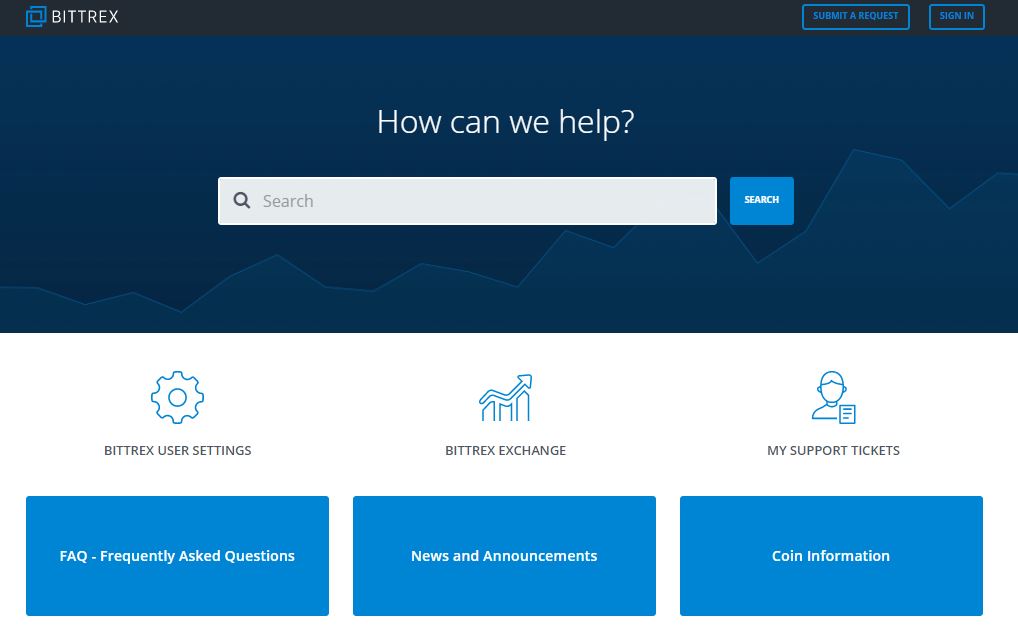 Conclusion – Is Bittrex a Scam Or Legit?
Bittrex certainly is not a scam. It's a legitimate website and a company that provides cryptocurrency trading that has been operating already for several years.
7-Day Make Money Online Email Course
Learn SIMPLE steps to make a LIFE-CHANGING INCOME online. I will help you hand-by-hand!
Personally, I don't need to use Bittrex because I have, in my opinion, better alternatives (Binance and Coinbase) that I am using.
Probably the main reason why I haven't started with Bittrex yet is that their queue for new clients has been so long. It has taken weeks for some new members to get started. Sometimes even longer. I tried to start trading on Bitfinex but wasn't able to do that even after 2 months of waiting and I didn't want to waste my time with Bittrex as well.
That being said, if you are willing to wait for the verification, you can create an account there and get started after waiting.
---
Have you used Bittrex? Would you recommend it to other people as well? 
What is your favorite cryptocurrency exchange platform?
Let's discuss in the comments below! 🙂