UPDATE 26.12.2016! I found a faster and more effective way to get twitter followers automatically. It is a tool called MassPlanner. Many full-time Internet marketers are using it regularly and I am using it too. You can get thousands or even tens of thousands of followers with 5 minute of work.
And you can try it for totally free!
Do you want to get more visibility in the social media? Do you want to get more Twitter followers fast by using only 2 minutes per day?
Getting Twitter followers isn't so hard as many people think. You don't need to be a celebrity or a hacker.
Today I will introduce you one ultimately an easy way to get targeted followers on Twitter.
The best of all, this way is completely free. (Buying and selling Twitter followers is a big business on the Internet but very probably buying followers in the social media won't make you successful. In addition, it's usually against the rules in many social medias so you will probably get banned.)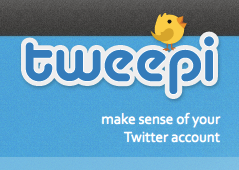 Tweepi – Simple and Effective Twitter Tool
There are a huge amount of Twitter tools and products out there. I have tried many of them but Tweepi is so far one of my favorites.
It's free and very simple to use. There is also a premium membership available but I haven't ever needed it.
One of the most efficient ways to get followers on Twitter is to follow people who are interested in the same subject (See How to Get More Twitter Followers Instantly? – 5 Ultimate Tips).
That is very easy in Tweepi.
I will explain you step by step how to do it.

Step #1 Sign up to Tweepi
Just go to Tweepi.com and click sign up. Fill out the information and create an account.

You can also easily connect with your Twitter account so you don't need to make a new account here in Tweepi. Just click "Login via Twitter."
Step #2 Find the People Interested in Your Niche
What is your niche? Are you selling/promoting football equipment, musical instruments, online courses or what?
Let's say for example that you want to find people who are interested in language learning, more specifically learning English.
Click "Follow Tools" and there you can find the right people. Then click "By @user's followers" (see the image below)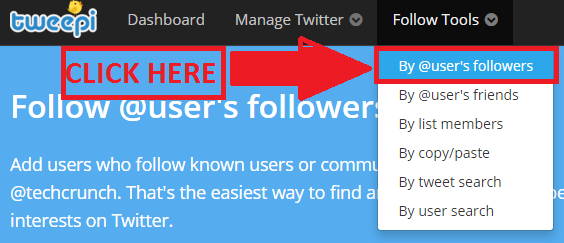 Then find the users that people who are interested in learning English might follow.
For example, the accounts like @LearnEnglish, BBC Learning English @bbcle, LearnEnglish @LearnEnglish_BC and VOA Learning EnglishVerified account @VOALearnEnglish.
Do You Want a
FREE
& Easy-to-Follow
7-Day Course
to
Make Money Online
for Beginners?
Easy-to-Follow

Beginner-Friendly

My Personal 1-on-1 Support for You
Get Started for FREE Below Before this offer goes away!
Users who are following these accounts are very probably interested in learning English because these channels are made for teaching English.

Step #3 Follow Their Accounts
Then click +Follow and you are following the users who are interested in your niche. (see the image below)

The maximum amount of users you can follow during 24 hours is 250. Then on the next day, you can follow again 250 new users and so on.
Clicking follow 250 times will take you about 2-3 minutes so it really doesn't take time almost at all. You'll probably follow 250 Twitter users faster than you visit the toilet!
Step #4 They Will Follow You Back
When you follow someone on Twitter very often they will follow you back.
So when you follow 250 users in Twitter every day a big amount of those will follow you back.
Let's make a fast calculation. If 150 of them follow you back every day, you will get almost 55 000 Twitter followers a year only by following some users.
And of course, the other's will follow you also if you are providing good value for the followers.
Over the time when a number of your followers gets bigger and bigger more people will follow you automatically.
People just seem to follow more likely the accounts who have 100 000 followers than those who have 1 000 followers.
4 Steps to Getting Twitter Followers Fast

1.Sign up to Tweepi
2.Find the People Interested in Your Niche
3.Follow Their Accounts
4.They Will Follow You Back
And repeat the cycle every day.
I also made the video instructions to make your task easier to get more Twitter followers.
See the video instructions below from Youtube.
I hope you find this article useful and it will help you to create online success.
Don't Forget the Other Things!
Social media marketing and Twitter followers are only one part of the online business.
There are also many other things that you need to do in order to succeed online.
Wealthy Affiliate is the online community that teaches you all the details you need to in order to earn money online.
PS. Follow me on Twitter 😉 Follow @RoopeKiuttu
Have you used Twitter tools? Which one is your favorite and why?