What is Gemini? Is Gemini Legit? How does Gemini work? What is the best cryptocurrency exchange?
If you have been looking for answers to any of these questions, you have come to the right place. In my Gemini exchange review, I am going to reveal everything you need to know about Gemini.

Gemini Exchange Review
---
Name: Gemini
Founded: 2015 by Twinklevoss twins
Type: Cryptocurrency Exchange Platform
Short Review: Gemini is a Bitcoin and Ethereum exchange but I don't personally use it because there are better alternatives available. In addition, you can't trade altcoins on Gemini.
I recommend buying your first Bitcoin/Ethereum on Coinbase ($10 bonus) or Changelly. Those are probably the most beginner-friendly platforms. If you want to exchange alt coins, my #1 recommendation is Binance which is the biggest cryptocurrency exchange in the world with low fees.
---
What Is Gemini?
If you have been following the cryptocurrency scene for a while, you must have heard of the Twinklevoss twins (Cameron and Tyler). They became famous already several years ago for suing Mark Zuckerberg claiming that he has stolen their business idea.
Since then Twinklevoss twins became probably the most famous investors in Bitcoin. They put lots of money early on Bitcoin because they saw its potential. Then they became millionaires because of the huge rise in the Bitcoin market price.
In 2015 Twinklevoss brothers decided to create a cryptocurrency exchange called Gemini. They probably saw another profitable business opportunity because the crypto exchanges have literally been "printing" money over the past years.
Their exchange seems to be mainly targeted to the US audience because they allow payments using USD but not EUR.
How Does Gemini Work?
Gemini is a pretty much cryptocurrency exchange like Coinmama. Both of them provide only Bitcoin and Ethereum but they still provide payments with bank transfer. In addition, both of them are primarily targeted to the US audience.
First, you naturally need to open an account and register on Gemini. Then fill out your profile by giving the personal details. Make a bank transfer to buy Bitcoin or Ethereum.
The process of buying Bitcoin or Ethereum should be quite easy because it's basically the only purpose for this company: to provide trading for those two major cryptocurrencies.
How Big Is Gemini Exchange? 
Gemini has around 50 employees. At the moment when I am writing this article (5/4/2018), Gemini is ranked 18. biggest cryptocurrency exchange in the world by the trading volume. (See the picture below)

As you can see, the daily trading volume is at the moment a bit less than $70 million. On Binance, which is the biggest cryptocurrency exchange in the world, the daily trading volume is around $1,8 billion.
Therefore, Gemini is far from being the biggest one. Still, it's relatively big especially when we consider that they only provide Bitcoin and Ethereum.
The trading volume on Gate.io and Cryptopia, for example, is smaller than on Gemini even though they provide trading for hundreds of different cryptocurrencies. In my opinion, it really illustrates that the biggest masses are interested in Bitcoin and Ethereum instead of altcoins at the moment.
Gemini Support
Gemini has comprehensive FAQ (Frequently asked questions) page on their site. There you'll find answers to most of your questions on using their exchange.
Alternatively, you can also contact their support by filling out the contact form on their website. In the next chapter, I will reveal what people are saying about Gemini support.
Do You Want a
FREE
& Easy-to-Follow
7-Day Course
to
Make Money Online
for Beginners?
Easy-to-Follow

Beginner-Friendly

My Personal 1-on-1 Support for You
Get Started for FREE Below Before this offer goes away!
Gemini Reviews – What Are Other People Saying About It?
I always recommend taking a look at the reviews before you start using a cryptocurrency exchange or put your money into any other online service. Probably you already know this principle because you are reading my review right now 🙂
I read several other Gemini reviews to know what other people are saying. I found out that people are quite mixed feelings about Gemini exchange.
Gemini has received an average rating 2,7 stars out of 5 based on 74 reviews on CryptoCompare. In my opinion, it's an OK rating considering that some bigger crypto exchanges have received even lower numbers. However, when I read Gemini reviews, I didn't feel very excited to sign up on their site.

That's probabl
---
y the worst situation that you would want to have. However, I have read reviews on more than 10 different cryptocurrency exchanges and there is always somebody complaining about the same issue.
The same applies to all other websites where the money is involved. Always somebody complains that his money is locked and the support doesn't help. Therefore, you need to take this kind of reviews always with a little bit of grain of salt.
Gemini vs Coinbase – Which One Is Better?

Coinbase is one of the biggest and the most popular crypto exchanges. They have served more than 10 million customers in more than 30 countries.
The company was launched already 3 years earlier than Gemini back in 2012. The founder Brian Armstrong has received also received lots of popularity on media.
One of the biggest benefits of Coinbase is that they're very beginner-friendly and they enable payments also with PayPal or credit card.
The only drawback of Coinbase compared to Gemini is that they have a bit higher fees. However, Coinbase still offers a $10 sign up bonus which covers your fees if you are buying only a small amount. You can read my full Coinbase review here to learn more about their exchange and hear more about my experiences.
Gemini Exchange Fees
Gemini doesn't have deposit or withdrawal fees. It means that you can put money into your Gemini account and take it away from there for free. Their trading fee is 0,25% which is relatively low compared to other cryptocurrency exchanges.
Gemini Exchange App
I noticed that many people on Google and Reddit were asking whether Gemini has a mobile app or not.
I checked out on Google Play Store and found out that there isn't an app available for Android. The further "research" on their website revealed that they don't have any mobile app.
The team still responded that their website is tablet/mobile-friendly which is supposed to compensate the absence of the app.
Conclusion – Is Gemini Legit?
Gemini is a legitimate website but there are complaints as well like we saw above. Personally, I would recommend using other websites for buying Bitcoin and Ethereum and trading cryptocurrencies.
If you are a beginner, I recommend starting with Coinbase. They offer a $10 sign up bonus and it's very beginner-friendly. I have personally used Coinbase for around 3 years and everything has worked smoothly. I have mostly heard positive experiences from all my friends who have been using Coinbase as well.
Other great alternatives for getting started are Changelly and Kraken.
If you are looking a cryptocurrency exchange for trading, my #1 recommendation is Binance for several reasons. You can read more on my comprehensive Binance review. However, as I mentioned above, you can't yet buy cryptocurrencies using USD or EUR on Binance so you first need to get them on Coinbase.
---
If you are just looking for ways to make money online, I recommend having a look at this step-by-step training by clicking the picture below. It has turned numerous people (including myself) from complete beginners into full-time online entrepreneurs.
The training will help you to make money with or without getting involved with cryptocurrencies.
7-Day Make Money Online Email Course
Learn SIMPLE steps to make a LIFE-CHANGING INCOME online. I will help you hand-by-hand!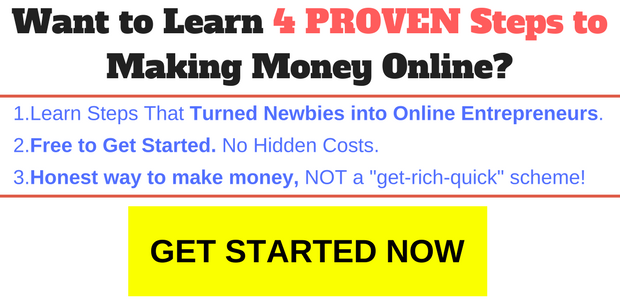 ---
Have you used Gemini?
What is your favorite cryptocurrency exchange platform? Binance, Coinbase, Changelly, Kraken or something else?
Let's discuss in the comments below! 🙂