If you are looking for an answer to the question, "Is Coinmama a Scam Or Legit?" you have come to the right place. In this Coinmama review, I will tell you everything you need to know about this company. In addition, I will show how their website works that even complete beginners can use it.

Coinmama Review
---
Name: Coinmama
Website: www.Coinmama.com
Founded: 2013
Type: Cryptocurrency Exchange
Short Review: Coinmama is a trusted cryptocurrency exchange where you can buy Bitcoin and Ethereum easily using your credit card. It's an easy and a beginner-friendly platform.
However, their fees are a bit high why I would rather recommend using Coinbase or Changelly. Their fees are lower and they enable credit card payments as well. If a little difference in fees is not an issue for you, Coinmama is also a great platform for buying cryptocurrencies.
---
Is Coinmama Legit? – Coinmama Exchange Video Review
Before you run into the article, I want to give you an opportunity to have a look at my video review of Coinmama. You'll find it extremely helpful and informative.
What Is Coinmama?
Coinmama is one of the oldest and most trusted cryptocurrency exchanges in the world. They have been operating since 2013 and have served more than one million customers from almost 200 different countries.
One of the greatest benefits of Coinmama is that you can buy cryptocurrencies easily with your credit card. Many huge exchanges like Binance or Kucoin don't support that feature so Coinmama stands out as a better option in that sense.
6 Benefits of Coinmama Crypto Exchange
One of the most important factors when choosing a cryptocurrency exchange must be a question, "Is Coinmama reliable?" You should never use a crypto exchange that you are not sure of. Coinmama is a reliable and legitimate exchange so that's a good choice.
A picture below shows many benefits of Coinmama:

1.You can easily buy with credit card. Many other crypto exchanges don't support this feature.
2.Coinmama is safe and secure. More than 1 million users have used them during 5 years.
3.Fast-track verification. They verify your documents in one hour to increase your buying limit.
4.You can buy Bitcoin and Ethereum using euros, dollars, pounds or any other currencies you wish to use.
5.Global coverage. Coinmama works in 188 countries.
6.Coinmama support answers your questions.
How Does Coinmama Work?
Coinmama offers one of the easiest ways to buy cryptocurrencies. That's why it's one of the most popular ways for beginners to get started in the cryptocurrency world. The picture below illustrates the process:
Do You Want a
FREE
& Easy-to-Follow
7-Day Course
to
Make Money Online
for Beginners?
Easy-to-Follow

Beginner-Friendly

My Personal 1-on-1 Support for You
Get Started for FREE Below Before this offer goes away!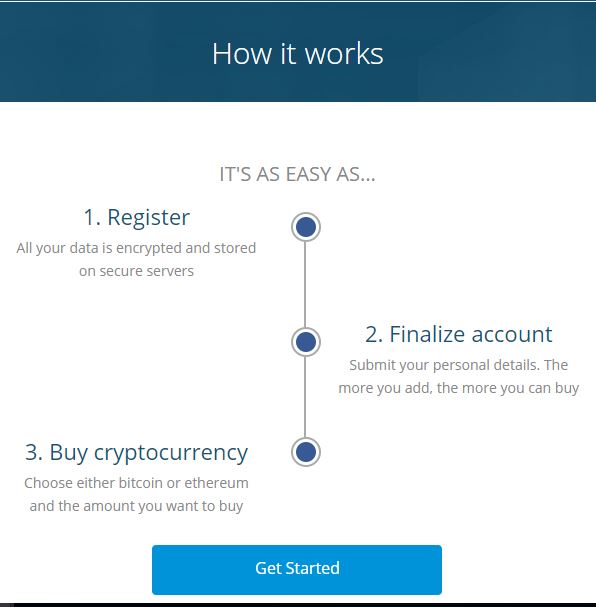 First, you register to Coinmama. Takes only 10 seconds.
Then you submit your details. 
Buy cryptocurrency using your credit card or another payment method.
Coinmama Tutorial – How to Use Coinmama?
1.First, you go to Coinmama homepage.
2.Insert your email address and click "Buy coins".
(3.Click "Create an account") If you are a new user on Coinmama.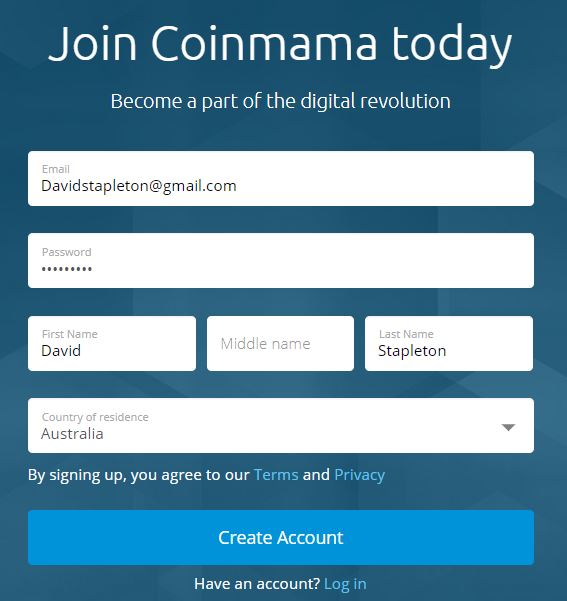 4.Get your account verified.

In order to secure your identity and security, Coinmama requires that you fill out the personal details before you start trading on Coinmama. The verification is fast and effortless.
5.Choose do you want to buy Bitcoin or Ethereum.
6.Define how much do you want to buy.

7.Make a payment, for example, with your credit card.
8.CONGRATULATIONS! You have now bought Bitcoin or Ethereum on Coinmama.
As you see above, the process of buying Bitcoin or Ethereum on Coinmama is very straightforward. You just need to follow the steps that they provide.
Coinmama Support
Coinmama provides an email support and they promise to come back to you with an answer within 24 hours. They also have an extensive FAQ (Frequently Asked Questions) section on their website. That section will answer to most of your questions but if you need further help you can always contact them by email.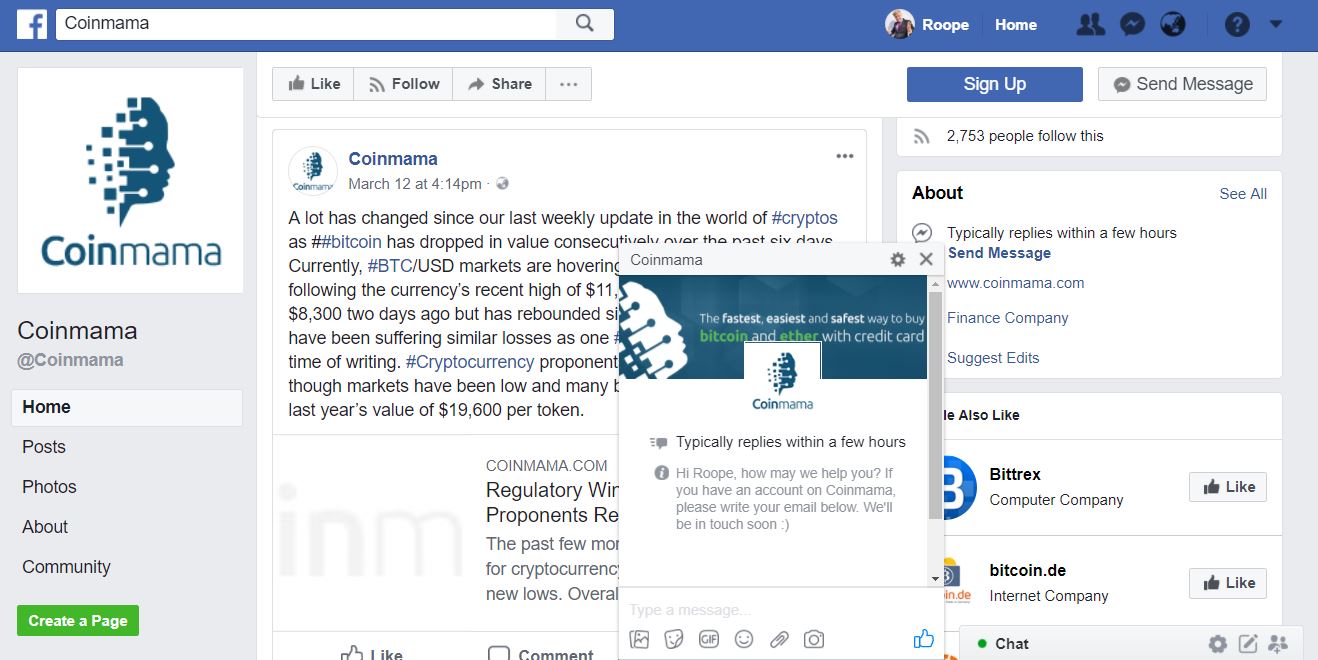 Coinmama Exchange Fees
The only real drawback with Coinmama are their fees. It's very easy and convenient to buy Bitcoin or Ethereum on their platform but you need to pay them for that convenience. Typical fees are 6-7% per transaction. That's not huge if you compare to the price volatility of cryptocurrencies but compared to cheaper exchanges those are quite huge.
I have most of the time used Coinbase for buying cryptocurrencies with fiat (euro, dollar, pound) because their platform is also convenient and they have smaller fees.
What Cryptocurrencies Can I Buy on Coinmama?
At the moment, you can buy only Bitcoin and Ethereum on Coinmama. If you want to buy Bitcoin Cash or Litecoin, my #1 recommendation is Coinbase because they give you also a $10 sign up bonus as a new member.
If you want to buy smaller cryptocurrencies my highest recommendations are Binance and Kucoin. I have used them for buying and trading numerous cryptocurrencies.
Their interface is simple and easy-to-use. In addition, Binance is probably the biggest crypto exchange in the world. Both of them have a reputation as a reliable exchange.
Would I Use Coinmama?
A short answer is yes. Coinmama is a reliable crypto exchange and numerous other people are using it as well.
That being said, I personally prefer using exchanges that charge smaller fees. Therefore, I don't personally use Coinmama as there are are better alternatives out there.
Coinmama Alternatives
If you are a complete beginner and want to buy cryptocurrencies easily, my recommendations are Coinbase or Changelly. If you are looking for my #1 recommendation for trading cryptocurrencies, take a closer look at Binance.
Coinbase is probably the most well-known cryptocurrency exchange in the world. They provide a $10 sign up bonus for everyone who joins their exchange for the first time. Their platform is very simple and beginner-friendly. It's also good for more experienced cryptocurrency investors. It's not a coincidence that they have served already more than 10,000,000 customers worldwide.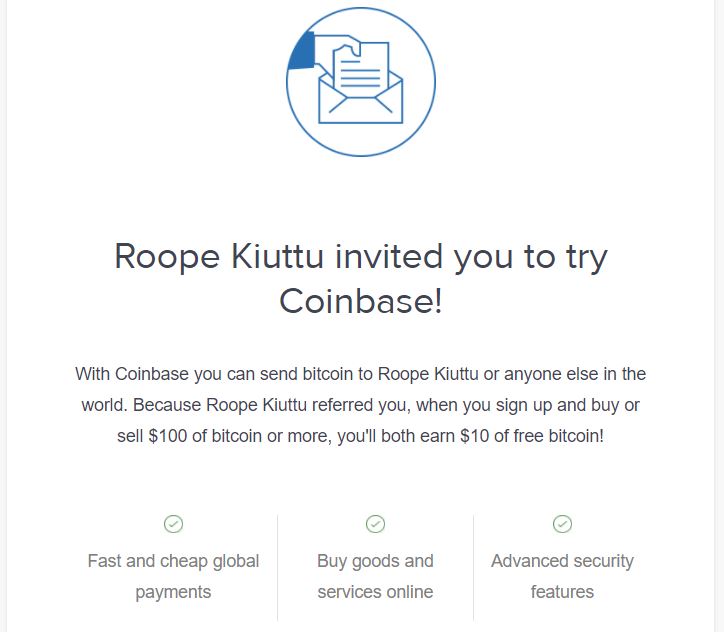 If you want to buy cryptocurrencies easily with your credit card, Changelly is one of the best choices for that. They have also served more than 1,8 million customers and have established the reputation as a highly trusted
Binance has grown fast into the biggest cryptocurrency exchange by the trading volume. They provide trading for numerous different cryptocurrencies including some rare ones. Binance has one of the smallest fees in the industry because you can trade on their platform with even as low as 0,05% fee. The only significant drawback with Binance is that you can't use fiat currencies (euro, dollar, pound) on their platform.
Therefore, my recommendation is that you use Changelly, Coinbase or Coinmama to buy Bitcoin and Ethereum. Then transfer it to Binance where you can buy and trade smaller cryptocurrencies if you want. After you have done with the trading, I recommend transferring your funds into a hardware wallet like Trezor.

Conclusion – Is Coinmama a Scam Legit?
Coinmama is certainly a legitimate cryptocurrency exchange. They have been operating more than five years and served more than 1 million customers all over the world in ~200 countries. In my opinion, Coinmama is most suitable for beginners who want to get started and buy Bitcoin or Ethereum easily with a credit card.
The only drawback is that their fees are a bit higher than on some other exchanges. If you want to buy cryptocurrencies with your credit card/bank account I rather recommend using Changelly or Coinbase. For cryptocurrency trading my #1 recommendation is Binance.
On the other hand, if you just want to buy some Bitcoin or Ethereum fast and you don't mind paying 1-2% extra fees you can just use Coinmama. Their website works well and the support will answer your questions if necessary.
---
Have you used Coinmama for buying Bitcoin or Ethereum?
What other cryptocurrency exchanges lihave you used?
Which crypto exchange is your favorite?
Let's discuss in the comments below! 🙂