If you are looking for a completely honest Ezoic review, you have come to the right place!
In this article, I am going to answer all your questions about Ezoic. I have tried their service myself and I have listened to other people who have used it also.
---
Is Ezoic Legit? How Much Can You Earn? – My Video Review!
Want to Get My 7-Day Email Course to Make Money Online?
Enter Your Email Below to Steal My PROVEN Formula to Create Your Own "Money-Making Machine" In a Week...
We respect your privacy. No Spam.
---
Some people were asking a surprising question on Google, "Is Ezoic a scam?" First, I want to say that Ezoic certainly isn't a scam. It's a real company with friendly and helpful employees. In addition, their tool can help you to boost your income. How much? Is it worth it?
Let's dive in!
Ezoic Review
---
Name: Ezoic
Website: www.Ezoic.com
Type: Ad Optimization Tool.
Short Review: If you are using Google ads, you should certainly change into Ezoic to boos your income. If you are using other ways to monetize your site like selling your own or other people's products through affiliate marketing, it may not be worth it to use Ezoic. However, if you don't have another way to monetize your website, setting up Ezoic provides an easy way to turn your traffic into dollars.
If you want to learn a more profitable way to make money online, I recommend taking a look at this step-by-step training.
---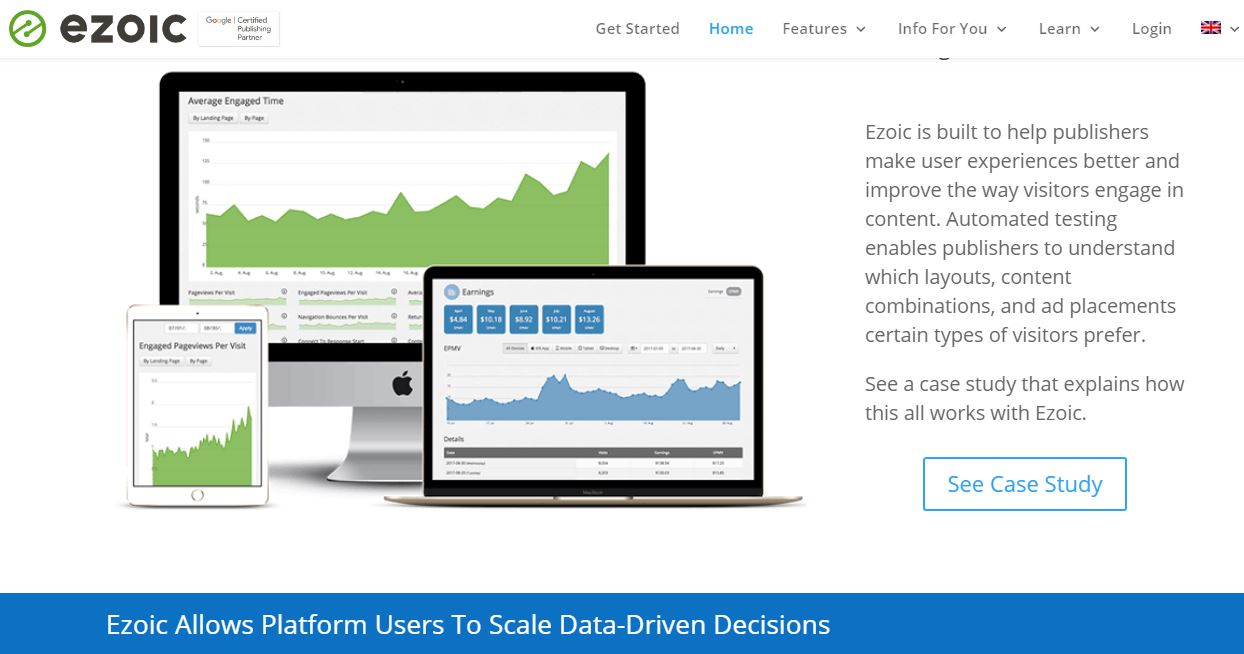 What Is Ezoic? 
Ezoic is an ad optimization tool that will boost your income compared to Google AdSense. In most cases setting up Ezoic to your website gives you 50-250% more income from ads rather than just using the Google AdSense.
They use an artificial intelligence that optimizes ads on your site. It tracks all your visitors, where are they from how old they are, what are their interests and so on. Based on that information, it shows the best ads for your visitors in order to maximize your income.
How Does Ezoic Work?
Using Ezoic is pretty simple.
Set up their ads on your website.
Sit back and how your earnings grow.
Well, that's, of course, a simplified version of it. But it still isn't a rocket science. You just need to install Ezoic on your site and their tools make all the heavy lifting for you.
Ezoic takes a small percentage of your earnings. In the other words, your success is their success. That's why they are also incentivized to help you to earn as much as possible with Ezoic. That's a good thing of course.
Setting up Ezoic
In the Ezoic website, they claim that setting up takes usually only around 20 minutes. However, at least in my case, it took way more time. I needed to contact their support team tens of times because there were some technical problems when setting up the site. In total, it took a few weeks to get Ezoic up and running on my site.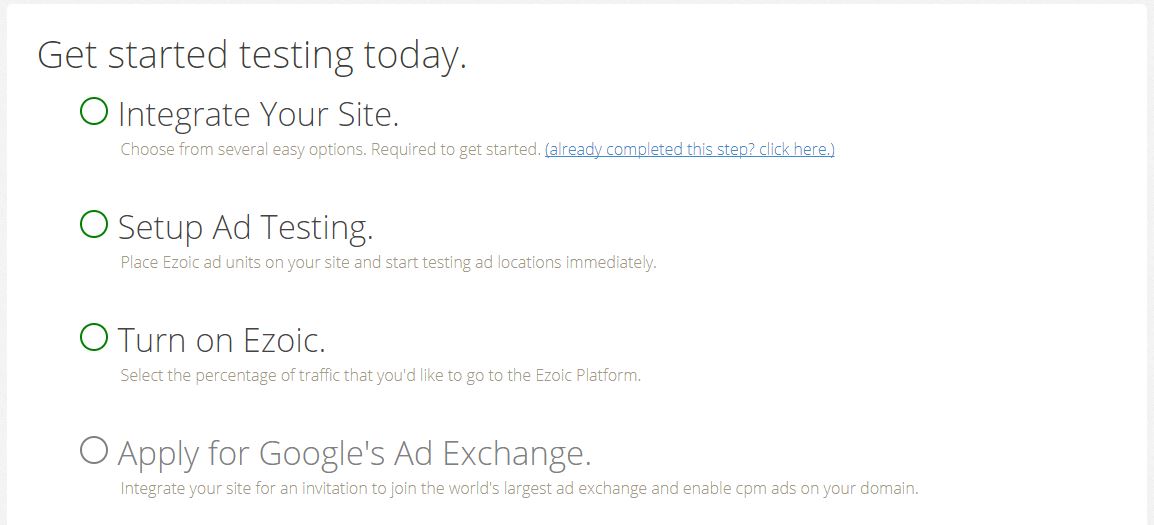 The Ezoic team told me that usually it takes much less time but there were some technical issues when setting up my site which is the reason it took longer than normal. I messaged with my friend and he said that usually set up Ezoic has been easy for him.
My tip to you would that just be patient in the process because it may take a while to get ads up and running.
Do You Want a
FREE
& Easy-to-Follow
7-Day Course
to
Make Money Online
for Beginners?
Easy-to-Follow

Beginner-Friendly

My Personal 1-on-1 Support for You
Get Started for FREE Below Before this offer goes away!
Installing Ezoic Ads
When using Ezoic, you are in control of the ad placements and of the percentage of users that see the ads on your site. Therefore, you will need to set the ad places on your site. You can either use the Ezoic Google Chrome extension or set them manually using, for example, WordPress plug-in called Ad Inserter like I did. Ezoic Chrome Extension didn't work on my computer so I had to use the Ad Inserter anyway.
In your Ezoic dashboard you can choose how big percentage of your visitors will see the ads on your site., for example, 50% or even 100%.
Surprising Fact on Ezoic: It Can Improve User Experience!
One of the greatest benefits of Ezoic is that they don't only focus on earnings but also on the user experience. We all know that the user experience is probably the most important single thing on your website. It affects your rankings on Google, earnings, people's thoughts about yourself and literally everything.
Ezoic also knows that when your site's user experience is good, you'll earn more which means that they'll earn more.

In my opinion and based on my experiences, Ezoic is much better than, for example, Media.net. A good thing with this kind of ad tools is of course that they enable you to earn passive income which means that you don't need to do almost anything but money will still flow to your bank account.
How Much Money Can You Earn with Ezoic? 
First, let me start by saying that you will start making money right away when you start using Ezoic on your website. It's a great thing of course. However, in order to earn the maximal income with Ezoic, their artificial intelligence needs time on your website before it can provide the best results. That's why the Ezoic team recommends that you test it at least 2-3 months.
I must say that I was a bit impatient with Ezoic and tried it for only 2,5 months. I didn't see the results that I would have wanted so I quit using it.
That being said, I may start using Ezoic again in the future with other websites or with the same website to see the whole potential of their tool.
In the picture below you can have a look at the EPMV (Earnings per thousand visitors) on my site while I was testing Ezoic. That helps you to estimate your earnings.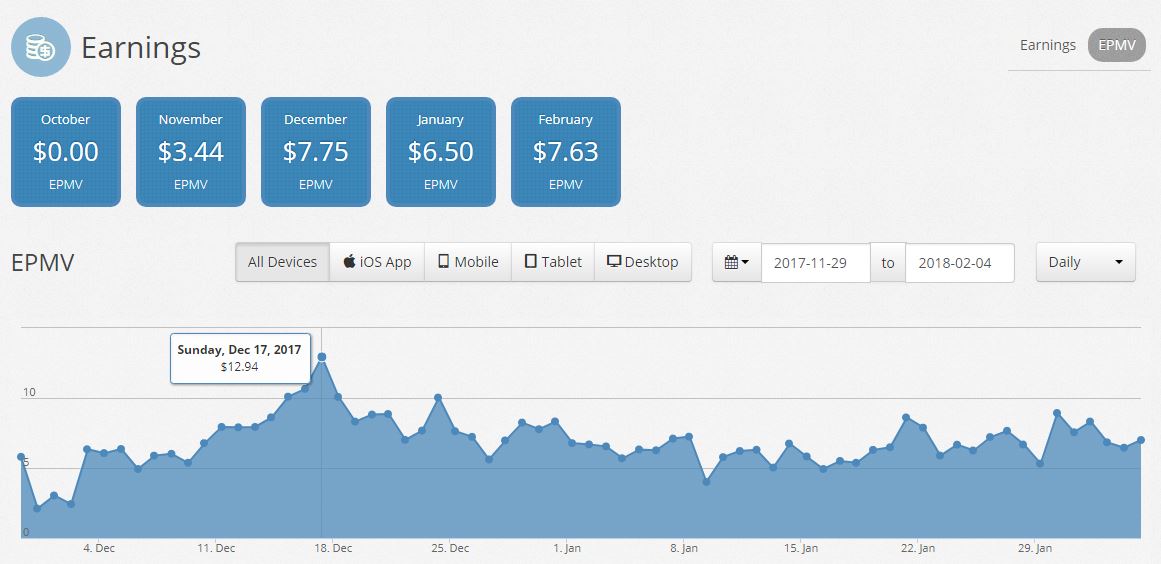 As you can see, an average EPMV, while I was using Ezoic, was around $7. I am sure that it would have risen over the time course. I was using Ezoic in January and in February that is usually low paying months for advertisers.
Another thing that you need to consider is that I was using Ezoic at the end for only 10% of my website visitors. It means that the AI didn't get very much data for the analysis and improvement. That probably held back the growth a little bit.
My guess is that $10-15 EPMV is possible with Ezoic on some sites after it has been on the site for a while. As you can see in the picture above, it gave me $12,94 EPMV for one day even though I had just implemented it on my site.
Based on the EPMV you can calculate your own earnings.
With $7 EPMV:
10k visitors per month => $70
20k visitors per month => $140
50k visitors per month => $350
100k visitors per month => $700
500k visitors per month =>  $3,500
With $15 EPMV:
10k visitors per month => $150
20k visitors per month => $300
50k visitors per month => $750
100k visitors per month => $1,500
500k visitors per month =>  $7,500
You can see that making good money with Ezoic requires tons of visitors to your website. I certainly don't recommend that you use Ezoic as a primary source of income for your website. Selling good products can give you much greater returns.
I know websites that make a full-time income with 5,000 unique visitors per month. The idea is that your posts should be targeted. For big publishers and news channels, Ezoic can be a better source of extra income.
Ezoic Affiliate Program: Earn 3% for Referrals for a Lifetime
Ezoic has an affiliate program which enables you to earn commissions by inviting more people to use their service. You will earn 3% commission for each referral's earnings that start using Ezoic. It doesn't reduce your referrals' income but is just an added bonus for an affiliate.
3% doesn't sound like a lot but it can be a nice way to earn some more passive income. Especially, if your referrals keep using Ezoic for a long time. Let's say that you refer 10 people to Ezoic and on average they make $2,000. That makes $60 x 10 = $600. If you have a large following, an Ezoic affiliate program can offer you some good income.
But of course, I highly recommend that you try it first yourself and see how you like it. If you enjoyed using Ezoic, share and recommend it to your friends as well.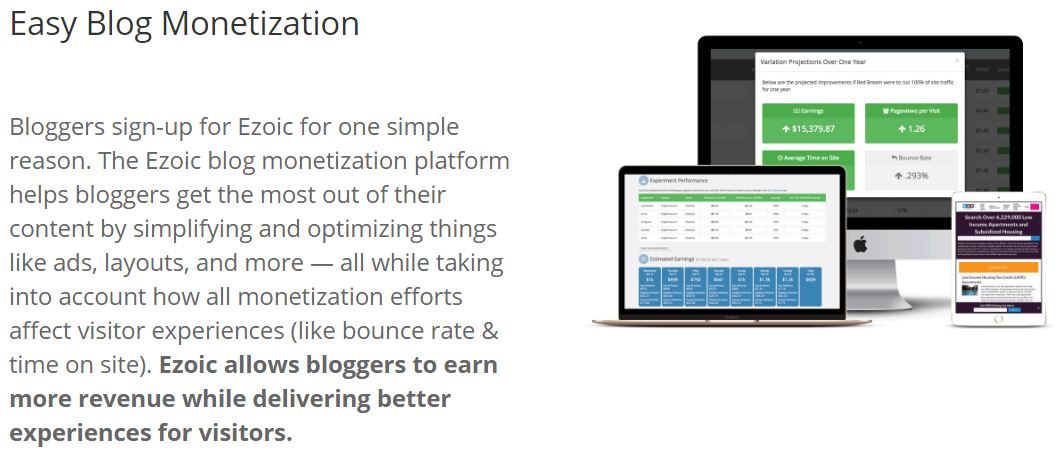 Conclusion – Is Ezoic Worth It?
I must say that this really depends and there isn't one answer to this question. If you have highly targeted sales funnels with expensive products, Ezoic most likely isn't worth it. You can earn much more than $10 per 1,000 visitors if you have set up great sales funnels.
On the other hand, if your blog/website focuses more on providing information like news websites, then Ezoic would be worth considering.
If you set up Ezoic, you will always earn money from them. However, at the same time, you'll most likely lose money from other offers and products that you are selling/promoting. In many cases, a visitor leaves your site and never come back when they click an Ezoic ad. Therefore, you can't only look at the number on the Ezoic dashboard.
You need to compare your overall earnings without Ezoic to overall earnings with Ezoic. You also need to keep in mind that earnings aren't usually the only factor how you measure your site's success. You probably also want to pay attention to the user experience.
Overall, I would say that Ezoic certainly worth trying.
If you want to learn to make money with affiliate marketing (which is way more profitable in the long run), I encourage you to start this step-by-step training today.
7-Day Make Money Online Email Course
Learn SIMPLE steps to make a LIFE-CHANGING INCOME online. I will help you hand-by-hand!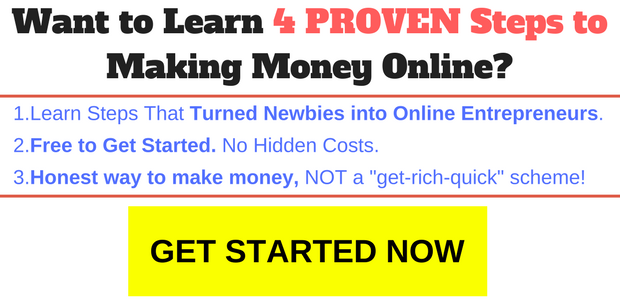 ---
What kind of experiences do you have with Ezoic or similar ad companies?
How do you like to monetize your websites?
Let me know in the comments below! 🙂
I'm also open to any questions that you have regarding Mediavine. I'll be more than happy to help you out as always.