Sweatcoin Review 2018 Updated
This Sweatcoin review has been read already by +6,000 people. I wanted to give you an update to provide you the most up-to-date information and provide you the best help to make money from home.

Therefore, I recorded the video below to explain you the true earning potential of Sweatcoin and show you also better alternatives.

If you want to make money by losing weight, I recommend taking a HealthyWage challenge. Your earning potential is up to $10,000.

If you want to make money online consistently, I recommend reading my Ultimate Make Money Online Guide 2018 to get the best steps to get started. I use those steps to make a living online and travel around the world.
NOTE: Making BIG money from home always requires work and effort so, please, don't expect to get rich overnight.
---
Earn money for every step you take!
That's what Sweatcoin promises to all of us. Doesn't it sound exciting and inspiring? My first reaction was that probably earnings won't be so big or it's a scam. However, I decided to give Sweatcoin a closer look before making my final decision.
If you are looking for an honest Sweatcoin review, you have come to the right place. I am not affiliated with them and I'm not earning any money for this article. We have reviewed more than making money online opportunities on YourOnlineRevenue.com and Sweatcoin seemed like a very interesting idea.

In the next 1-2 minutes, you'll find out if their app is worth it.
Sweatcoin Review
---
Name: Sweatcoin
Type: Earn Money for Walking
Short Review: It's possible to earn some money with Sweatcoin while you are walking. However, it's quite tedious and slow. You can use their app for motivation you to walk more. You can earn a few extra bucks in the process but nothing significant.
If you are searching for a better "lose weight and earn money" app, have a look at HealthyWage. For those who are looking for a way to earn a living online, I recommend this program.
---
What Is Sweatcoin? – Earn Money While Getting Fit
Sweatcoin is an interesting mobile app that enables you to earn money for walking. The idea is that you can make money while getting fit. You may remember other similar apps like HealthyWage.
If you haven't seen similar apps before, you may be wondering how the company can pay you for just walking. The answer is simple. They get money from their partners that they are promoting and then they give a part of their earnings for you.
Sweatcoin has also earned lots of interest in media. Their app has been featured on Forbes, Reuters, Daily Mail and The Telegraph. People have used their app for tracking already more than 81,765,089,587 steps (and counting). Sweatcoin has thousands of followers on different social medias like Facebook, Instagram, and Twitter.
So, we are talking about a highly interesting company and opportunity. Let's dig deeper how you can make money with their app in practice.
How to Make Money with Sweatcoin?
First, you sign up to Sweatcoin. It's completely free to join and you can create an account in a moment. At the moment Sweatcoin is available only in the UK, US, and Ireland but it seems that they are going to expand to other countries in the future.
When you have created the account the next step is literally just to start walking. You'll earn money for every step you take. It may sound amazing but in reality, the rewards are not so huge. You'll earn around 1 Sweatcoin for each 1,000 steps. If you want to get rewards, you need to earn at least 30 Sweatcoins. Most rewards cost 30-300 coins so it will take several days or even weeks to get your rewards.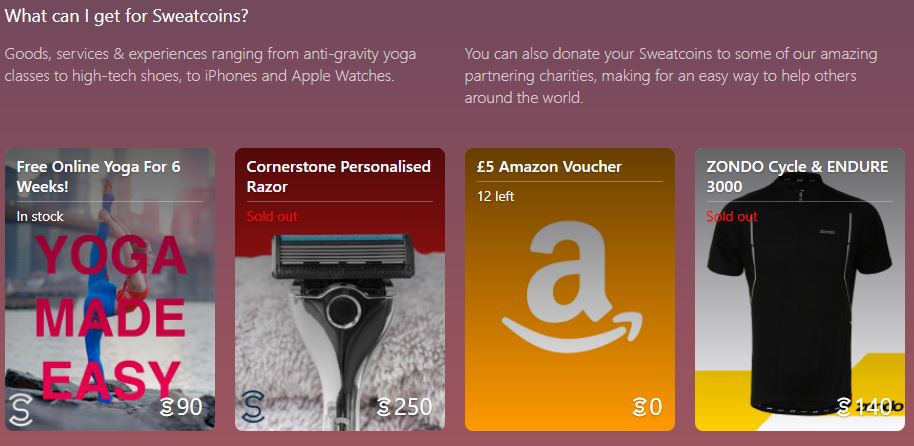 The last step is to exchange your points for rewards. Probably the most common rewards are Amazon gift cards and vouchers. You can use them for buying new products on Amazon. Then they offer also many another kind of rewards like online courses, t-shirts, and special razors. I would choose Amazon gift cards but you can, of course, choose any reward you want when you have earned enough points.
I can already say that it's possible to earn some extra money with Sweatcoin but you can imagine that it's nothing very big. If you are looking for better ways to make money online, just click a picture below to get started.

Does SweatCoin Pay?
Yes, Sweatcoin pays. Thousands of people have earned money using their app.
However, they don't pay in cash so you don't get the money immediately. You can take gift cards and buy products that you would buy anyway. Then you can save/earn real money.
Do You Want a
FREE
& Easy-to-Follow
7-Day Course
to
Make Money Online
for Beginners?
Easy-to-Follow

Beginner-Friendly

My Personal 1-on-1 Support for You
Get Started for FREE Below Before this offer goes away!
Already 15 months ago Forbes reported that Sweatcoin has paid already more than $1 million in rewards. The number is not accurate because they can give you a shirt and say that its value is $30 even though in reality you would pay only $5 for it.
Anyhow, it's clear that they have given rewards for lots of people. Making money with this kind of apps it's not so profitable from a financial aspect (because the reward is so tiny) but it's for sure more interesting than filling out online surveys.
There are also some Sweatcoin complaints regarding their payments. Let's have a closer look below. In my opinion, it's important to know what other people have said about this (or any other) app before you start seriously using it. That's why you probably ended up reading my review as well.
Sweatcoin Reviews – Positive and Negative Ones
Sweatcoin has received hundreds and even thousands of reviews on Apple Store and on Android's Google Play Store.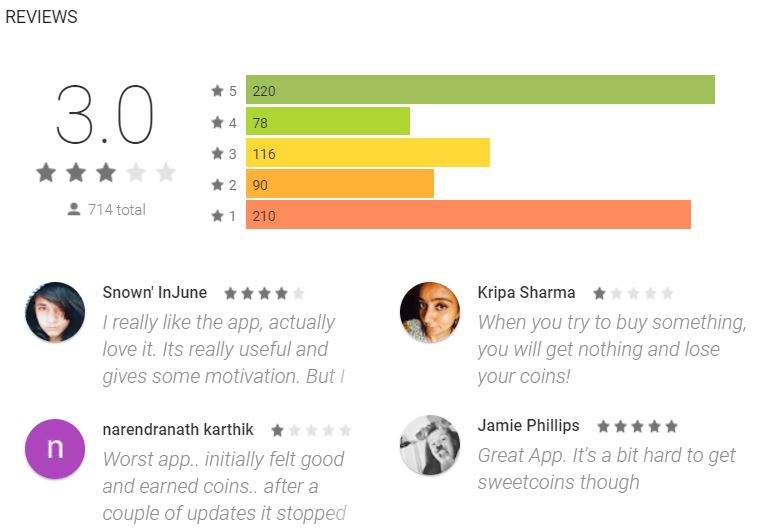 You should take these reviews always with a grain of salt but they can still give you some picture about Sweatcoin services. One big thing is that almost third of all users gave it only the worst rating (1 out of 5).
There are also many positive reviews. You can see, for example, "Snown' inJune gave it 4 stars and says the app gives some motivation. Most members who gave it 4-5 stars say that it gives motivation but only quite a few people said it's a good way to earn money.
You can also see in the picture that some people are reporting errors when they tried to exchange their Sweatcoins for rewards. I can feel their frustration. Most of the time there are no errors with the payments but sometimes there may be. Imagine that you have used their app for 2 weeks and you are about to cash out your rewards. It can feel a bit annoying if there is an error at that point.
Conclusion – Is Sweatcoin Legit?
Sweatcoin is not a scam. They are a legitimate company that has paid thousands of members already. However, it doesn't mean that I would automatically recommend their services.
In my opinion, it's a great way for boosting your motivation to exercise more. But as a money-making opportunity, it's not so interesting. You can earn some little rewards but nothing very significant. I would say that their app is good for those who want to motivate themselves for walking more.
If you want to earn more money for getting fit, I recommend taking a look at HealthyWage. You can earn hundreds of dollars for losing weight and achieving your goals.
On the other hand, if you want to know how to make a living online, have a look at Wealthy Affiliate. Their training has helped me and thousands of other people to make a living from the comfort of my own home. If you need any help for earning money online, you can just drop a message below or join Wealthy Affiliate for free and I'll contact you personally.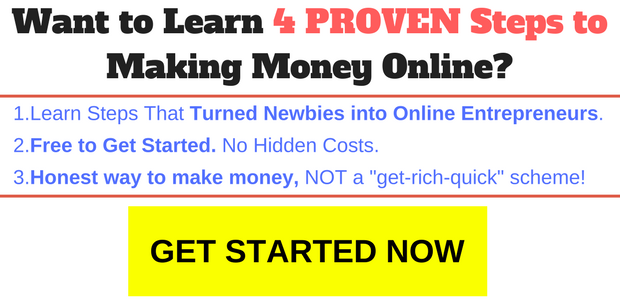 ---
What do you think about Sweatcoin? Have you tried similar apps in the past?
What are your favorite ways to earn money online?
Let's discuss in the comments below! 🙂