Would you like to get 30% back for shopping? Would you like to get cash back from huge stores like Walmart, Alibaba, Priceline, and others? Panda Cash Back promises that you can get all of this through their website. Is it true?
In my honest Panda Cash Back Review, I am going to reveal you everything you need about their service. I'll explain whether their service is worth or not. I bet you'll enjoy!
Panda Cash Back Review
---
Name: Panda Cash Back
Website: www.pandacashback.com
Type: Cash Back/Rebates Websites. Similar to Ebates.
Short Review: Panda Cash Back is probably the best rebates website. They pay you for shopping online and people are loving their service.
I want to point out that Panda Cash Back won't make you a living but it will help you to earn some extra cash like a few hundred dollars. If you are looking for ways to make a living online, I recommend taking a look at My #1 Recommendation which has helped me and thousands and other people to earn money online.
---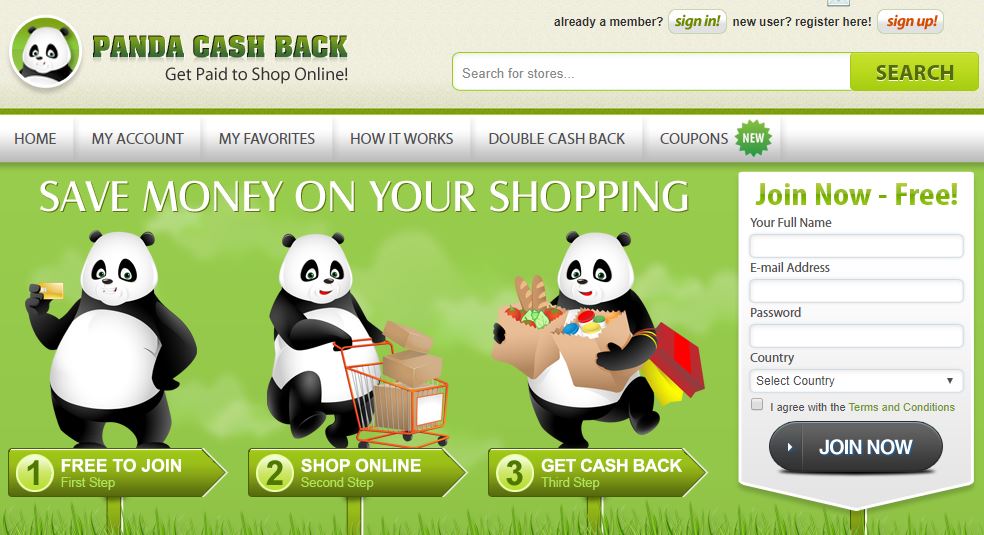 What Is Panda Cash Back?
Panda Cash is a rebate website that gives the money back for your shopping with their partners. Let me give you an example. You spend $100 on Walmart. Then Walmart gives $10 for Panda Cash back because you used their referral link and Panda Cash back gives you $5. All parties win. That's why I think cash back systems are interesting.
The shop gets more customers
You get money back for shopping
Panda Cash Back earns a profit as well
Here are some of Panda Cash Back's most popular partners: (you get money back from buying on all of these companies)
Walmart (No descriptions needed. One of the biggest companies in the world.)
Aliexpress by Alibaba (One of the biggest online retailers in the world.)
Priceline (The biggest travel agency online.)
BookingBuddy (A huge online travel business. Cash backs up to 27%)

You can quickly see that Panda Cash Back has many great partners where you can get cash backs. In total, they have more than 6,300 partners and counting. It will be interesting to see how much they'll website will income when more and more people join Panda Cash Back.
How Does Panda Cash Back Work?

You can easily get started with Panda Cash Back. It's completely free to join and you'll get a $5 bonus when you join through my links. Isn't it a great start that you have already earned $5 without even buying a single product.
The second step happens when you buy something online. Before I was pretty suspicious about cash back programs. I thought that you could earn only a few dollars with this kind of services so they wouldn't be worth your time. But the conversation with my ex-colleague changed my mind.
He had just received a €60 (~$70) cash back. If you can earn such cash backs, then these services are definitely worth the time. If you spend 5 minutes for getting a 60€ cash back, it sounds very good in my ears. Of course, most of the time the reward is much smaller but still, there's a good potential.
What kind of products can you buy to get cash backs? Literally anything:
Flights, hotels, rental cars
Anything you can find on Walmart
Games
Healthy & Beauty stuff
Food & Drink
Etc. etc.
I could continue the list for forever.
Is Panda Cash Back a Scam Or Legit?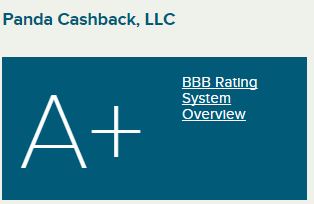 Panda Cash Back is a legitimate company and they are paying their members as they have promised. Here are some statistics from Panda Cash Back reviews which prove that people are loving their services:
4,5 out of 5 on Highya based on 6 reviews
8,7 out of 10 on Trustpilot based on 17 reviews
4,4 out of 5 on Facebook based on 8 reviews
4 out of 5 on Google Play Store based on 7 reviews
A+ Rating on BBB
All these numbers are very impressive. I have reviewed more than 300 make money online opportunities and it's very rare to see such good ratings on a program. I'm positively surprised how good Panda Cash Back is.
When I first saw their name I just thought, "Well, it's probably just another time-waster program with low rewards." But when I saw their $5 bonus, up to 30% cash back bonuses and all positive reviews, I realized how good their service really is.
Let's have a look at a few examples of Panda Cash Back Reviews.
Member Reviews of Panda Cash Back
Thousands of people are loving their services and here are a few positive examples:
Do You Want a
FREE
& Easy-to-Follow
7-Day Course
to
Make Money Online
for Beginners?
Easy-to-Follow

Beginner-Friendly

My Personal 1-on-1 Support for You
Get Started for FREE Below Before this offer goes away!



These are only 3 examples to show you why people are loving Panda Cash Back service. If you want to find out positive sides of their service, you can keep on reading more reviews or you can try Panda Cash Back yourself.
Panda Cash Back Referral Program – Earn 25% from Your Referrals
Panda Cash Back offers also a great referral program. You will earn 25% of all earnings of your referrals. It won't minimize their earnings at all. If some of your referrals earn, for example, $100 through Panda Cash Back, you'll make $25. With 10 such referrals, you have already earned $250.
In addition, you will earn for a lifetime. So if some of your referrals cash out after 10 years, you'll still earn commissions from Panda Cash Back. You can refer this program to your friends, to your audience on social media or on your website. Get your $5 bonus and start earning referral bonuses on Panda Cash Back here.
Nowadays I make a living with this kind of affiliate marketing. If you would like to learn how you can make good money with affiliate marketing as well, have a look at this step-by-step training for completely free. That program taught me to make a living online.
Conclusion – Is Panda Cash Back Worth It?
Yes, it is. Why wouldn't you take 3-30% cash back for shopping? I understand that some people don't use this kind of services because it won't make them a living. But if you are looking for a way to save hundreds of dollars then their website could be a good for you. For those who are interested in making a living online, I recommend having a look at Wealthy Affiliate for free.
I need to say that Panda Cash Back is one of the most interesting make money online opportunities that I have seen for a while. I have reviewed more than 300 different opportunities but I don't recommend many of them. Panda Cash Back makes an exception because their service is very interesting and you can earn good money for on your invested time.
What do you think about Panda Cash Back?
Have you ever used other rebates websites (like Ebates)?
Let me know in the comments below! 🙂
I'll be more than happy to answer all of your comments/questions personally. I am looking forward to hearing from you.