I've known TimeBucks since 2017 and 3 videos that I've created about it have already gathered more than 40,000 views in total as of I'm writing this.
Recently, I created an updated TimeBucks review for you where I give you the most up-to-date information regarding this website and I show you can make money by:
Clicking Ads
Answering Questions
Accomplishing Mini Tasks
Etc.
Click below to see my video right now and feel free to ask me if you have any questions. I'll be more than happy to help you to make money online.
More...
TimeBucks Review from 2018
In order to provide you with most up-to-date information, I have just created an updated TimeBucks video review that you will find below.
I am not affiliated with TimeBucks in any way so you will get a completely unbiased opinion. There are still much better ways to earn money online than TimeBucks.
Read my make money online guide to learn how to make more money than you could just dream of on TimeBucks.
---
Is TimeBucks Legit or a scam? How much money can you earn? What are exact dollar amounts?
You will find answers to all of these questions in my TimeBucks Review. I will show you exact dollar amounts and your earning potential on this service. I will also explain whether it's worth your time or not. I know more than 300 make money online opportunities so I guess I can share a few helpful ideas for you.
TimeBucks Review
---
Name: TimeBucks
Founded: 2014
Type: Get Paid for Completing Tasks
Short Review: TimeBucks is a legitimate site that pays in cash for completing mini tasks. However, the earning potential is extremely low. Most of their offers pay less than $1 per hour and even the best ones don't pay much more. I recommend that you don't waste your time on their website.
If you are interested in earning better money online, I have several good recommendations. My #1 Recommendation for making money online is Wealthy Affiliate because it's beginner-friendly but also suitable for people who want to earn big money online ($10,000/month). In addition, they offer a free training unlike many other websites and I give you my 1-on-1 support which is not available anywhere else.
---
What Is TimeBucks?
TimeBucks is a typical get-paid-to site where you earn money by completing simple tasks like
Watch videos
Fill out surveys
Receive and read emails
Take pictures
View content
And so on
If you have some experience of similar websites, you probably know that this kind of websites don't pay enough that it would be worth the time and effort. Anyway, let's have a look at ways of earning money through these tasks and I'll show you the exact earning potential.
I recorded a video where I give you a quick look inside TimeBucks member's area. I created a new account so you can see how all looks like for a new member in TimeBucks.
How to Make Money with TimeBucks?
In the picture below you can see the view on TimeBucks website. You can see in the second bar (View Content, Surveys, etc.) what kind of offers they have. Let's go quickly through them one by one. There are 10 different ways in total.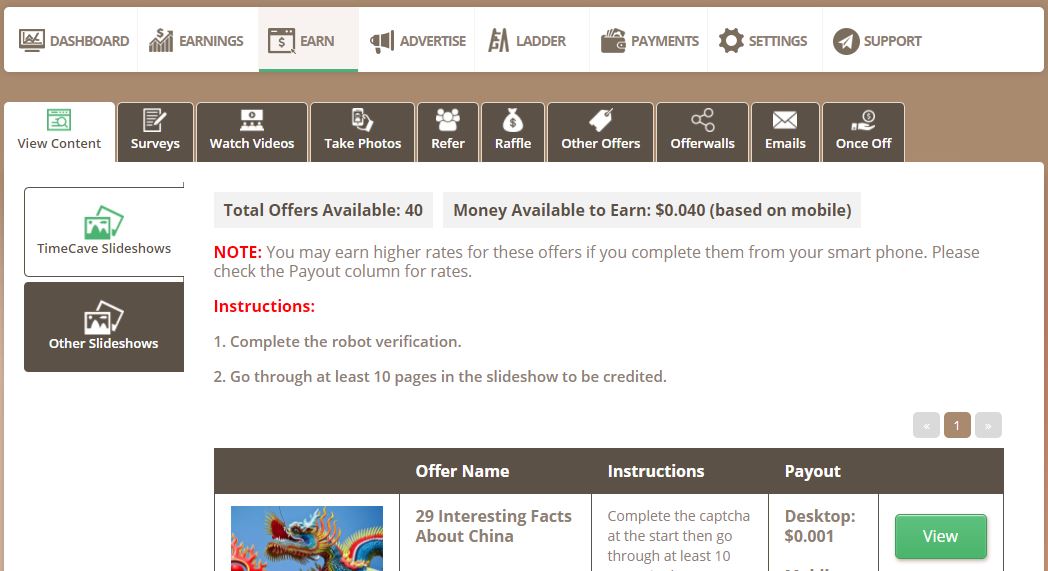 1.View Content
In this section, you go through different kind of websites, slideshows, and other content. You need to complete the captcha and scroll the content. Your earnings are usually $0,001 per offer. In the picture above you can see that there are 40 this kind of offers available.
Do You Want a
FREE
& Easy-to-Follow
7-Day Course
to
Make Money Online
for Beginners?
Easy-to-Follow

Beginner-Friendly

My Personal 1-on-1 Support for You
Get Started for FREE Below Before this offer goes away!
If you go through them all, you earn $0,04 = 4 cents. It will take at least 10 minutes to earn 4 cents. Not worth it. Let's see if the next one is better.
2.Surveys
You have probably read some of my posts where I clearly show why online surveys are not worth it. Is the case different with TimeBucks? Not really.
At least surveys are a little bit better than the first one "View Content" but the earning potential is still maximum $0,50 for a 15-minute survey. In addition, there aren't many that kind of surveys available. You can earn $2-3 per hour during the best times but usually, real earnings are less than $1 per hour.
3.Watch Videos
The picture below shows the highest paying offer for watching videos. The payout is $0,02.

In order to earn money by watching videos, you need to watch the entire video & subscribe to receive your credit. Videos don't last for very long but at least for some minutes. Videos pay between $0,001 and $0,02 per video. You could earn $0,081 for watching 11 videos and subscribing to those channels.
It would approximately take 15-20 minutes. 8 cents for 15 minutes doesn't sound like a good deal either. Next.
4.Take Photos
You must verify your account in order to earn money by taking pictures. Take a picture of your before/after beard growing process and earn a little reward. Nothing big here either.
5.Refer Your Friends
As you already may know, the only considerable way of earning money with get-paid-to sites is through referrals. When somebody signs up through your link and starts using the service, you'll get a little commission/bonus from all of their earnings.
In TimeBucks you can also buy referrals for $0,15 each. Is it profitable? Well, it may be but I don't do it. I don't want that people waste their life doing useless tasks on TimeBucks. That's why I don't even share my referral link on this post even though it would make me some money.
I hope that all my readers would find better ways to earn money online. My top recommendation is Wealthy Affiliate but there are also many other great alternatives. Just leave a comment below and I'll help you out to earn good money online.
6.Raffle
You can buy raffle tickets with a hope of earning a little bit more money than your ticket paid. We all know that the house wins always in the long run in raffles and the player (you and me) are losers. That's why it's nonsense to even think about raffles. Odds are against us.
7.Other Offers
Other offers are one of the most profitable parts of TimeBucks. You can earn money by signing up to different websites or buying some stuff online. However, the problem is that some of them require that you use the money. So instead of earning you may be spending money.
In addition, it can be a bit tricky to get that money afterward. Sometimes it's easy, sometimes not. The hassle is not worth a few dollars, in my opinion.
8.Offerwalls
On Offerwalls you'll see offers from TimeBucks partners. They pay you for answering surveys, downloading mobile apps and completing other tasks. Have a look at the picture below.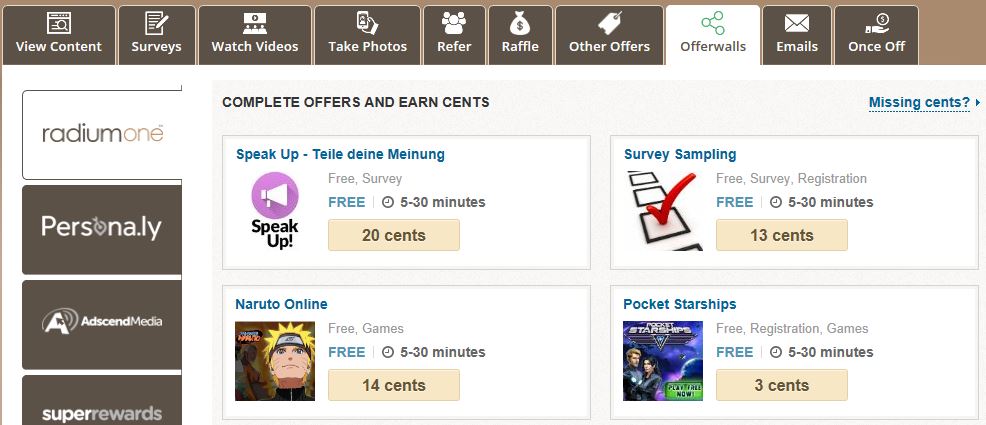 In the picture, you can also see a few examples of your earning potential. The most profitable offer pays 20 cents for 5-30 minutes of work. The second one pays 13 cents for 5-30 minutes. Let's say that the average is 15 minutes. 20 cents for spending 15 minutes doesn't sound very interesting. That's less than $1 per hour.
9.Emails
Also, other websites like EmailCashPro pay for reading emails. The earning potential is $0,01-0,02 for reading an email and completing the task.
Let's say that you need to read 75 emails to earn $1 dollar. Each email takes at least 1 minute so in total it would be 75 minutes. $1 per every 75 minutes doesn't sound like a deal that I would accept.
10.Once Off
In this section, you can earn money by completing these one-time tasks like:
Like TimeBucks on Facebook
Subscribe to their YouTube channel
Create a promotional video of TimeBucks and publish it on YouTube
Install TimeBucks Chrome extension
And so on.
The most profitable of these options is to create a promotional video of TimeBucks. They pay $3 for doing that. I am planning to make a video of TimeBucks but I'm not gonna raise that $3 because I can't don't want to promote this kind of service. I prefer recommending more profitable services for you.
Conclusion – Is TimeBucks Worth It?
No, it's not. As we saw the earning potential is so low that it's just way better to concentrate on more profitable opportunities. I'm glad you landed on my review so you don't need to waste your time on TimeBucks.
By the way, if you ever have any concerns about a service or website, you can feel free to contact me or leave a comment below by asking about that service. Then I'll take a look at it and possibly write a post if it's interesting in making money online niche.
7-Day Make Money Online Email Course
Learn SIMPLE steps to make a LIFE-CHANGING INCOME online. I will help you hand-by-hand!
If you haven't yet found a way to make a living online, I recommend taking a look at the free training in Wealthy Affiliate. It will explain step-by-step how you can earn good money on the Internet and build a full-time business. I also offer my 1-on-1 support and mentoring if there's anything you need.
What kind of ways do you like to earn money online?
Have you done affiliate marketing, freelancing or something else?
Let me know in the comments below! 🙂
It's always great to hear experiences from you! That's why I promise to reply all your comments and questions personally.