Update: 3rd of July 2018
After trying 10's of mobile apps and websites like Slidejoy, we have found the best for making money. Click the link below to read more about it.
=> See Best Opportunity To Make Money from Home! 
(That will make you $2,000-10,000/month if you use it well.)
If you are looking for a brutally honest review of Slidejoy, you have come to the right place. However, if you would like to hear me praising this app by giving a biased review, this one is not for you.
I am not affiliated with Slidejoy and I don't earn a single dollar by writing this article. My ultimate goal is to help you to evaluate whether Slidejoy is a good way to earn money or not.
Is Slidejoy a Scam? Is it worth it? How much will you earn?
You will find an honest answer to all your questions in the next 1-3 minutes by reading my brutally honest review.
Slidejoy Review
Name: Slidejoy
Type: Money Making Apps. View Ads to Earn Money.
Short Review: Slidejoy is a legitimate company and they have already paid many people over the years. However, updates have made the app worse and now they are receiving tons of negative reviews.
Your earning potential with Slidejoy is only around $10 per month. That's why I don't recommend wasting your time with their app. If you are interested in earning $100, $1,000 or even $10,000 per month, I recommend having a look at My #1 Recommendation.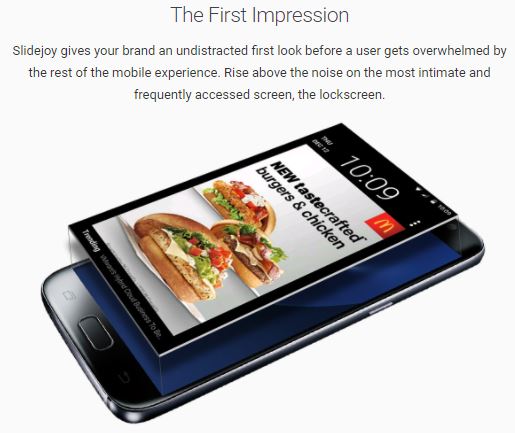 What Is Slidejoy?
Slidejoy is a mobile app that promises to pay just for using your phone. In reality, you will earn by watching and consuming their ads. There are hundreds of websites on the Internet that pay you for viewing ads like Slidejoy. However, my experience shows that the earning potential in that kind of apps is extremely low.
Companies pay money to Slidejoy for showing their offers to you (user).
Let's have a look at a Slidejoy introduction which is created by their team.
I found their advertising a bit funny. They are showing pictures that make you think that Slidejoy would connect you with other people or have some benefit in your life. However, as we all know, there's sometimes a great difference between advertising and a reality.
How to Make Money with Slidejoy? – Here Are the $$$ Numbers!
Making money with Slidejoy is simple as 1-2-3. You download their app and just watch their ads. Then you can earn more by referring other people to download the app. When they start using to earn money, you'll earn some little commissions.
When you see Slidejoy ads on your screen you have three options:
Swipe Left to Learn More About The Offer
Swipe Up To See Another Ad
Swipe Right To Dismiss The Add and Unlock Your Phone
Slidejoy has also a few partners like Peanut Labs that may pay you for completing their tasks. However, if you have read my review of Peanut Labs, you already know that the earning potential with that kind of websites is extremely low.
So, how much can you really earn with Slidejoy?
Your earning potential depends on how much do you use their app. The more you use it, the more you will earn. However, most likely you won't earn more than $10 per month. I know it may sound like a little money but that's a realistic estimation with this kind of app. Most people will earn less than $5 per month with this app anyway.
Do You Want a
FREE
& Easy-to-Follow
7-Day Course
to
Make Money Online
for Beginners?
Easy-to-Follow

Beginner-Friendly

My Personal 1-on-1 Support for You
Get Started for FREE Below Before this offer goes away!
Of course, you may earn $100 per month in theory. But it would require that you get tons of other people downloading and using this app so you earn money from them. This is called affiliate marketing and you can earn thousands of dollars each month by learning how to do it with more profitable offers.
How Does Slidejoy Pay?
Let's say that you download their app and use it until you have reached your cash out limit. Inside the app, you will earn "karats" which you can exchange for rewards and cash later on. 1,000 karats equal to $1.
A positive thing with Slidejoy is that their cash out limit is as low as $2. However, it means that you would need to earn 2,000 karats to make that two dollars. They are giving you karats (=points) which make you feel that you are earning lots of money even though in reality they pay you only very little.
Let's say that you use Slidejoy for years and are able to earn 100,000 karats. That's only worth $100.
There are several ways how you can cash out. My favorite way is through PayPal because it's the easiest and the fastest way. You can also have gift cards to Amazon or other online stores.
The next chapter will probably hit the nail in the coffin and convince why you shouldn't be using Slidejoy to earn money. But on the other hand, it can open your opportunities as an advertiser.
Slidejoy Benefits for Advertisers (AndDownsides for Users!)
I would rather use Slidejoy as an advertiser than as a user. Here are a few reasons.

Imagine that you are distracted over 60 times every single day by this app! That means +420 distractions in a week and almost 2,000 distractions in a month. That's a huge amount of distractions. Can you imagine what kind of effect it will have on your brain and your focus?

Slidejoy ads are targeted for you. It's a good thing for marketers because it's easier for them to sell products to you. But for you as a user, it isn't such a nice thing.
The app will use your personal information on giving you highly targeted ads. It means that you'll most likely spend more money when you use this app. The old wisdom says, "We become what we think about most of the time." If ads come to your thoughts all the time, you'll be affected by them. That's not a rocket science.
Slidejoy Reviews & Complaints
There are tens thousands of Slidejoy reviews on the Internet. How to find the most reliable ones? I've gathered the most helpful information for you on this article so you don't need to spend your time going through all those reviews.
Have a look what kind of negative reviews Slidejoy is recently receiving.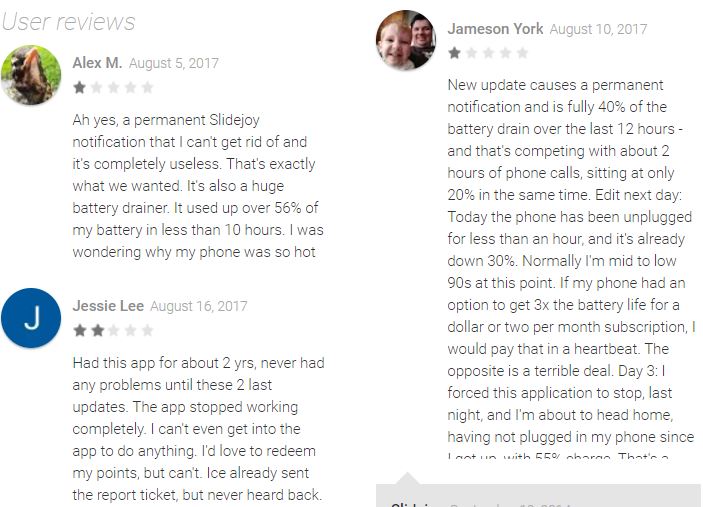 It seems that people aren't happy with Slidejoy updates and they don't recommend using this app. Nowadays the app drains your battery in addition to distracting you from your desired activities.
You may be wondering why there are also many positive reviews of Slidejoy. The answer is clear and simple.
Most people don't know about better ways to earn money online. That's why they give it a positive rating.
I've seen it many times with other similar apps. People tell how they earned $50 "easy" money by filling out surveys or watching videos online. Then they don't tell how many hours it took to do all that. During the same time, the other guy earned $500 by doing something more interesting than just watching videos or filling out surveys.
Another challenge with this kind of apps is that they don't pay you passive income.
Conclusion – Is Slidejoy Worth It?
Even though Slidejoy isn't a scam, in my opinion, their app is not worth it. Their rewards are so small for the invested time. Their ads would distract you throughout the day from more important things. I would only consider using Slidejoy app as an advertiser to promote my offers.
Slidejoy isn't worth it but that is not the end of the world. There are tons of great ways to earn money online and my #1 recommendation is Wealthy Affiliate. Their training has taught me how to make a living online and I'm sure it will help you to do the same as well. Actually, I'll go so far that I promise my 1-on-1 support for you when you join Wealthy Affiliate through my website.
I'll provide answers to all of your questions and you can ask privately as much as you want. You can ask personal feedback to your ventures for earning money online and I'll give personal tips how you can increase your income. You can get started for completely free and the premium membership costs less than $1 per day.
---
What do you think about Slidejoy? Do you agree that it's not worth using?
What kind of ways do you prefer using to earn money online?
Let's discuss in the comments below! 🙂