The search for a profitable and sustainable way of earning money online will yield dozens of possibilities, such as Redgage. But before becoming a member of any website, especially when it's a paid membership, asking the right questions is a must. So, is Redgage legit?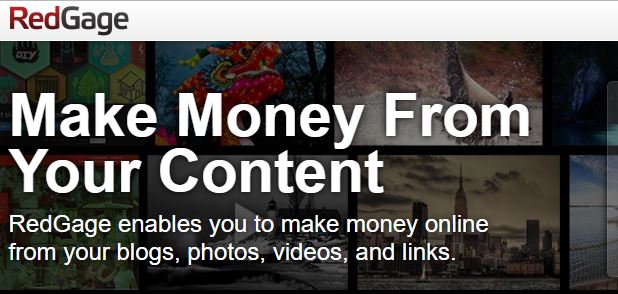 What Is Redgage And How Does It Work?
Redgage describes itself as a pioneering website because of its supposedly first of its kind income-earning method. Basically, it offers its members the opportunity to earn money from the content they create, share and promote online. This is a form of monetizing online social activity.
Members can supposedly earn income on Redgage by:
Uploading photos specifically of travel, journey, and landscape photos. The compensation comes when the general public views the pictures.
Loading the preferred Hubs and inserting links to Hubpages. These activities can create higher online traffic to the Hubs and, thus, create greater income (i.e., higher leads, higher traffic, and higher conversions).
Inserting interesting videos on the Hubs. These videos can contribute to higher traffic for the member's Hubs.
Inserting links to your Hubs or to your preferred website. The supposed money comes when the general public clicks on the links.
Earning $3 to $5 in bonus when a blog or photo is marked on the Redgage main page. The editors are apparently on the lookout for entries, whether these are photos, blogs or articles, with the potential for going viral.
Inserting your RSS Feed from the website. This can create more traffic so more money comes into your account.
Can You Earn Easy Money Through RedGage?
Are you dazzled by the promise of easy money yet? Well, you shouldn't be because there are several issues with the Redgage scheme.
First, Redgage isn't actually neither the first nor the only one of its kind. Many other websites that pay users for their shared content also exist – we can mention Triond and Bubblews.com as examples. This is a red flag, if and when you're looking for a truthful website.
Second, the compensation scheme has a few issues that many people have already complained about. There are several reasons for the compensation scheme-related complaints. To be honest, there is much better way to make money online.
Keep in mind that the website supposedly serves as a centralized hub. The members can manage their content, such as blogs, posts, links, photos, documents, and videos, in a single place. This arrangement allows users two benefits, namely: (1) to create a wider and stronger online brand; and (2) to navigate, review and host a wide range of projects on the website.
The amount of income earned largely, if not solely, on the value of the contents posted and shared. The value of the contents, in turn, is measured by the number of page views. Think of it as a popularity contest, as most content-sharing sites are wont to be.
If your content isn't as popular as the others, you won't earn as much money as you plan. You will find that, indeed, it isn't as easy money as the Redgage creators say it is on the website. You have to work hard and work smart in order to enjoy your desired income level – and even then, you may be unable to do so for many reasons discussed below.
Your Income Depend on Your Work
Redgage, however, provides a tool for automatic imports of new content across several social media networks. This means no manual importing of content happens, a convenience that many users appreciate.
You can use your social media platforms, such as YouTube, Facebook, and Twitter, in promoting your content. You're actually well-advised to use them well since these have a direct impact on the current rates earned from your shared Redgage content.
Yet another issue with the Redgage compensation scheme is the standard minimum cash-out. Emphasis must be made that the $25 cash-out is lower than many other similar websites that also offer their users income in exchange for their content.
Your actual earnings will vary depending on the popularity (i.e., a number of page views) of your content. But this is where things get tricky, too. If your earnings don't reach the standard minimum cash-out, you're essentially not earning anything.
You will understandably complain about it since you poured time, energy and effort into content creation. If you want to do social media marketing more effectively, take look at MassPlanner.
And then there are also the complaints about the shady payment system used by Redgage. Instead of Payza and/or Paypal, the website initially used its Redgage Visa Gift Cards. This can be a red flag to veteran content-based online businessmen since gift cards are tricky to deal with.
A few members expressed their displeasure with the payment system, too. There's a $5 deduction from the payment, for example, and the significant delay in getting the gift card.  One member complained that his gift card arrived in the mail six months after he earned it, not to mention the 45-day clearing period.
Even when the gift card works – in many cases, it didn't work as promised – the transaction fees are too substantial. One member complained that his $25 gift card was only worth about $8 after the transaction fees.
Who is Redgage For?
People who like to create, share and promote online content from blogs to photos and videos can benefit from Redgage. Newbies and veterans can become members although veterans will likely have more chance at success if it happens.
Redgage Tools and Training
Training videos are available.
Do You Want a
FREE
& Easy-to-Follow
7-Day Course
to
Make Money Online
for Beginners?
Easy-to-Follow

Beginner-Friendly

My Personal 1-on-1 Support for You
Get Started for FREE Below Before this offer goes away!
Redgage Support
Members can contact the Redgage administrator.
The Good and the Bad
Redgage has a few good things about it including:
Easy membership process
Automatic import of content to social media platforms
But the disadvantages are just too many to ignore:
Shady payment system using gift cards instead of Paypal and the like
Significant delay in payments made
High transaction fees on the gift card
The promise of easy money just isn't possible since you have to be active in creating, promoting and sharing your content. This isn't exactly the passive income it's touted to be.
My Final Opinion of Redgage
While Redgage isn't a scam per se, my research into it reveals that it isn't a sustainable and profitable way to earn money online. Instead of Redgage, I strongly suggest Wealthy Affiliate, a reliable website that provides its members with the opportunity to become successful affiliate marketers.
Have you tried RedGage or some similar products? What did you like?
Let me know in the comments below! 🙂