If you're looking for an objective eCom Profit Machine Pro review, then you've come to the right place. Let's take a look at its claims of automatic income with a website, among others, to see if – and that's a big if – it delivers on its promise.
What Is eCom Profit Machine Pro And How Does It Work?
According to its website, the eCom Profit Machine Pro is a fully featured e-commerce business website with a Point-n-Click software. The software will create online stores that features products with the potential to generate commissions.
The owners promise that the software will automatically add the descriptions, images, and videos, even the customer reviews, to the pages while the website itself can be created within minutes. The subscribers – or new online store owners, for that matter – don't have to learn website design and development (e.g., HTML and code) since the software does it all for them.
Want to Get My 7-Day Email Course to Make Money Online?
Enter Your Email Below to Steal My PROVEN Formula to Create Your Own "Money-Making Machine" In a Week...
We respect your privacy. No Spam.
If you become a subscriber, you will supposedly get the following:
A fully-featured e-commerce business with genuine products
A customer-generating website requiring no advertising costs in terms of time, energy and effort
Hands-free email list creator
Automated passive money-making system
Let's break down these so-called benefits so that we can have a better understanding of how eCom Profit Machine Pro works. Let's also assume that you're one of the subscribers in this review.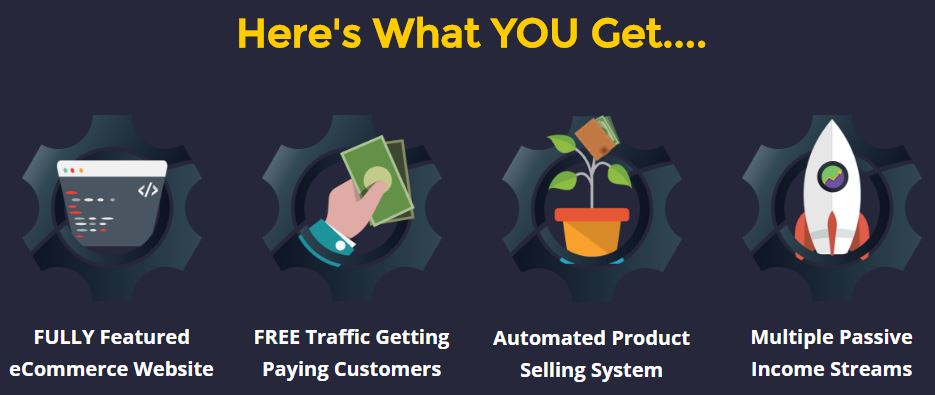 Benefits of eCom Profit Machine Pro
First, your e-commerce website can have as many products as you want in it. You can supposedly choose from a wide range of products including iPads, toys and games, electronic gadgets, cosmetics and personal care products, gardening items, and sports items. You have Amazon's 480 million-strong product database to choose from for this purpose.
Your online store will display the product while Amazon will stock, process and fulfill your customers' orders. You will earn through the commissions from the sales made via your online store.
This is one of the true benefits of eCom Profit Machine Pro. You can, indeed, earn 10% referral fees from being a member of the Amzon.com Associates program. You can also choose from Amazon.com's extensive product range.
You will also get a new online store within minutes without learning the ins and outs of website design and development. You can get into the business almost immediately, as promised by the creators of the software.

Can You Make Passive Income Easily with eCom Profit Machine Pro?
But this is where the positive aspects of most eCom Profit Machine Pro reviews will likely end. You will find that the software isn't all that it's cracked up to be, especially when it concerns the passive income part.
Second, you have to spend time, energy and effort, perhaps even money, on your advertising costs! Your website will not attract buying customers if and when you just let your website be, so to speak.
Keep in mind that you have thousands of competitors vying for the attention – and dollars, for that matter – of your target customers. You have to adopt active measures in attracting your target customers to your website and in encouraging them to buy. (Learn how to make money online instead of competitors.)
You must then advertise your website and its products, provide useful and reliable content, and establish an active network, among others. You should ideally also create and sustain your emailing lists since these are one of the best ways to keep your customers updated.
These steps aren't exactly for the lazybones. You have to wary about online programs that promise a fully-automated passive money-making system for this reason. Your alarm signals should be ringing loudly with the promise of automatic income with a website since this simply isn't true.
Third, the eCom Profit Machine Pro doesn't provide two crucial services in the success of an online business of any kind – website hosting and domain services. You can easily find dozens of free website creators, such as Wix, but you must have these two services for your online business.
You're well-advised then to find a website creator that also offers hosting and domain services. Your life as an online entrepreneur will then be easier for it since you're dealing with just a few service provides. You can have better control on your website, too.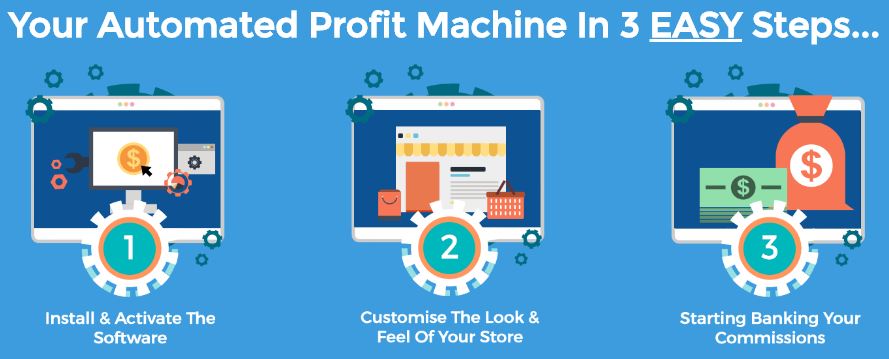 Who Is eCom Profit Machine Pro For?
eCom Profit Machine Pro is apparently suitable for both newbies and veterans in the Amazon affiliate program. Subscribers will just follow the instructions in the guided installer for their websites to be up and running within minutes.
Do You Want a
FREE
& Easy-to-Follow
7-Day Course
to
Make Money Online
for Beginners?
Easy-to-Follow

Beginner-Friendly

My Personal 1-on-1 Support for You
Get Started for FREE Below Before this offer goes away!
eCom Profit Machine Pro Tools and Training
The software's creators didn't provide information about the tools and training in its use. As soon as the online website is up and running, the owner should learn the ins and outs of affiliate marketing on his own. But for newbies, there are training videos available on the eCom website.
eCom Profit Machine Pro Support
Subscribers can get answers to their questions via the members' area. The creators of the software also promise personalized support.
The Good and the Bad
The eCom Profit Machine Pro has the following advantages:
Easy-to-use software with website up and running within minutes
Wide range of products to choose from on the Amazon website
But its disadvantages outweigh these advantages, thus, caution is advised:
No website hosting and domain services provided
No training and tools to succeed as an affiliate marketer in the competitive world of Amazon.com Associate program
No satisfactory customer support, a must for both newbies and veterans who want to stay on top of the game
No guarantee of automatic passive income can deliver because successful affiliate marketing demands active involvement in advertising, content creation, and link building, among others
My Final Opinion of eCom Profit Machine Pro
In my experienced opinion, eCom Profit Machine Pro can deliver income via commissions as an affiliate in the Amazon.com Associate program, as well as create an online store within minutes. But to promise automatic income with a website is already far-fetched!
Every affiliate marketer knows that success in the business, as well as a steady stream of income, doesn't come with a website alone. You have to work hard and work well on your website for it to become a money-making machine.
Instead of eCom Profit Machine Pro, I suggest becoming a member of Wealthy Affiliate, an affiliate marketing company with a website creator, a wide range of products, and a proven commission plan. Plus, it also offers website hosting and domain services so you don't have to look far.
I would say that Wealthy Affiliate is an all-in-one package for anyone who wants to create a successful online business. You will get
The Proven Training
Websites and Domain Hosting
Support
Contacts with Successful Online Entrepreneurs
And Much More!
Have you tried eCom Profit Machine Pro? What did you like? Leave a comment below!