GoDaddy is huge.
If you are living in the U.S., you have probably seen their commercials during the Super Bowl. GoDaddy claims to be the world's leading domain registrar and when I am writing this review for you 43,163,218 domains has been registered through their website.
Despite GoDaddy huge success, there are tons of complaints about their services. Is GoDaddy a scam or probably the best domain registrar and hosting service in the world? I'll give you the answer in this review.
Want to Get My 7-Day Email Course to Make Money Online?
Enter Your Email Below to Steal My PROVEN Formula to Create Your Own "Money-Making Machine" In a Week...
We respect your privacy. No Spam.
GoDaddy Web Hosting Review
---
Name: GoDaddy
Founded: 1997, 20 years ago
Field: Domain Registrar, Web hosting, SSL certificates, Website creation
Overall Rank: 80 out of 100.
Have a look at my My #1 Recommendation, Overall Rank 98 Out of 100. I have used their services already for over 2 years to create and host all of my websites. They have the best price/quality ratio and they are constantly improving even though the price remains the same.
---

What Is GoDaddy? – 17,000,000 Customers and 6,000 Employees
GoDaddy is a well-known American domain registrar and web hosting company. It has served over 17 million customers, has 6,000 employees globally and is known for its raunchy, over-the-top advertising, especially during Super Bowl commercials. It manages over 60 million domains, with an annual revenue around $2 billion.
GoDaddy offers website domain registration services, usually at annual rentals. Selling website domains is only their base service, however, as the company also offers virtually every web service you could think of:
Domain transfers
Web Design—free through an easy-to-use website builder, or you can hire a GoDaddy web designer for a fee
WordPress hosting
Web security screening
Digital marketing services and information on search engine optimization (SEO), local business listings, email marketing and other modern digital marketing strategies
Email service, Microsoft Office email compatibility
GoDaddy Pro – a service by which the company creates, maintains and manages your website
GoDaddy Products and Pricing – All Possible Services Related to Website Creation
GoDaddy's pricing is flexible and depends on many discount programs. If you're a GoDaddy Pro member, for instance, many of the a-la-carte options are free or discounted; same goes if you have the deluxe website builder package, you get WordPress free of charge.
There are a few hard-and-fast prices that they've included in their pricing catalog, however:
GoDaddy advertises pricing from $.99 per year for a .com domain, but some sought-after URLs can cost into the thousands. I typed in my full name as a test domain and, sure enough, it was on sale for $.99
Annual membership: $4.99 – allows customers to bid and purchase GoDaddy auctions, and list domain names on sale at zero cost
Basic website: $3.49 per month – gives you access to one website with 100GB storage using WordPress, Drupal, Joomla and more; the Ultimate package handles unlimited websites and costs $7.99 per month
Web design: If you ask them to create a website for you, GoDaddy will give you an estimate after a few initial questions, and for a fully-built, professional website you can expect to pay over $150
Commission: If GoDaddy sells a domain for you, it takes 20 percent of any sale up to $5,000; For a domain worth up to $25,000, it takes $1,000 plus 15 percent over $5,000; for domains valued over $25,000, GoDaddy takes $4,000 plus 10 percent over $25,000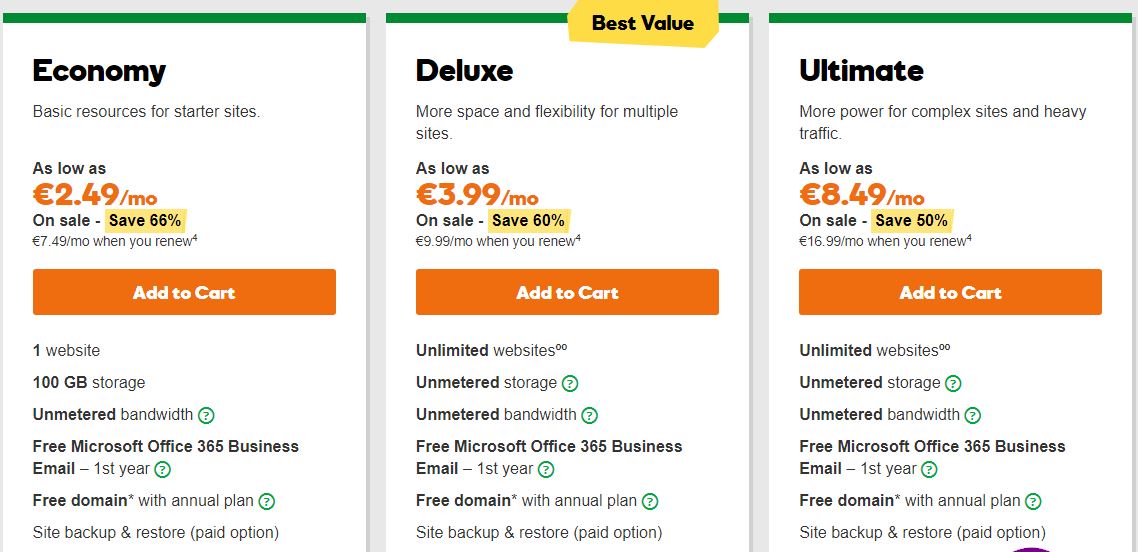 How Does GoDaddy Work with WordPress?
GoDaddy works like a dream with WordPress and offers four-levels engagement with your website: Basic ($3.99/mo), Deluxe ($4.99/mo), Ultimate ($7.99/mo), Developer ($13.99/mo). The higher stages get more storage data and websites to use, but the basics of WordPress are at work here, and it takes just a one-click install a WordPress blog.
There are over 1,000 free themes and plug-ins available for WordPress, free daily backups of all information and blogs posted or in-progress, a 99.9% uptime promise and much more. If you already have a WordPress blog you want to migrate to your new website with GoDaddy, there's a one-click migration tool that allows you to have your blog up and running on your new website in seconds.
The past few years, GoDaddy has also dramatically improved its customer service. Now, there's free 24-hour support for using WordPress or GoDaddy in general, so you'll never get stuck with a problem you can't fix without assistance.
Is GoDaddy a Scam? – Check Out What Users Say!
GoDaddy has a rather checkered past, but does that necessarily mean it's a scam? Let's examine each side of the "is GoDaddy a scam?" question.
Do You Want a
FREE
& Easy-to-Follow
7-Day Course
to
Make Money Online
for Beginners?
Easy-to-Follow

Beginner-Friendly

My Personal 1-on-1 Support for You
Get Started for FREE Below Before this offer goes away!
In the past, the company has been reluctant to remove less-than-savory websites hosted under its domains, such as "hotmailpasswordreset.com" which existed to help Hotmail email account holders to reset someone else's password and gain access to their account. Yet another website called "monktech.us" was used a phishing scam, asking users to enter their login information for Gmail, Facebook, Hotmail, Microsoft, and Kindle and simply stealing their data so hackers could then log in to their accounts.
GoDaddy was informed of these websites by several users but has yet to take these websites down, a tech equivalent to "yes, we do business with warlords." I expect more from a large, authoritative company like GoDaddy, as instances such as these make me question their dedication to security or propriety in general—what's next, pornography advertisements greeting customers on my website?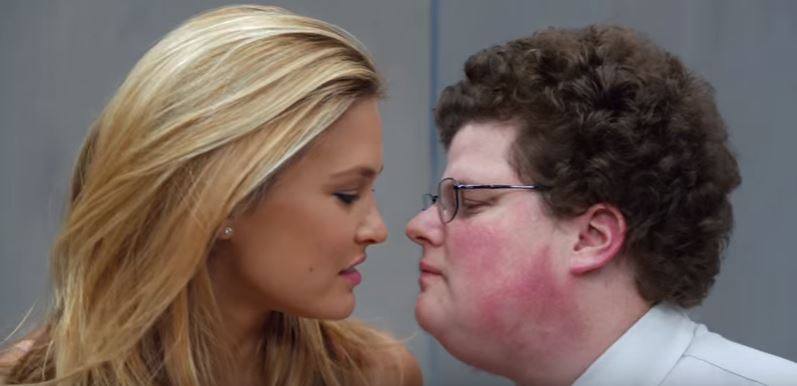 But some people claim GoDaddy is a scam simply because it charges for services some people feel are unnecessary. Someone who claims GoDaddy is a scam may mention the company's charging too much money for things people don't need: $3.49 per month for a basic website when you just need a domain? $150 for a custom-built website? They're just ripping people off!
That's one way to look at it, but I personally believe GoDaddy isn't so much a scam as it is a less-than-enthusiastic sheriff patrolling its cyberspace. They are in the business to sell domains and web services, not to police the internet. Also, let's remember that the internet is a completely different beast from, say, radio or television—there are over 60 million websites hosted by GoDaddy alone, so a few scammer, phishing websites falling through the cracks doesn't necessarily mean the company is a villain, they just have an extremely large and complex network of web domains for which, ultimately, they are still responsible.
Also, as far as the $3.49 fee for a basic website builder goes, that's a perfectly reasonable rate for someone who isn't tech-savvy enough to build his own website from scratch. Selling people the tools they need is certainly not a rip-off in my opinion.
GoDaddy Reviews – Overall Rating 1,8 out of 5 Based on 766 Reviews
To be honest, I was quite surprised to see so bad statistics of GoDaddy Reviews on WebHostingGeeks. However, we need to remember that it's only one website and it has received much better reviews on other websites like HostAdvice and WhoIsHostingThis.
Most of the complaints are related to poor customer service. I understand their frustration because if you don't get the answer quickly and you're experiencing challenges with your websites, it can make you mad. 😉
On the other hand, there are also several reviews giving GoDaddy full 5 stars. Let's have a look at two examples:


In my opinion, these examples prove that GoDaddy is doing great work.
Pros and Cons of using GoDaddy
I'll give you a list of pros and cons of using GoDaddy's web hosting services.
First, the pros of using GoDaddy:
It's a one-stop shop offering both domain registration and website hosting
WordPress integrates well with it, in varying account levels
It's cheap at just $.99 per year per domain plus $3.49 per month for a basic website
It features several CMS platforms including Drupal, WordPress, Joomla, ASP.NET, etc.
It does security well, with an advanced team dedicated to thwarting hackers and rejecting spam, as well as keeping websites secure
Their customer support staff is second-to-none and available 24 hours a day via online chat or telephone—GoDaddy was once notorious for having horrible customer support, which the company made a priority to improve before 2013
Their uptime average of 99.9 percent is excellent
Now, the cons of using GoDaddy:
It has a poor track record of shutting down phishing, low-quality websites
The advertisements are a bit vulgar, which may make visitors think less of your website if they know it's hosted there
Your SEO (search engine optimization) score may suffer (through no fault of your own, and without a solution you have control over) if a search engine like Google finds low-quality sites hosted on GoDaddy and decides to devalue all websites on that domain
Again, your SEO may drop due to GoDaddy hosting on a custom hosting panel—search engines prefer better domain hosts like Wealthy Affiliate or Bluehost.
GoDaddy's 100GB storage limit for a basic website is pretty small, especially considering some web hosting services offer unlimited storage as standard
Conclusion – Is GoDaddy Worth It?
It's a fact that GoDaddy offers a reasonable hosting service. It's not a coincidence that they have served more than 17,000,000 customers all around the world. On the other hand, we can't ignore all negative GoDaddy Reviews.
If you are looking for something very cheap and maybe not-so-reliable, go for GoDaddy. But if you are looking for a high quality for a great price, I recommend going for Wealthy Affiliate. Their plan includes
A great website builder
World-class training to make a living online (I have studied it myself and it WORKS)
Domain hosting up to 25 websites
High-quality support (response comes usually within a few minutes)
Support and help from successful online entrepreneurs. You can freely ask any questions related to your websites and making money online and you will find a helping hand.
My 1-on-1 support.
What else could you ask? All this costs less than $1 per day and you can try it out for completely free. No credit card required.
Have you ever used GoDaddy products? What kind of experiences did you have?
What is favorite domain hosting platform.
Leave a comment below and I will give you a personal reply.