Name: Bluehost
Website: www.bluehost.com
Price: Starting from $2,95/month
Founder: Matt Heaton
Field: Domain Hosting
Overall Rank: 90 out of 100
Recommended by Pat Flynn, Founded in 1996
Do you know who is Pat Flynn? He is the guy who is earning over $1,600,000/year online which means about $135,000/month. We must admit that guy knows something about making money online.
Pat Flynn is recommending Bluehost on his famous website SmartPassiveIncome.com. And as far as I know, Pat doesn't recommend something that is not legit (correct me if I'm wrong).
Want to Get My 7-Day Email Course to Make Money Online?
Enter Your Email Below to Steal My PROVEN Formula to Create Your Own "Money-Making Machine" In a Week...
We respect your privacy. No Spam.
Still, we need to remember that Pat makes the most of his income with his affiliate links so his opinion may be somehow biased.
Bluehost is hosting over 2 million websites worldwide which give even more authority. Cheap plans start with only $2,95/month which makes it very appealing.
Bluehost was originally founded in 1996 which can be considered very old in Internet time. Think, for example, when you got your first internet connection.
In this review, I will give my honest opinion about Bluehost. Let's go through some complaints that I found on the Internet related to Bluehost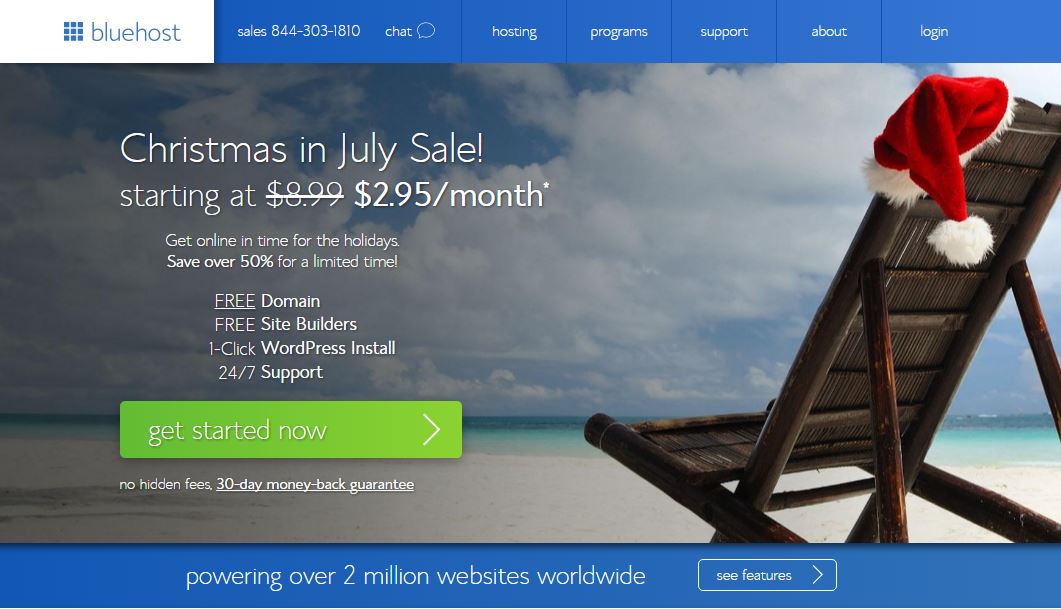 Bluehost Complaints and Bluehost Support
Although I found many people recommending Bluehost, some people claim it's not the fastest domain hosting out there.
However, low loading speed can happen for many other reasons as Bluehost has listed. When people's website has been slow for some of the other reasons, they still may blame their domain hosting sites.
It is good to remember that many people (including Pat Flynn) are still claiming that Bluehost is recommended domain hosting and most of them are not complaining about the loading time.
Some Bluehost complaints are related to their customer support. They have 24/7 support but sometimes their response hasn't come in minutes. Some users said it has taken 43 minutes. You may consider it slow or fast depending on what you are used to but from Wealthy Affiliate's support team I have almost always got the response within minutes.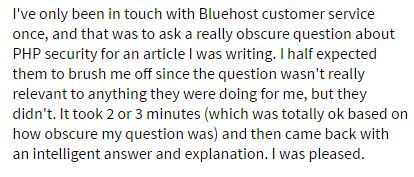 I found the text you can see above made by the user of Bluehost. His story shows that Bluehost customer service isn't that bad that you should always wait for 43 minutes like someone had to wait.
Bluehost has 24/7 live chat support and when I asked them a couple of questions I received the answers almost immediately. I believe that 43 minutes waiting time is very very rare.
I don't have my own personal experience of Bluehost because I have been fully satisfied with Wealthy Affiliate's domain hosting.
Bluehost is Easy to Use
Most of the user experiences that I saw on different review sites were ultimately positive. In other words, most of the people didn't have any serious problems with Bluehost and they had given what they had promised.
Somebody said that their service is very easy to use and I can believe it's true as I scroll on their website. It's easy to find an answer for different questions and the website is simple enough.
Their long 20 years experience must have given them lots of expertise and knowledge on what people like and how to build a user-friendly website
Do You Want a
FREE
& Easy-to-Follow
7-Day Course
to
Make Money Online
for Beginners?
Easy-to-Follow

Beginner-Friendly

My Personal 1-on-1 Support for You
Get Started for FREE Below Before this offer goes away!
Bluehost Prices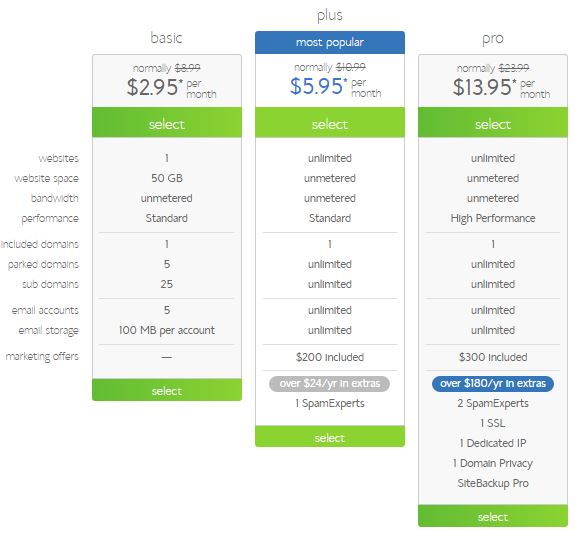 As you can see in the picture above, there are three different pricing plans right now (17.7.2016) in Bluehost. The prices $2,95/month, $5,95/month and $13,95/month are for the first month and afterwards, the normal prices will apply.
What are the differences between those three plans and which one would be the best for you?
The cheapest one, $2,95/month provides you 50Gb bandwidth/month which should be more than enough for a normal website.
The basic package should be good enough for you if you are planning to run only one website. If you want to have multiple websites, then the other plans will be better for you. Plus and Pro package offer you an unlimited amount of websites.
In addition, Plus package offers you marketing coupons worth $200, unlimited email accounts and unlimited email storage. Get this for $5,95/month (normally $10,99).
If you are looking for the highest quality, marketing coupons for $300 and extra features, then pro plan is for you. Get it today for only $13,95/month (normally $23,99).
WordPress Optimized Hosting in Bluehost
Bluehost provides also specifically optimized hosting for WordPress websites. You can use the cheaper plans that I showed above but if you have some specific needs, then you can consider the following plans: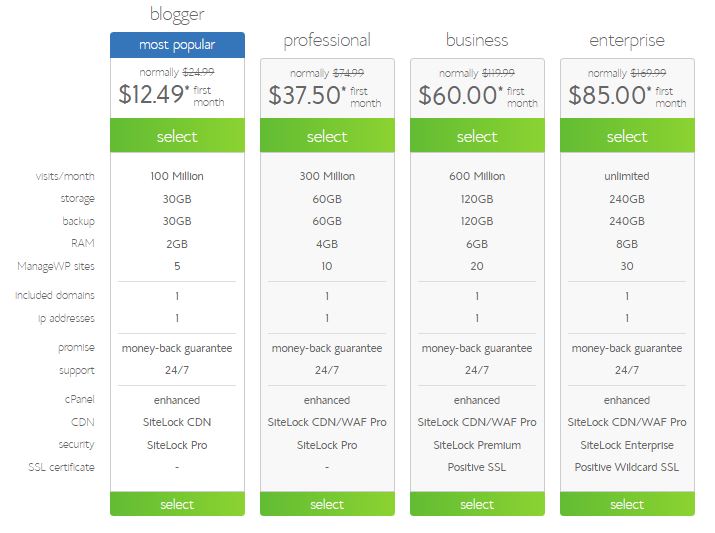 So, their cheapest plan is $12,49/month. Other plans are $37,50/month, $60/month and $85/month. Details you can find in the picture.
In $12,49/month plan you can manage up to 5 WP sites which is good for the beginners. Notice that each plan includes only 1 domain and after the first month the price will be higher.
Pros & Cons
Pros:
Low price ($2,95/month)
24/7 support
30 days money back guarantee
Free marketing bonuses
Reliable. For example, one test showed that Bluehost hosted domains have 99,94% uptime.
Cons:
They charge for migration of the domains to Bluehost (if you don't want to do it yourself)
Some complaints about the loading speed and the slow customer support
My Final Opinion of Bluehost
I saw that most of the people are fully satisfied after using Bluehost which naturally explains their success (more than 2 million sites hosted by Bluehost).
I was surprised to see some complaints about Bluehost related to page loading time and the customer support. I think that their customer service is very reliable most of the time but sometimes people had to wait a little bit longer and that's why they left the complaint.
The main reason that I don't try Bluehost myself is that I don't need it because I believe that Wealthy Affiliate is the best one out there. Domain hosting in Wealthy Affiliate has run smoothly and their 24/7 support is very fast.
In addition, Wealthy Affiliate's community, training and tools make their service ultimately valuable and have given a great experience to me.
If for some reason I quit WA in the future (which is quite improbable), I consider Bluehost as one of the best possibilities to host my websites.
Bluehost at a Glance…
Name: Bluehost
Website: www.bluehost.com
Price: Starting from $2,95/month
Founder: Matt Heaton
Field: Domain Hosting
Overall Rank: 90 out of 100
VERDICT: Legit. But Wealthy Affiliate is better.
I hope this Bluehost Web Hosting Review provides you valuable information about Bluehost. If you have any further questions, don't hesitate to leave them below.
Do you have experiences of Bluehost domain hosting? Leave the comments below.