One of our readers asked me an opinion about Iglobal Surveys. I didn't have any personal experience of their service back then. I decided that I will make a review about Iglobal Surveys so all our readers know what it is .
Is it a quick way to make good money online or another boring survey site?
Let's find out.
iGlobal Surveys Review

---
Name: iGlobal Surveys
Website: www.iglobalsurveys.com
Price: Free to join
Founded in: 2013
Field: Online Surveys
Overall Rank: 25 out of 100
---
What is iGlobal Surveys (IGS) All About?
iGlobal Surveys is another survey sites that gives you a little reward for giving your time and opinion on different products. It works with the same idea as other survey sites like Clixsense, Toluna and Opinion World.
Why does someone want to pay you for answering surveys?
Companies want feedback about their products so they could make their products better, brand them in a way that they want and increase the sales. Companies collect the feedback in different ways but one practical way are online surveys.
The company pays the consumer a little reward (for example $0,50) to give a feedback. Let's say that they collect 100 opinions and pay $0,50 for the each one. It costs them $50 but they have got incredibly valuable information what clients really think about their products.
Many times the questions are also related to their brand so the companies will know how their branding is working.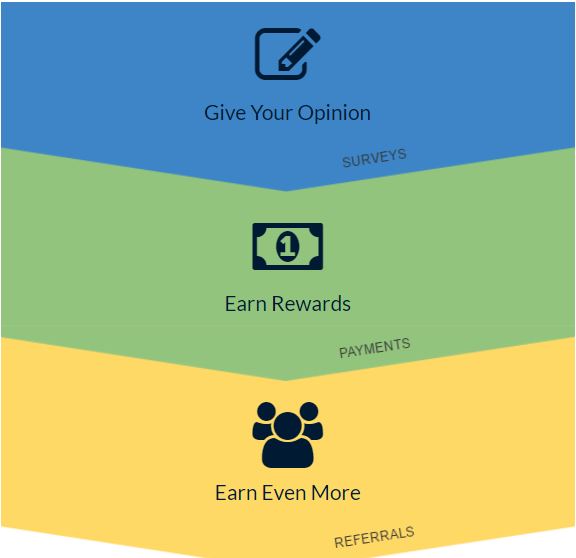 Just like in most of the other survey sites, they have a referral system in IGS. So you can earn money by referring people to join. I will explain more about it further.
Examples of the Questions
In one survey, there can be tens or even hundreds of little questions. Here are some examples what kind of questions there can be:
Have you ever used the following products?
1.x-product
2.y-product
3.z-product
etc.
What kind of words comes to your mind when you think about Coca-Cola?
1.juicy
2.high-quality
3.freedom
etc.
In the beginning of almost every survey you will need to fill personal information about yourself:
1.Where do you live?
2.How many people live in your house?
3.How much money do you earn annually?
4.What is your highest education?
etc.
After filling your personal information you will be either qualified to answer the whole survey or disqualified because you were not person they were looking for. If you are not qualified for the survey, naturally they won't give you any reward.
You may imagine it can be to fill out the same personal information about yourself 5 times and get disqualified 5 times. It's just a waste of your time.
How Much Money You Can Make in iGlobal Surveys?
Let's be honest right away. Not very much.
Do You Want a
FREE
& Easy-to-Follow
7-Day Course
to
Make Money Online
for Beginners?
Easy-to-Follow

Beginner-Friendly

My Personal 1-on-1 Support for You
Get Started for FREE Below Before this offer goes away!
For every survey you may earn like $1 but it will take 20 minutes to fill one survey. So if you would be able to fill three surveys in one hour you could earn $3. Compare how much you are earning in your 9-5 job. Probably 5-10 times more.
The problem with online surveys is that they don't require any skills or real efforts. Anyone can do them without learning or education. Compare to normal jobs. Usually, you get paid more when you have better skills and you provide better value for the company.
A pilot who had just started is probably earning like $30,000/year while a pilot with 15 years of experience can earn up to $200,000/year or even more. When a pilot gets more experience, he earns more. But despite of your experience in online surveys you can't earn more than $5/hour.
The reality is that most of us are not ready to sacrifice 20 years to become a $200,000/year earning pilot. But I am glad to tell you that your incomes can increase exponentially online.
In the last post I explained about 5 internet marketers who are earning +$10,000/month (=+$120,000/year). One of them achieved that income with only one year of experience. The other one with three years of experience but now the same guy is earning +$20,000/month which equals to $250,000/year. The potential to add your income online fast is way better than as a pilot.
Referral System in iGlobal Surveys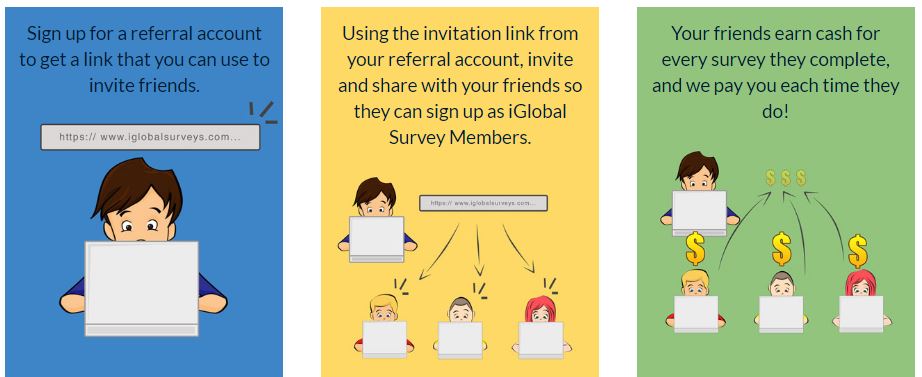 When you leave your link somewhere and someone registers through your link and completes a survey, you will get paid some commissions.

You will be paid $0,50 for the each survey that your referral completes. In my opinion, it's quite good.
The picture above how many referrals would you need to earn certain amount of money. Then if we go further 500 referrals who complete 5 surveys a month = $15,000/year. You could live a luxurious life with that money in China! (at least some kind of luxury 😉
But there is one little problem. Completing surveys take so much time that it's not recommended. So if it's not recommended to join, why would you refer anyone? Well, if someone is living in a country where $2/hour is a good salary then he could consider filling these surveys and make referral income for you.
But if you are earning $10/hour or more in any job, answering surveys should be totally out of a question.
iGlobal Surveys Complaints
When I read a few reviews about IGS I saw that at least one website owner was suffering from the slow loading time. He said also that iGlobalSurveys.com page was down for several days some time ago.
When I tried iGlobal Surveys the website worked well most of the time but I must admit that the loading time was sometimes bigger than normally.
One reason why you can't find many complaints of iGlobal Surveys yet is that they don't have so many users as in the bigger survey sites and their company is also relatively new.
Pros & Cons
Pros:
You can earn money by giving your feedback for companies
Referral system makes it possible to earn more
Cons:
Very time consuming
Boring
Can't increase your income
You need to leave your personal information many times
Better Alternatives to Make Money Online
As you found out above I am not a big fan of online surveys because of the low earning potential. But if you are anyway interested in filling online surveys I would recommend Clixsense or Toluna.
They are probably the biggest one out there with about 15 million users in total. There are also other ways to earn money on those sites, like paying ads and playing little games.
But if  you are wise, you stay far away from online surveys and look for the better ways to make money online.
My recommendation is affiliate marketing because it's simple, anyone can learn it and there is very high earning potential.
In a nutshell, it works like this:
1.You build a website (it's possible in 30 seconds nowadays -> learn how!)
2.You get traffic to your website (Learn how to get traffic)
3.Visitors click your links and you make money.
This is a simplified 3 step formula to affiliate marketing online. If you are willing to learn the details I recommend to join Wealthy Affiliate for FREE. (Please, put your credit card away!)
iGlobal Surveys at a Glance…
Name: iGlobal Surveys
Website: www.iglobalsurveys.com
Price: Free to join
Field: Online Surveys
Overall Rank: 25 out of 100
VERDICT: Not Recommended. Learn a better way.
I believe you found this review explains you well what is iGlobal Surveys and is it a good way to make money or not. If you liked it, don't hesitate to share it on social media.
Do you have personal experience of iGlobal Surveys or other survey sites? What is your opinion?