Choosing a host for your website is one of the more difficult decisions a new business or blog will have to make. With a plethora of hosting options available, it can be hard to single out which host is right for you. While seeking recommendations, there is a good chance that the name HostGator popped up, but is HostGator a scam or a reliable host?
Hostgator Web Hosting Review
---
Name: HostGator
Website: www.HostGator.com
Cost: Starting from $3,95 per Month
Field: Domain Hosting Services
Overall Ranking: 93 Out of 100
HostGator is one of the best but doesn't reach to the #1 place of domain hosts. My #1 recommendation is Wealthy Affiliate with ultimately fast hosting, SEO benefits, and other impressive features.
---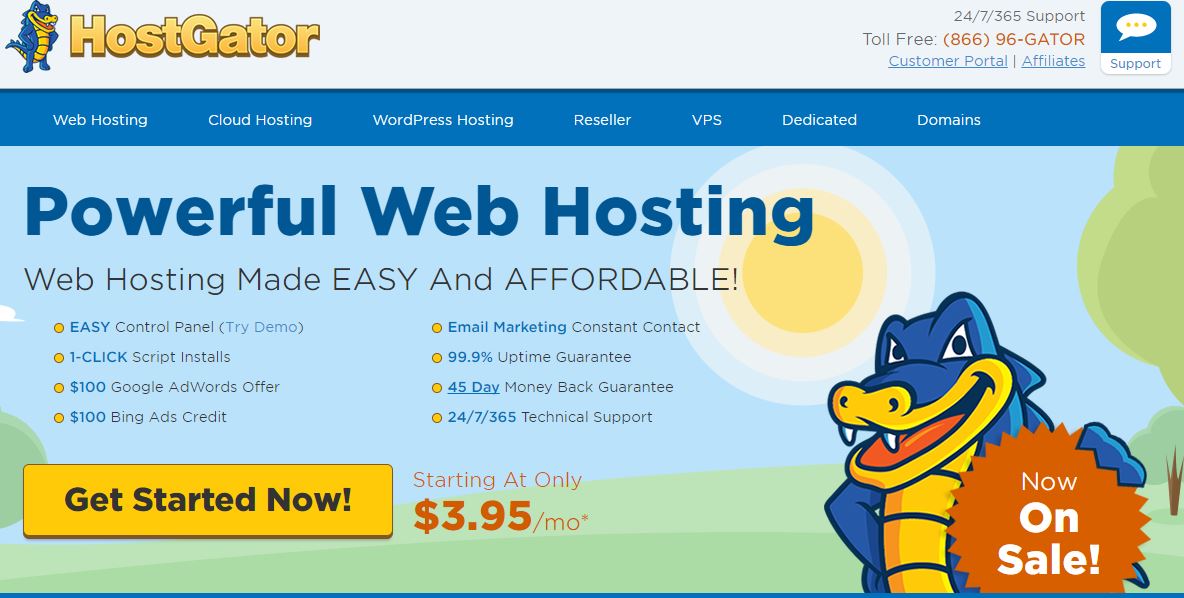 What Is HostGator? – 15-Year-Old Web Hosting Company
HostGator is a company based in Houston, Texas that offers a variety of web hosting services for websites. A Florida Atlantic University student named Brent Oxley founded HostGator on October 23, 2002. Despite being run out of his dorm room at first, the company surpassed 200,000 registered domains within 4 years of its creation.
Brent Oxley remained the owner of HostGator until June 2012 when he announced that Endurance International Group would be purchasing the company for $225 million. As of 2013, over 9 million domains used HostGator for their web hosting needs. A surprising fact is that they have lost of domains over the years to other providers like GoDaddy, Dyn – Oracle and Domain.com.
Anyhow, HostGator is still one of the leaders in the industry providing a superb service. Let's dig a little bit deeper in what they are providing.
HostGator Products and Pricing
HostGator was created with the intention of giving web sites a stable and reliable server to operate on. Through the years, their offered products have expanded to web hosting, cloud hosting, VPS, dedicated servers, domains and more.
All of the plans offered by HostGator are split up into three categories and the names of the categories vary based on which service you are buying. The three names for the hosting service plans are Hatchling, Baby, and Business. They also offer dedicated hosting services if you really want to speed up your website and invest money into high-quality hosting.

Hatchling Plan
The hatchling plan is similar to the basic plans offered by other hosts. This plan includes a single domain, unmetered bandwidth, and one click installation for WordPress, Joomla, Wiki, and other platforms. This starting price for this plan is $3.95 per month.
Baby Plan
While still offering one click installation and unmetered bandwidth, the baby plan also offers the ability to host an unlimited number of domains. This plan works best for users that want to host several domains and its starting costs are $5.95 per month.
Business Plan
The business plan is the best value plan offered by HostGator. This plan offers everything included in the baby plan as well as a private SSL, private IP, and free Voice-over-IP (VoIP) service. The starting cost for the business plan is the same as the baby plan at $5.95 per month.
Although the word "business" is in the plan name, you do not need to be running a business to use this plan. If this plan fits what you need, buy it regardless if you are running a business.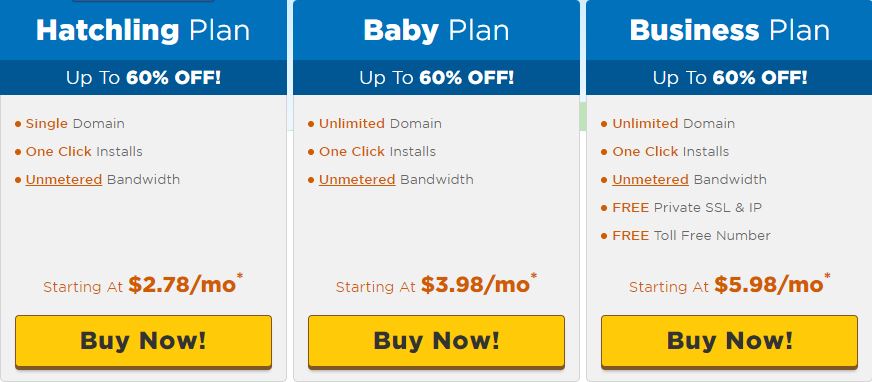 How Does HostGator Work?
The way HostGator works varies based on your needs. If you already own a domain and are transferring hosting services to HostGator, you are required to fill out a transfer form that can be found on their website after you create an account.
If you purchased your domain name from HostGator, the only thing you will have to do is to upload your website. If you are using a service such as WordPress, HostGator offers one click installation in order to make this process as easy as possible.
After the domain name is registered with HostGator, you will be provided with links that you need to use in order to access your domain's email account and cPanel account. Save these links because they are necessary in order to run your website.
Should any problems arise during this process, feel free to contact the customer service team at HostGator. HostGator has a knowledgeable customer service team that will work quickly to solve your problems.
Do You Want a
FREE
& Easy-to-Follow
7-Day Course
to
Make Money Online
for Beginners?
Easy-to-Follow

Beginner-Friendly

My Personal 1-on-1 Support for You
Get Started for FREE Below Before this offer goes away!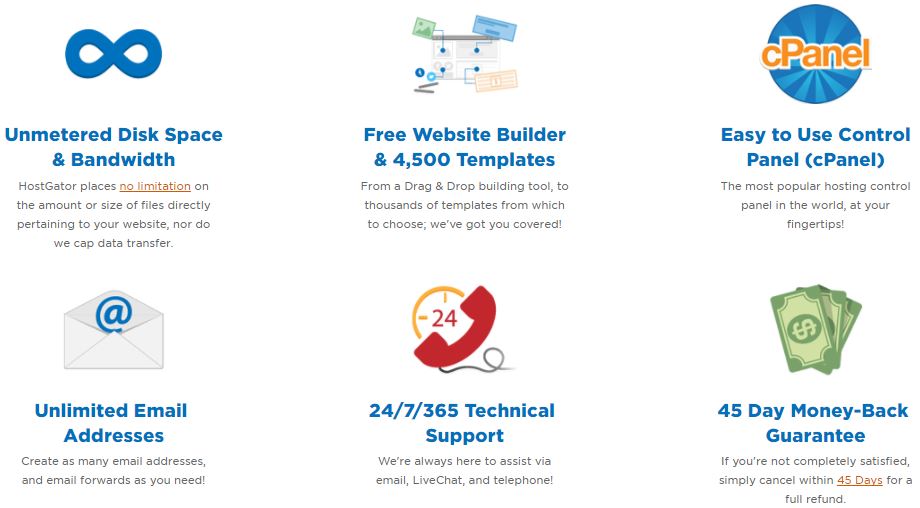 Is HostGator a Scam? – No, Read Here Why.
HostGator is not a scam. They have been one of the leaders in the web hosting industry for over 15 years and are one of the most popular hosting brands in existence. Better Business Bureau has credited the best rating A+ for HostGator which isn't so easy to get.
Although you will get the services you pay for, HostGator is a bit more expensive than, for example, GoDaddy. That's not to say that their prices aren't reasonable since they do provide one of the most reliable servers available.
It is also important to remember that the price you signed up for is only their starting price. Once your initial contract ends, the renewal price nearly doubles. Although this is common practice in the industry, it is something to keep in mind. If you would like to get a host where price will not double, have a look at this service that I use myself.
The biggest issue with HostGator is their advertised "unlimited hosting." HostGator will temporarily suspend your account if you use over 25% of their system resources for more than 90 seconds or over 250,000 inodes. The good news is that your website will probably never reach that number. Nevertheless, it still shows that your "unlimited" hosting is not unlimited.
One great thing that I found in HostGator is that they provide Google AdWords and BingAds credits when you buy their plan. Have a look at the screenshot below from their website:

I often show my visitors also reviews from other users of products that I review. So next we will take a look at a few HostGator reviews made by their members.
HostGator Reviews – Lots of Satisfied Clients
As we know, HostGator is a huge company and they have hundreds of thousands of clients worldwide. It's natural that they have both positive and negative reviews. There are literally thousands of reviews online. We will watch one of the most interesting, recent and helpful ones.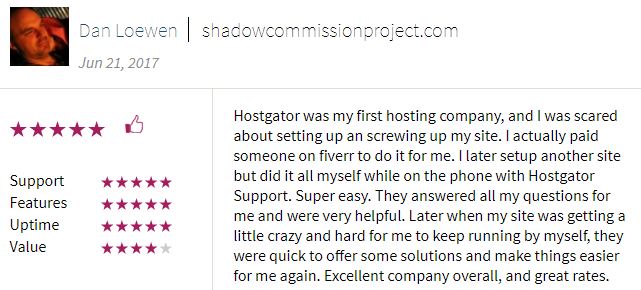 I know that if you are building your first website it can feel a bit overwhelming. I remember when I was creating my first website. I thought that it's only for some nerds who know all IT-stuff very well. I knew a few people personally who were able to build websites and they felt like super-humans.
Nowadays I know that anyone can create a website even in 30 seconds. Have a look at my step-by-step instructions to get started fast.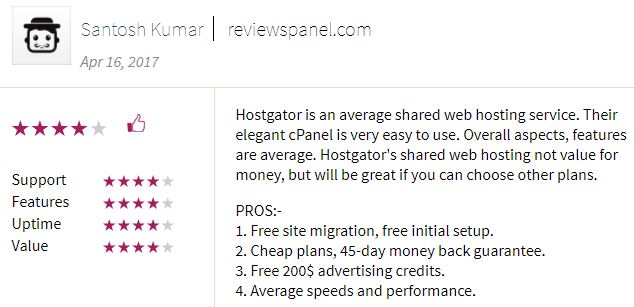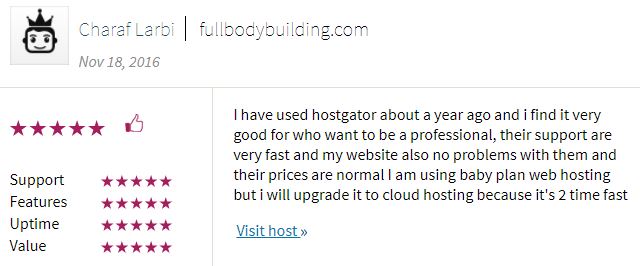 Based on these reviews I can say that HostGator is doing a great job!
Conclusion – Is HostGator Worth It?
Probably the biggest reason why I am not using HostGator is that there is a better alternative called Wealthy Affiliate out there. HostGator offers great services and overall members have been more satisfied than with a huge GoDaddy. However, it's hard to reach to the level that WA provides.
Wealthy Affiliate premium membership includes domain hosting up to 25 websites, 24/7/365 support, world-class training to make a living online (by the way, it WORKS), FREE SSL Certificate (to make your website faster and improve your Google rankings) and much more.
You may think that Wealthy Affiliate much cost much more than other providers because they provide all these great services and benefit. However, their price hasn't risen during the last 14 years. In my opinion, that's amazing!
Great benefits in WA is that you have an access to mentorship with successful online entrepreneurs. You will have my 1-on-1 support and many other people in the community are willing to help you further. By the way, you can start in Wealthy Affiliate for completely free. No credit card required. That's how I did it when I first time tested their services more than 2 years ago.
I used their free services for 2 months and then bought the yearly membership which costs less than $1 per day.
What domain hosting sites have you used yourself? Which one has been your favorite?
Have you ever experienced any challenges?
Let me know in the comments below and I will be more than happy to follow up with you.