"Life is flexible. Is your job?" That's the slogan of Flexjobs. When I was working in a 8 to 5 job I can definitely say that my job wasn't flexible. I needed to come to the office before 8 and do what my boss wants for 9 hours and leave after 5 pm. I thought that enough is enough and decided to build a full-time online business.
Flexjobs is also offering solutions for people who want to have a flexible job instead of 9 to 5 jail. They are currently listing 33,623 jobs from 4,727 companies. Is Flexjobs a scam or would it be a great alternative for a normal 9 to 5 career? Let's find out!
Flexjobs Review
---
Name: Flexjobs
Website: www.Flexjobs.com
Founded: 2007 by Sarah Sutton Fell
Price: For Jobseekers $14,95/month, $ 29.95/3 months or $49,95/year
Field: Make Money Online -Programs
Overall Rank: 89 Out of 100 (Check Out My #1 Recommendation, 98 Out of 100)
---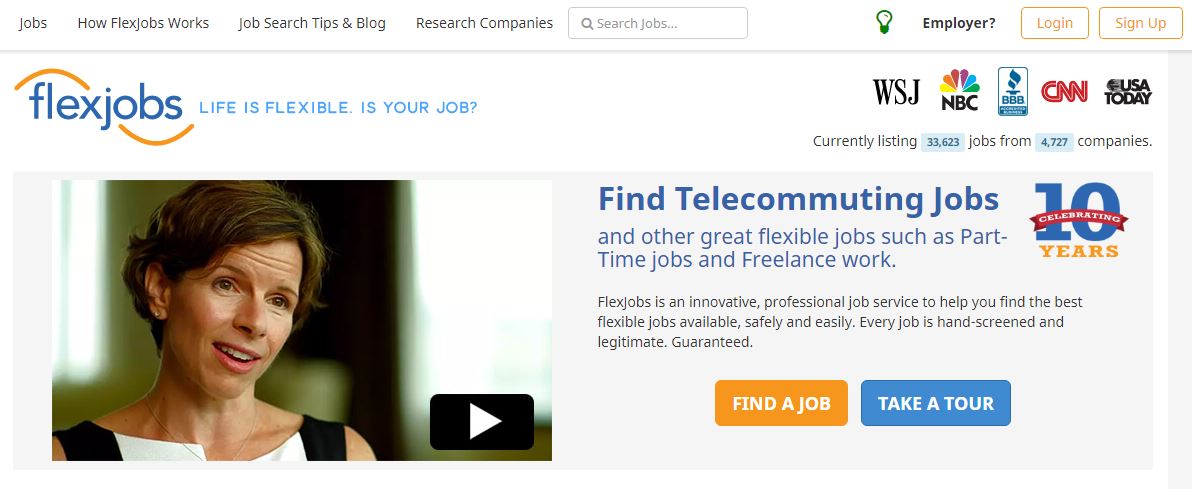 What Is Flexjobs?
Flexjobs is simply a website and a company that offers flexible jobs. You can find through their service part-time, full-time, freelance, location independent and many kinds of jobs. There are more than 33,000 jobs available at the moment (and counting!) and these works vary a lot.
There are at least 55 different job categories so you will most likely something that interests you and suits your skills. More than 2,500,000 million people have already used their services and there are more than 80,000 people following their Facebook page.
All in all, we can say that Flexjobs is a huge movement. It's a connecting link between an employer and a job seeker. And let me make it clear, Flexjobs is a legitimate company unlike My Home Job Search or other work from home scams.
Around 10 years ago the founder Sarah Fell was frustrated because there were so many scams online that promised to provide telecommuting jobs. She saw that there was an opportunity for a legitimate and honest service. The rest is history.
Flexjobs has been featured on NBC, CNN and in many other TV-channels and programs. Here is a clip from one news channel.
WARNING: The video may contain promotional material about their services. It's added here just for educational purposes.
Flexjobs Benefits
Let's have a quick look what kind of benefits Flexjobs provides for job seekers. This is what they say on their website: (have a look at the picture below)

They offer a flexible job that suits your needs.
New jobs appear daily.
They provide partner offers like discounts for Grammarly, Costco and so on.
You can accomplish skill tests to make your profile stand out from the crowd.
And much more.
Of course, the most important thing for a job seeker is that they can connect you with your potential future employer. Is it easy to find a job through their service? I have heard and read experiences from people who used their services and I am going to reveal them to you.
Flexjobs Reviews
Mostly people have been very satisfied with their services. However, There are also some Flexjobs complaints that I will show here.
Their users have been happy for the opportunity to find so many potential jobs at one place. Many users describe their service with a word, "Time-saving". A very positive thing is also that they filter scams away so you can trust that you are applying for real jobs. My personal advice is that you should still make your own research of the company before applying to work for them.
I saw one person complaining about the Internet that he applied for 20 different companies and only one of them answered, "Thank you for the application but we didn't choose you this time." Here we can of course ask was the problem with the companies or with the profile (CV) of this job seeker.
We all know from experience that many companies don't answer to your application if you don't ask for a reply. You need to be persistent if you want to find a great job.
People who have worked for Flexjobs have given magnificently good numbers for them, the average in Glassdoor is 4,6 out of 5. Their employees are praising the job culture and the positive environment. I think it's a great plus for the company.
Flexjobs Categories
As I mentioned above, there are at least 55 job categories on their website (the number may be bit higher when you are reading this). Here are some examples what kind of jobs they offer: Account Management Jobs, Administrative Jobs, Science Jobs, Sales Jobs, etc.

I would like to point out that for most of the jobs that they offer you need a degree and/or work experience in that field. One research showed some time ago that only a small percentage of all offers are for entry-level jobs. This can be of course a positive thing if you are looking for more challenging jobs that match your education and experience.
Do You Want a
FREE
& Easy-to-Follow
7-Day Course
to
Make Money Online
for Beginners?
Easy-to-Follow

Beginner-Friendly

My Personal 1-on-1 Support for You
Get Started for FREE Below Before this offer goes away!
Can I Work from Home or Abroad?
It depends on the job that you are applying. One research showed that 30% of their job offers were telecommuting =remote jobs. The research is already a few years old so the situation may have changed along the way.
The point is that you can find a remote job through their website but not all of them are that kind of jobs. They are offering flexible jobs which include remote jobs but also another kind of opportunities.
One question that people are asking frequently is that can you work from abroad.
Again, it depends. If you are not a U.S. citizen and living abroad, there are some jobs available for you. But most of the job offers are from U.S. companies for U.S. citizens who live in the U.S.
If you have a U.S. citizenship and want to work abroad, it's possible in some jobs.  You need to read carefully the requirements and specifications for a job that you would like to apply.
How to Get Started with Flexjobs?
First, you need to sign up and create a profile. Your profile is like your personal CV or a business card that gives the first impression for companies. I recommend putting a great emphasis on making it great.
Then Flexjobs will automatically search for jobs that match your profile and it will inform you. At the same time, you can also look for jobs yourself that interest you. Send applications to employers and go for what you want.
Einstein said, "Become a man of value." I think that is a way to get the job you have dreamed of. When you can provide skills and the value of the company that they really need, you can get any job you want.
Flexjobs Pricing
Flexjobs charges some fee for their membership. I think it's natural because they are a company that wants to make a profit and they also need a way to run their business. In addition, membership fees are relatively cheap if you compare the potential value that they can provide for you.
Have a look at their 3 pricing plans:

What do you think about the pricing?
If you find a job that pays you, for example, $50,000/year, I think it's worth investing $49,95 for Flexjobs. Many people go to watch ice hockey, basketball or other sports and pay much more than $50 for one evening.
Flexjobs offers a 30-day money back guarantee for all plans. So, you can try their services without risking a penny.
Pros & Cons
Pros:
They connect job seekers with employers
At the moment they are offering more than 33,000 jobs from 4,727 companies (and the numbers are probably much bigger when you are reading this article)
Reviews from their employees and users have been consistently positive
Using their service time can save lots of your time if you are a job seeker
30-day money back guarantee
Cons:
Some people complained that they need to pay some money for a membership (However, I think that Flexjobs offers good value for the buck).
Finding a good job can take time because there is always some competition. (In my opinion, competition is a sign that this job is interesting.)
Most jobs don't allow you to earn passive income
Conclusion – Is Flexjobs a Scam?
No, it's not a scam. They offer legitimate jobs for you.
Is Flexjobs my #1 recommendation for people who want to have a flexible job? No.
When you are working for a company, you will almost always miss some flexibility. If you earn money online yourself, you can have even more freedom and flexibility. In addition, your earning potential is probably much higher with an own online business.
If you don't know how you could create your own online business, I recommend taking a look at this wonderful step-by-step training.
Many people have gone through that training without any prior experience of making money online but are now earning a full-time income online. These 5 guys are earning +$10,000/month thanks to that training and community.
The old advice went like this, "Go to school. Get a good degree. Work for a corporation and retire when you are old." Modern (and my) advice is, "Learn to make money online and a have a freedom to live wherever you want while working with your passion."
Flexjobs at a Glance…
Name: Flexjobs
Website: www.Flexjobs.com
Founded: 2007 by Sarah Sutton Fell
Price: For Jobseekers $14,95/month, $ 29.95/3 months or $49,95/year
Field: Make Money Online -Programs
Overall Rank: 89 Out of 100
What do you think about Flexjobs?
Would you like to have a work that you can do anywhere in the world?
Let me know in the comments below! 🙂
I promise to reply to all of your comments personally.
If you need any help for making money online or finding a job that allows you to work wherever you want, feel free to leave a comment below. I have quit my 9 to 5 job in order to build a full-time online business so I can give you a tip or two.
7-Day Make Money Online Email Course
Learn SIMPLE steps to make a LIFE-CHANGING INCOME online. I will help you hand-by-hand!