Is Epoll Surveys a Scam? This is what some people ask when they saw that Epoll could be an interesting way to make money online. I have experience of more than 50 different survey sites and I know what Epoll is all about. Will it be worth it? Is it a Scam? How does it work? To these and many other questions, you will get an answer in the next 2 minutes by reading my honest review.
Epoll Surveys Review
---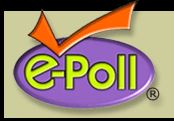 Name: Epoll Surveys
Website: www.EpollSurveys.com
Field: Survey Sites
Overall Rank:  30 Out of 100 (Check Out My #1 Recommendation, 98 Out of 100)
---
What Is Epoll and How Does It Work?
The idea of Epoll is the same like other survey sites have: Answer surveys and earn some money for doing that. You get points after completing each survey and when you have enough points, you can cash out your money.
Here are 4 steps to make money on Epoll Surveys:
1.Create an account
2.Wait until they send you surveys by email
3.Answer surveys to earn points
4.Cash out your points
Sounds pretty easy and everybody can understand the simple process. That is probably one of the biggest reasons why Epoll became so popular in the past years. I think that nowadays Epolll is not so popular as it used to be but still it has many users worldwide. Their service is one of the earliest online surveys sites because it was founded already in 1997.
How Much Money Can You Make on Epoll?
We know that you can make money with this website but the crucial question is, "How much?" I took a screenshot of what one of their former members thought about it. In my opinion, it concludes very well what survey sites are all about.

Of course, this member called Kris is a little bit exaggerating when he says that it could take years to reach a payout threshold but he is hitting the point.
It takes too much time to earn any money with online surveys.
If we convert points to dollars, you will be earning around $0,70 per survey which can take up to one hour to fill out. What do you think about $0,70/hour salary? I think that nobody should waste their time on such things.
Of course, you can earn sometimes a bit more than $0,70 per hour but still not more than a few dollars/hour. In addition, you always need to wait for a new email to get an invitation for the next survey. If you are interested why online surveys are not worth it, have a look at here.
Is Epoll Surveys Reliable?
Epoll has been in the industry for 20 years so we can honestly say that it's a reliable service. They are paying their members as they have promised, at least most of the time. I say "most of the time" because you can also find complaints where they didn't pay exactly what they were supposed to pay. I think that those issues would have solved by sending an email to Epoll Surveys or something similar.
I took a quick look at their "Contact Us" -page. You find there an F.A.Q.-section on many different subjects regarding their survey service. "How to sign up? How to take surveys? How to get rewards?" and so on. It's not even so easy to find an email address where you could contact them directly.
Epoll saves a lot of money because they don't need to hire so many people on customer support. Having comprehensive F.A.Q. pages help a lot.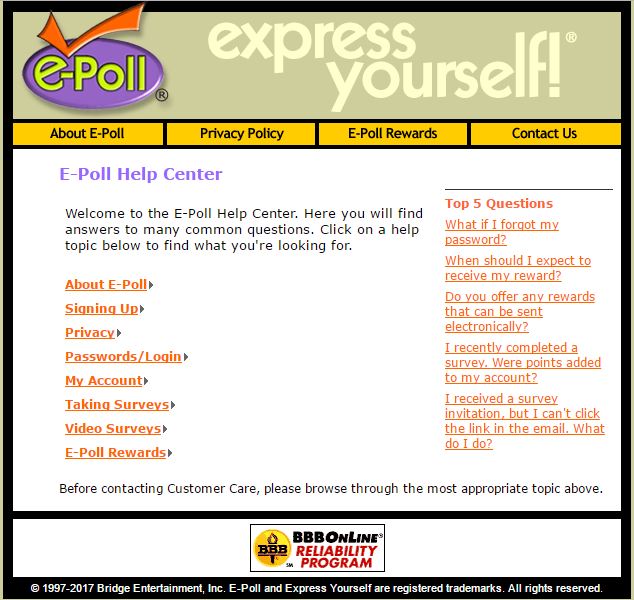 Pros & Cons
Pros:
Reliable and old company
You can earn some money
Cons:
Little reward for the spent time
Many complaints found on the Internet
Not even one of the best survey sites
Sometimes you need to wait for new surveys for a long time
You are not always qualified for a survey
Only available in UK, Canada, Mexico and Australia
Conclusion – Is Epoll Surveys a Scam?
I can honestly say that Epoll Surveys is not a scam. Still, we need to admit that this service is not worth it. If you value your time that you will never get back, stay away from Epoll Surveys.
If you are interested in making money online, I recommend having a look at Wealthy Affiliate. There you will learn skills that help to provide value to earn money. Like Jim Rohn says, "You get paid for bringing value to the marketplace." By answering online surveys, people are not making providing very much value.
If you are wondering what kind of value you could provide, don't worry. I know that you and everyone of us have something to bring. We can also learn more every day and become more valuable.
In Wealthy Affiliate, you will get right away 10 interactive video lessons with tasks and step-by-step instructions. Then I will offer you 2 websites for free. All of this doesn't pay a single penny. If you want to become premium, you will get my 1-on-1 mentoring and much more awesome resource to create a thriving online business.
Do You Want a
FREE
& Easy-to-Follow
7-Day Course
to
Make Money Online
for Beginners?
Easy-to-Follow

Beginner-Friendly

My Personal 1-on-1 Support for You
Get Started for FREE Below Before this offer goes away!
Epoll Surveys at a Glance…
Name: Epoll Surveys
Website: www.EpollSurveys.com
Field: Survey Sites
Overall Rank:  30 Out of 100
Have you tried Epoll surveys or other survey sites? What kind of experiences did you have? Do you also prefer other ways to make money online?
Let me know in the comments below! 🙂