[fusion_builder_container hundred_percent="no" equal_height_columns="no" menu_anchor="" hide_on_mobile="small-visibility,medium-visibility,large-visibility" class="" id="" background_color="" background_image="" background_position="center center" background_repeat="no-repeat" fade="no" background_parallax="none" parallax_speed="0.3″ video_mp4="" video_webm="" video_ogv="" video_url="" video_aspect_ratio="16:9″ video_loop="yes" video_mute="yes" overlay_color="" video_preview_image="" border_size="" border_color="" border_style="solid" padding_top="" padding_bottom="" padding_left="" padding_right=""][fusion_builder_row][fusion_builder_column type="1_1″ layout="1_1″ background_position="left top" background_color="" border_size="" border_color="" border_style="solid" border_position="all" spacing="yes" background_image="" background_repeat="no-repeat" padding_top="" padding_right="" padding_bottom="" padding_left="" margin_top="0px" margin_bottom="0px" class="" id="" animation_type="" animation_speed="0.3″ animation_direction="left" hide_on_mobile="small-visibility,medium-visibility,large-visibility" center_content="no" last="no" min_height="" hover_type="none" link=""][fusion_text]
"We need to make a dent in the universe." – Steve Jobs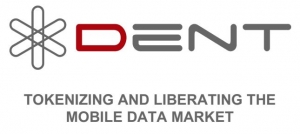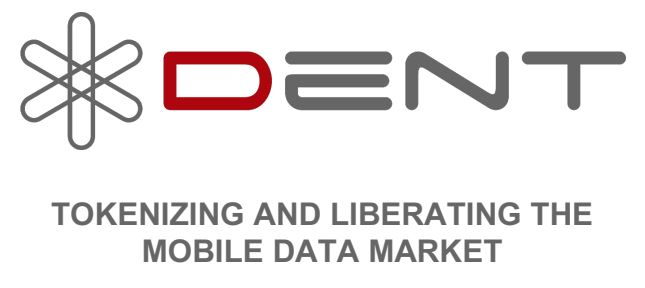 Dent is in an exciting place right now. Many new altcoins have been listed in exchanges between December and January, Dent being one of the first. Dent has a unique niche along these coins in having a fully viable product already released, and the initial price bubble already burst. In this article, I will analyze the Dent product and the price of the DENT token.
DENT Review
---
Name: Dent
Ticker: DENT
Launched: ICO on July 2017, First app release on 12/28/2017
Type: ERC-20 token for mobile app currency
Short Review: Dent is an app for selling mobile data. At the moment, users can use the DENT token to pay for mobile data for specific carrier users in USA and Mexico. Later on, users will be able to sell their unused data on the Dent app marketplace. Dent can also be used to completely bypass roaming data fees.
Investing in Dent tokens can make you big returns but it also involves risk. If you prefer proven ways for making money online, I recommend having a look at this step-by-step training.
---
Is Dent Coin a Good Investment – Video Review
What Is Dent and How Does It work?
1. Receiving mobile data via the Dent mobile application.
A local data provider (let's call it Carrier A) agrees to participate in the Dent marketplace. This allows users of Carrier A to receive data packages via the Dent app. The recipient of mobile data doesn't have to pay anything.
2. Purchasing mobile data via the Dent mobile application.
There are two ways to purchase data within Dent. The first method is to purchase data packages directly from the carriers. The carriers have pre-negotiated different prices for different sizes of data packages, and those are always available for purchase in the Dent app. The data packages are paid using the DENT token.
The recipient of the purchase must be using the network of the carrier that the data package was purchased from. The buyer can select himself as the recipient. This method can be used to give mobile data gifts to friends, circumvent roaming costs, or just to use cryptocurrency to pay for mobile data. This method is currently available for all Dent app users.
The other way to purchase mobile data via Dent is the user-to-user marketplace. This functionality of the Dent app will become available in Q3 2018. Dent app users can purchase mobile data packages that other users of the same carrier have put up for sale on the marketplace. The price for mobile data packages will fluctuate based on supply and demand.
Additionally, the competition will continuously push the data price below the price of "official" prepaid data packages issued by the carriers themselves. Users can purchase data when the price is low, benefiting from the system. This method of purchase will be highly useful for customers in countries with limited data package availability, corruption in data package sales or difficulty to pay for mobile data using fiat money.
3. Bypassing roaming fees using Dent.
I will explain this with an example: A Dent user is a customer of carrier A. She travels to a country, where carriers B, C and D are available. Normally, her mobile would automatically use whichever out of the carriers B, C and D has the cheapest roaming data agreement with carrier A.
Any mobile data she uses will however still be routed via carrier A, which is very cost-ineffective. If carrier A and any of the other carriers have Dent support, she can purchase the cheapest data package she can find in the Dent app instead of paying expensive roaming fees.
The data will be routed directly to the local carrier, which is faster and more cost-efficient. This can even enable her to purchase data from carriers that do not have a roaming agreement with carrier A.
The Dent mobile data prices fluctuate around the price available for local mobile users of the country, so it is highly probable that she will get a better deal via the Dent app than roaming. This functionality is currently available to a few carriers in USA and Mexico. New carriers will be added in Q1 and Q2 2018, and user-to-user data selling will be available in Q3 2018.
4. Selling mobile data on the Dent marketplace.
This functionality will unlock on Q3 2018. If a Dent user thinks that he will not use all of his mobile data (prepaid or monthly subscription), he can sell any percentage of it on the Dent marketplace. He will select an amount of data to sell and a price in DENT. His carrier will approve the sell order, and it will be placed on the Dent marketplace. Any Dent user in the carrier's area can pick up the order.
Do You Want a
FREE
& Easy-to-Follow
7-Day Course
to
Make Money Online
for Beginners?
Easy-to-Follow

Beginner-Friendly

My Personal 1-on-1 Support for You
Get Started for FREE Below Before this offer goes away!
The carrier and the Dent company will take a cut from the sale and the seller will receive the rest of the DENT tokens. This is very profitable to the carrier because they will receive a cut from data that they had already sold to the user who placed the sell order.
Why blockchain?
Many start-up companies hold ICOs due to the huge hype surrounding them. It is a legitimate question whether a given company is actually using the blockchain technology as an integral part of their product or just pumping ICO money selling out tokens that are of little more use than as a certificate: "I supported company X and all I got was this lousy token!" There are two reasons for Dent to utilize the blockchain.
1. Faster development of the product.
Ethereum smart contracts are a pre-existing infrastructure for making verified contracts between clients. The Dent company does not have to program a platform for carrier-to-user interaction and secure money transfer because it already exists and is simple to utilize. This allows for a rapid release of the application and its features. In fact, the iOS app is already released and the Android app will release in Q1 2018.
2. Security via decentralization.
In parts of the world where the government cannot be trusted with fiat money transfers, cryptocurrencies are breaking through in everyday life. A customer can feel safer to purchase mobile data via the Dent application than to give their payment information to a shady mobile data reseller.
Another example would be mobile prepaid SIM cards bought from the street. They will always have a margin to take off the wealthy, unexpecting tourist. With Dent, the tourist can keep her own mobile number while aboard and not suspect her money to the corrupt system either via cash or credit cards.
Risks of DENT
1. Carriers not joining the marketplace.
If no carriers in a geographical area join Dent, users in that area cannot receive data packages via Dent. For the platform to succeed, it's vital that new carriers keep joining. Currently, only four carriers are supporting Dent (two in USA and two in Mexico). If more carriers don't join by Q2 2018 as promised by the roadmap, the investors will be displeased.
2. Failure of the Ethereum blockchain.
Oppressive regulations, hacking or customers losing faith in the blockchain technology can cause customers and carriers to lose interest in Dent.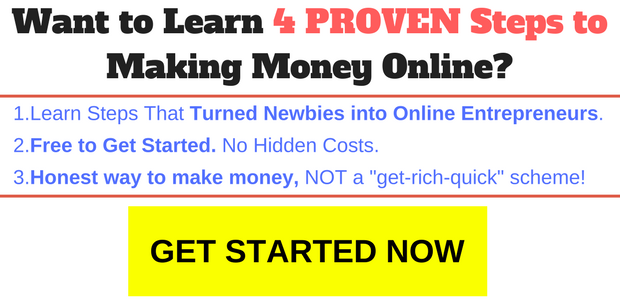 Dent Team
The team behind Dent is solid. The core team is from Finland, a country with an excellent mobile startup infrastructure and communications technology expertise. This shows in the background skills of the founders. They also have an expert experienced in working with carrier companies, and two people specifically planning for the Asian market. Dent launched a new operations center in Hong Kong in January 2018, which is a good sign for the Asian carrier cooperation.
Dent Community
Reddit: 5900
Telegram: 6300
Facebook: 5800
Twitter: 30.000
Compared to other startup altcoins, Dent has a large Reddit, Twitter and Facebook community but only a mediocre Telegram group. The early date of the Dent ICO is a possible explanation for this. A community structure like this signals to a more tech-oriented than a hype-oriented userbase (investing in a promising technology instead of hype). This is a good sign, as it implies less FUD than hype-pumped altcoins.
Is DENT Worth Buying?
Let's have a look at the price chart.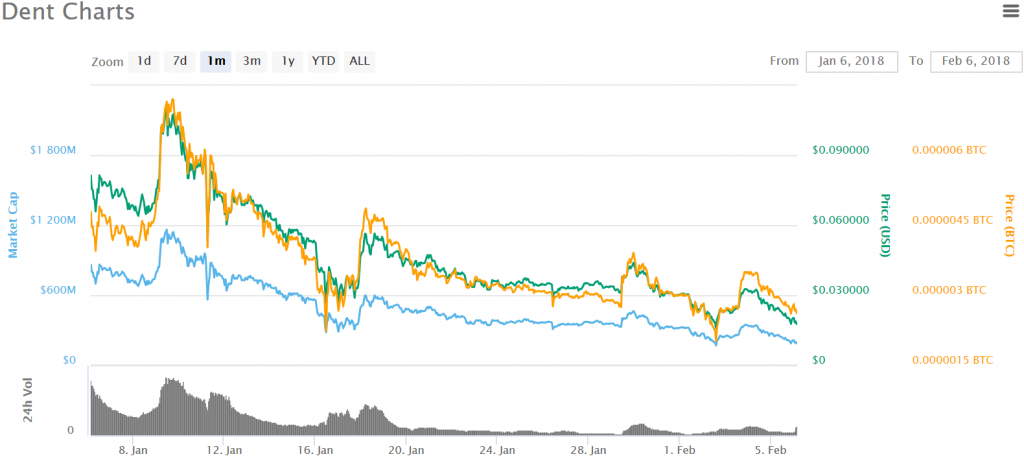 The value of the DENT token, as determined by exchanges, is used as the value of the DENT token in the Dent app. The higher the value of DENT, the fewer tokens users need to pay for their data. When the price of DENT is high, mobile data customers benefit from the increased purchasing power. When the price of DENT is low, investors and mobile data customers want to purchase DENT, increasing the price. This is the mechanism behind the value of DENT.
DENT can be transferred to the Dent app from exchanges and ERC-20 wallets, but not vice versa. This causes the value of DENT to be settled by exchanges first and in-app usage only second.
DENT reached the usual 4x-5x post-ICO pump in early January after the iOS app was released. The price has seen a steady decline since then, as early investors have sold their coins and the core product (mobile data trading) isn't yet very functional due to the limited amount of carriers available.
DENT is one of the cheapest altcoins out there, with a huge circulating volume of 70bn DENT and price well under 1$. This fact, combined with the solid product idea and an already released product is enough to make a strong and liquid market around DENT. The token is a prime candidate for traders playing the dips and spikes of the price. I don't think that DENT will crash to zero on its own this year.
As far as DENT price predictions go, it will ultimately depend on the success of the product and advertising. The Android app release is within weeks of the time of this post, which will probably cause a price spike due to the hype. I predict the price will peak just before the app release, and drop afterward unless the team combines the Android app release with new carriers.
News of carriers joining Dent can increase the price temporarily, but the real value of them is increasing the long-term viability of the product and enlarging the userbase. The first Asian carriers joining will be an important milestone for DENT and watching the price after the first Asian data packages become available will be a signal for the late-2018 price for DENT.
A successful Telegram advertising campaign can temporarily cause the price to bubble, especially if it is released during a time when no new carriers are in sight.
As for DENT's long-term value, it will completely depend on carrier availability and the team meeting the Q3 release for mobile data selling.
Dent Price Prediction 2018
Reaching around 0.04$ at least once before Q3 2018, after which it will either grow steadily upon a successful mobile data seller market or grow rapidly due to many carriers joining the system. 2019 prices will completely depend on carrier adoption.
Conclusion – Is DENT a Good Investment?
I suggest DENT as a short-term investment. Purchase DENT at under 0.02$ and sell it between 0.04$ and 0.05$ during the Android app launch hype. You should have a chance to buy more on during the lull between the Android app launch and carrier announcements. Watch out for rapid price changes due to many traders trading the coin. Stay calm.
After the carrier news start kicking in, you may raise your purchase level to 0.04$. If you feel that too few traders have joined Dent (no European carriers joining is a bad sign), a decent exit spot is in Q3 2018 just before the mobile data selling is enabled. True long positions will not be realized before 2019, but the price could well reach the 0.1$ to 0.2$ range if enough carriers join.
Myself, I will take the 2x profits from DENT by buying now and selling when the price hits 0.04$. I will restock a long position in the post-Android app launch dip and hold it at least until Q3 2018, possibly into 2019 if I deem the carrier support stable enough.
7-Day Make Money Online Email Course
Learn SIMPLE steps to make a LIFE-CHANGING INCOME online. I will help you hand-by-hand!
In the end, DENT is a quite safe short-term investment, and a medium-risk long-term investment (it's not high risk due to the predicted safe exit point before the seller market release). DENT is a great first token to buy due to its low price and good short-term prospects. If you are looking for a guide on cryptocurrency investment, check out Roope's Udemy course.
This is my first article on the site. Feel free to leave feedback in the comments section, or ponder one of these questions:
---
Do you think more carriers will join Dent?
Short-term or long-term?
How will opening the seller market affect the price of DENT?
What countries will benefit the most from Dent?
…Is DENT worth buying or not in the end?
(Disclaimer: The above references an opinion and is for information purposes only. It is not intended to be investment advice.)
[/fusion_text][/fusion_builder_column][/fusion_builder_row][/fusion_builder_container]