Is carVertical a Good Investment? What is carVertical all about? Should I put my money in it now or not?
If you are thinking about any of these questions, you have come to the right place! In this article, I am going to talk about carVertical and give you more insights on their project. This is not a financial advice by any means. I am going to show you the potential of this project but also talk about the risks.
---
carVertical Video Review + How Does carVertical Work
Have a look at my video review of carVertical below:
---
carVertical Review
Name: carVertical
Launched: 2018
Type: Cryptocurrency
Short Review: carVertical is building a car history register on the blockchain. If they succeed, that will have numerous benefits for the automotive industry. It will decrease fraud, help people who work with cars and give security for the buyers. I have invested in carVertical tokens and you can buy it also, for example, on Kucoin exchange.
That being said, I always want to remind that any kind of investing involves risk and you can also lose money. If you are looking for a proven way to make money online, I recommend having a look at this step-by-step training.
---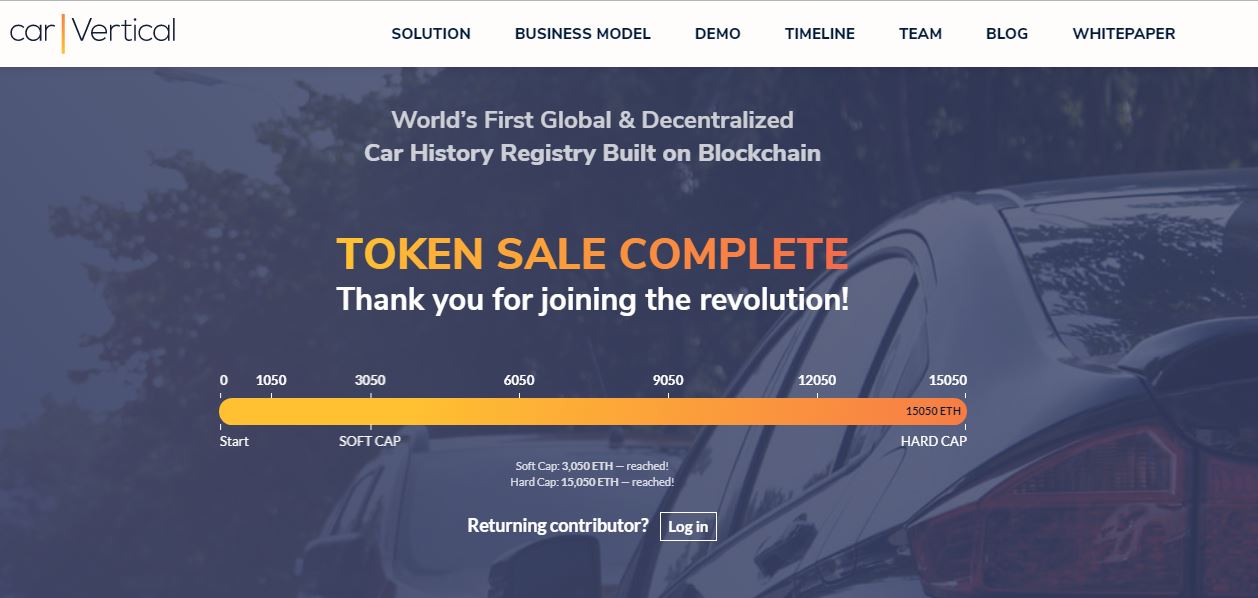 What Is carVertical?
carVertical is the world's first global car history register built on the blockchain. You probably know some basics about the blockchain if you have followed the cryptocurrency world and studied those technologies.
Basically, it's a ledger/database that can record tons of information. It has several benefits compared to many classical databases. For example, you can build a blockchain in a way that nobody can hack it. Bitcoin has been there for 9 years and nobody has been able to hack it. If somebody could, he would immediately be the richest man in the world. It's also impossible to fake the data on a blockchain after it's recorded.
The picture below illustrates the problems that the automotive industry is facing and how carVertical is going to solve them.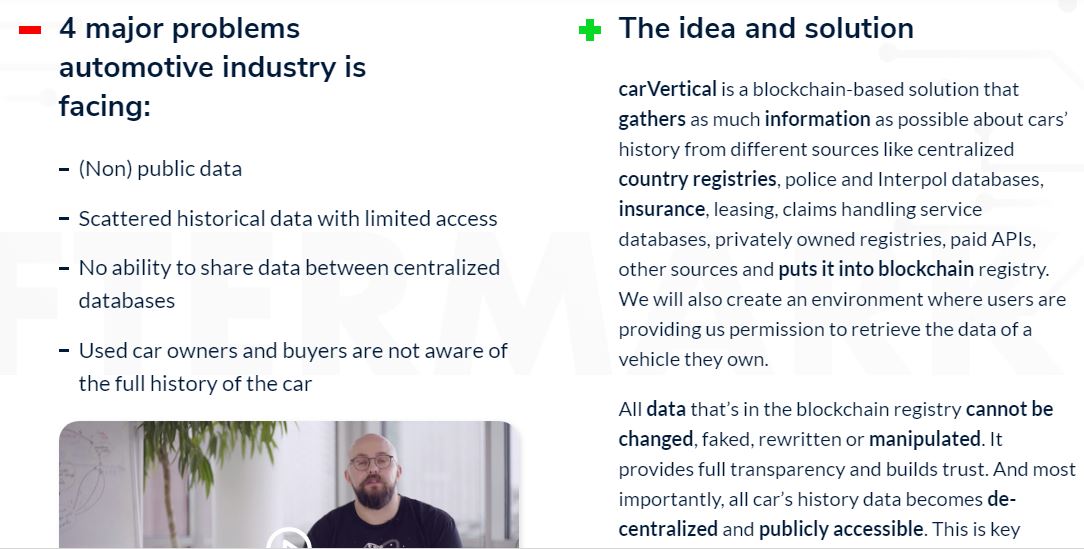 Benefits of carVertical with Real-Life Examples
Often it's hard to understand the things in theory so I would like to offer you a few real-life examples how carVertical can improve the automotive industry.
Example 1: Fake Odometer
Let's say that you go to buy a car. The odometer says that the car has driven 50,000 km. You look at the price and the quality. You think in your mind, "Wow, this car is cheap and it has only driven for 50,000 km. I must buy this!"
Then you go and buy the car. Later on, lots of problems appear with the car and you find out that the odometer was fake. In reality, the car had driven already +300,000 km. If the data about the car would have been recorded on a blockchain, it would have been almost impossible to fake.
If and when carVertical succeeds, it will be much harder to get scammed when you are buying cars.
Example 2: No Data at All
Let's say that you go to buy another car 2 years after the first situation. You hope you would have a better luck this time.  You get some data about the car but it's hard to confirm whether it's reliable or not. The seller tells you something but there isn't a way to confirm it.
Where has the car been before? Is the information that the seller says really reliable? Also, other questions pop into your mind because you remember your former experience with the fake odometer.
If all the information would be recorded on a blockchain, you could check out the information much more easily. The data wouldn't have been scattered here and there. That's the vision of carVertical.
Challenges of carVertical?
There are obviously many problems that carVertical wants to solve but as we know, this project is only at the beginning. They have a promising roadmap and it will be exciting to see how the project moves forward. There may be huge profits for those who bought their tokens early when their platform grows and evolves.
Do You Want a
FREE
& Easy-to-Follow
7-Day Course
to
Make Money Online
for Beginners?
Easy-to-Follow

Beginner-Friendly

My Personal 1-on-1 Support for You
Get Started for FREE Below Before this offer goes away!
That being said, I also want to discuss the challenges that are along the way when moving to their vision and goals.
1.Gathering Data
This is, of course, a challenge and one of the most important parts of the project. Will they get all the data? How effectively will they be able to gather it?
In my opinion, carVertical has a good and practical plan. During 2018 it's planning to work on 4 markets/countries in Europe. The team is from Lithuania so they naturally start from Europe. In 2019 their goal is to work 13 markets. Then 23 markets in 2020 and 48 markets in 2022.
They plan the exponential growth with the markets and I think it's completely possible. When they are successful with one country, it will be easier to replicate the process with the next one. Partners will be open for the cooperation and relationships with carVertical.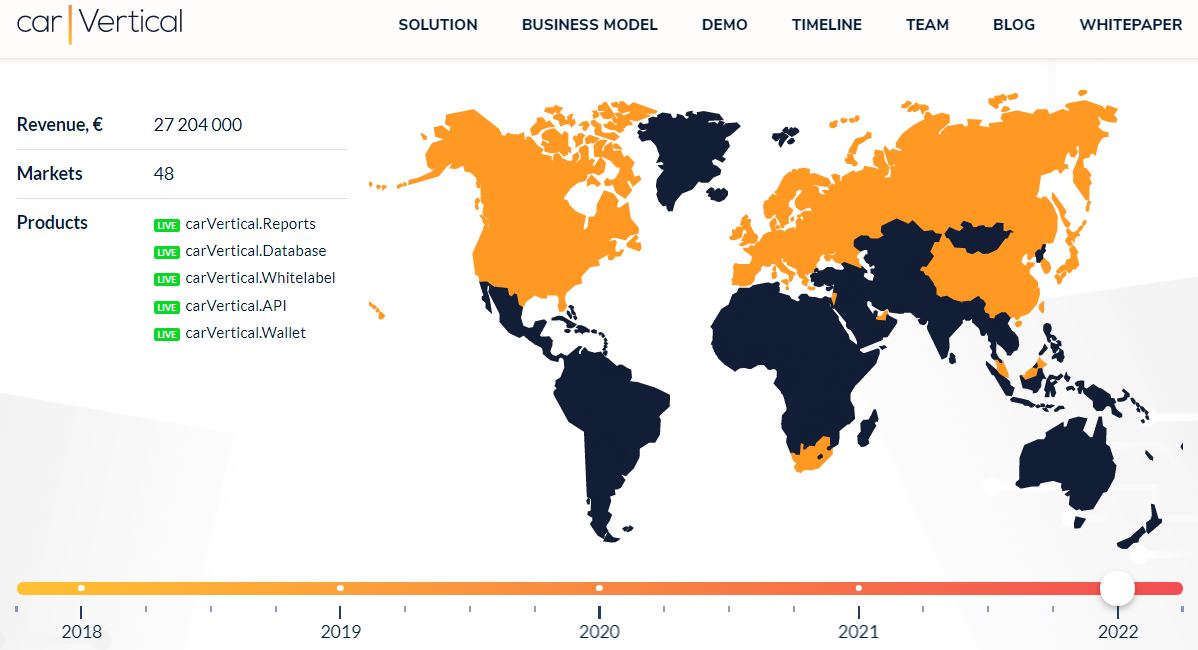 2.Changes with Ethereum
carVertical relies on Ethereum because it has been built on top of it. Therefore, carVertical heavily relies on Ethereum and if something dramatic happens with the Ethereum, it will also affect to carVertical.
Many tokens/cryptocurrencies are built on top of the Ethereum platform. It has some benefits but also threats if Ethereum changes a lot. That being said, I believe that Ethereum doesn't want to make dramatic changes because it would affect its value and relation to the projects that have been built on their platform.
Of course, there are also other challenges along the way but these were just examples. I wanted to point out that carVertical or any other cryptocurrency doesn't give guaranteed profits along the way.
People who think that they are going to make a guaranteed 10-100x profits, don't live in the reality. The risk is involved with any kind of investing.
However, I think that carVertical has the potential for 10-100x profits. I just want to point out it's not guaranteed and you need to remember there are risks as well.
Is carVertical Worth Buying?
At the moment when I am writing this article the price of one carVertical token is only around 7 cents ($0,07). Just a week ago the price was $0,24 which is 3,5 times more. Now the whole cryptocurrency market cap has been going down and pretty much all cryptocurrencies are cheaper than a few weeks ago.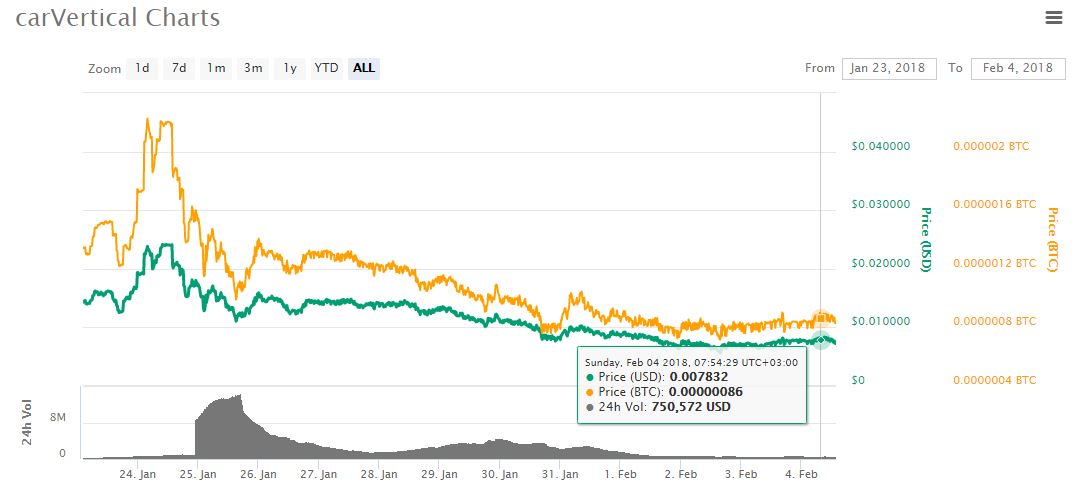 In my personal opinion, carVertical tokens for just $0,07 is a bargain. I continued writing this article during the next day and it's now even cheaper because all cryptocurrencies have been going down (because of the news in Asia).
I believe that those who buy carVertical (CV) tokens now can make huge profits over the time course. The whole market cap with CV tokens is less than $26 million. If they succeed in their goal to build a global and a decentralized car history registry on the blockchain, the market cap can make 100x rise. Of course, it will take time because this is a long-term project but it's certainly possible.
Conclusion – Is carVertical a Good Investment?
I have invested in carVertical tokens myself. Therefore, you can predict what is my answer to the question above. I think it's a highly interesting project and they are building something very valuable. If they will succeed, it can revolutionize the automotive industry. It gives more security to buyers, more information to sellers and decreases frauds.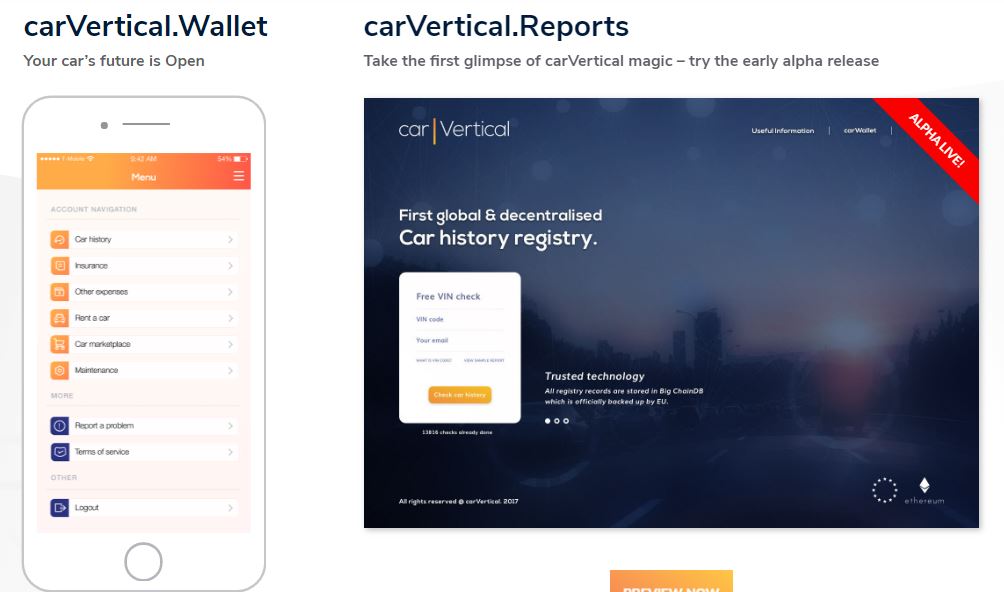 I haven't even talked about the team which has ~15 members, 12 advisors, and 12 ambassadors. In addition, they have several partners from the automotive industry which will certainly help them to achieve their goals. With such a large team they have a great potential. We are not talking about a one-man-show or something similar. I have followed their CEO for a while and he has a very clear communication and knows what he's talking about.
The carVertical community is also large which definitely will affect the price in the future. Actually, there was a huge hype around carVertical before their ICO and the price jumped right away. Afterwards, it has gone for a while because of the whole cryptocurrency downslide. When the markets again gain the confidence, we'll see the rise again and I believe that carVertical will be among the ones that make good profits. Of course, I would love to hear your thoughts about this.
---
What do you think about carVertical?
Is it worth buying or not?
How Much will the value be in the future?
Let's discuss in the comments below! 🙂
(Disclaimer: This article is not a financial advice. It only represents my personal opinions and thoughts on carVertical.)