Have you ever thought about building your own online store? It has never been easier than today in 2017. There are many tools to build an e-commerce and Shopify is one of the biggest and most popular ways to do it. Today you will learn what is Shopify and how does it work. Fasten your seatbelts and let's go.
---

Name: Shopify
Website:www.shopify.com
Founded in:2004
Field: E-Commerce
Overall Ranking: 90 out of 100 (Check Out My #1 Recommendation, 98 out of 100)
---
What Is Shopify All About?
Shopify is a website which offers complete e-commerce solution, including everything you need to set up and start selling your products online. Shopify clearly states on its website that it is presently powering over 377,500 online shops and has helped businesses process over $29 billion worth of sales.
It basically provides you with the tools to create and personalize your online retail website experience. You can customize the look of your store, organize your products, accept payments via online and credit cards, track and respond to orders in just a few clicks within Shopify's interface.
For you to start using Shopify, you will have to sign up and after then can will you be taken by hand through the whole process. The process of using is quite simple and easy to understand, so it can be used by beginners who have never gotten their feet wet in the e-commerce industry. With Shopify, you do not need to have design skills nor hire a professional because it offers you more than 100 top-notch and optimized online store design templates to choose from. This can help you save a lot of time, and allows you to focus on other vital aspects of your business.
It is important to know that you can sell virtually anything on Shopify including food & beverages, art & photography, clothing & jewelry, electronics, and much more. Shopify creates expansion as your business grows, regardless of the number of products, and the volume of sales you make.
Remember, that if you want to build a successful e-commerce store, you need to learn how to drive traffic to your website.
Who Is Shopify For?
Shopify is ideal for e-commerce beginners; a person who wants to launch an online retail store, or already have a physical store but wants to continue to expand his/her business online. Furthermore, he/she wants to get the best e-commerce solution while at the same time trying to minimize cost as much as possible. Since Shopify is quite affordable, it has been an attractive choice for small businesses that are just starting out and are cost-conscious.
Nowadays you can build a website in 30 seconds. Creating an e-commerce takes a bit more but it's not hard at is has been before. Anybody can learn it with easy video tutorials.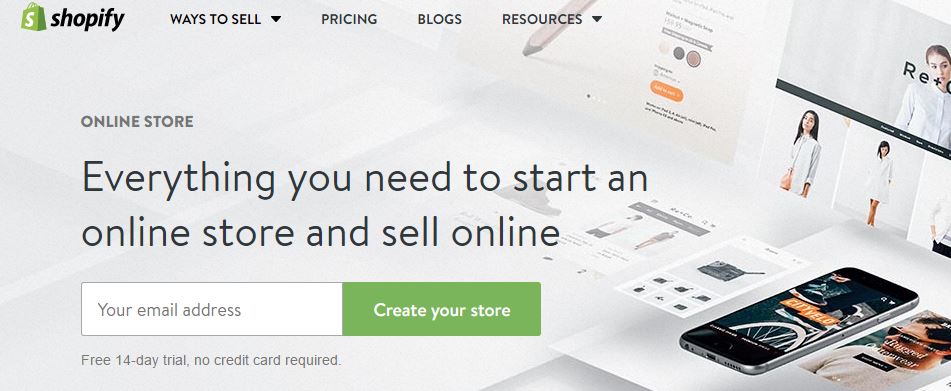 Shopify pricing
Below is a list of five Shopify plans to choose from:
Shopify Lite' – $9 per month
Basic Shopify' – $29 per month
Advanced Shopify' – $299 per month
Shopify Plus' – fees are negotiable
Certainly, it has proved to be one of the cheaper ways to selling products online. You can subscribe to a starter plan "Shopify Lite", selling for $9 per month which allows you to sell an unlimited number of products.
However, it is important to understand that you cannot build an e-commerce store with this plan because it does not completely allow you to create a fully-functional online store but rather just lets you; sell via your Facebook page, use Shopify physical location to sell products, and grants you access to Shopify's Buy button (the Buy Button allows you to sell products on a blog or already existing website). This plan seems great for those that have an existing website but need to add e-commerce functions such as "buy buttons".
However, I find it quite fascinating that Shopify offers a 14-day free trial to their potential users. This is enough time to test the platform on your own, to know if the platform suits or does not suit your needs, before making commitments. I think I am permitted to say that investing in something like Shopify will definitely make your life easier and enable you to focus more on other aspects of your business and life, regardless of its charges as listed above.
 What Are The Benefits of Shopify?
It is affordable– To keep operational cost minimal and operating maximally is the number one rule for any startups. Shopify, when compare to other shopping platforms, gives your money a better value for your money. Even for a relatively low monthly cost, you get whatever you need to power a top-notch and reliable an online retail website.
Easy to use– Numerous online retail websites promote themselves as 'easy-to-use', but actually just a few are including Shopify can be recommended. You do not to invest hours in learning or need to be an expert to handle its e-commerce platform. With Shopify, you can easily launch an online retail store within few minutes.
All essential marketing tools are available– The basic package on Shopify includes SEO features and advanced e-Commerce analytics that tells you how your customers are finding you online. In addition, Shopify provides numerous vital marketing tools, such as discount codes, social network integration, custom gift cards, targeted email marketing, coupon engine and store statistics.
Offers an already online working structure– Shopify provides you with everything you need such as; website hosting, software maintenance, numerous optimized ready-made design templates for mobile phones, tablets as well as desktops. Your product catalog is handled through an easy-going module within Shopify, likewise online payments gateways, and you can also conveniently sell your products directly on Facebook. All of the above add up to an effective e-commerce solution that does not require any technical skills; something that I find a necessity for an online retail store just getting off the ground.
Shopify Support
Shopify has a very impressive support team. You can contact their support team 24/7 and you will get the response on average in less than a minute. There are 3 ways to get help.
1.Chat Support. Average wait time: 3 minutes.
2.Email Support.Average wait time: Much less than 24 hours.
3.Telephone Support. Average wait time: Less than a minute.

When you are building your first e-commerce site, you will most likely need some support. That's why it's important that they are providing fast and comprehensive support on Shopify.
Pros & Cons
Pros:
The platform is powerful and user-friendly.
It offers a good range of free, responsive and top-notch templates.
The point-of-sale options are excellent and help Shopify stand apart from its competitors.
You can integrate Shopify onto an existing website with ease.
The chances that this platform will disappear anytime soon are close to zero, with claims of numerous successful online retails stores and sales.
24/7 Support that answers your questions in a few minutes
14-Day Risk-Free Trial
Cons:
Do You Want a
FREE
& Easy-to-Follow
7-Day Course
to
Make Money Online
for Beginners?
Easy-to-Follow

Beginner-Friendly

My Personal 1-on-1 Support for You
Get Started for FREE Below Before this offer goes away!
The "Shopify Lite", which is the cheapest plan does not permit you to create a fully-featured online store.
Moving your Shopify store to another e-commerce website is not a smooth journey.
Conclusion – Is Shopify Worth It?
I have to say that Shopify is an impressive e-commerce solution. You should understand that for you to have a successful online store, you need to have a flexible and effective online platform that suits your business requirements, and yes.
Shopify happens to fit in this category. It is not just an online store, but can also be used for content marketing via a blog. Also, with Shopify, you do not have to be scared of moving to another platform and starting all over from the scratch.
In my opinion, if you are looking for an e-commerce solution for an online retail store, you might want to take a look at Shopify.
Have you tried Shopify? What did you like? 
Let me know in the comments below! 🙂