Are you looking for an article that explains you the Wealthy Affiliate compensation plan? Are you interested in making money with Wealthy Affiliate? Then you have come to the right place!
I have been a member of member of the Wealthy Affiliate community already since 2015.
How Does Wealthy Affiliate Compensation Plan Work? – My Video Explanation
Some time ago I created a YouTube video where I explain the Wealthy Affiliate compensation plan in detail. I believe you will find it helpful so I wanted to offer you a chance to watch it here.
Did you enjoy the video? Would you like to earn money also with Wealthy Affiliate? Get started today for free!
Wealthy Affiliate Referral Program Explained – 
Members of Wealthy Affiliate can earn money by inviting other people to WA. It's a typical referral/affiliate program where you earn money by recommending a product.
Wealthy Affiliate is not a multi-level/network marketing system because your purpose is not to build downlines. You don't build a "team" or anything similar. You simply recommend Wealthy Affiliate to people who might find it valuable.
It works in a same way like any other affiliate program: You earn commissions for each sale. However, WA referral program has a few benefits compared to many other affiliate programs.
One of the best things about Wealthy Affiliate referral program is that you will earn recurring income. It means that you'll earn monthly or a yearly commission from all of your premium referrals. It also means that the earnings will add up pretty quickly.
10 yearly referrals make you already $1,750 commissions. 100 yearly referrals make you $17,500 in commissions. And you'll earn that income as long as those referrals stay as members whether you would be working or not. In the other words, you'll be earning lots of passive income.
How Does Wealthy Affiliate Pay You? – Numbers
As a premium member you earn in the following way:
$1 for every referral that fills out their Wealthy Affiliate profile (Adds a profile picture and a description)
Domain name purchases $1 each (recurring yearly)
First month membership $19 => $8 commission
Monthly membership $49 => $23,50 commission recurring monthly
Yearly membership $359 => $175 commission recurring yearly
If you have a free membership on Wealthy Affiliate, you earn half of those amounts as an affiliate. Therefore, I certainly recommend to premium. In addition, if you recommend or promote Wealthy Affiliate to others, it feels natural that you are also using it yourself.
To clarify the numbers let me also show you the following picture: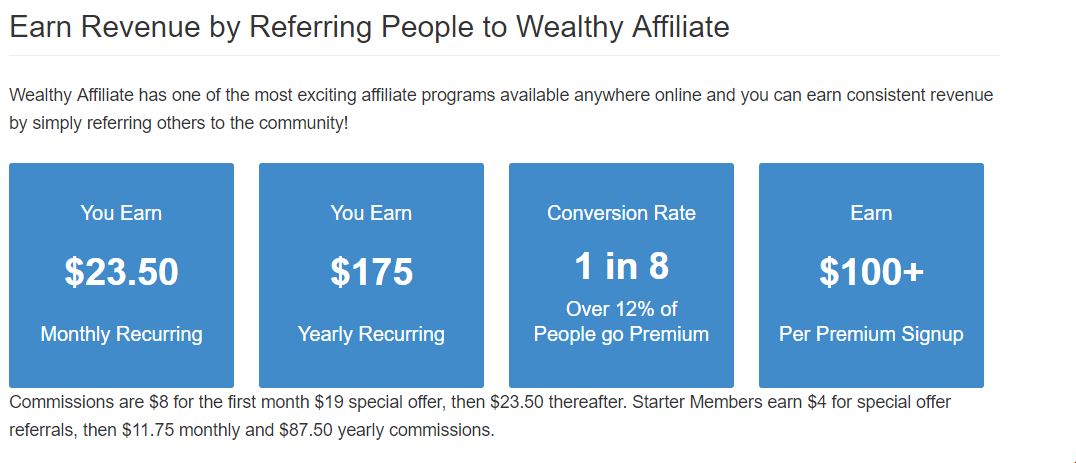 Commissions don't sound much at first but I have noticed that they can add up quite quickly. Let me just show you two examples from two of my friends who have been promoting Wealthy Affiliate already for a few years: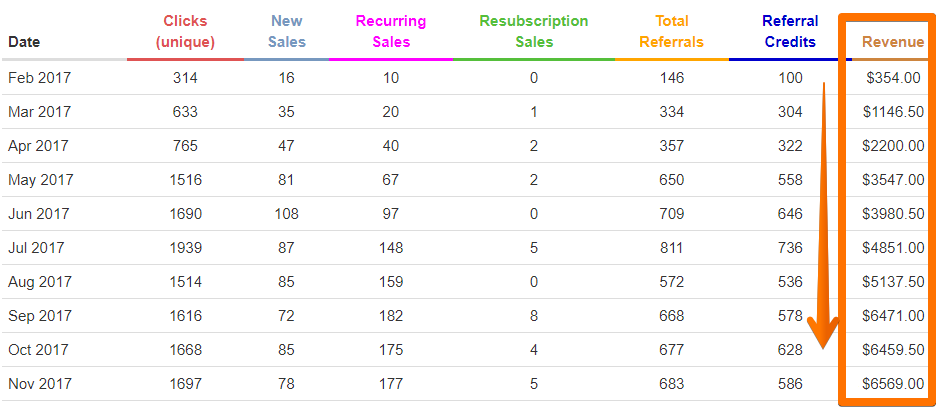 Vitaly (one of my mentors) earned about $60,000 in a year just by promoting WA. He made $11,234.50 in November 2017 alone.You can read more about Kyle and Vitaly on my Wealthy Affiliate roundup post where I interviewed 17 members related to the question, "Is Wealthy Affiliate worth it?" They also shared tips for beginners who are interested in earning money online.
That kind of earnings are possible for anyone. If you have the Internet connection and willingness to work hard, you can earn even much more than Vitaly.
Of course, I want to remind that such earnigns like $11,234 in a month require tons of hard work. Vitaly has worked for years to achieve such results. That being said, it's certainly possible for you as well.
Wealthy Affiliate Income Examples
On the Wealthy Affiliate, you can access a simple calculator that will show you the earnings with their affiliate program. I showed how it works in my video above but if you didn't watch it fully, let me show a few examples here.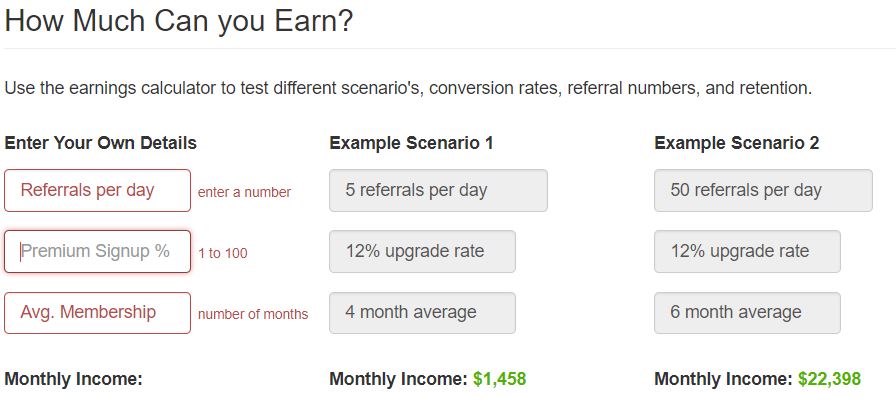 Your earnings will depend on 3 factors:
The number of referrals per day.
Upgrade rate from free membership to premium.
Average membership.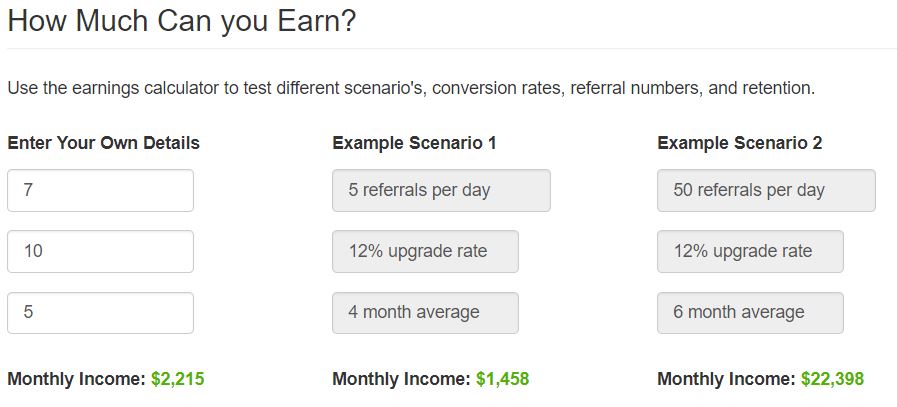 In the example above, I have put that you make 7 referrals per day. 10% (1 out of 10) becomes a premium member and they stay 5 months on average as a premium.
Do You Want a
FREE
& Easy-to-Follow
7-Day Course
to
Make Money Online
for Beginners?
Easy-to-Follow

Beginner-Friendly

My Personal 1-on-1 Support for You
Get Started for FREE Below Before this offer goes away!
Wealthy Affiliate Payment Methods
Wealthy Affiliate pays you easily via PayPal. You get the payment at the beginning of each month, usually in the first or the second day of the month. Let me show you an example from my own email: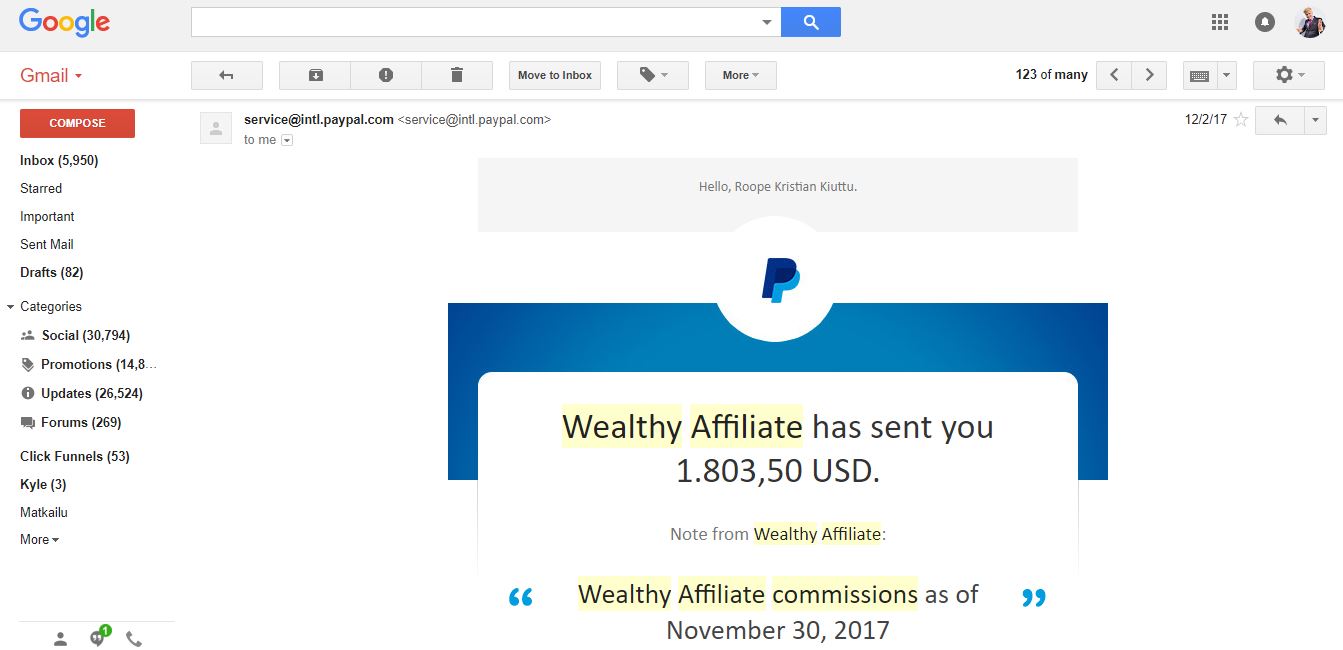 Most of the affiliate programs that I use also make their payments through PayPal. In my opinion, it's the most practical way.
Wealthy Affiliate: Affiliate Bootcamp Step-By-Step Training
As you may already know, Wealthy Affiliate has step-by-step trainings on how you can make money online. They have 2 main courses that are called Affiliate Bootcamp and Online Entrepreneur certification (Read more details on my comprehensive WA review here).
In the Affiliate Bootcamp training you will learn how you can make a full-time income just by promoting Wealthy Affiliate. There are 7 levels in the Affiliate Bootcamp:
Phase 1: Getting Your Business Rolling
Phase 2: Content, Keywords and Conversions
Phase 3: Giving Your Site Social Value
Phase 4: Get visual. Get aesthetic. Get a brand through media
Phase 5: Knowing Your Audiences & Catapulting Your Income
Phase 6: Bing, Yahoo & The Power of PPC
Phase 7: How to Scale Successful PPC Campaigns
+ Each phase consists of 10 comprehensive lessons.
In the other words, Wealthy Affiliate Bootcamp is a very comprehensive online business training. You will learn the skills that you can use for promoting any other product online as well.
At the end of each lesson, you have tasks that you can finish yourself before moving forward. In my opinion, that's the best kind of studying because you will learn and do at the same time.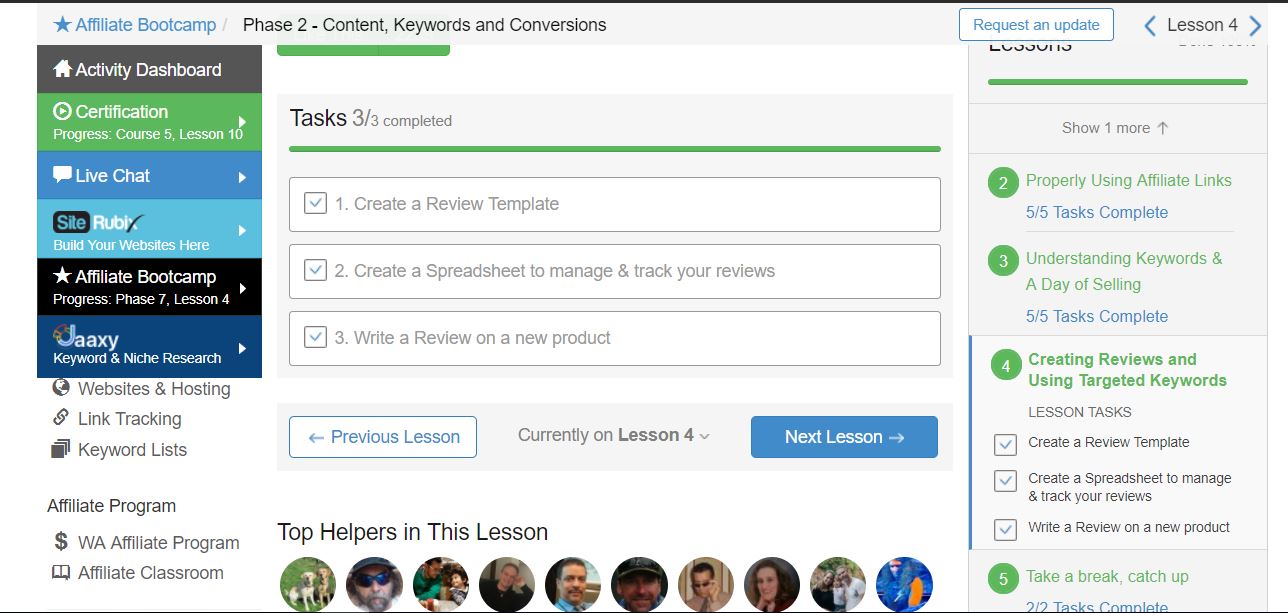 After each lesson, there is also a comment section where you can ask help from Kyle (the founder of Wealthy Affiliate) and other WA members. Of course, you can always send me a personal message as well and I'll be happy to help you out.
Conclusion – Is Wealthy Affiliate Worth It?
Based on my own and other people's experiences Wealthy Affiliate is certainly worth it. You can make a full-time income by promoting Wealthy Affiliate but, of course, there are numerous WA members who make money by doing something else.
Wealthy Affiliate membership is so cheap that it's worth having even though you wouldn't even be their affiliate. They provide wonderful training, resources, keyword tool, networking with successful online entrepreneurs and many more things that will help you to succeed online.
I provide 1-on-1 support for anyone who joins Wealthy Affiliate through my website. I answer to your questions and provide help hand-by-hand so you can become successful online as well. Click the picture below to get started: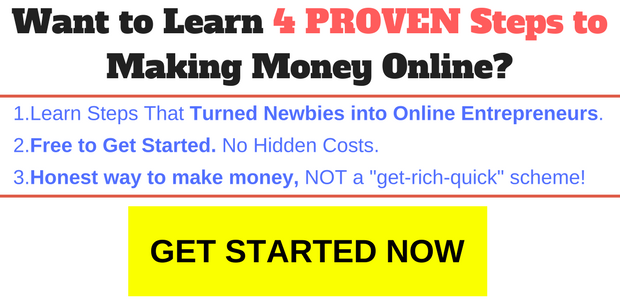 ---
Are you already a member of Wealthy Affiliate?
Would you like to earn money with affiliate marketing? 
Let's discuss in the comments below! 🙂
If you have any questions, just leave a comment below and I will be more than happy to help you out.