If you are looking for a comprehensive LanceChain ICO review, you have come to the right place.
In this article, I am going to explain you the most important facts about the LanceChain project. This is not a sponsored review and I have just gathered the information because of my own interest towards the project.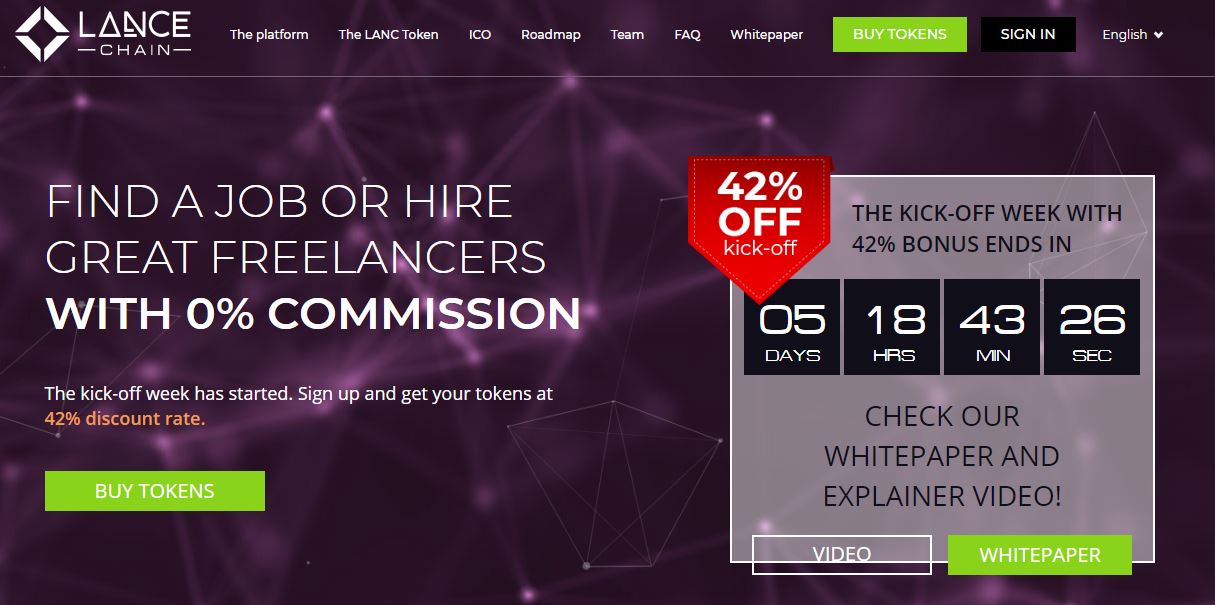 LanceChain ICO Review
---
Name: LanceChain (LANC)
Website: www.LanceChain.com
Launched: 2018
Type: Cryptocurrency Token. Freelance Work Platform.
Short Review: LanceChain is a freelance platform with 0% commissions. It takes advantage of the blockchain and the smart contract technology. Token holders will be able to use tokens on the platform (or sell them further with profits). I have participated in the LanceChain ICO for several reasons that I will explain in this review.
---
Is LanceChain a Good Investment? – My Video Review!
Before you go through my detailed and a comprehensive LanceChain ICO review, I want to give you an opportunity to take a look at my LanceChain video review on my YouTube channel.
What Is LanceChain?
LanceChain is building a freelance platform for project owners and freelancers with a 0% commission fee. This is one of the first blockchain-powered freelance platforms in the human history. If/when the project succeeds, the early investors will make huge profits here.
In this article, I am going through 7 points about this ICO:
LancheChain Industry/Market
The Idea of LanceChain
LanceChain ICO Details And Bonuses
LanceChain (LANC) Token Allocation
Team Analysis
Community
Product

LanceChain project explained in their own words in this picture.
1.LanceChain Enters a Fast-Growing Market
If you have been following the freelance market recently, you have probably noticed it has been growing extremely fast. Services like Fiverr, HireWriters, Upwork and hundreds of other services have been growing their popularity year by year. More and more people are working remotely as freelancers.
The "digital nomad" movement has also been rising partly because of the rise of the freelancing and remote working. Thousands of people are traveling all over the world because they are able to make their living online. Project owners love to hire freelancers online for several reasons:
No need to arrange an office for a freelancer.
It's easy to access talents from all different fields.
You can also hire freelancers from other countries (and take advantage of salary differences by hiring freelancers from cheaper countries).
I am always looking for growing industries to invest because it doesn't really make sense to go for the ones that would be slowly dying. Therefore, LanceChain is great because freelancing is becoming all the time more and more popular.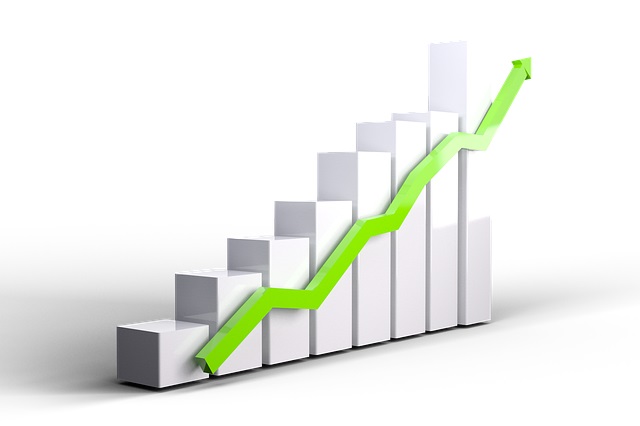 Here are some statistics of the freelancer industry (taken from the LanceChain whitepaper):
Annual "Freelancer in America" has predicted that by 2027 the majority of the US workforce will be freelancers.
~50% of the millennials are already freelancing today!
In 2017 in the US the freelance market was worth more than $1,4 trillion. The growth from 2016 was whopping 40%!
The total number of remote workers and freelancers is growing every minute.
2.LanceChain Takes 0% Commissions
Currently one of the biggest freelance providers are Upwork and Fiverr. However, both of them charge big fees for being a middleman between a project owner and a freelancer.
Upwork takes 20% commissions. which is a pretty big amount in the long run. Take a look at the following example that LanceChain explains on their website.

Let me also show you the illustration of how the LanceChain platform will work: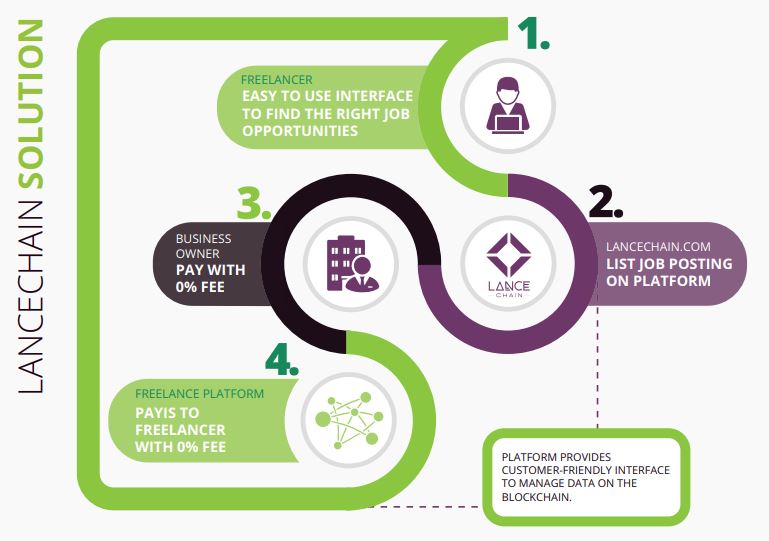 3.LanceChain ICO Provides Bonuses for Early Investors
If you have invested in other ICOs, you probably know that companies tend to provide bonuses and more tokens for early investors. This is wonderful for early investors because they earn "free money" and it's also good for a company because they can show that many people have already contributed.
In the other words, it's a win-win situation.
Do You Want a
FREE
& Easy-to-Follow
7-Day Course
to
Make Money Online
for Beginners?
Easy-to-Follow

Beginner-Friendly

My Personal 1-on-1 Support for You
Get Started for FREE Below Before this offer goes away!
The following picture explains the bonuses that LanceChain ICO provides for early investors:

Those who invest during the kick-off week get a 42% bonus, in the pre-sale you can get a 36% bonus and during the first ICO round 18% bonus. In the Round 2 of ICO, there isn't a bonus anymore.
Let's say, for example, that you invest in LanceChain ICO during the round 1 and you get an 18% bonus. You invest for $1,000 and get $1,180 worth tokens. Then after a while, LanceChain hits exchanges with the same price that they were selling at the ICOs and you immediately have an 18% profit.
Normally earning 18% profit takes 2 years in the stock market on average. That explains how great ICO bonuses can be. ICOs don't only provide great bonuses for early investors but can also provide huge capital gains. There are several cryptocurrencies that have made even 1,000x gains since their ICO.
Even though I don't believe that the LanceChain would immediately make 1,000x gains, I believe it'll still rise significantly from the initial price if the team just keeps on working diligently.
4.LanceChain Token Allocation
The following chart will explain the LanceChain token allocation.

As you can see in the cart, 40% of the collected funds (the biggest part) goes to the software development. 50% of the tokens are sold during the ICO for the public.
Only 10% is distributed to the founders, team members, and early contributors. In addition, they don't get the tokens immediately. The team will get the tokens with a two years schedule. This means that the team is highly incentivized to raise the value of the LANC token.
5.LanceChain Team 
Based on the LanceChain website, their team consists of 13 people who have a strong experience in the freelancing industry and a vast technical knowledge.

Most of the team members seem to be from Bulgaria. Based on my knowledge the freelancing industry is booming in Bulgaria and in the other countries of Eastern Europe (Ukraine, Romania, etc.).
Therefore, the location of this team is great when we are talking about the freelance industry.
13 persons in a team is already a good number and I believe it will keep on growing when the project moves forward.
6.LanceChain Community Is Growing Fast
LanceChain has already created a big community around the project. They have mostly put effort on building the Facebook page where they have at the moment around 28k followers when I'm writing this review.
The company also regularly updates the information for their email list, Telegram channel, and Twitter page. I have joined their Telegram discussion that has at the moment, 2,430 members. As you can see in the picture below, many new members are coming to the group.
When I joined a group a few days ago, there were only ~2k members and now it has grown almost 20% within a very short period of time. The awareness of LanceChain is clearly growing.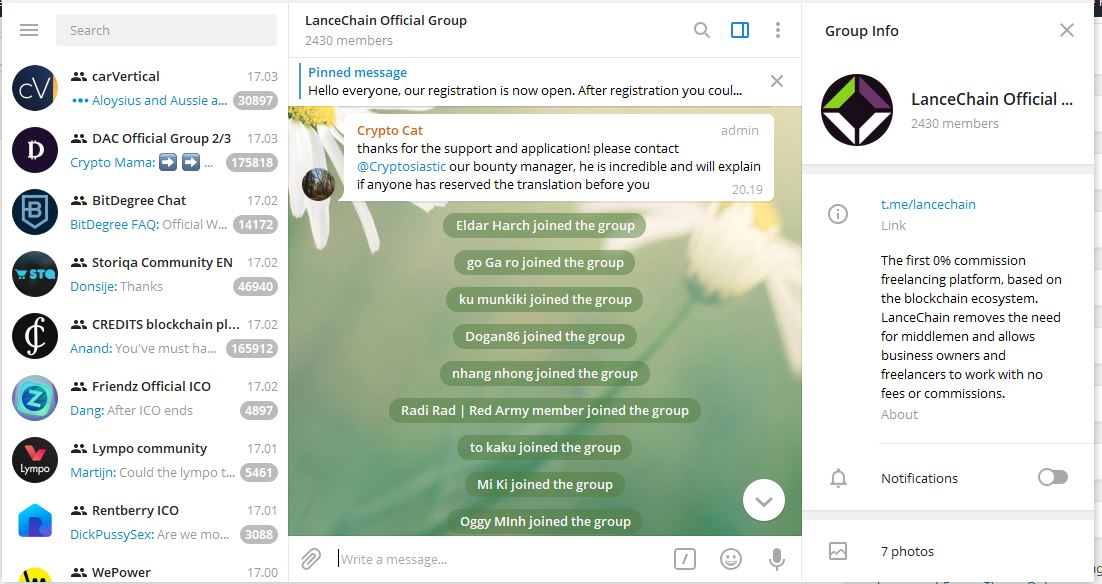 7.LanceChain Platform Will Be Launched in Q4
Even though LanceChain provides a great idea and their quality of work has been great so far, they haven't built a platform yet. In the picture below, you can have a look at their roadmap: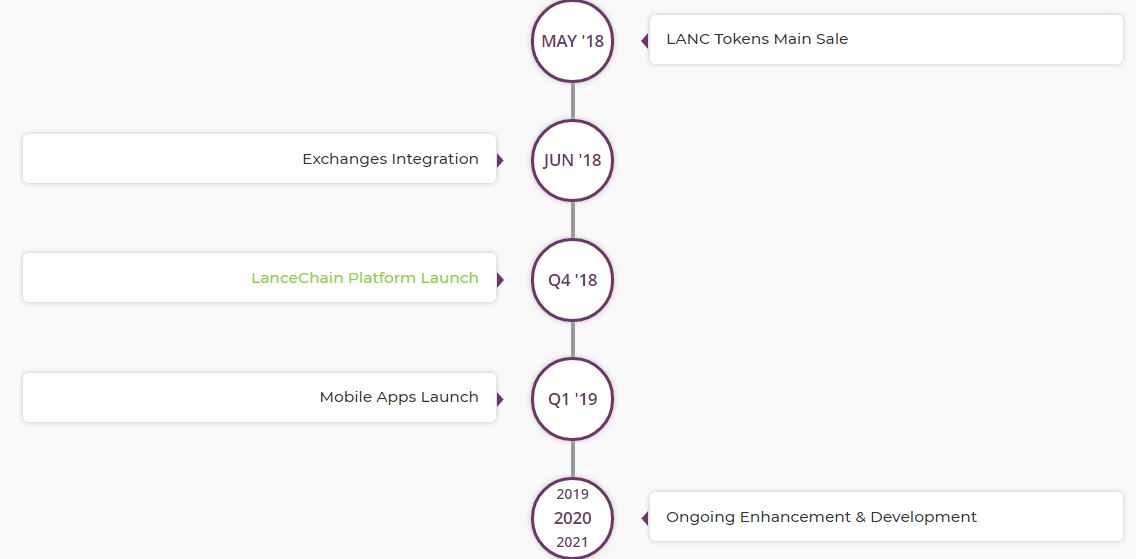 LanceChain ICO is held in March 2018. The token is planned to list on exchanges in June. The LanceChain platform will happen within the fourth quarter of 2018.
The mobile app will be launched at the beginning of 2019. After that, 8the development will continue even further.
Q4 2018 will be certainly interesting for LanceChain token holders because the platform is launched. Usually, cryptocurrencies experience significant price changes when the product is finally launched.
Conclusion – Is LanceChain a Good Investment?
I have invested in the LanceChain ICO because I believe it will provide good profits for early investors. I also received the bonus because I was investing early which is another great thing.
I have worked as a freelancer and I have hired freelancers. The industry is booming fast and I see that there is a great need for services like LanceChain. Their interesting model of 0% commission fees with a subscription-based membership feels great.
There is a great and growing need for platforms like LanceChain.
Personally, I have invested some money in the LanceChain ICO and I will follow this project with a great excitement. I believe it has a great possibility to provide big returns for early investors. In addition, I am always hiring freelancers so I would like to try their platform when it'll be launched.
7-Day Make Money Online Email Course
Learn SIMPLE steps to make a LIFE-CHANGING INCOME online. I will help you hand-by-hand!
That being said, I always want to remind that investing in cryptocurrencies involves risks and you can also lose money. If you prefer guaranteed ways to make money online, I recommend taking a look at my #1 recommendation.
---
What do you think about LanceChain?
Is it worth buying or not?
How Much will the value be in the future?
Let's discuss in the comments below! 🙂
(Disclaimer: The above references an opinion and is for information purposes only.  It is not intended to be investment advice.)