Is USANA a Pyramid Scheme? - Updated USANA Business Review 2019
If you are looking for an honest and unbiased USANA business review, you have come to the right place!
I have just published an updated USANA business video review that I highly recommend watching below.
Keep in mind that I am not affiliated with USANA so you don't need to be afraid that I'd be promoting or trying to sell you their system in any way.
Watch the video until the end because I show you the BEST 4-step formula how you can make money online with USANA or any other company that you want to promote.
I have helped 1,000's of people to get started making money online and I'd be happy to help you as well.
If you have any questions, don't hesitate to ask me anything below the video or below this article and I'll reply to you personally.
More...
---
Have you heard that more than more than 100 million U.S. citizens suffer from obesity and more than $60 billion is spent every year on diet & nutrition products? Those are huge numbers!
That's where Usana comes into the picture. They want to provide you a better life physically and financially. Usana claims that they do everything better. However, there has been controversy around this company and some people are asking, "Is Usana a Pyramid Scheme?"
Their marketing videos are very convincing and it's easy to get hooked by their impressive testimonials or huge events. But before rushing into their business opportunity I advise you to spend the next 1-3 minutes with me and think about Usana a bit more closely.
I am not affiliated with Usana in any way so I am not going to advertise their program for you in order to earn money. You can make a decision yourself after getting all the information regarding their system. Let's have a look!
Usana Review
---
Name: Usana
Founded: 1992 by Dr. Myron Wentz
Type: Multi-Level Marketing. Nutritional supplements.
Short Review: Usana is an interesting company. Their marketing videos and testimonials are extremely convincing when they promise to improve your quality of life. However, the reality is that only 1% of their members are making a full-time income with Usana while average earnings are only $676 per year.
Usana products seem to have a high-quality but in my opinion, they are still clearly overpriced if we compare to their competitors.
As a better way to earn money from home I would recommend this program that I am using myself. Fortunately, it's not using a MLM-model. It's a training and a community that teaches you every step you need to take to make a full-time income from home. I bet you'll like it.
---

What Is Usana?
Usana Health Sciences is a multi-level marketing company that sells various health & wellness products to improve the quality of your life. At the moment they operate in 20 countries and they have more than 400,000 associates (sellers) in their company.
The popularity of Usana goes up every August when they organize a huge convention in Salt Lake City. You can see the rise and fall every year that happens in their popularity according to Google Trends: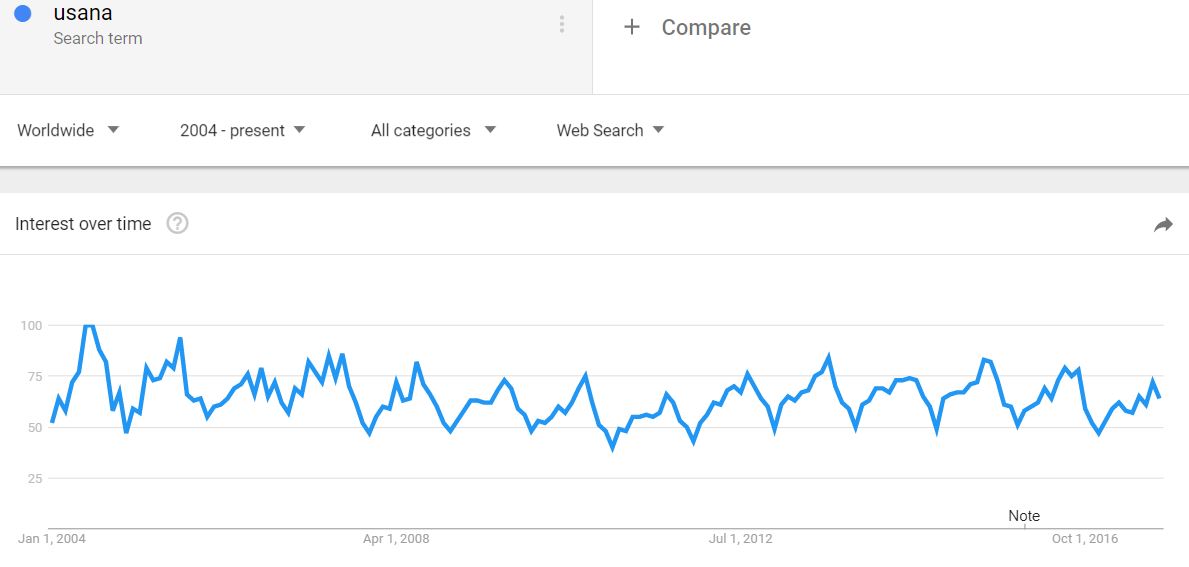 Do You Want a
FREE
& Easy-to-Follow
7-Day Course
to
Make Money Online
for Beginners?
Easy-to-Follow

Beginner-Friendly

My Personal 1-on-1 Support for You
Get Started for FREE Below Before this offer goes away!
Anyhow, we can't deny the fact that Usana is a huge international company with more than $1 billion annual revenue. They have been around already for 25 years which is also a significant mark of success.
But as you already probably know, several MLM-companies have similar experience and are even bigger than Usana but aren't still worth joining. That's why we need to have a closer look.
There are hundreds of MLM-systems competing in the health & wellness niche.
Usana Products – 150 Different Items
Usana has a long list of different products and I don't list all of them here but I'll give you a quick idea what kind of products they have. Their products can be divided into following categories:
Nutritional
Food & Energy
Personal Care
Then inside those titles, they have different sub-categories like proteins, supplements, capsules, skincare, hair & body care and so on.
I believe you are getting the idea of what they are selling. Any kind of product that is supposed to improve your physical well-being. And the physical well-being helps also your mental health.

I am always interested in the pricing of MLM-products because in my experience they always cost 2-10 times more than their competitors in a supermarket. The situation seems to be pretty similar with Usana as well. Let me give you an example of their meal replacement product.
It weighs only 1 lb but the price is $34 on their online store. You can find similar products for a half price on Amazon or at your local supermarket. One interesting fact is, however, that Usana is selling the same meal replacement for $6 cheaper on Amazon.

There was also the same phenomenon with other Usana products. You'll get them for a cheaper price on Amazon. I don't know why anyone would buy them from their own store if they would know it's possible to get them cheaper from other places.
How to Make Money with Usana?
In order to get started in the system, you need to pay a $29.95 startup fee and a yearly $20 renewal. That doesn't sound like a lot but they have also 3 different packages for starting a Usana business.
Basic Business Pack – $305.00
Entrepreneur Pack – $624.95
Professional Pack – $1,250.00
These packages allow you a spot in the Usana system and you can make a good profit by selling their products. We'll take a look at the income potential in the moment but I would like to tell you about their 5-customer rule.
Every 4 week you are required to have at least 5 different customers in order to earn commissions for product sales. If you don't manage to acquire 5 customers during a 4-week period, you won't earn anything from your sales. Correct me if I'm wrong but this is how I understood the system.
Usana Compensation Plan and Business Opportunity
Usana has put lots of money, time and efforts for building their impressive marketing videos. They are almost so convincing that I start thinking about joining. But then I come to my senses and remember it's good to have a focus and not to run behind every shiny object.
Have a look what they are telling you about Usana compensation plan. The video is very promotional and tries to sell you the system so be careful. I'll explain you the real earnings of Usana associates after a while.
I am happy that many MLM-companies publish their income disclosure statements. That allows us to see how much their members are earnings. Let's have a look!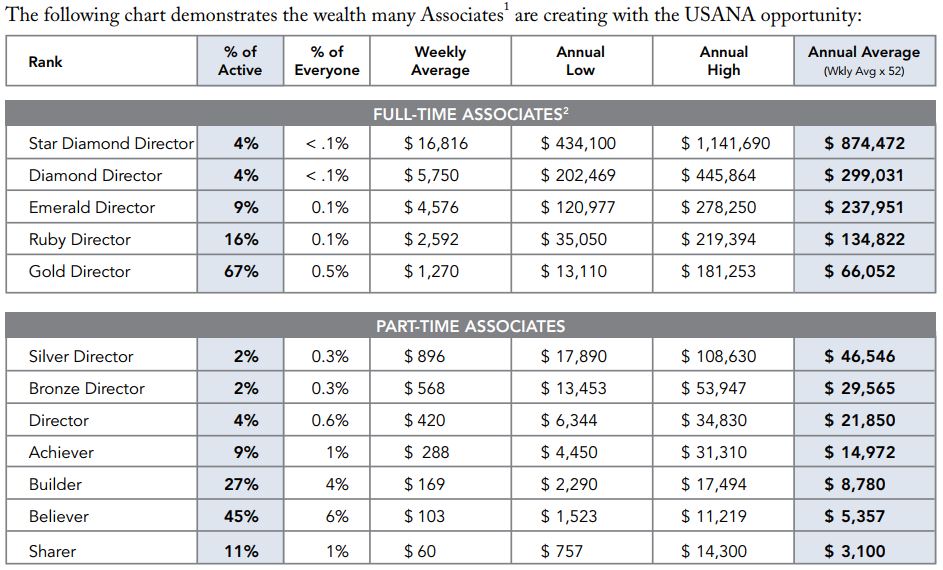 The statistics show a cold truth behind Usana, unlike their cheesy sales videos. As you can see in the chart, only around 1% of their associates are earning a full-time income with their system.
Later in the document, they write that average annual earnings are $676 for their associates. It makes around $50 per month. I don't know about you but to my ears, it sounds quite a little if we take into account how much effort every associate is putting in.
After seeing their real earnings we see a common fact for MLM-systems. Only the top of the pyramid is earning well while other people are struggling in the system. They didn't mention that fact in their marketing video. Did they?
Usana Reviews & Complaints
When I was searching for content of Usana, Google suggested a keyword, "Bad News About Usana". People had many kinds of opinions of this system and some people called it even a pyramid scheme. Still, I wanted to have a look at other reviews to have a more comprehensive picture.
When I look at their product reviews on Amazon most of them are receiving 4- or 5-star ratings and people are enjoying their products. A typical comment about their meal replacement is "A great taste. I love it!"
Then other products have also several short reviews like, "Good." "Excellent." "I like this product." However, it's hard to find experiences if these products have really improved users' quality of life and overall health. A good taste is not enough to get rid of the obesity.
7-Day Make Money Online Email Course
Learn SIMPLE steps to make a LIFE-CHANGING INCOME online. I will help you hand-by-hand!
Very common complaint of their product is that they are too expensive. It's a fact that when you are buying Usana products you are also paying for their expensive brand. If the same product would be sold under the other brand, the price would probably be 2 times cheaper.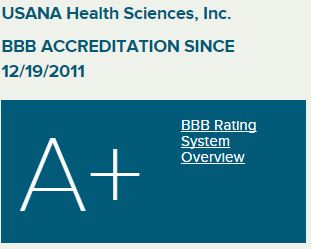 Conclusion – Is Usana a Scam?
I haven't bought Usana products and most likely I won't. They are too expensive and I don't see any clear benefits to their cheaper counterparts. It's not an illegal pyramid scheme because they are offering real products and the only focus isn't on recruiting new clients.
Still, in my eyes, many MLM-systems like Usana are similar to cults like Jehovah Witnesses. They have these mass conventions where everyone praises their own product and they get programmed to believe their leaders. Still, only 1% of the crowd is enjoying the benefits and achieving the dream.  In Jehovah Witnesses the governing body rules the system while in MLMs the founders and early-joiners have the force.
It gives members' the great feeling to belong to a big group and be a part of a movement but is that all? Why are their products so expensive? It seems that their intention is not to provide the best value for the customer but to maximize their own profits by selling expensive products.
All in all, I wouldn't recommend joining Usana. If you disagree, I would love to hear your thoughts in the comments. If you agree with me, I would still be happy to hear your thoughts about this system.
If you were looking for a great way to make income and become your own boss, I have great news for you. This step-by-step training helped me to make a living online and it can help you as well. It's not a MLM-system or a get-rich-scheme. You need to put in the effort like in any business but it will definitely pay off.
---
What do you think about Usana as a business opportunity?
Do you like MLM-systems? Do you prefer a normal business model and affiliate marketing?
Let me know in the comments below! 🙂