So many people on the Internet are asking about Tai Lopez. "Is Tai Lopez a scam artist? Are his 67 steps worth buying? Should I listen to Tai Lopez?" Tai has also courses about making money online, affiliate marketing and investing to cryptocurrencies which are main subjects of YourOnlineRevenue.com as well.
Therefore, I decided to write you this article where I answer all your questions about Tai Lopez. First I need to mention that I also considered promoting his courses but I decided to skip it because of the reasons that I will explain further.
---
Is Tai Lopez Legit? – My Video Review!
I created also a video where I answer all your questions about Tai Lopez. I believe you will find it informative and helpful.
---
I will first give you a little bit background about Tai and his businesses. Then I'll explain to you why I didn't choose to promote his course and whether he's a scam artist or not. If you are here because you want to learn to make money online, I recommend taking a look at my #1 recommended online business training. It's cheaper than Tai's course and has a much better reputation overall.
Who Is Tai Lopez? – A Scammer Or Legit Entrepreneur?
Tai Lopez is an entrepreneur, millionaire, social media influencer, and investor. Some people might say that he falls into the same category with other influences on social media like Grant Cardone, Gary Vaynerchuk, and other American success coaches.
For the first time when I saw Tai's video, I thought he's like 25 years old or something. Then I was surprised to see that he was born already back in 1977 and nowadays he's over 40 years old. Tai is in a great physical shape so he looks younger than he really is.
According to his own words, Tai started his entrepreneurial career already when he was a kid. He has always been interested in businesses and self-development. However, Tai became famous for the big audience after his massive YouTube campaigns. I guess you have seen the following video or at least a part of it as an advertisement. I didn't embed the video here so you don't need to waste your minutes with it. Basically, it's just a promotion to Tai's courses.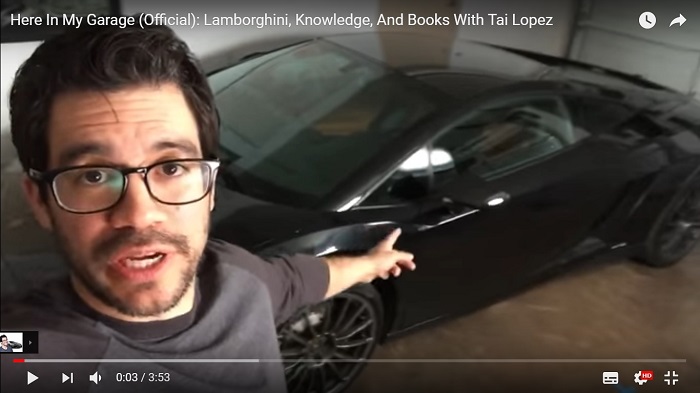 Tai Lopez Net Worth
There have been lots of discussions whether Tai really knows how to build businesses or not. However, we can't deny the fact that the guy is a multi-millionaire and has been pretty successful in what he has done. In December 2016 his estimated net worth was based on some sources $3 million.
I believe that his net worth is now much more $3 million and that estimation was also very low. He has a huge influence on several social media platforms:
+1 Million YouTube subscribers
+3 Million Instagram subscribers
+6,3 Million Facebook likes
If you have such a huge audience, you can easily make millions of dollars if you want. And as we can assume from Tai's videos, he really likes to make money.
Tai Lopez Businesses
During his life, Tai has been involved with many different kinds of businesses.
Retirement & Financial Planning
Night Clubs
Online Dating Sites
Investing in Different Assets
Internet Marketing & Life Coaching
Based on all the information I found his biggest success has become in the world of online businesses. I must admit that his success on social media is pretty impressive.
Tai Lopez Scam and Controversy
So, Tai has been a very successful entrepreneur. Why do people claim him a scam artist? Why there's so much controversy around him? Why do so many people dislike his videos?
There are a few reasons. Let me explain them one by one.
They say that Tai lied in his videos
Tai became famous with his "Here in My Garage" and "Here in My Backyard" videos. In the first one, he shows his cars that he just "bought" and in the second one he gives a house tour.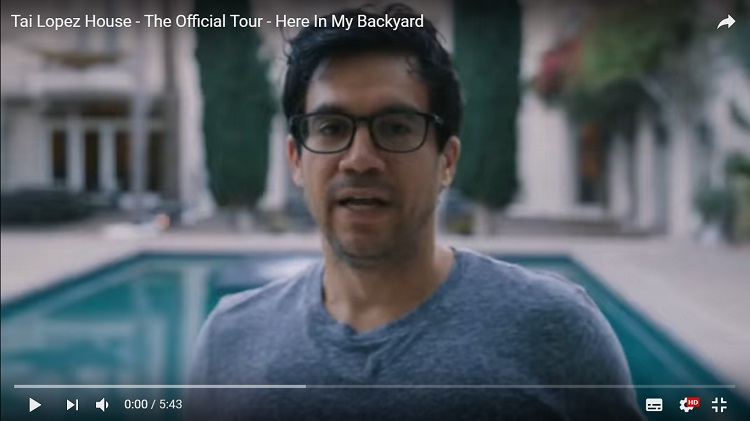 He clearly makes us think that they're his cars and house. He also uses words like, "I just bought this new Lamborghini…" It has been found out that he really rented that Lamborghini and also his house. Actually, his house was still on sale on Zillow while he recorded his famous House Tour video.
It's not a sin to rent instead of buying. Most likely it's financially wise move and that's why Tai is doing it. However, people have a problem with the fact that Tai doesn't mention that they aren't his owns. In the other words, he lies a little bit when he says that they are his. People don't like that of course.
Nobody likes too selfish persons. If you watch some of Tai's videos, you may get a feeling that he's a bit selfish and loves himself a lot. There's nothing wrong with loving himself and I think everyone should love themselves. But of course, there's a fine line between a normal self-love and narcissistic self-love.
Do You Want a
FREE
& Easy-to-Follow
7-Day Course
to
Make Money Online
for Beginners?
Easy-to-Follow

Beginner-Friendly

My Personal 1-on-1 Support for You
Get Started for FREE Below Before this offer goes away!
On the other hand, many people could also learn of Tai's confidence. It's good to be confident. I don't say that Tai would have the latter one. Some people just don't like to follow him because they say he's all about, "Me, me, me!"
Some people don't like that he boasts about his cars, house and other things. They say he's too materialistic. Tai may be materialistic but I think the main reason he's showing them is to attract more eyeballs to his videos.
Half-naked girls for advertising
There are lots of beautiful women in many of Tai's videos. Some of them are paid and some of them are voluntarily there but it's often said that Tai puts them there just to get more eyeballs to his videos. One of the bosses in the former company where I was working always used to say, "Sex sells!" which is completely true.
That being said, I don't like that Tai or any other person uses sex for advertising. In my opinion, sex is a sacred thing and should be kept between a man and a woman in a marriage. You may call me old-fashioned but I think that men should respect women and not use their physical parts for advertising. It's not respectful. This is one of the main reasons why I wasn't so excited about promoting Tai's products.
Tai Lopez content – helpful or not? 
What about his actual content? Is it really helpful? does he really teach us something valuable? I'll talk about this more in the next chapter.
Tai Lopez Program The 67 Steps – Is It Worth It?
Tai's main course is his 67 Steps course where he teaches his success tips. It's actually a membership and he'll charge you monthly or annually. I haven't bought this course myself but I have read reviews from people who bought it. In addition, I have watched Tai's content on other channels so I have a pretty good picture of what he's talking about.
I must say that Tai has some good tips on his videos. He hasn't achieved his goals, wealth and health by accident so he must know some principles about life and success. The main reason why I didn't buy this course is that I just think there are better (and free) resources available.

Many people who have bought the course have said that it's mainly packed with motivational videos and other similar stuff that you can get for free on the Internet. Of course, the price of the course is pretty cheap so that's not a problem.
I just think that all that controversy around Tai Lopez didn't happen by accident. I don't fully want to follow a person who has a controversial reputation and some people even claim him a scam artist. Recently, I've been seeing Tai's ad on Facebook, "Learn 4 steps for making money online." I could be interested but I have already learned those 4 steps and I'm making money with them.
If you want to learn 4 steps that I use for making a living on the Internet, have a look at this step-by-step training. It's not created by Tai Lopez. There's nothing controversial with those 4 steps because is just affiliate marketing. In the other words, you can make money by promoting whatever you want: pianos, diapers, online courses, laptops, etc.

By the way, recently Tai has also talked a lot about cryptocurrencies. Feel free to read my crypto articles and have a look at my videos:
Conclusion – Is Tai Lopez a Scammer?
Tai Lopez is not a scam artist but he uses some pretty controversial marketing methods. Some may call him a scammer because of that but I'm not saying it. He is a successful online entrepreneur for sure. I think one reason for haters is just his success. When you become successful, some people become jealous and they start hating you.
Anyway, I can't deny that some of his marketing methods are a bit shady and I wouldn't use them myself. That's the reason why I wasn't so excited about promoting his products.
Tai has created a big part of his wealth with affiliate marketing. It means you earn money by promoting other people's products. I also do it myself because it gives freedom because there are like millions good products in the world that you can promote. In addition, you don't need to hassle with customer support and other similar things. Basically, you just leave a link and if somebody buys a product, you earn a commission.
If you want to learn step-by-step how you could make a living with affiliate marketing as well, I recommend taking a look at Wealthy Affiliate training. Their training has turned thousands of newbies into full-time online entrepreneurs.
---
What do you think about Tai Lopez? Do you like his content? What do you think about his marketing methods?
Let's discuss in the comments below! 🙂