Is Long Tail Pro a Scam? Definitely not!
It's one of the most famous and used keyword research tools in the industry helps you to drive lots of traffic from search engines. It isn't a push button to riches but will certainly do some heavy lifting for you and help you to succeed with your online business.
It's recommended by many successful Internet marketers. Long Tail Pro is definitely a big thing and one of the best keyword tools online.
Long Tail Pro Review
---
Name: Long Tail Pro
Website: www.LongTailPro.com
Type: Keyword Research Tool
Short Review: Long Tail Pro is definitely one of the best keyword research tools in the industry. Many successful online entrepreneurs say it's the best tool.
In my opinion, it depends on your personal needs and preferences. For beginners, I recommend Wealthy Affiliate keyword tool because it's the simplest.
For more advanced marketers can decide between Jaaxy and Long Tail Pro because both of them are great. I recommend that you start a free trial with both of them and then continue with a better one.
---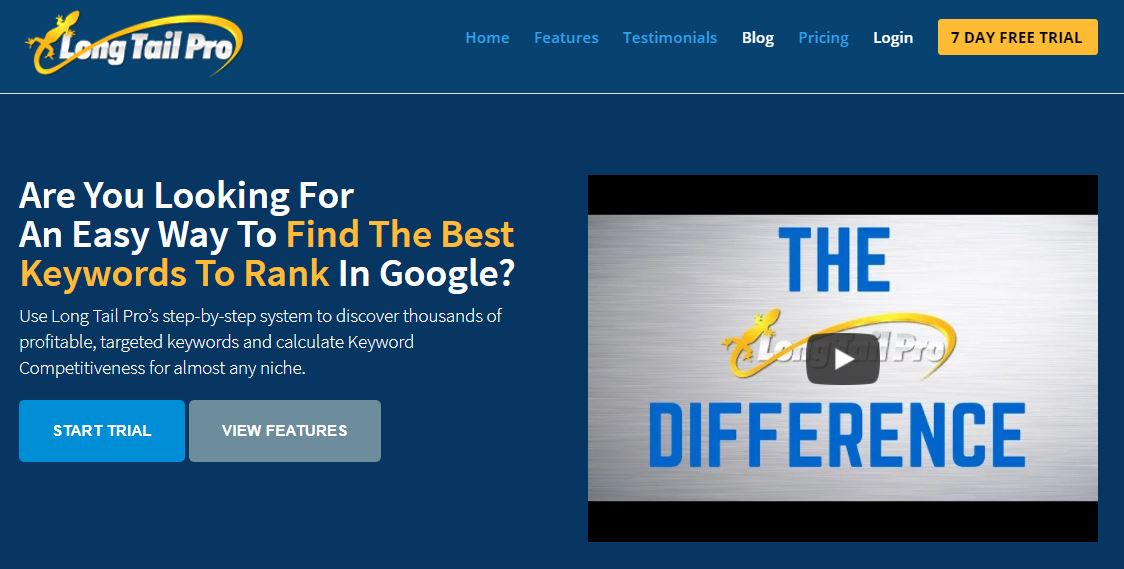 What Is Long Tail Pro?
Have you ever wanted to achieve higher rankings on Google and drive lots of traffic from search engines? That's the reason why Long Tail Pro is created.
Long Tail Pro helps you to get ranked well and higher. It's a keyword research tool that many famous online marketers use regularly including Pat Flynn, Dom Wells, Spencer Haws and many others. If you don't know who these guys are, I can tell that all of them are earning 7-figures online each year.
So, Long Tail Pro is definitely one of the best keyword research tools on Earth right now because several industry leaders are using it.
How Does Long Tail Pro Work?
First of all, I would like to mention that Long Tail Pro is simple to use. After you've watched a few of their tutorials, you will immediately understand how it works. At first, the platform looked a little bit intimidating for me but after a couple of hours, I was already used to it.
Online marketer Robbie Richards has created a YouTube video where he shows you how the updated version of Long Tail Pro works and how you can use it to find profitable keywords in any niche. I believe you will find it helpful.
In Long Tail Pro you can create projects and find keywords that are relevant to your website. The cool thing about it is that it'll also calculate you the estimated revenue if you get ranked under a specific keyword.
Let me show you an example of a keyword research. I have a language learning website LanguagesAreEasy.com where I teach people how to learn languages more easily while having fun. Now I would like to write an article about the famous Pimsleur method but I don't know which keyword I should use. Let's use Long Tail Pro: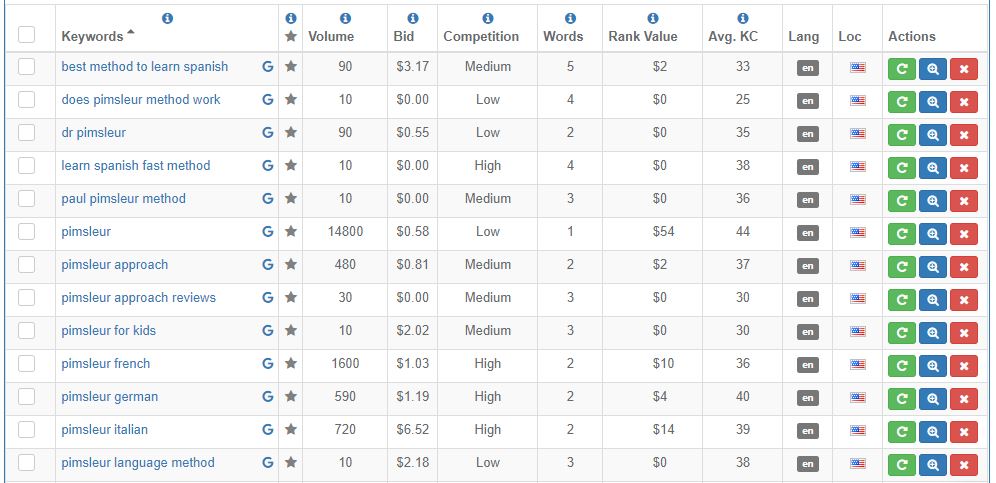 Long Tail Pro gives immediately tens of options that you can choose. It gives lots of indicators and numbers that will help you to decide which one is the best. Let me explain what different metrics mean:
Volume: How many searches there are on average with this keyword? The higher the number, the more searches.
Bid: An estimation of how much advertisers are paying per click for this keyword? This number can be useful if you want to used paid advertising like PPC.
Competition: This is quite self-explanatory. How tough is the competition? Low, medium or high.
Words: Total number of words in this keyword.
Rank Value: The estimated rank value for the top ranking in the search engines for this keyword. You can adjust this value also yourself by calculating how valuable is each visitors on your website.
Avg. KCI: Average Keyword Competitiveness. The lower the number, the easier it is to get ranked for this keyword. If you have a new website, I recommend you to search for a keyword that has a KCI around 30 or even under 30 if possible.
Then you can dig deeper into each keyword by clicking it. For example, Pimsleur French looks interesting because the search volume is high. I can click that one and continue my keyword research until I have found the exact keyword that I want to target in my article.
Long Tail Pro offers also a great training for those who start using their tool. It's included in their premium membership and you don't need to pay any extra for that. They have two courses: Long Tail Bootcamp and Long Tail University.
Do You Want a
FREE
& Easy-to-Follow
7-Day Course
to
Make Money Online
for Beginners?
Easy-to-Follow

Beginner-Friendly

My Personal 1-on-1 Support for You
Get Started for FREE Below Before this offer goes away!
Both of them consist of 14 lessons. They are video tutorials and each of them teaches you a new subject. Let me tell you more about Long Tail Bootcamp.
Long Tail Bootcamp – Get Started with Long Tail Pro and Earn Money Online
In my opinion, Long Tail Bootcamp is a great training, especially for beginners. Even though you wouldn't have experience of making money online or keyword research, you'll understand everything in this course and learn tons of new things.
On the other hand, also an advanced online marketer will learn new ideas on how you can boost your online business and income. Here are short summaries of 7 lessons in Long Tail Bootcamp.
Lesson 1: Affiliate Marketing 101 (using Amazon and ClickBank)
The first lesson explains how you can make money with affiliate marketing. They show examples how you can monetize your website using Amazon or Clickbank products. This lesson is extremely helpful for those who don't have lots of experience of making money online.
It also gave me lots of new ideas how I could monetize my websites better using ClickBank and Amazon.
Lesson 2: Understand the Search Intent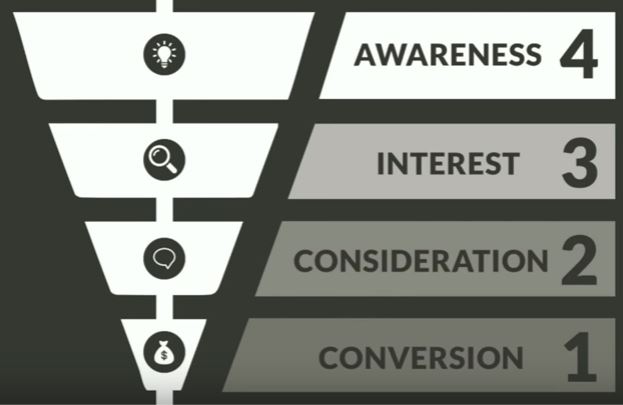 The second lesson is highly important if you want to earn good money online. You need to understand something about the psychology of the buyer. What is your visitor thinking when he comes to your website?
As an affiliate marketer, you want that your visitors are in the "consideration stage" in order to make more sales. People are considering about buying a product and then they come to your website. They click your link and go to the last "conversion" phase. Now they buy the product on Amazon and you earn a commission.
You don't want to compete with sites like Amazon and other huge ecommerce sites!
Good keywords have usually words like, "Best" "Reviews" "Top" "Under $100" "2017". You can write, for example, an article like "What are the best blenders for under $100 in 2017?"
If you search for this kind of websites on Google, you can usually always find other affiliate sites that are promoting Amazon products. You want to compete with other affiliate websites instead of competing for eCommerce sites like Amazon, eBay or other ones.
Lesson 3: Seed Keywords and Basic KW Research
In this lesson, they'll show how you can use Long Tail Pro keyword tool in order to find niches and wonderful keywords.
Did you know that a keyword research tool can be an ultimately useful tool while you are choosing your niche? It can quickly show your competition and the market.
Lesson 4: Competition Analysis (KC = Keyword Competitiveness.)
Even though KC is a great metric to evaluate how easy will it be to get ranked, you can dig deeper and have a look at your competition more closely. Long Tail Pro offers a great tool that helps you to analyze your competition in a moment. That's called competition analysis.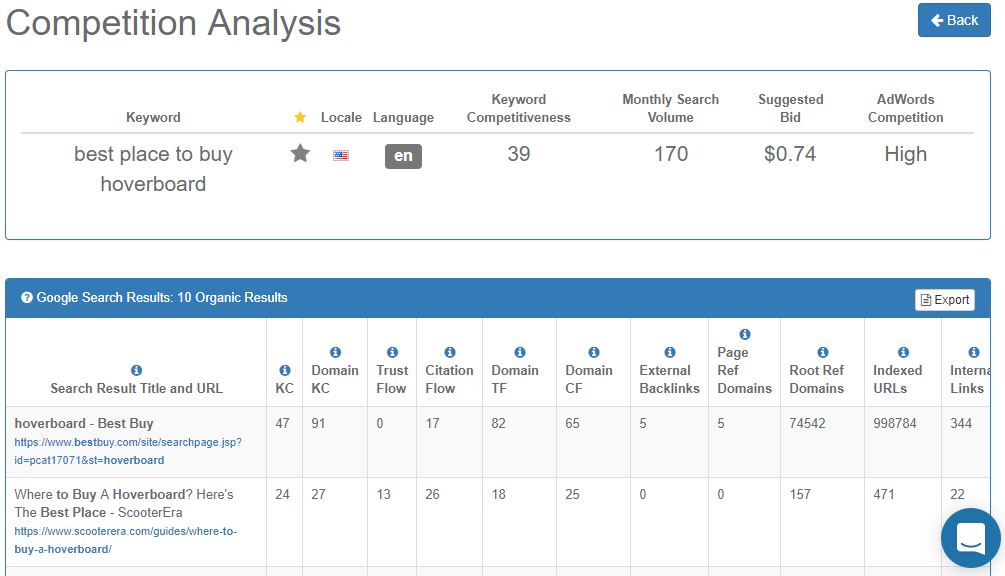 Long Tail Pro lists which websites are ranked on the first page of Google for a specific keyword. In this example, I have searched for a keyword "best place to buy hoverboard". You can several different metrics that LTP shows for you.
KC (Keyword Competitiveness)
Domain KC (Domain Keyword Competitiveness)
Trust Flow
Domain TF (Domain Trust Flow)
External back links
Page Referring Domains
Root Referring Domains
Indexed URLs
Internal Links
I think it's not necessary to explain all of this one by one on this Long Tail Pro review. Anyway, once you learn how to use this tool, it will help you to evaluate your competition very quickly with one glance.
Of course, you can analyze your competition with a simple Google search as well but Long Tail Pro gives you even more detailed information.
As I mentioned above, if you have an affiliate site, it's good to compete against other affiliate sites. On the other hand, if you have an eCommerce, then you can also compete against other eCommerce websites.
Sometimes the first page of Google is a mixture of all: affiliate sites, eCommerce, tutorials, videos and so on. Then you can have good chances to rank with a high-quality content.
Lesson 5: Using Rank Value to Determine Keyword Profitability
In the fifth lesson, you'll learn how to determine your keyword profitability. This is very important and can make huge changes in your business.
Sometimes you can rank high on Google but still don't make any money. A good example is an article with quotes. When people are searching for example, "Quotes about love" they aren't most likely going to buy anything. They are just searching for new ideas and inspiration.
For example, a keyword like "Best hoverboards for under $300 in 2017" is a great keyword if you want to make money with your website. People are looking for what kind of products they should buy.
7-Day Make Money Online Email Course
Learn SIMPLE steps to make a LIFE-CHANGING INCOME online. I will help you hand-by-hand!

Let's say that you sell a product for $500 and you get a 10% commission for each sale. It means that each purchase is worth for $50. If 2% of your visitors buy the products, you'll earn $1 per one visitor on average.
In this example: Visitor value = 2% x $50 = $1.
If you get, for example, 50 visitors per month to that article, it's making you $50 per month. When you have 20 such articles, you are already making $1,000 per month.
By using the rank value on Long Tail Pro you can estimate your future earnings and you aren't just hitting the air and hoping for the best.
They also explain in this lesson that Google Adsense is usually "at the lowest end of the food chain". That's why you shouldn't solely count on using Adsense.
Lesson 6: Combining Keywords and Serp Crossover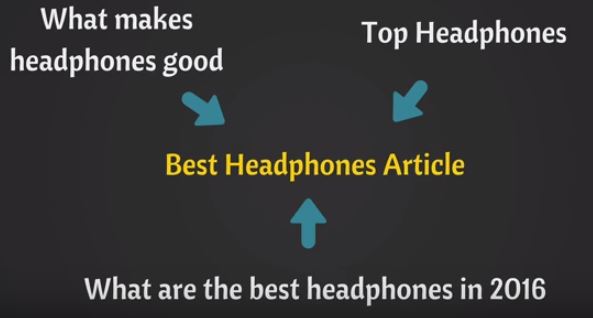 Instead of writing 3 articles with keywords, "What makes headphones good" "Top headphones" "What are the best headphones in 2016" it's better to write a long article where you cover all these three keywords.
Then you will get ranked under all these 3 keywords on Google and drive tons of traffic. This is the subject of the lesson 6. (By the way, this is probably the reason why online millionaires like Brian Dean and Neil Patel write long 3,000-10,000 -word articles and make huge money.)
Lesson 7: On-Page SEO
In the lesson 7, they teach you a few key elements of on-page SEO. It means things that you need to take into account in your own page in order to get ranked on top of Google. These things include the use of your keywords, URL, LSI keywords and so on.
This part consists of only one 6-minute video so it's a very short look at on-page SEO. If you want to learn this more in-depth I recommend having a look at this training.
Long Tail Pro Reviews: Several Online Marketers Praise It But…
I have read several Long Tail Pro reviews and it seems that many Internet marketers love it. It saves your time, helps you to get ranked on Google and make money with your website/blog.
The other question is whether Long Tail Pro is the best one or not. It seems that it's mainly the matter of your personal preferences because other successful entrepreneurs say you should take Long Tail Pro and other ones recommend Jaaxy keyword tool.
I am paying for Jaaxy because it has given me great results and helps me to drive tons of traffic from Google.
Conclusion – Is Long Tail Pro Worth It?
If you have a website and you want to drive traffic there from search engines, Long Tail Pro is a good investment. Industry leader, Pat Flynn says "It's a must-have tool for any SEO or Internet Marketer."
In my opinion, you must have a keyword tool if you want to be a successful Internet marketer and drive traffic from search engines. However, it's up to you which tool you are going to use.
If you are a beginner, I recommend Wealthy Affiliate keyword tool because it's the simplest and their training teaches how you can start earning more money online.
For more advanced Internet marketers I recommend that you take a free trial with Long Tail Pro and Jaaxy. After having a free trial with both, you can decide which one you like more and go premium.
---
Have you used Long Tail Pro or other keyword research tools? Which one has helped you the most and is your favorite?
Let me know in the comments below! 🙂