Are you looking for a reliable bitcoin exchange? Or did some of your friends recommend LocalBitcoins for you? In this review, I am going to describe their service and answer to a question is LocalBitcoins a Scam or Legit.
LocalBitcoins Review
---

Name: LocalBitcoins
Website: www.LocalBitcoins.com
Founded: 2012 in Finland
Field: Bitcoin Exchange
Overall Rank: 90 out of 100
---
What Is LocalBitcoins
LocalBitcoins.com is a person-to-person bitcoin trading site. It means that in LocalBitcoins people from all around the world can exchange their local currency to bitcoins. Members can post advertisements where they say their exchange rate and payment methods for selling or buying bitcoins. The other members can reply to these advertisements and agree to meet the person to buy bitcoins with cash. Currency can also be exchanged directly with online banking.
On the picture below, you can see offers that other LocalBitcoins have offered. They want to sell bitcoins and by clicking "Buy", you can go and buy those bitcoins with online banking. (I am living in Austria so it shows me "Buy bitcoins online in Austria. For it shows "Buy bitcoins online in  YOUR_COUNTRY".)

You can also see people nearby who would like to change bitcoins to cash. (see the picture below)

Why LocalBitcoins Seems to Be Legit?
First time when I heard about LocalBitcoins was when one of my good friends was working there. He explained me the success of LocalBitcoins and I was quite impressed. In a few years they have hugely grown and each year they seem to grow even more and more.
I heard that there were a very good working spirit and a great work environment. People who worked there had a very good attitude and they concentrated on going forward. If you are interested, they are also currently looking for new employees on their website.
LocalBitcoins is also founded in Finland which is already a good sign. If it would be registered to some not-so-reliable country, it wouldn't seem so good in my eyes. Their platform is also very clean and they have a support available for questions. Their social media accounts also bring more reliability because founders and employees are showing their faces and identities. It would be hard to believe that LocalBitcoins would be a scam.
LocalBitcoins is also ranked 3 on Top 40+ Sites to Buy Bitcoin on BestBitcoinExchange.io, their trust score is A and rating 9,65 out of 10.
I found some negative reviews about LocalBitcoins. But I wasn't so surprised this time. When I made a review about #1 and the biggest bitcoin exchange I also found many negative reviews. They seem to be typical for bitcoin sites. It's the same with online flight booking sites. If you look for reviews about Momondo, Expedia, and other similar sites, you will find tons of negative reviews even though they are quite reliable companies.
Some people seem to have a tendency to complain even if there wouldn't be a big reason to complain. But, of course, complaints need to be taken with respect and see if some of them are real or not. On one site, LocalBitcoins support employee was answering those complaints and trying to help people.
How to Add Your Account Security?
Having all your bitcoins behind one password is not ultimately safe. What if somebody gets your password, logs into your account and takes your money? That's why I recommend to add a two-factor authentication to your account.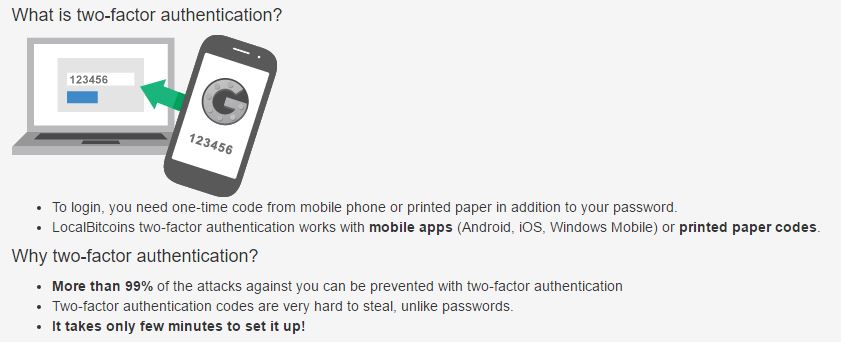 It works either by downloading a mobile app or by printing a security code on paper. When you are about to log in, they ask for your two-factor authentication code and password, before letting you in. So if somebody gets your password, he can't get into your account without that other code.
You may be wondering, what happens if you lose your two-factor authentication code. That happened to me with another bitcoin exchange because my phone broke where I had downloaded an app. I was a bit nervous if I will get my money out there or not. So I contacted support. They asked me a few questions that I only would have known. For example, when did I open my account, how many times I have changed bitcoins, where is my passport issued etc. Then they unlocked an account to me.
So it may not be a huge problem if you lose your code but I recommend that don't lose it. LocalBitcoins has also a section in their F.A.Q. about losing a two-factor authentication code so it seems to have happened to many people already.
Pros & Cons
Pros:
Ranked #3 in the best bitcoin exchange ranking
Trust Score A. Ranking 9,65 out of 10
Good reputation
Positive things heard from a person who was working there
Founded in Finland
Employees show their faces and identity openly
You can create an account for free
Cons:
Some negative reviews can be found online
You need to be careful if you change bitcoins in person
Conclusion – Is LocalBitcoins Legit?
LocalBitcoins seems to be legit until we receive a proof to the contrary. The only thing that makes it a bit suspicious are some negative reviews but I think that there complaints about any company that has ever been. There are many aspects that make this company seem very reliable. I think that they couldn't be running so successfully if they wouldn't be legit.
Even though I have earned good money with bitcoins, my passion for making online is still affiliate marketing. It gives the freedom to make money online while providing valuable information to readers. It also allows making this world a better place one reader at a time. Would you like to learn affiliate marketing too?
=> Take a look at #1 affiliate marketing training online. That's a good way to earn some equity that you can invest in bitcoins. Affiliate can bring you a monthly (or even daily) cash flow, unlike bitcoins where the only way of earning is capital gains.
Do You Want a
FREE
& Easy-to-Follow
7-Day Course
to
Make Money Online
for Beginners?
Easy-to-Follow

Beginner-Friendly

My Personal 1-on-1 Support for You
Get Started for FREE Below Before this offer goes away!
LocalBitcoins at a Glance…
Name: LocalBitcoins
Website: www.LocalBitcoins.com
Founded: 2012 in Finland
Field: Bitcoin Exchange
Overall Rank: 90 out of 100
Have you used LocalBitcoins or other bitcoin exchanges? Did you find them reliable? Leave a comment below!