Karatbars International takes an old trade and tries to make it relevant to an ever-changing market. I heard somebody saying, "This is one of the worst pyramid schemes they've seen in a long time!" Not only does the company try to sell gold bars that are well over the market price, but they sometimes attack and slander anybody who does not choose to sign up for their scheme.
Yikes!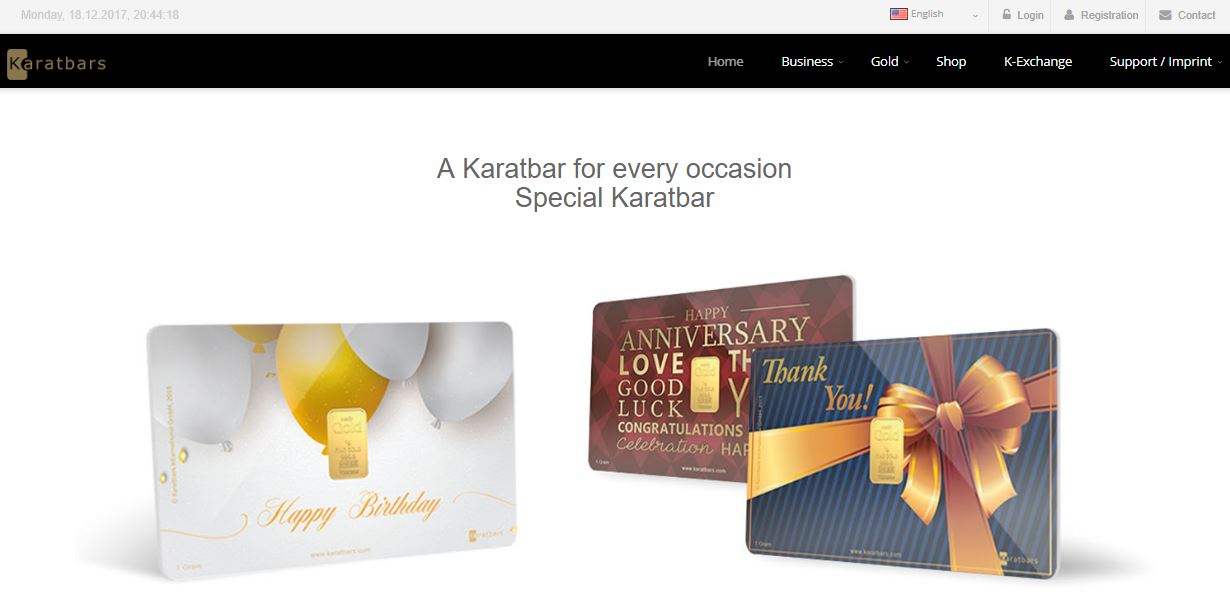 Karatbars International has been described as one of the classic MLM-companies: overpriced products and big promises In my review, I'll answer also a big question, "Is Karatbars International a scam?"
Karatbars International Review
---
Name: Karatbars International
Founded: 2011 by Harald Seiz
Cost: Starting at $135 up to $2172 + shipping
Type: MLM distributor system
Short Review: Buying gold bars isn't that bad idea at all. I have considered it myself for several times for allocating my equity. At the moment, I am investing in stock market, real estate, cryptocurrencies and a few other things. If I would buy, I wouldn't do it through Karatbars International because their prices are much higher than a real market price.
If you are looking for better money-making opportunities, I recommend taking a look at this step-by-step online business training.
---
What is Karatbars International?
Karatbars International is a global company that sells solid gold bars to members and distributors all over the world. The company operates like all traditional MLMs do, which only promises a profit if you are able to constantly recruit new members to your team and sell products to other people. This is the only way to increase sales and put some money back into your pocket.
The gold market is often a tough one to be in, especially since the approximate value of gold rises and falls on a consistent scale. It's hard to guess how much you'd be able to make by selling gold at any given time. Usually, gold is considered as a way of storing value. Even when the stock market crashes every now and then, gold is a quite stable way to maintain your equity
Karatbars International charges far too much for their gold. The price tag is well over the actual worth of the gold. More details about this in the next chapter when I explain you about their products.
Anyway, I have to give some credit to their founders. They have chosen a pretty unique industry for network marketing. Gold bars aren't very popular in MLM-businesses. Most of them are working in the health & wellness industry like Herbalife, Mannatech, Isagenix and thousands of others. On the other hand, I think there's a good reason for that other MLM-companies aren't selling gold bars. Anyone can buy gold easily from exchanges for a market price. The only way to have this kind of business is to take some extra from clients.
Karatbars International Products
There is pretty much one and only one product sold by Karatbars International: Gold. They sell the gold in small quantities of 24 ct, or 999.9 ct. Purchase options are pretty flexible; you can buy something as small as 1 gram or as large as 30 grams.
The packaging of the gold is quite unique. It's pressed into a flat square, making it look almost like a credit card. In fact, there's even a barcode stamped on to it for authentication reasons.
The biggest problem I have with the Karatbars International gold bars isn't just the high cost, but the low quality of the gold itself based on some sources.
Karatbars International gold isn't any different than any other company's gold. It's very pure, and no alloys are added. Not only is it a soft metal, but this kind of gold can't be used to make any kind of jewelry either. This adds insult to the injury of an already-overpriced product. In the picture below, you can see that 1g of gold through Karatbars International costs 56,66€ ~ $67.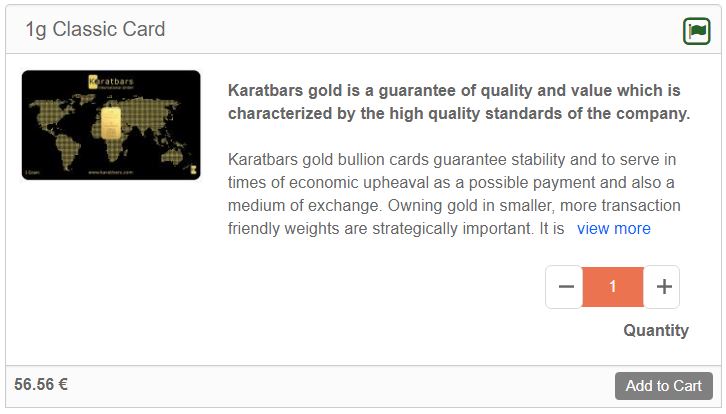 I checked that the market price of gold is at the moment only around $40 per 1 gram. It means that Karatbars takes 70% extra in their prices. That's pretty much. What do you think?
Karatbars International Starter Kit?
There isn't necessarily a starter kit, but rather a list of possible packages for you to choose from. Of course, each package goes up in price depending on how many products, contents, and bonus features you want.
For example, the most basic package is the "Digital Bronze 5 Units" package. With this package, you pay the lowest possible Karatbars International price of $135, and you are promised a 5% commission on anything you sell. This package comes with a discount card, a bonus card, and an opportunity to sell affiliate links for an additional profit.
Do You Want a
FREE
& Easy-to-Follow
7-Day Course
to
Make Money Online
for Beginners?
Easy-to-Follow

Beginner-Friendly

My Personal 1-on-1 Support for You
Get Started for FREE Below Before this offer goes away!
That doesn't even include the cost of buying your own supplies. The other packages immediately skyrocket upward in price, with the highest package, the VIP package, costing a minimum of $2172 plus shipping to get started!
Like all MLMs, there is the opportunity to recruit members to your team and make more and more money based on of their sales and commissions. In theory, there's nothing wrong with this but the fact that their products are extremely overpriced makes it pretty unappealing.

Karatbars International Compensation Plan
In the video below one member of Karatbars International explains their compensation plan in a great detail. Keep in mind that he's trying to sell the program for you so take everything with a grain of salt.
Karatbars International's compensation plan is quite a tricky one to understand for some people. On the other hand, this compensation plan is no different than other convoluted MLM plans, with the exception of new terminologies that are made to confuse the target audience even further.
The plan uses the words "left leg" and "right leg" to explain basically how your system works as a leader of a steadily-growing team. They try to trick members into joining by promoting a heavily exaggerated earning projection of over $100,000 per month. If only it were that easy! Based on our research of more than 100 MLM-companies we have seen that less than 0,1% of members earn +$100,000/month.
Personally, I wouldn't even want to get rich by selling overpriced products. I always want to promote products that have the best price/quality. It wouldn't make me happy even though I would make $100,000/month if other people would be losing lots of money because of my promotions.
Karatbars International Reviews & Complaints
There have been multitudes of complaints about KaratBars International circulating around the Internet. First of all, one source argues that they made no money by investing in gold bars. That's not a surprise if you are already paying 70% extra for these gold bars.
The biggest complaint about Karatbars International has come from the Federal level, however. The Canadian Financial Bureau, also known as AMF, issued an official "SCAM" alert across the entire country of Canada. This alert warns people to stay away from anything that is a part of or associated with Karatbars, whether through the Internet or in person.
This makes the legitimacy of this scam far more serious. When the government gets involved, it's a sure sign that Karatbars International is up to no good.
Additionally, staff members of Karatbars International have been known to attack those who do not wish to promote their products. The company has been known to send rude and immature messages to members, former members, or reviewers of the product and packaging system. No matter which way you look at it, Karatbars is neither a legitimate nor a reliable company. It's best to stay as far, far away as possible.

Conclusion – Is Karatbars International Worth It?
I think the answer to this question is obvious. They are charging so much extra that I don't see any reason why anyone should join their program. I would love to hear if you disagree 😉
Anyway, if you are looking for a better business opportunity, I have good news for you. I make my living online because of the website called Wealthy Affiliate. Their step-by-step training taught me how I can make money online wherever I go. It was just a dream some years ago but now it has become a reality. Now I'm traveling around the world with my laptop while earning money on the Internet. If I can do it, you can do as well.
I provide 1-on-1 support and help for all my website visitors who join Wealthy Affiliate online business community. Just click the link below to read more.
---
What do you think about Karatbars International?
Do you have experience with other similar companies?
Let's discuss in the comments below!