Let's face a crucial question, "Is Clickbank University a Scam?" They are promising you the financial freedom and the "laptop lifestyle"through making money online. But aren't hundreds of other Internet marketers promising the same thing as well?
Clickbank University Review
---

Name: Clickbank University (CBU)
Website: www.clickbank.com/university/
Founded: 2004 by Justin Atlan and Adam Horwitz
Price: $47/month + upsells $297/year & $97
Field: Make Money Online -Programs
Overall Rank: 75 Out of 100 (Check Out My #1 Recommendation to Make Money Online, Ranking 98 Out of 100)
---
What Is Clickbank University All About?
Clickbank University is a training center and community that teaches how you can make a living fortune online. As you probably know, there are tons of similar products out there. What makes Clickbank University different?
First of all, they don't promise you overnight riches. They say clearly in their sales video that this won't make you rich overnight. I don't even remember how many Internet marketers I have heard saying, "Buy my product and you'll earn $3,000 during the first week/month." It's not gonna happen.
Second, Adam and Justin have a very long experience of Internet marketing. They are not new in the business so they know what they are talking about. Adam Horwitz was even invited to the White House among other young successful entrepreneurs in the U.S. Even though I wasn't highly impressed with his product Mobile Monopoly he is still an expert in the online marketing scene.
Third, they provide a helpful training that teaches real and practical steps of building online products or selling them as an affiliate marketer. Even very experienced Internet marketers have said that their training is useful even though it has some flaws.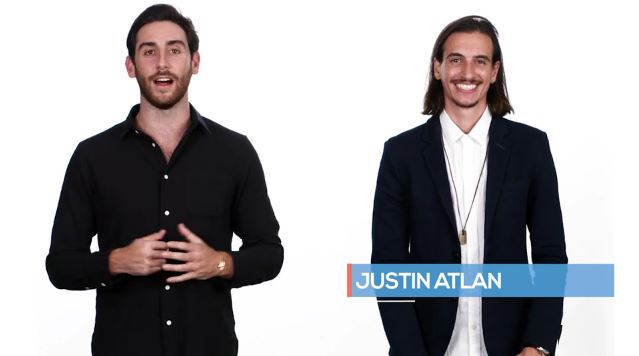 Adam Horwitz and Justin Atlan
Clickbank University Training
Clickbank University has lots of training material inside their training center. Then they have 2 basic training courses. The other one has 12 modules and teaches how you can create your own products online and become successful.
The other main training has 8 modules and it teaches you to become a successful affiliate marketer.
The training walks you through creating a sales funnel. They have also a website builder where you can build high-quality sales funnels for your products and promotions. However, the website builder costs $297/year extra. If you want to build sales funnels, I would recommend using Click Funnels tool by Russell Brunson.
Adam and Justin teach you the classical strategy of Internet marketing:
Build landing pages => Attract traffic to that page => Make sales and collect emails => Earn money by selling products to your email list
The training doesn't give so much tips for driving traffic from search engines through SEO (search engine optimization). Their main focus is on paid traffic methods like Facebook ads, Instagram shoutouts, solo ads and so on.
Clickbank University Support

In the past there were many complaints of the support in Clickbank University. Only few staff members were replying to messages and requests from community members. Adam and Justin were sometimes helping members in FB-group but only sometimes.
But they took action on making it better so Adam and Justin started weekly Q & A (question and answer) sessions where they answered people's questions. It's great that they took action to improve their service.
Of course, there is always something to improve but it seems that Clickbank University really wants people to succeed with their training.
Clickbank University Price
In the past Clickbank University had a trial of 7 days for $1. Then you were able to take a look inside the training and the community to decide if it's a suitable product or not.
But for some reason Adam and Justin took a 7-day trial away. Now they are selling the initial product for around $47/month with a few upsells. It's around $47/month because they also charge VAT which is $10 extra in the beginning. So, if you want to start using the Clickbank University here in Europe, you need to pay 54€ right away. No free trials like in Wealthy Affiliate.
A positive thing is that they provide a full 30-day money back guarantee for their product.
After a $47/month membership you they will offer you a Clickbank University website builder for $297/year. I have heard some critics from experienced online marketers regarding to the website builder. Mainly people don't like the way of they are selling it as an upsell.
Do You Want a
FREE
& Easy-to-Follow
7-Day Course
to
Make Money Online
for Beginners?
Easy-to-Follow

Beginner-Friendly

My Personal 1-on-1 Support for You
Get Started for FREE Below Before this offer goes away!
The website builder tool itself is useful for building landing pages and sales funnels. A great alternative is Click Funnels as I mentioned above. Or then you can just rely on WordPress/SiteRubix websites.
The price of Clickbank University is not way too high because they provide a great value for the buck. However, I think that Wealthy Affiliate is still much better, more comprehensive, more helpful and even cheaper.
Pros & Cons
Pros:
The course is created by very experienced and successful online marketers Adam Horwitz and Justin Atlan
They provide high-quality training videos accompanied by PDFs
Weekly webinar/Q&A-session with Adam and Justin (If they are still running it weekly)
30 day money back guarantee
Cons:
No free trial available anymore
I don't like the upsell strategy. Why don't they "show the cards" right away?
Conclusion – Is Clicbank University a Scam?
No, it's not a scam. Adam and Justin provide you a good training with tons of material to go through. However, if you want to start their training, you need to be ready to invest some money. $1,000 should be okay to get started. I know it's not much if we compare building a brick and mortar business but it's not a very small sum of money for many people.
Anyway, I have experienced myself that if you invest money in your online business and training, it will pay off dividends in the future. You don't need to invest lots of money but sometimes it's good to invest something.
The attitude of "I'll try if it works will almost never lead to success." You need to commit to mastery and then you'll succeed.
Still, if you don't want to invest a single dollar, you can get started for free in Wealthy Affiliate. They provide you 20 interactive video lessons and 2 high-quality websites for completely free. Of course, I recommend their premium training and tools also and they are very cheap compared to the value.
All tools what you need for building a successful online business, you will get for less than $1 per day in WA.
Clickbank University at a Glance…
Name: Clickbank University (CBU)
Website: www.clickbank.com/university/
Founded: 2004 by Justin Atlan and Adam Horwitz
Price: $47/month + upsells $297/year & $97
Field: Make Money Online -Programs
Overall Rank: 75 Out of 100
Have you thought of buying Clickbank University?
Do you have already experience of other make money online products? Which one was your favorite?
Let me know in the comments below! 🙂