"What is Clicky?" I know that all people haven't heard of this powerful tool even though thousands of successful Internet marketers are using it worldwide. Did you know that 1,024,902 websites are using Clicky to monitor, analyze, and react to their traffic in real time? In this Clicky Review, I will explain how using this tool; you can maximize the income from your websites.
Clicky Review
---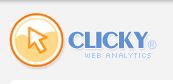 Name: Clicky
Website: www.Clicky.com
Price: Free Version Available. Premium Version Starting from $9,99/month.
Field: Website Statistics and Maximizing Conversions
Overall Ranking: 95 out of 100
---
What Is Clicky All About?
Clicky is a tool that analyses website's statistics and shows them to you in a simple manner. It can help you to optimize your pages and maximize conversions. When you know what the visitors are doing on your site, you can try new things and use what works the best.
Imagine that your income through your website is now $1,000/month with 2% conversion rate. By making a few changes and optimizing your pages, you can raise your conversion rate to 4% which doubles your income to $2,000/month. Or even more. Sometimes even 10% conversion rate is possible which would make your page earning $5,000/month for you.

That example shows the importance of optimizing your pages. Clicky can help a lot because it gives you the most relevant statistics.
Clicky shows, for example following facts:
How many people visit your website
What do the visitors do your website
What do they click on different pages
What kind of interactions do visitors have with the videos on your site
How much is your conversion rate A.K.A. "Goal Tracking."
Here you can see the full list of Premium features on Clicky: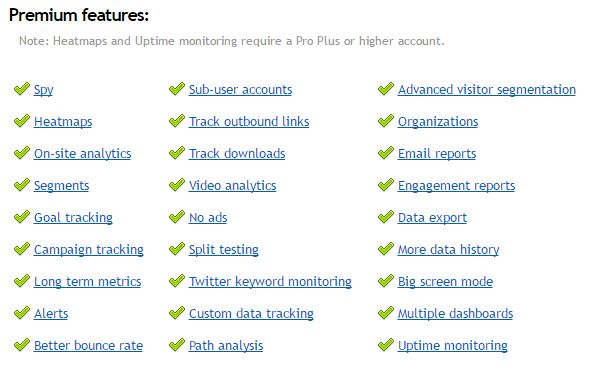 How Does Clicky Work?
It's always better if you see how it work in action. That's why I have linked here a video which shows you what kind of tools Clicky provides. You can also use Clicky for free to get a better taste of it.
Who is Clicky For?
Clicky is for anyone who has a website and sees what visitors are doing there. It's especially for people who want to optimize their pages and maximize their income through a website. It's fascinating how little things can make big changes in visitor's behavior. There would be a subject of research for psychologists!
What Is the Price of Clicky?
As I mentioned above, there is a free version available in Clicky. You can analyze one website for free with a maximum of 3,000 daily views. In a free version, you will more or less the same statistics like in Google Analytics. And even a bit more.
Everyone who creates a free account gets automatically get a free 21 day trial of premium service, with access to all features and the ability to track up to 3 websites and 1,000,000 daily page views (total, across all sites). You can upgrade any time during or after the trial. Or if you don't want to continue with the premium, you can have a free account forever.
Then there are different kind of premium membership that start from $9,99/month or $79,99/year (=equals under $6,70/month). The picture below shows quickly what different pricing plans include: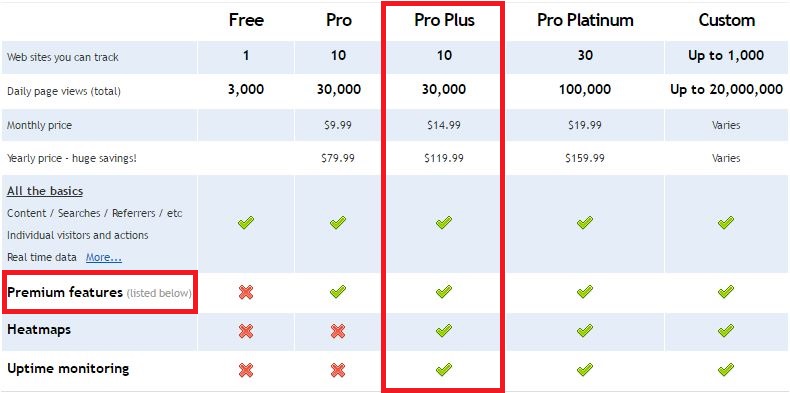 The premium features that you saw in the picture before in this Clicky Review are included in all premium versions. There are, by the way, 27 different premium features in Clicky. In other words, 27 different tools to make your conversion rate better.
I circled a Pro Plus plans to show that it includes even Uptime monitoring and heatmaps. And the price is only $119,99/year. You can track 10 different websites with 30,000 daily page views. So, you can use Clicky for all of your websites with the same price.

Clicky VS. Google Analytics
Probably one of the most common questions people ask when talking about Clicky is, "Is Clicky necessary if I am already using Google Analytics?" First, I want to mention that Clicky provides quite all things that Google Analytics does and even much more.
You will experience the difference the best by trying Clicky. But here is a list of some features that GA doesn't provide compared to Clicky.
Detailed information about every person who visits your website
Heatmaps of where visitors are clicking on pages (one of the most important factors to optimize your pages!)
Heatmaps segmented by goals, split tests, visitor sessions, and more
Uptime monitoring
Search keyword rankings
Video analytics
One of the most valuable difference is heatmaps. They show where your visitors are using their mouse and what they are clicking on your website. Having this information, you can test a different kind of things to increase your conversions.
One successful Internet marketer saw with a heatmap that visitor tried to click one picture on his website. He didn't have any link on that but then he added an affiliate link to that image. After waiting for a while, he saw that his affiliate commissions increased significantly after that little change. If he wouldn't have known that visitors are trying to click that picture, he would sill be missing those commissions.
Do You Want a
FREE
& Easy-to-Follow
7-Day Course
to
Make Money Online
for Beginners?
Easy-to-Follow

Beginner-Friendly

My Personal 1-on-1 Support for You
Get Started for FREE Below Before this offer goes away!
That is just one example how heatmaps can boost your online business. There are lots more examples of marketers using this tool successfully. And remember that there are many other useful tools in Clicky that GA doesn't provide.
How to Install Clicky Analytics to a WordPress Website?
If you are using Clicky for the first time, you may be wondering how to connect it to your site. You only need to install once, and it takes only a few minutes. Below is a video which explains how you can do it.
It goes like this:
1.Log into your Clicky account
2.Click "Preferences" and then click "Tracking Code."
3.Click "Asynchronous tracking code" and then copy that code.
4.Open Insert Headers and Footers -plugin.
5.Paste Asynchronous tracking code to that plugin and save. Then you're ready.
If you need any help, you can always leave a comment below, and I will be more than happy to help you out. You can also ask Clicky Support team.
Clicky Support
Clicky has a comprehensive support with 3 key elements:
1.Knowledge Base: There you can find lots of information how to use Clicky. There are, for example, following topics covered: Installing Clicky, Tips n tricks, Common questions, features and reports, etc. You will probably find the answer to most of your questions here.
2.Discussion Forums: Clicky has quite an active forum answering users' questions with more about 4,500 different topics so far. In the forum, Clicky users can discuss regarding various issues and share their experiences with each other. 4 main forums are Help & Troubleshooting, Suggestions & Feature requests, Developers and General discussion.
3.Submit a Support Request: You can contact Clicky Support team by sending them an email to support@getclicky.com, and they will come up with an answer quite quickly.
Pros & Cons
Pros:
Free Version Available
Helps to Make More Money with Your Websites
Tens of Useful Features
Free Trial of 21 Days for Premium Version
Cheap Premium Accounts
Cons:
Takes Some Time to Learn to Use All Features
Conclusion – Is Clicky Worth It?
Do the maths yourself. If Clicky helps you to optimize your pages and double your income with only $79,99/year, it's worth it. It's not a coincidence that thousands of successful online entrepreneurs are using it on their websites.
One great thing is that you can try all premium features for free. If you like it like most people do, then you can continue with a premium plan. But if for some reason, you don't like Clicky, you haven't lost a single penny. Probably you have earned already if you have used premium features to optimize your websites and conversions.
Clicky at a Glance…
Name: Clicky
Website: www.Clicky.com
Price: Free Version Available. Premium Version Starting from $9,99/month.
Field: Website Statistics and Maximizing Conversions
Overall Ranking: 95 out of 100
Have you used Clicky or some other tool to optimize your conversions?
Let me know in the comments below! 🙂