Over and over again I keep on reading the success stories from people about their online businesses. See for example "$0 to $10k In 3 Years" by a guy who started earning 5-figure passive income from internet after working three years for his online business. Or see this "My First $10,000 Month!" by 20 years old guy who started also earning 5-figure passive income from internet.
There are numerous stories like this but there is one common thing in those stories.
Even though they had challenges, they didn't quit.
Two Groups – One Big and One Small
If we compare the amount of those who start an online business to those who start making 5-figure passive income there is a big difference. Only a little fraction of the starters will reach the point that they can say "Woohoo! I'm making $10,000/Month."
Why is it so?
Let's compare those two groups a bit.
What is the most significant difference between Those who reach 5-figure passive income vs. Those who don't make it?
The Most Significant Difference
When I have read numerous texts from the successful online business people they have always one common advice.
DON'T QUIT! If you want to fail quitting is the fastest way to do it.
Those who have succeeded have been there usually for years. They have seen tens, hundreds and probably thousands of people quitting while they have still continued. They have heard many people saying, "This won't pay off. I quit." Probably the quitters have listened too much other other ones who have failed before them.
Successful people have the one thing in common. They haven't quit. They have had the same struggles as everyone else. They keep on telling about their struggles but now they see their struggles in the new perspective because they have reached the goal.
But most of the starters didn't have enough patience to wait for the results.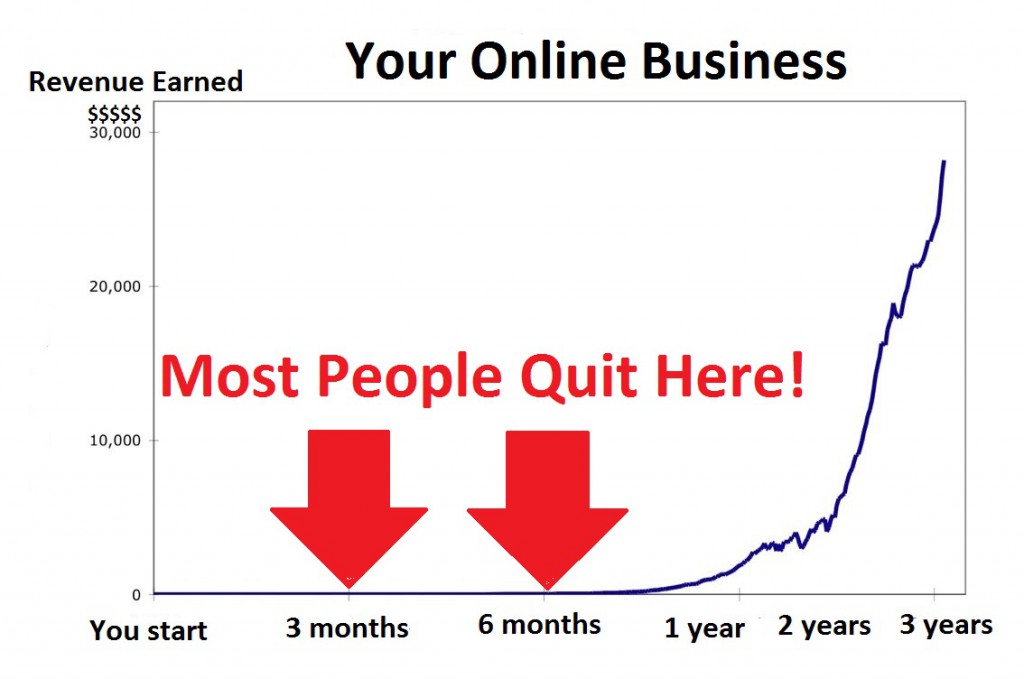 Delayed Gratification
You are probably familiar with the term delayed gratification. According to Wikipedia it "is the ability to resist the temptation for an immediate reward and wait for a later reward. Generally, delayed gratification is associated with resisting a smaller but more immediate reward in order to receive a larger or more enduring reward later."
Usually doing online business requires delayed gratification.
If you go to work for a normal job you will probably earn $100-$300 for the first day. In online business you may have to work three months or more to get the first revenue. (Some people get their first revenue in their first week but that's now very usual.)
But the reward after a lot of work would be that you will get bigger reward than in the "normal work". Compare which one would be better:
After three years of online business you start earning $10,000/month passive income vs. after three years of "normal work" you will earn $4,000/month if you work for 40 hours/week.
Here a successful guy in online business asks a question, What if I said that you had to work 12 hour days for 3 years, but then after that you would own a six-figure business and could set your own hours. Would you do it then? That's a crucial question.
Summary
If you won't to success in online business don't quit until you make it. Shia Labeouf says in his famous motivational video "If you are tired of starting over, STOP GIVING UP."
That is the key to success. Don't give up. Persistently keep on doing the right things until you can reap the harvest.
Think how the things will be after three if you quit now? How the things will be if you don't quit?
Think about the times when you have succeeded well in your life. What were keys to success? Share with us!
Do You Want a
FREE
& Easy-to-Follow
7-Day Course
to
Make Money Online
for Beginners?
Easy-to-Follow

Beginner-Friendly

My Personal 1-on-1 Support for You
Get Started for FREE Below Before this offer goes away!