You have probably seen some very successful Youtubers who have tens of millions of views and millions of subscribers. These guys are making big money. They are famous. Have you asked yourself, "Can I Make Money on Youtube?"
Yes YOU can make money on YouTube!
Anyone can make money on YouTube!
It's not a rocket science!
If you're planning to make money on YouTube, the first thing that I recommend you doing is to install TubeBuddy to your browser because it will make the whole process much easier. (Read my Full TubeBuddy review here and see practical ways how it helps me to earn more money on YouTube).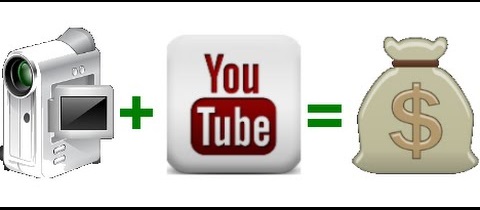 Let's start with good news: You don't need to be famous to make money on Youtube. You don't need a big amount of followers in the start. You need an idea, get started and keep on going. There is four kind of people:
1.Those who don't have an idea about Youtube videos.
2.Those who have an idea but don't start
3.Those who have an idea and start making videos. But then they stop before they earn income.
4.And then there are people who start with their idea and keep on going until they break through and start making good money on Youtube.
In which group do you belong?
Making money on Youtube is possible. If it's possible for one. It's possible for you. Now let's think what are the ways to make money on Youtube.
1.Google AdSense
This probably the easiest and the fastest way to earn some revenue on Youtube. However, you will not be earning very much at first. On Youtube, you can display ads on your videos. An ad will appear on the right, before the video or in the bottom of the video. When a viewer engages with the ad you get paid.
So you will not get paid every time when somebody sees an ad but when they click on it or for example watch the full video ad. The revenue on ads vary a lot but usually it's something like $0,80-$7 per 1,000 impressions. One impression means that somebody has seen an ad once. So this shows that you need usually thousands of views to even get some little revenue with AdSense.
2.Promote Your Own Products
If you have made some products, you can promote them anywhere. On Facebook, Twitter, Pinterest, Instagram, Youtube… But the biggest benefit of Youtube is that in videos you can give the much more profound picture of your products. You can show how they work in practice. You can show the product looks like in real life environment and so on. Just create a video and put a link into description so people can go and buy your product. Or if your product is an event, you can invite people through your video.
If you don't have own products this is an easier way to get started. You don't need to care about product's handling, shipping, customer complaints and so on. You just present the product and the company takes care of all the other things.
You just put a link to the description and when people click it and go to buy a product, you earn the commission. I have seen Youtubers who are making thousands of dollars with a single video when they put some links to their description.
For example, there is a guy who makes book reviews. Then he was asked what is your favorite book. Then he makes a video where he shows his 9 favorite books and explains a little bit about each of them. Then he put the Amazon links in the description. Every time somebody clicks and buys some of those books, he earns. In addition, if somebody clicks and ends up buying something else on Amazon, he earns the commission.
Those three ways are probably the most popular ones and easiest if you are a beginner. There are also many other ways how you can monetize your Youtube channel when you have gained a big amount of followers.
4.Get Paid to Talk about Products
When you have lots of subscribers, companies get interested in you. They may contact you or you can contact them. There are websites where you can find companies that pay for example somebody who has +10,000 subscribers. When you can 11,000 subscribers, you can contact the product and then you make a deal.
When you have a big audience and people trust in you, they are more willing to buy the products you talk about. Many people may buy a product if you recommend it. Or even that you talk about and raise the awareness is beneficial for the company. The more subscribers you have, the more you get paid. The company can, for example, pay $100 that you make a short video about their product. But again, this requires lots of followers.
5.Licensing your videos
If your video are high quality and they have enough exposure, more and more people get interested in you. Sometimes companies want to use your video or a part of it to their commercials. Then you can sell the part for them and earn some good money. But this, of course, requires that your videos are good and people find them.
6.Invitations/Job Offers
When you get famous on Youtube or people recognize that you have some good talent, you can get invitations. Some Youtubers get invitations to big conferences to speak about their expertise and teach other people.
Do You Want a
FREE
& Easy-to-Follow
7-Day Course
to
Make Money Online
for Beginners?
Easy-to-Follow

Beginner-Friendly

My Personal 1-on-1 Support for You
Get Started for FREE Below Before this offer goes away!
There was a girl in Finland who published a video on Youtube where he spoke 14 "fake languages", sang on some of her videos and played instruments. People recognized her talents and she started getting invitations to TV-shows and series. Then she got invited to Hollywood and she signed a contract with a music producer. Everything started with her Youtube videos.
Or then you can make a video about your skills and an employer sees it and invites you to a job interview. The bottom line is that with Youtube the possibilities are limitless.
How to Get Started?
There are three options:
1.Post 100 videos and wonder why they don't get any views
2.Study and learn all the skills to become a successful Youtuber. But never get started.
3.Start posting videos and keep on learning at the same time.
Which one would you choose? There are people who keep on posting and posting. Then they think that competition is too high and it's too hard to make money on Youtube. Then some people know what it takes but don't bother to do the hard work.
In my opinion, the best way is to get started. First, make a plan. For example, decide to publish at least one video every week. Then get started. But don't only do that but study how you could get better. There are many things that you can practice when you are making Youtube videos:
How to get ranked better (Go through the step-by-step training on how to get ranked on Youtube)
How to make your thumbnail better
How to make a better introduction
How to maximize conversions
How to improve the quality of your sound and other aspects of the video
How to get more interaction to your videos
How to get more shares on social medias
How to get more subscribers
There are so many things that you can practice. Every time when you practice some of these skills you learn something. And when you learn something new, you are always one step closer to your Youtube-success. There is one thing that I have noticed among successful Youtubers:
95% of them have worked for years to achieve their success. And all of them started with 0 knowledge.
Everybody who is in the top today has started from the bottom. Every single one. And you are not different. If you want to make money on Youtube you need to start and keep on going. It will take lots of practice and probably lots of failures but those who never try, fail by default.
Example of a Success Plan for Youtube
Benjamin Franklin said, "If you fail to plan, you are planning to fail!". That's why it's important to make a success plan. It will help you to go forward even when you don't feel like it.
What you will need for Youtube videos. A microphone or/and a camera. Start by buying those. Write down the deadline when you are going to buy them. Then make your research and when the day comes, you buy them.
Then publish at least 1 video per week. It's okay to start slowly. Write down dates when you are going to publish your videos. If possible, write down also what will be the subjects of those videos.
Then every week learn something new. I have listed above 8 subjects that you can study to improve your skills. There are even much more but you can start with those. Decide what you are going to study and when. Write it down to your calendar to make sure that you will really do it.
Then start publishing 2 videos per week. I know a successful Internet marketer from France who is posting a new video every day. So 2 videos a week will be your goal. Again, write down dates when you are going to publish them. Then after some time analyze your results. Ask yourself questions: What have you done, what have you learned, what should you improve to get better results immediately and so on. Write down your answers.
Reach out to other successful Internet marketers to get help and learning even more. You need to become an authority. And when you create new content you are always learning something new. The best way to learn is by doing. So, make an action plan and stick to it. And remember that there is only one way to fail. That is quitting.
Want to Get a Step-By-Step Training to a Make Money Online?
To be honest, I am not a specialist on making money on Youtube. I am planning to start learning more on about Youtube and making videos next year in 2017. I will use this post as a guideline and motivation to get started and keep on going. Then I can also report my progress here on YourOnlineRevenue.com.
Many principles that work on Youtube apply also to making money online in general. You need to learn how to get ranked and how to get traffic. You need to learn a bunch of skills.
There are much training regarding that subject and we have reviewed tens of different programs here on YourOnlineRevenue.com. Our #1 recommendation is Wealthy Affiliate. They provide the most comprehensive, in-depth and practical training. In addition, they have the most active and the best community for Internet marketers with more than 800,000 members.
When I am about to start my success journey on Youtube I will for sure ask other successful Youtubers in WA what are their tips and advice. Then I will save tens, hundreds or even thousands of hours because I don't need to make the same mistakes that they have done.
Want to become part of a community of Internet marketers? Join today in Wealthy Affiliate. It's totally free to get started!
A question for you: Have you made money on Youtube? How?
Share your thoughts on making money on Youtube. Leave a comment below!